Boardroom breaks down how His Airness evaded endorsing Reebok on the world's biggest stage in the most American way possible.
Last week, Sotheby's closed an auction for an apparel piece of extreme folklore.
Michael Jordan's game-worn 1992 Olympic Gold Medal stand jacket — made by Reebok and infamously engulfed by the Star Spangled Banner — sold for a whopping $1.5 million.
A tale of pride and patriotism, competition and capitalism, the defiant Dream Team moment is surrounded by bottomless business backstories that have touched multiple millions over the course of its 30-plus-year narrative.
It foreshadowed a crucial commitment between the best basketball player in the world and a billion-dollar brand that would make Michael more than just a partner but a Swoosh subsidiary.
It also ignited a spending spree in sportswear that changed the American and international endorsement space for decades to come.
To celebrate the Fourth of July and the recent seven-figure sale of the autographed anomaly from Spain, Boardroom explores the deep-seated rivalry between Reebok and Jordan as well as the ways the Dream Team transformed deals in the global games.
Sign up for our newsletter
I Declare War
The battlefield for a high-stakes showdown between Michael Jordan and Reebok was shaping up years before Barcelona.
In 1985, the original Air Jordan line was making Nike an estimated $55 million in months, selling like hotcakes off the red-hot rookie's "Banned" commercial campaign and NBA Dunk Contest debut.
That same year, Reebok made the move from the UK to the US, going public and amassing almost $1 billion in sales shortly after. To earn American equity, Reebok had to go at all competitors — namely Nike.
For the backend of the '80s, Reebok battled Nike for the No. 1 spot in Stateside sportswear, ascending in aerobics but quickly encroaching on MJ's domain of basketball.
Though Mike and Nike had the crown in the early '90s, Reebok was ascending in the '80s thanks to garment leather and Pump technology. Like Mike and Nike, Reebok began the new decade by running a play positioned off dunk contest showmanship that was eerily similar to His Airness and even more shameless in marketing means.
At All-Star Weekend in 1991, Boston Celtics sensation Dee Brown brought the house down when he pumped up his Reebok basketball shoes en route to taking home the trophy.
It was a moment of massive proportions in pop culture and even more sentiment at Reebok. Right after Nike signed Mike for a reported $500,000 in 1984, Reebok bet big on incoming Celtics star Len Bias, inking the Maryland product for $325,000 in 1986.
Bias, a revered rival to Jordan in college, tragically died on draft night, never playing in an NBA game. With Bias went Reebok's dreams of having a true foil to Air Jordan. For the years that followed, Reebok placed smaller basketball bets on the likes of Dominique Wilkins and Dennis Rodman.
Finally, in 1991, they had a moment of youth and momentum with Brown.
Right after Brown was handed his trophy, he was immediately faced by a friend turned foe.
"I was a rookie and I had just won a contest maybe two hours before," Brown told biographer Roland Lazenby. "It was just me and Michael and security. He comes up to me and says, 'Good job, young fella. You did a really good job.'"
Starstruck, the charismatic kid who just covered his eyes on his winning dunk couldn't hide his smile. Quickly, Mike melted all that.
"You know I got to go at you more now?" Jordan reportedly said. "You know you've started a shoe war."
Mike was smiling, but he wasn't joking. Having just inked an extension with Nike, he saw the Swoosh as a true partner based on his royalty incentives and ascending apparel business. If he played his cards right, there was a chance he could even have his own company within Nike.
"I'm 21 years old, just won a dunk contest," Brown continued. "I didn't comprehend what he said."
Brown was with Reebok. Brown was the competition.
Despite being back home in North Carolina to start his seventh All-Star Game, Mike's mood was on growing an empire and building his business.
He liked Brown, but he liked winning even more.
"You hear all the stories about Michael and how competitive he is," says Brown. "He already had it in his mind that what I did with the pump-up shoe, that what it was going to be was a competition between his shoes and that shoe."
Not rings, not points. But simply shoes and the market share and influence that went with both brand backers.
"Forget about basketball," Brown continued. "It went to the competition of 'Now I got to kick your butt in something else. I know you can't guard me. I'm the best player in the world. But just because you did that little Reebok thing, now I got to step my game up on the shoe business.'"
Dee Brown won the 1991 Dunk Contest in Reebok Pumps. Michael Jordan took that personally.
The same energy from that cold winter in Charlotte carried over to Spain's summer of 1992.
Award Tour
Michael Jordan had plenty to be happy about in the hotter months of 1992.
Having just won his second-straight NBA Championship, MJ was the most magnified athlete in America and truly a brand himself.
Between annual salary from the Chicago Bulls, endorsement deals with Gatorade, and adoration from his NBA peers, everyone — including business and basketball elite — wanted to be like Mike.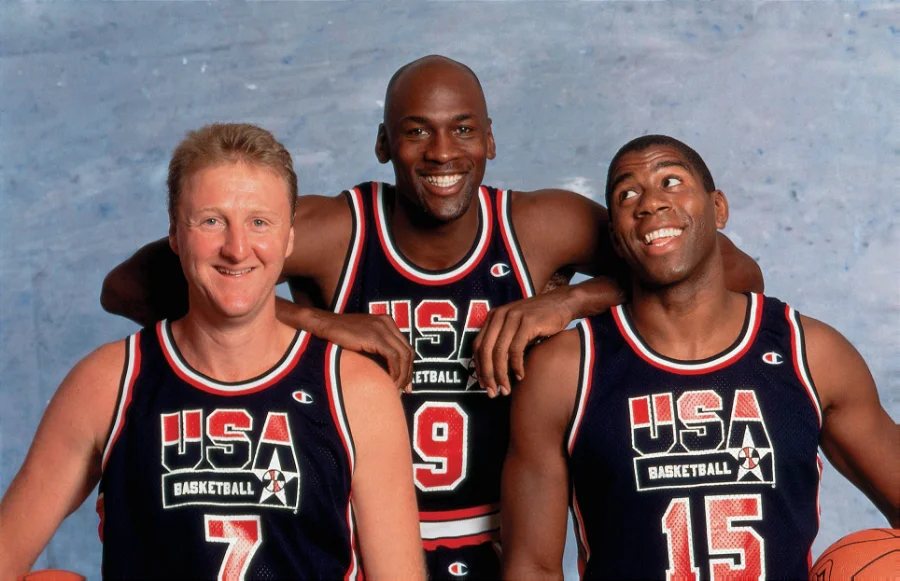 Rather than spend his offseason fishing or taking time to rest his body, MJ enlisted in Team USA.
Having already gotten gold as an amateur in 1984, Mike was going to lead the Dream Team: the first American basketball club to include pro players in Olympic competitions. Truth be told, there wouldn't be much competition in pool play as the USA had an Avengers lineup capable of thrashing each and every opponent without breaking a sweat.
Rather, the appeal was to make his brand even bigger and see what his Olympic teammates were made of when it came to doing the daily work. It was less a summer vacation and more so market research.
Like all things Mike, it was work but work was fun. The more you win on the court, the more you win in the boardroom.
"The 1992 Barcelona Olympics was one of the best times of my life," Jordan wrote in Driven From Within.
Seizing Spain, Jordan battled with Magic Johnson and Clyde Drexler every day in practice before being swarmed by foreign fans as if he led The Beatles.
Jordan — Nike's most valued ambassador — also appeared on his sponsor's media circuit.
The Swoosh would forgo high-budget apparel spending by placing athlete murals all over Barcelona, overtly advertising by way of hosting press conferences with their logo and endorsers front and center.
On the court, each member of the Dream Team took to the hardwood in their sneaker of choice, with Michael's seventh signature shoe prominently featuring the Jumpman.
NBA apparel sponsor Champion provided the uniforms for on-court action as well as the Durasheen shooting shirts. If Team USA were to win it all or take home a medal — which was as certain a bet as sports has ever seen — they were to wear the official Olympic jacket made by Reebok.
There lay an issue.
Of the 12 members of the Dream Team, none were Reebok endorsers. Starters such as Michael Jordan and Charles Barkley were being paid millions to push Nike while legends like Magic Johnson and Larry Bird were in the last legs of their Converse contracts. Wearing Reebok on the sport's biggest stage was a no-no for all 12 athletes — specifically the household names who appeared in commercials.
To make matters more interesting, it was reported that Reebok paid $4 million for the rights to Team USA's medal stand jackets. They were invested in Team USA's success even if they weren't invested in Dream Team personnel.
For those signed to the Swoosh, the math didn't math.
"Us Nike guys are loyal to Nike because they pay us a lot of money," Charles Barkley told reporters at the time. "I have 2 million reasons not to wear Reebok."
Beyond Barkley, the tension mounted as Team USA got closer and closer to gold and closer and closer to the medal stand.
Around the Olympics, Reebok remained active from all angles, making moves.
Let's Get Physical
In 1992, Reebok was much more than an aerobics brand with over 100 professional athletes signed across sports.
Heading into the 1992 Summer Olympics in Barcelona, the brand's rapidly growing roster was getting bigger than ever.
In June 1992, just weeks before the Dream Team touched down in Spain, Reebok signed Shaquille O'Neal to a five-year deal worth $15 million. Despite never playing in an NBA game at that point, Shaq was already being cashed out like a veteran, making more than almost every All-Star and said to be only $10 million less than Michael on the footwear front.
In a perfect world, O'Neal would've been selected as the last member of the Dream Team, being backup protection for Patrick Ewing and David Robinson.
Instead, the US Olympic committee selected Duke's Christian Laettner as the lone collegiate presence. After an amateur Adidas run in Durham, the Swoosh sunk its teeth on Laettner, leaving Reebok without any American male endorser on the Spanish hardwood.
Pivoting, Reebok was one of many apparel brands cashing out random runners from all over the world, and any athlete it could slap a logo on.
"The more athletes you have around the world, the more you develop a reputation that we're a company athletes want to sign with," then-Reebok president John Duerdan told The New York Times in 1992.
To make Reebok the brand of the future, the company had to learn from its recent Olympic past.
Four years prior in 1988, then-Reebok CEO Paul Fireman attended the Seoul Summer Olympics where he found himself amongst the few attendees — athlete or exec — wearing Reebok.
Embarrassed by the lack of representation, Fireman and his company started signing international athletes ahead of the summer in Spain.
Across Kenya, Reebok was paying an estimated $1 million total to lace 25 different runners, securing distance favorites as early as 1991. While the British brand could never sign the right contract to officially outfit Kenya as a country, they did know a decision-maker at USA Basketball.
For $4 million, Reebok could canvas the Dream Team in Reebok branded jackets once winning and on the pedestal. Without having a single player on the team, they could secure Kodak moments that would live forever on the backs and legacy of MJ and his eleven running mates.
When considering that sportswear as an industry was spending $50 million on Olympic advertising in 1992 alone, it was a steal.
A marketing move both brilliant and brazen.
Once again, Michael Jordan took that personally.
Flag Day
America celebrates its independence every July Fourth.
Michael Jordan celebrated his on August 8.
After erupting for a team-high 22 points in the Gold Medal game against Croatia, all eyes were on Air Jordan as the Dream Team took care of business figuratively in a basketball sense. Immediately after, each player had very literal business decisions to make once taking center stage.
In a sense, it was a fight they'd each been fighting for months.
Heading into the Summer Olympics, fans felt divided about American athletes being paid to compete in the Olympics. To purists, it was an insult to injury as NBA athletes were already operating as brands in what was once an amateur — though heavily commercialized — arena.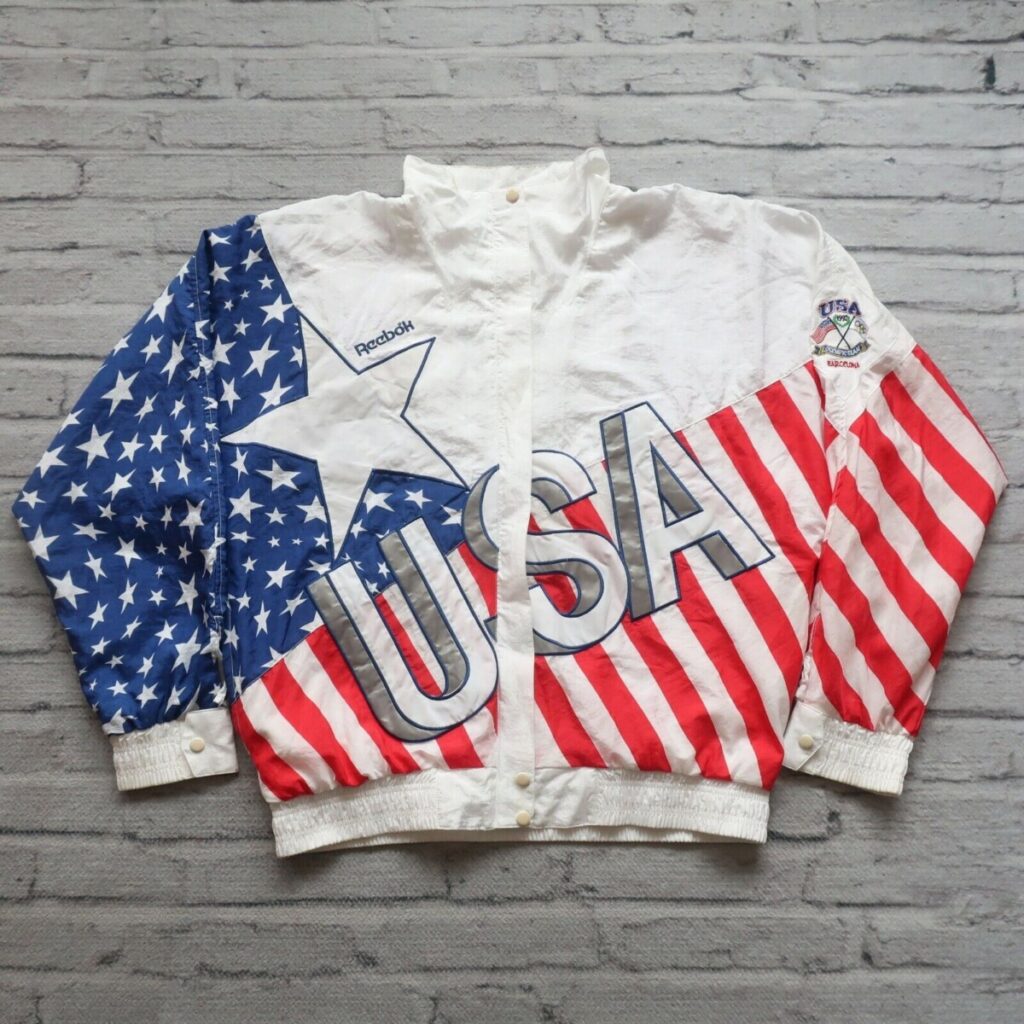 Because of this narrative, every athlete on the Dream Team was incredibly conscious of who was paying them and how what they wore would be viewed.
In so, wearing a competitor brand like Reebok on the big stage was a big talking point. While each endorser was asked about it, all eyes were on Michael. Though he deferred a captain nomination ahead of the Olympics in reverence to Magic and Larry, being an ascending business mogul made him the right man to make the call on the jackets.
Though it was a team task, MJ was both the symbol and voice. The jackets would be worn, but Reebok branding would not be seen.
"Everyone agreed we would not deface the Reebok on the award uniform," Jordan said at the time.
Historically, unpaid endorsers of a certain ilk would put a piece of tape over a logo. In a similar spirit, most members of the Dream Team wore their jackets unzipped to cover the chest branding with an open collar.
Iconically, MJ took it a step further by draping an American flag over his shoulders.
"The American flag cannot deface anything," said Jordan. "That's what we stand for. The American dream is standing up for what you believe in. I believed in it, and I stood up for it. If I offended anyone, that's too bad."
It was a masterful moment of marketing judo by Jordan.
However, it wasn't sensei Phil Knight who directed his star pupil.
According to Roland Lazenby's Jordan biography, sportswear legend Sonny Vaccaro recalls that the decision to don the flag was not only singular to MJ but the athlete's idea all along.
Draping the flag over the Reebok logo was not demanded nor ideated by execs at Nike or anyone internally. Rather, it was dreamt up by MJ as a testament to his loyalty. The loyalty would later be paid back in 1997 as Nike birthed Brand Jordan as its first standalone subsidiary.
In 2023, the Jordan Brand is approaching $6 billion in annual sales — an American dream itself.
To this day, Michael's memorable accessorizing of the American flag lives on. Playing up patriotism while applauding capitalism, Jordan's on-stage fashion statement would impact Olympic endorsement for years to come.
Dream On
Despite its amateur association, the Olympics operated as a space for commerce and advertising long before Michael Jordan made history in Spain.
First televised in 1936, the global popularity of the Summer and Winter Olympic Games has created a cash cow with the media rights for the 2024 Paris Summer Games selling for $31 million.
To an American basketball fan — and perhaps an international one, too — the Dream Team has never been topped and never will.
For both basketball and sportswear, it set the precedent for the global growth of the game and a spending spree that followed for brands.
"I think David Stern did a great job of doing that," legendary agent David Falk told Boardroom. "One of the things he'll be remembered for is globalizing the game."
From advertising to endorsements, basketball brands leaned on each upcoming Olympics to magnify the marketing for their product and their athletes.
In 1996, Reebok was said to have spent $60 million on Olympic exposure.
Winning Gold in Atlanta, Team USA dominated in '96 with Shaq taking Reebok from covered to coveted. That year, Champion once again provided the uniforms and also the track jackets worn on the medal stand.
Learning from the past, Champion's script logo appeared on the collar for the world to see in 1996 with no flags covering shoulders nor no pins used to keep collars open. The next time around, Adidas entered the fold by implementing striped sleeves in 2000.
For years to come, outfitting Olympic athletes on the medal stand would be a high-priced game with learnings and leverage from the Reebok situation often coming into play.
In 2000 and 2004, Adidas paid a pretty penny to have their stripes score the stars of USA Basketball on the medal stand, boldly blocking the arms in a manner that would take a toga to cover. Team USA won Gold in '00; they famously came up short in '04.
From there, Nike has blitzed basketball from a Team USA standpoint. Not only has the Swoosh sponsored each summer squad's uniforms and medal jackets in 2008, 2012, 2016, and 2021, they've made it a mission to covertly cover competitor logos in team photos.
Even wilder, Nike has taken it as far as to creating medal-stand sneakers. In 2012 this came in the form of the Flyknit. In 2021, their Swoosh-scored sneakers were forced on the feet of Adidas athlete Damian Lillard on the medal stand in Tokyo.
What wouldn't work on Mike ended up working marvelously for the brand he backed for years to come.
To this day, Michael Jordan's bold business acumen serves as the alpha and omega for all the marketing madness in competition, at retail, and at auction.
In recent years, MJ's 1984 Olympic Converse and Olympic jersey have sold for thousands at auction and returned as retro releases. It's proof of concept that Olympic memories have commercial cachet even in seasons and markets when the games aren't taking place.
Still, there's nothing quite like 1992 when it comes to making moolah.
Famously, members of the 1992 Dream Team were said to be offered anywhere from $600,000 to $800,000 to play with each athlete being asked to donate their money back to the organization. MJ kindly obliged.
To that point, Dream Team forward Karl Malone even claimed he'd pay for his own ticket to Spain.
Years later, Malone made good on his trip. In 1992, he asked each teammate abroad for a pair of signed sneakers and their game-worn jerseys. In 2023 he sold each item, earning a cool $5 million from the auction lot. Jordan's jersey led the pack, pulling in $3 million alone.
As all know, many have made money off Michael Jordan's back. Just as Jordan donated his Olympic salary back to USA Basketball, he offered up his Reebok jacket for free.
As Sports Illustrated's Jack McCallum recalled, Jordan tossed the jacket to Brian McIntyre — then head of public relations at NBA — telling him he could have it because he "certainly didn't want it."
For reference, an original replica of said jacket is listed for $1,499 buy it now on eBay. As mentioned, Mike's game-worn version once engulfed in the flag just sold for $1.5 million.
Michael's ability to medal in all arenas — and meddle where barriers exist — remains as strong, if not stronger, in 2023 as it did in 1992. This is proven by the modern success of Jordan Brand as well as the nostalgia seen at auction.
"Michael's unique," says Falk. "There's no other player who compares to Michael in terms of marketability. I'm not saying there never will be, but there's never been another player that's enjoyed his success."
In America or internationally, at retail or at auction, Mike remains the standard for hoops and heroism, competition and capitalism.
"He's got the Midas touch," says Falk. "Whatever he touches turns to gold."
Read More:
This article originally appeared at FanDuel Research It's on! Lock in for Saturday's superfight in Vegas with a big Charlo vs. Canelo prediction, plus the latest odds and insights from our friends at FanDuel….