With the NBA season now behind us and the Draft ahead this week, Boardroom looks back at the best sneakers worn this year.
The hardwood heat was relentless, all season long. The NBA loosened its longtime color restrictions in 2018, so once again, players laced up a wide spectrum of themes and colorways, new and old, that caught the attention of sneakerheads and fans alike.
With 22 signature sneakers in store throughout the year, the league's brightest stars had a flurry of planned out pairs at their nightly disposal. Young guns like Paolo Banchero, Josh Giddey, Jalen Williams and others also were eager to make their mark.
Of course, the league's biggest collectors, like PJ Tucker, Montrezl Harrell, and DeMar DeRozan, still had their respective legendary stashes of rarities, vintage pairs and player exclusives on hand as well.
While difficult to fully pare down to just 50 slots, below is a celebration of the greatest sneakers to touch the hardwood throughout the 77th NBA season.
For the sake of variety, in what is clearly and simply known as 'The PJ Tucker Rule,' no single player appears more than three times. And as always, it's my opinion.
Sign up for our newsletter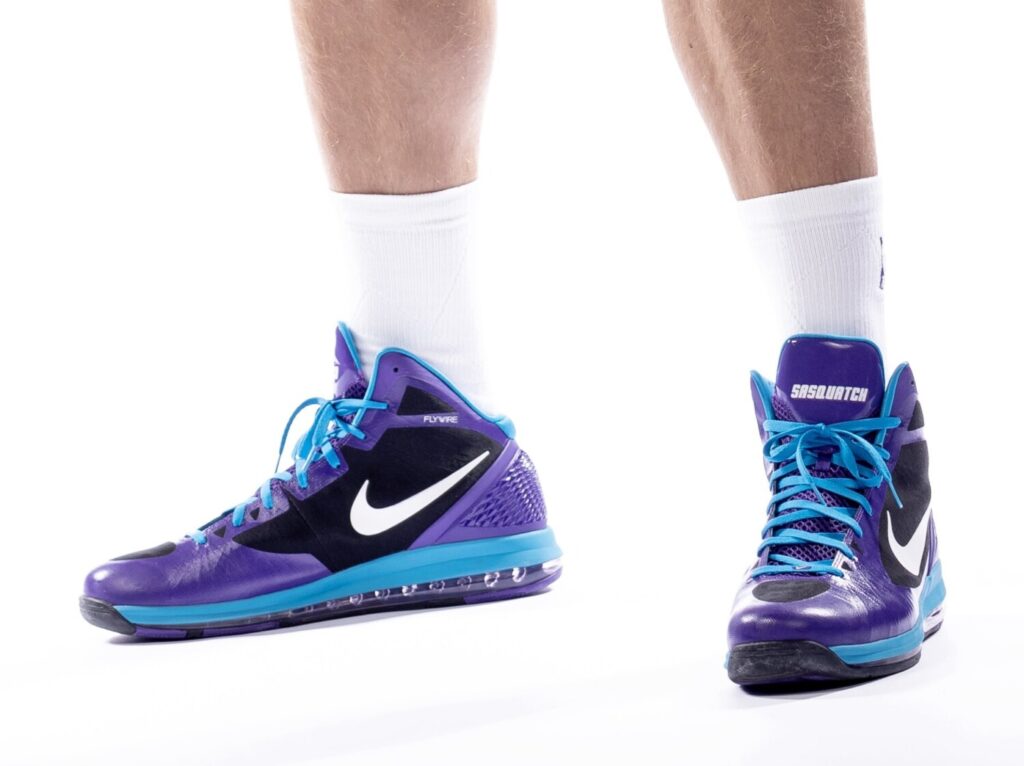 50 / Mason Plumlee — Nike HyperMax Chris Kaman PE
It's a special moment any time you see an "Air Sasquatch" sneaker. When Mason Plumlee pulled up to Media Day in a rare PE originally made in 2011 for Chris Kaman during his short-lived New Orleans Hornets days, we knew off top that this season had some surprises in store.
49 / Damian Lillard — Adidas Dame 8 'PDX Carpet' custom
Roughly six years late, the Trail Blazers finally broke out long-requested PDX Carpet-inspired uniforms that fans had been thirsting for for years. It was only right that Damian Lillard had a customized pair of the Dame 8 ready to go featuring the Portland Airport's much-loved quirky carpet graphic that's become an Instagram staple for travelers upon landing in the northwest.
48 / Stephen Curry — Curry 2 'Double BANG' Retro
One of the defining moments of Stephen Curry's early ascent to superstar status was his 40-foot game winner in OKC, which earned not one, but two of announcer Mike Breen's iconic "BANG" declarations. Cycling through some of the "greatest hits" of his decade with Under Armour, his Curry Brand brought back the yellow giraffe print colorway of the Curry 2s he had on back in 2017, even celebrating the occasion by gifting Breen one of the first pairs of the special edition retro.
47 / Ja Morant — Nike Ja 1 'Chimney' PE
While speculation surrounds the Ja 1 launch calendar, one of the early bright spots of Ja Morant's signature series was this purple colorway featuring a smoke texture through the upper. The bold 'We want all the smoke' phrasing on the heel only added to the storytelling and theme.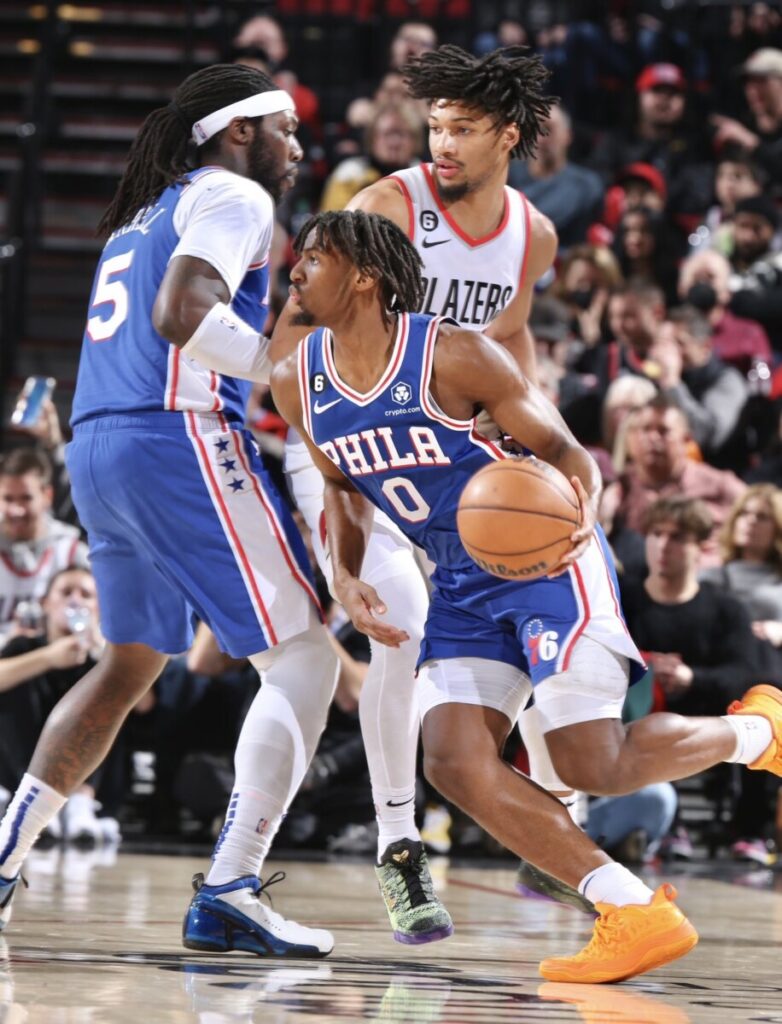 46 / Montrezl Harrell — Nike Zoom Ultraflight
For years now, Harrell has been one of the league's greatest sneaker free agents, constantly rotating through a collection of rare exclusives and now-vintage hoop classics from the 2000s. One of his best pairs was when he broke out a white and royal Ultraflight during the middle of the season, spotlighting a cult classic top performer from 20 years ago that paired well with Philly's home unis.
45 / Taurean Prince — Nike KD 2 OG
One of the great performers of Kevin Durant's signature series — at just an $88 retail price — saw a surprise return earlier this season on the feet of sleeper collector Taurean Prince.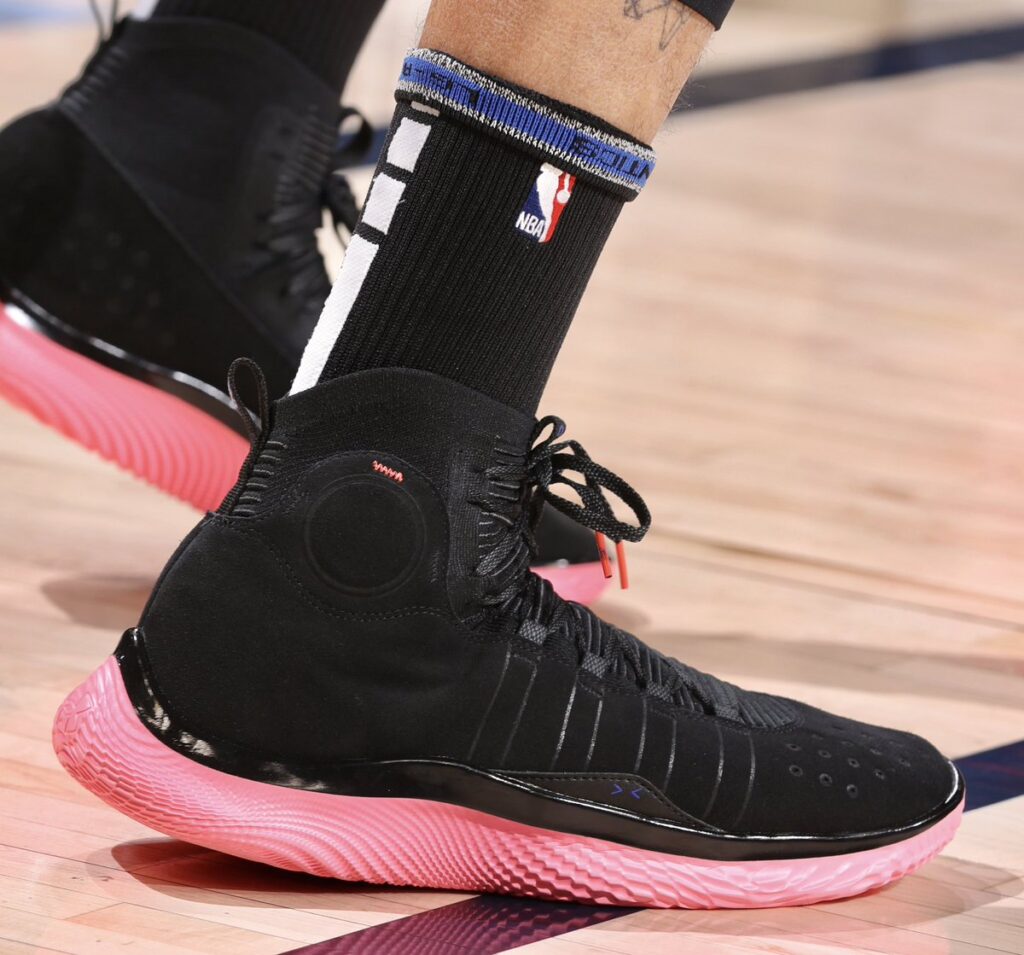 44 / Andre Igoudala — Curry 4 Flotro PE
After his Nike contract officially expired three seasons ago, Andre Iguodala has enjoyed his sneaker free agency by often wearing pairs from teammate Stephen Curry's brand. His black and pink Curry 4 Flotro PE stood out as one of his best wears of the season.
43 / Josh Giddey — Nike Zoom KD 4 "Galaxy"
When Josh Giddey pulled up to the Rising Stars Challenge during All-Star Weekend, the court visionary took it back to one of the best All-Star Weekend sneaker themes we've ever seen — the Galaxy Pack. In a gleaming metallic silver, the KD 4 that Kevin Durant first debuted during the 2012 All-Star Game was a welcome return, with its aeronautical Galaxy theme still hitting as hard as it did a decade ago.
42 / Terrence Davis — Li-Ning Way of Wade 10
The Way of Wade 10 was an incredibly underrated model this year with the light purple debuted by Sacramento Kings wing Terrence Davis. One of the best colorways of the sleek design.
41 / Jordan Poole — Nike Kobe 10 Grinch iD
The "Grinch" Kobe 6 has become an annual staple across the Christmas Day slate of marquee games, but Jordan Poole's pair of "Grinch-" inspired Kobe 10 iDs stole the show this year.
40 / Jimmy Butler — Li-Ning JB 1 "BigFace Coffee"
Joining the signature fold later in his career, it was only right that one of Jimmy Butler's best pairs of his JB 1 model was a deep brown nod to his BigFace Coffee empire.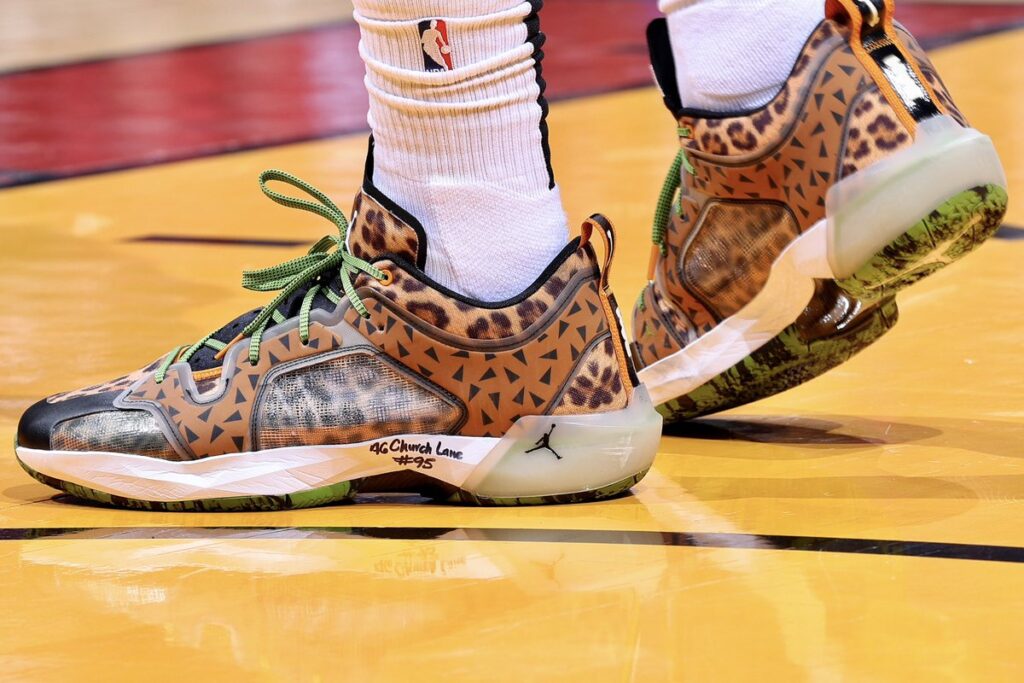 39 / Bam Adebayo — Air Jordan 37 Low 'Bam Bam'
Very straightforward and awesome PE: Edrice Adebayo of course goes by "Bam," so Jordan Brand made him some Air Jordan 37 Lows that draft off of Flinstones character Bam Bam's signature outfit. An easy win.
38 / Juan Toscano-Anderson — Nike Hyperdunk OG
Early in his Laker days, JTA was breaking out the original Hyperdunk once headlined by Kobe Bryant in 15-year-old colorways, like this clean white and purple team bank edition. One of the industry's most impactful hoop shoes.
37 / Jerami Grant — Adidas Crazy 1
One of the all-time futuristic designs stands as a forward-looking aesthetic all these years later. Trail Blazer forward Jerami Grant rocked these in a handful of colorways throughout the season. The white, grey, and purple accented pair inspired by an original unreleased sample of The Kobe was the best of the bunch.
36 / Isaiah Stewart, Deandre Ayton & Terry Rozier — Puma Stewie 1
The return of WNBA signature shoes was long overdue, and with Puma's launch of the Stewie 1 for the decorated Breanna Stewart came NBA support across the feet of all of Puma's top endorsers, like Isaiah Stewart, Deandre Ayton and Terry Rozier.
35 / Trey Lyles — Nike Kobe 6 'JR Smith iD'
Trey Lyles has one of the very best Kobe collections across the league, and aside from the rare and exclusive, he also has a batch of original NIKE iD-created colorways from the late 2000s. Originally designed by JR Smith during his Denver Nuggets days, this Carolina blue accented pair was a great surprise in the impressive Lyles rotation.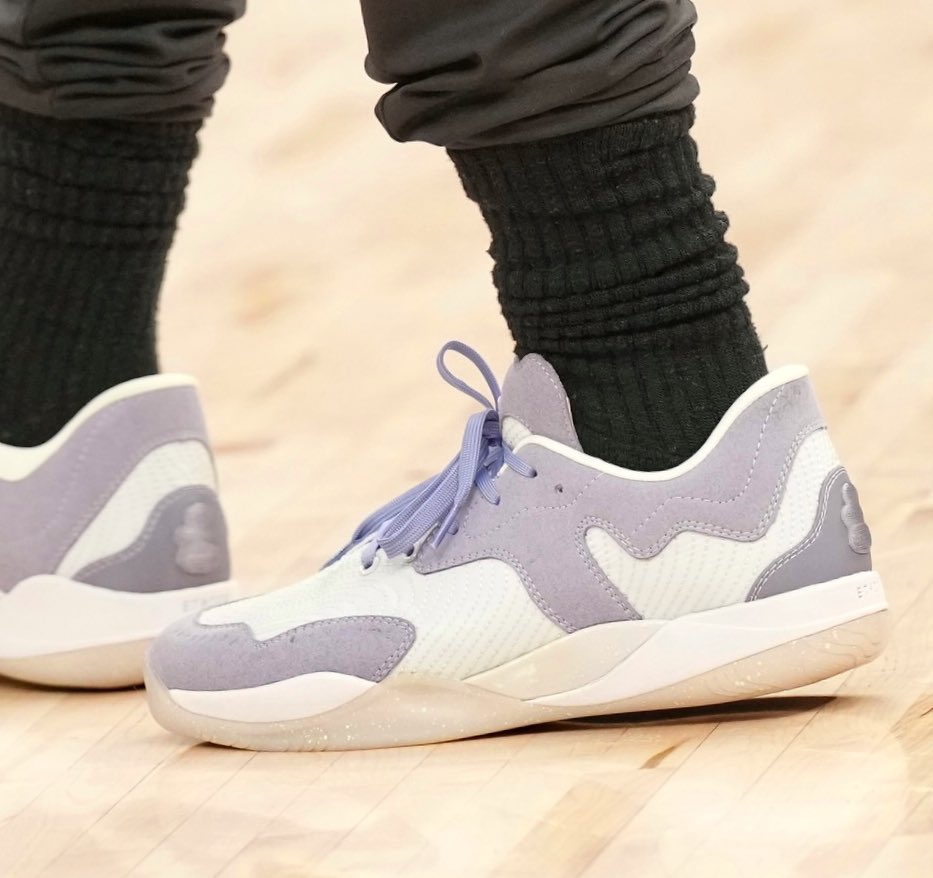 34 / Kyrie Irving — Ethics LG Two
After attending a Harvard business school program through the NBPA, veteran shooting guard Langston Galloway and his wife Sabrina launched their own sneaker company, Ethics. After arriving in Dallas, sneaker free agent Kyrie Irving "wanted to show him some love" and broke out the second edition of Galloway's Ethic brand during a practice session, serving as the official debut of the LG Two.
33 / Montrezl Harrell — Reebok Question Brandon Jennings PE
With an affinity for the rare and under the radar, one of Trez's best surprise pairs of the year was a Reebok Question PE originally made for Brandon Jennings during his 2016 season with the New York Knicks. Only six pairs were made, with the power forward impressively tracking down a rare size 13.
32 / LaMelo Ball — Puma MB.02 "Slime"
Following up on his hugely successful signature debut with Puma, Hornets point guard LaMelo Ball stuck with the loud and lively looks of his mid-cut series for his second sneaker, none more splashy than the neon and red accented "Slime" pair of the MB.02.
31 / Zion Williamson — Kanye West x Louis Vuitton Don
While Zion Williamson unfortunately didn't see the court time that Pelicans fans may have hoped for this season, he did up his sneaker game on the sidelines with a 2009 pair from Kanye West's coveted Louis Vuitton collection.
30 / D'Angelo Russell — Way of Wade 10 Low
With one of the best player logos in the league, "DLo" took his sharply designed Li-Nings to Los Angeles this season after a mid-season trade and broke out clean colorways of the low-top Way of Wade 10 in Laker hues.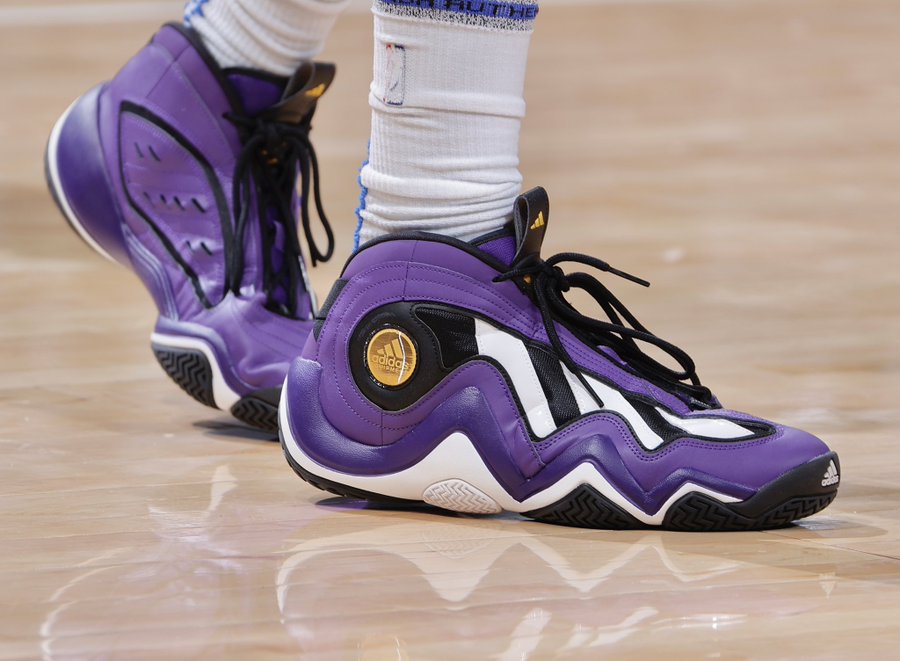 29 / Jalen Williams — Adidas Crazy 97 'Kobe Bryant Dunk Contest'
Already among the Association's rising sneaker stars, OKC Thunder rookie Jalen Williams rocked a great rotation throughout his debut season. Of his many vintage Kobe Bryant silhouettes, the purple EQT Elevation worn by Kobe during his 1997 Slam Dunk Contest win were one of his best pulls.
28 / Ant Simons — Nike KD 15 'Timothy Goodman'
With a graphic-laden upper inspired by the Brooklyn community, artist Timothy Goodman's collaborative effort atop the KD 15 was one of my favorite signature executions of the season. Worn by players throughout the league, the black base and mint accents paired best with the Blazers' PDX Carpet jerseys and became a favorite of explosive scorer Ant Simons.
27 / Markelle Fultz — Nike Kobe 9 Low "Yeezy" iD
Markelle Fultz has been rotating through an impressive stash of Kobe and LeBron sneakers during his time in Orlando. This black, glow, and solar red Yeezy-inspired pair of the Kobe 9 Low created on NIKE iD in 2014 stands out at the top of the ranks.
26 / Jerami Grant — Adidas TMac 3 PE
Along with his rotation of Kobe sneakers from the Laker legend's early chapter with Adidas, Jerami Grant also received a few of his own player exclusive models from Tracy McGrady's signature series. His clean black patent leather pair of the TMac 3s inspired by an 8 ball immediately turned heads.
25 / Klay Thompson — Anta KT 8 'Gold Blooded'
For a fourth time, Klay Thompson enjoyed taking in "Ring Night" as a member of the Warriors dynasty, and Anta planned ahead, creating a gleaming gold edition of his signature KT 8s for the occasion.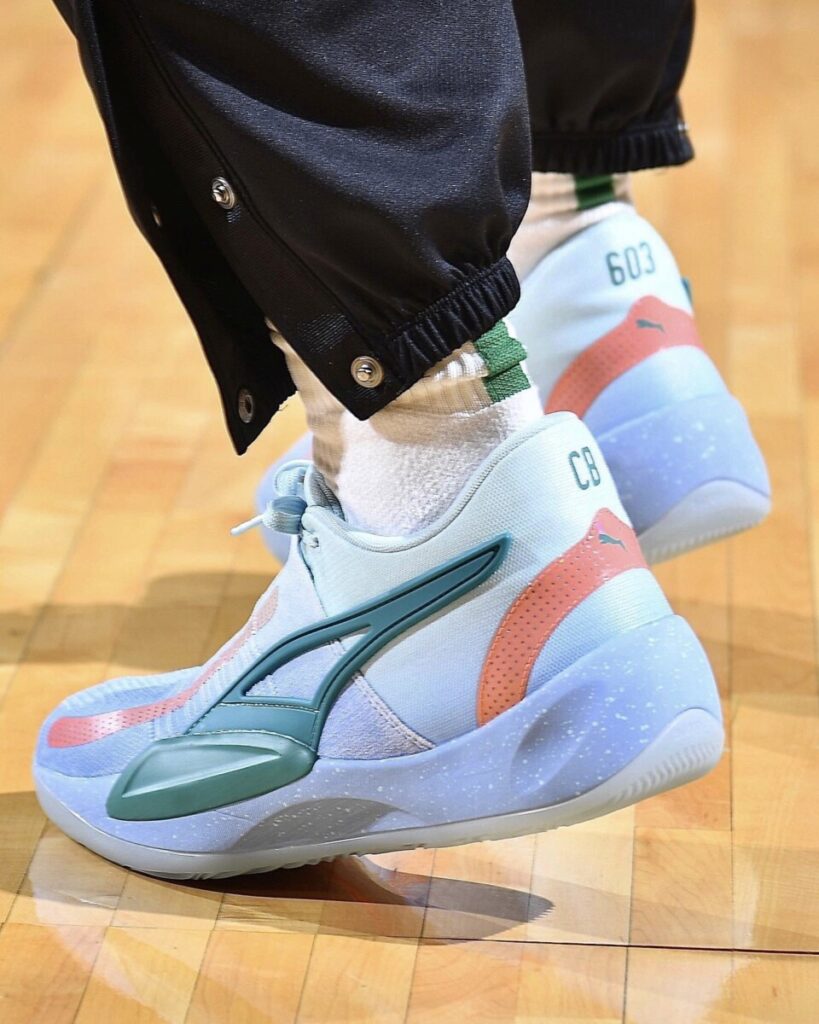 24 / Kevin Porter Jr. — Puma Rise Nitro x Chris Brickley "Life Is Beautiful"
One of the cleanest colorways to hit the court this season, the Puma Rise Nitro designed by best-in-class trainer Chris Brickley served as a tribute to his New Hampshire upbringing. The fading blue and salmon accented edition was worn by the likes of Kevin Porter Jr. and other Puma athletes, bringing Brickley's career full circle, as players he's trained wore his sneaker on the NBA hardwood.
23 / Kyle Lowry — Adidas Gil Restomod "D&G"
Back in the late 2000s, Gilbert Arenas' had one of the greatest sneaker free agencies in league history. Among the many pairs the Wizards star rocked, none created a stir like the Dolce & Gabanna designer high tops he broke out at Staples Center.
When Adidas planned to retro his signature Gil Zero last year, color designer Xavier Jones instantly knew he wanted to celebrate the gold and blue accented designer sneakers along Arenas's much-loved low tops.
22 / Anthony Edwards — Adidas Harden Vol. 7
The Harden 7 was the best signature shoe of the season — so it appears twice on this list. The pink pair donned by TWolves star Anthony Edwards was one of the freshest editions.
21 / Shai Gilgeous-Alexander — Converse Prototype BB "Cheetah Kobe" PE
As one of a select few headliners of Converse Basketball, OKC star Shai Gilgeous-Alexander unveiled several player-exclusive editions of the brand's latest models, none more impressive than this purple cheetah pair inspired by Kobe Bryant's Christmas edition of the Kobe 7.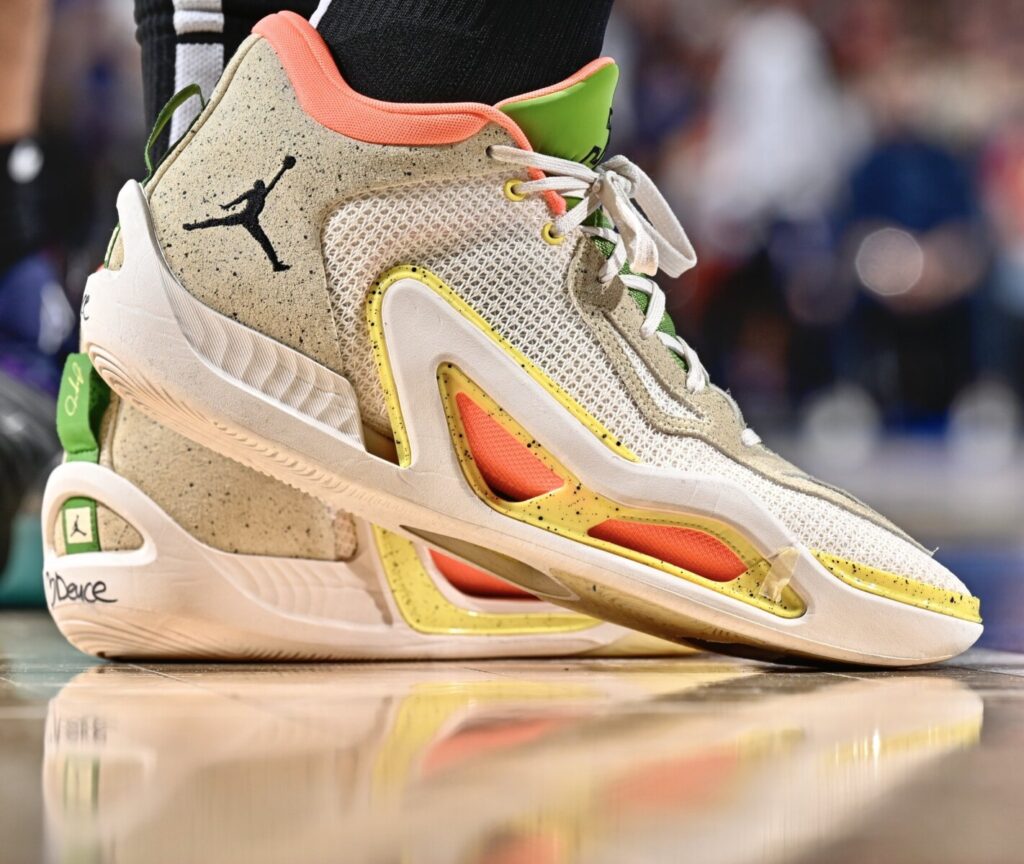 20 / Paolo Banchero & Jayson Tatum — Jordan Tatum 1 'Huevos Bancheros'
When Paolo Banchero entered the league, @IRodC1 tweeted out this:
Fast forward to the end of Paolo's Rookie of the Year season, and it really happened. Incredible.
19 / Ja Morant — Nike Ja 1 "Scratch"
Of the many Morant 1 colorways, a retro Grizzlies-inspired edition in white and teal was one of the best received, with the claw scratch marks along the forefoot and midsole only adding to the execution.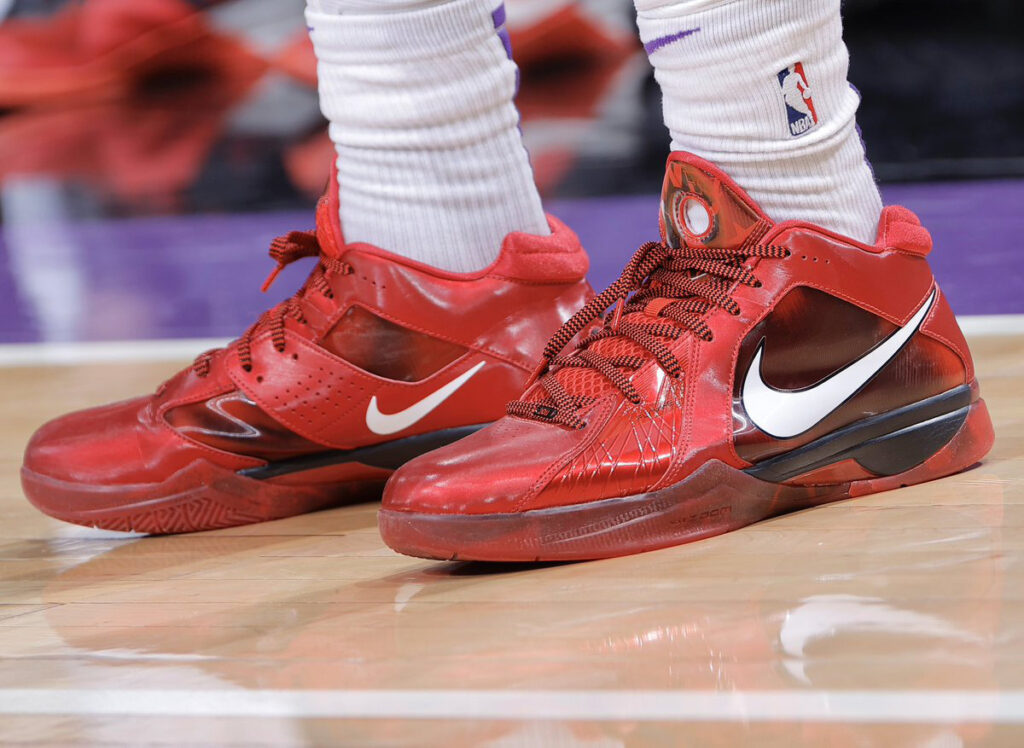 18 / Davion Mitchell — Nike KD 3 'All Star' Retro
When one of the greatest models from Kevin Durant's signature series was retroed earlier this year, it was only right that they hit the court not long after. Kings guard Davion Mitchell was the first to break them out, with the vivid metallic red pair originally laced up by KD for the 2011 All-Star Game seeing a return after a decade-long hiatus.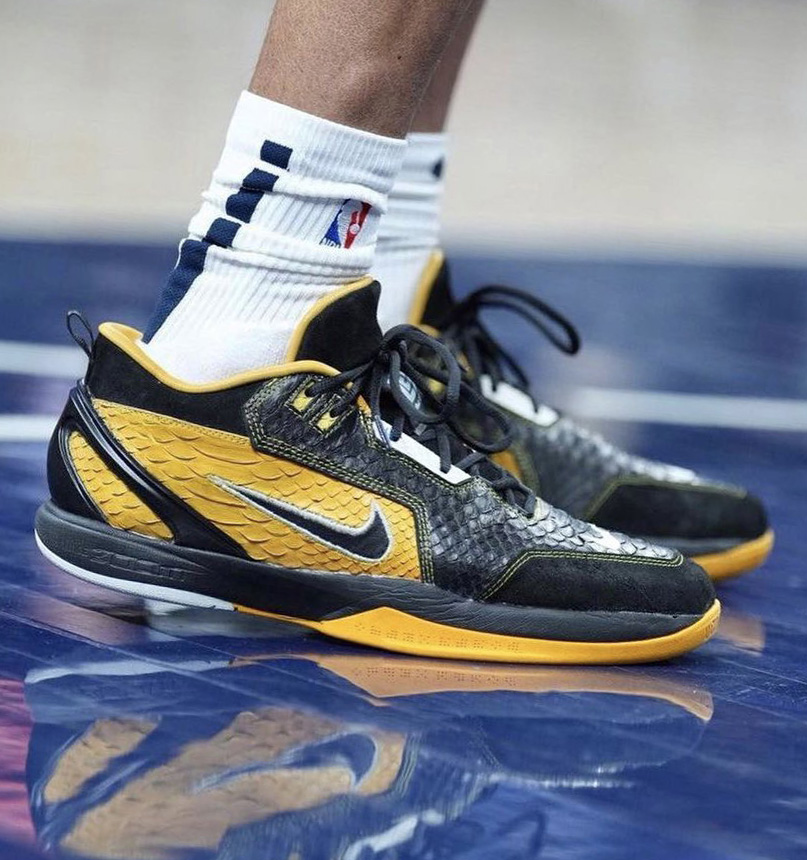 17 / Tyrese Haliburton — Nike Kobe 6 x Air Zoom Generation hybrid custom
These were wild. Crafted by custom artist "Kota Kustoms," this black and yellow snakeskin hybrid sneaker worn by Pacers All-Star Tyrese Halliburton combined both the Kobe 6 and the Air Zoom Generation into a potato head pair that actually worked well and had Twitter on fire in real time.
16 / Erik Spoelstra — Air Jordan Retro 3 'Cyber Monday'
I'd love to see Coach Spo's GOAT account. The order page is possibly a purchases recap of dozens of "Cyber Monday" Air Jordan 3s, which has been the Heat coach's sideline staple for the last three seasons since the league loosened up its dress code standards for coaching staffs to allow for sneakers. A great look.
15 / Andre Iguodala — Sole Collector x Nike 'Cowboy' Dunk Low
This was awesome. Toward the tail end of the regular season, Andre Iguodala unearthed a pair of Sole Collector collabs from 2005, originally launched in New York during an event with Nike. Only 225 pairs were made, with each individually laser etched and numbered along the heel. The idea from the magazine's creative director 'Retrokid' was for each panel to be a different color and material, making these one of the wildest Dunks of all time.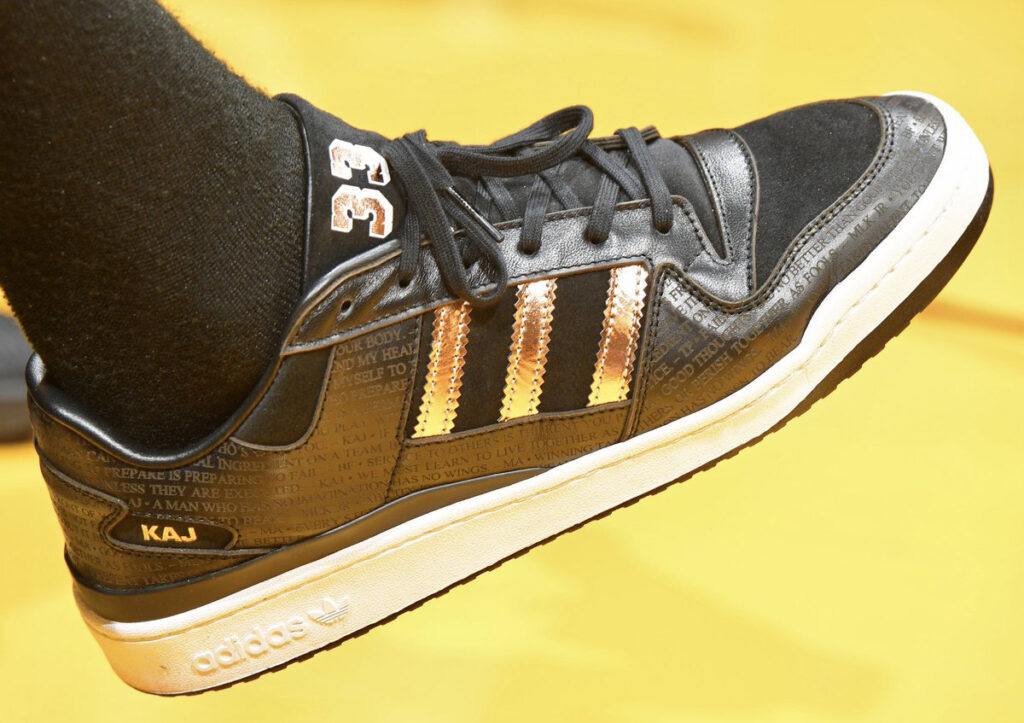 14 / Kareem Abdul-Jabbar — Adidas Forum 'The Captain'
With LeBron James about to break his all-time scoring record, Kareem Abdul-Jabbar was well prepared for the big night. Clad in a custom Three Stripes varsity jacket, Kareem also wore Adidas-gifted, clean black and gold accented Adidas Forum Lows, featuring his 'KAJ' initials, 'Captain' nickname and accolades layered into the upper throughout.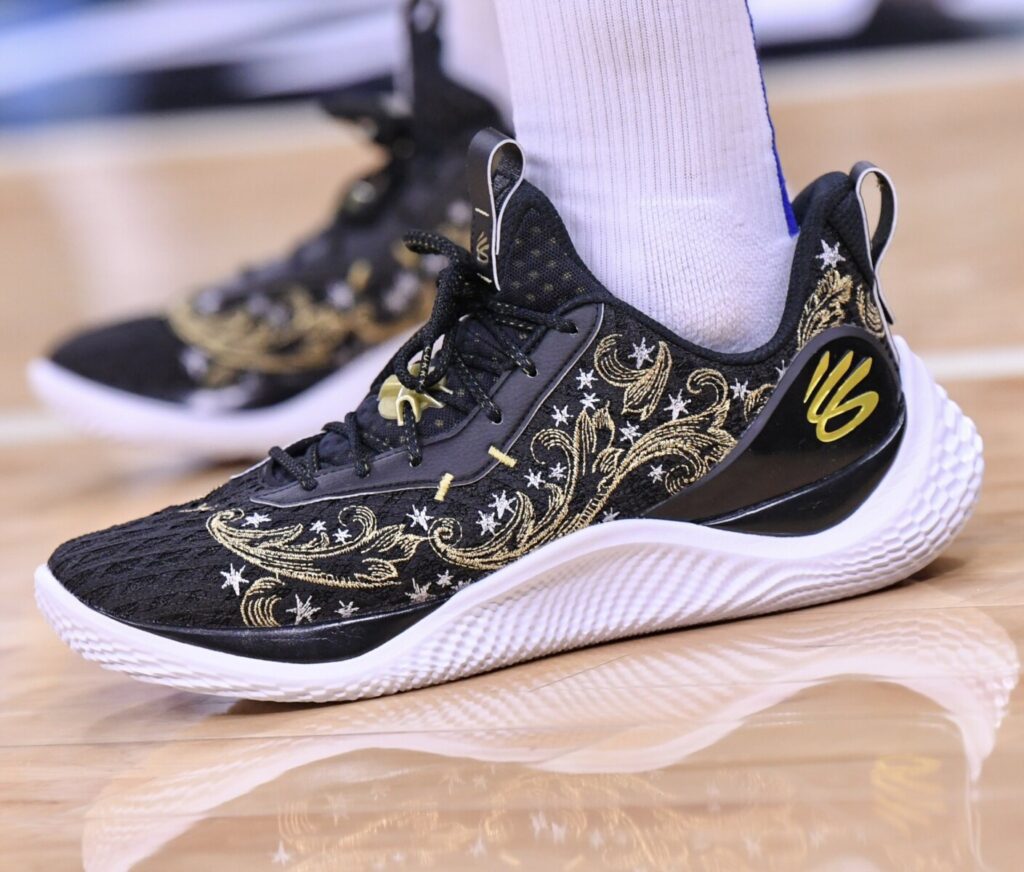 13 / Stephen Curry — Curry 10 Flow 'Met Gala' PE
On Twitter, they called it the cleanest fit and cut of his life. When Stephen Curry pulled up to the Met Gala with his wife Ayesha in 2021, the leather-laden suit featuring detailed gold embroidery along the back was an instant hit. Amongst his many Curry 10 options this season was a player exclusive pair inspired by the memorable fit, down to the embroidery graphic and oiled leather eyestay. He broke them out in Game 7 of the First Round and dropped 50.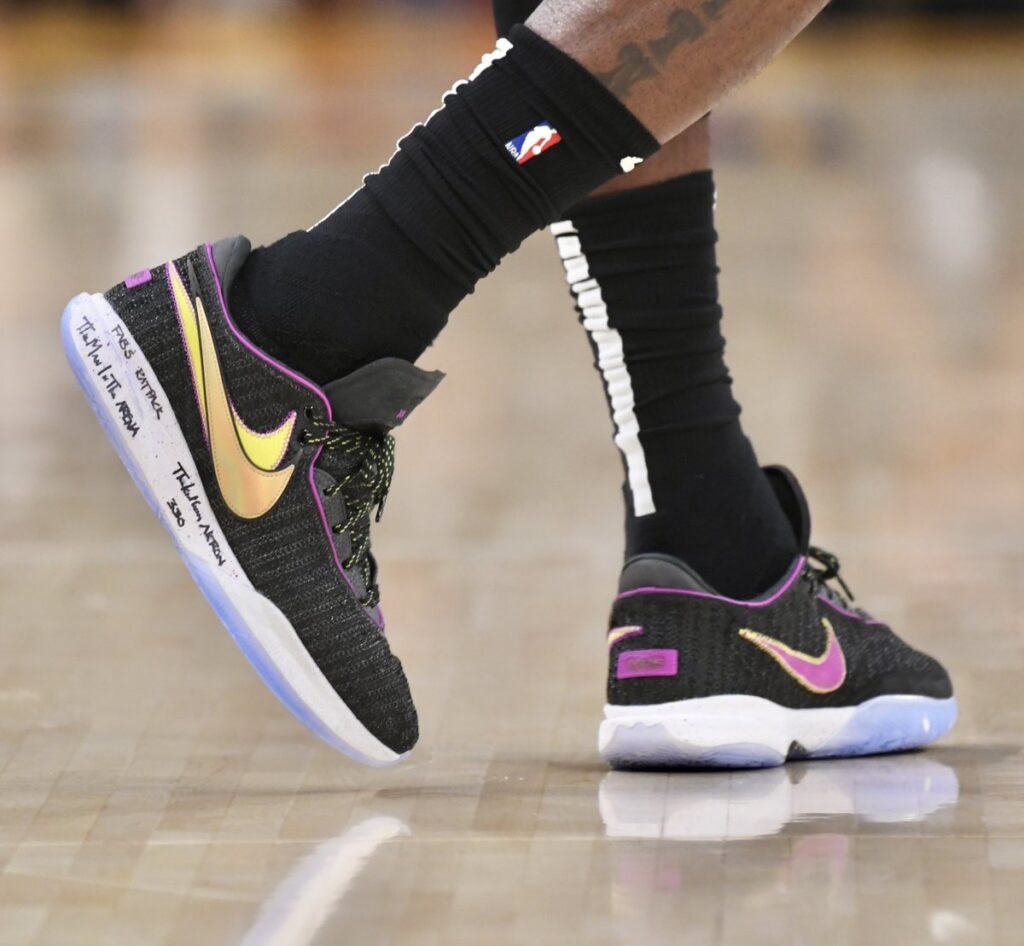 12 / LeBron James — Nike LeBron 20
This season was a great bounce-back for the LeBron sneaker series, with the 20th edition of the King James line leaning into a lighter and lower look than the more overbuilt designs of his recent models. While some colorways were unmistakably loud, this black Laker edition was the cleanest.
11 / Domantas Sabonis — Nike Kobe 6 PE
Of all of the Kobe 6 PEs worn throughout the league, Domas' pair was easily one of the freshest.
10 / Kevin Durant — Nike KD 15 'Off-White' PE
The KD 14 leaned into some Presto inspiration with its midfoot cage, and Kevin Durant's following signature sneaker dipped right back towards one of Nike's most popular pure comfort sneakers. This PE colorway inspired by the beloved Off-White edition of the Presto hit that inspiration perfectly, even down to the five Alpha Project dots along the midsole.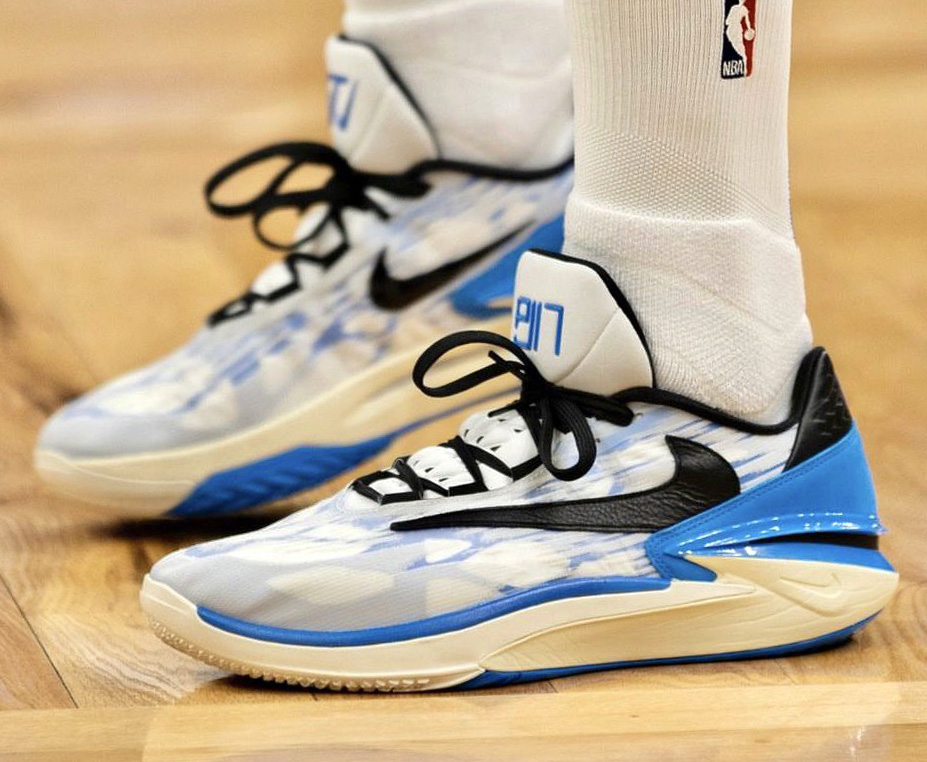 9 / PJ Tucker — Nike Zoom GT Cut 2 'Travis Scott' PE
When he re-signed with Nike in 2019, one of Tucker's biggest priorities was the ability to design his own batch of player exclusive sneakers. In addition to an endless flow of Kobe PEs, PJ has been cooking up GT Cuts for each of the past two seasons. Among his handful of pairs this season, this edition inspired by the Travis Scott x Fragment Air Jordan 1 rightfully got the most attention.
8 / Andre Iguodala — Nike Air Yeezy 2 "Red October"
One of the all-time classics saw the sideline earlier this season when longtime Yeezy enthusiast Andre Iguodala broke out the "Red October" Yeezy 2s in San Francisco in January.
7 / DeMar DeRozan — Nike Kobe 6 "WNBA Orange Hoody" PE
During a quarterly check-in meeting with his Nike reps, DeMar DeRozan pitched a Kobe 6 inspired by the WNBA's signature orange hoody.
It was the same hoody that Kobe Bryant wore when he once took Gianna Bryant to a Lakers-Mavericks game, and the Kobe 6 PE spoke to Kobe and DeMar's longtime support of the women's game.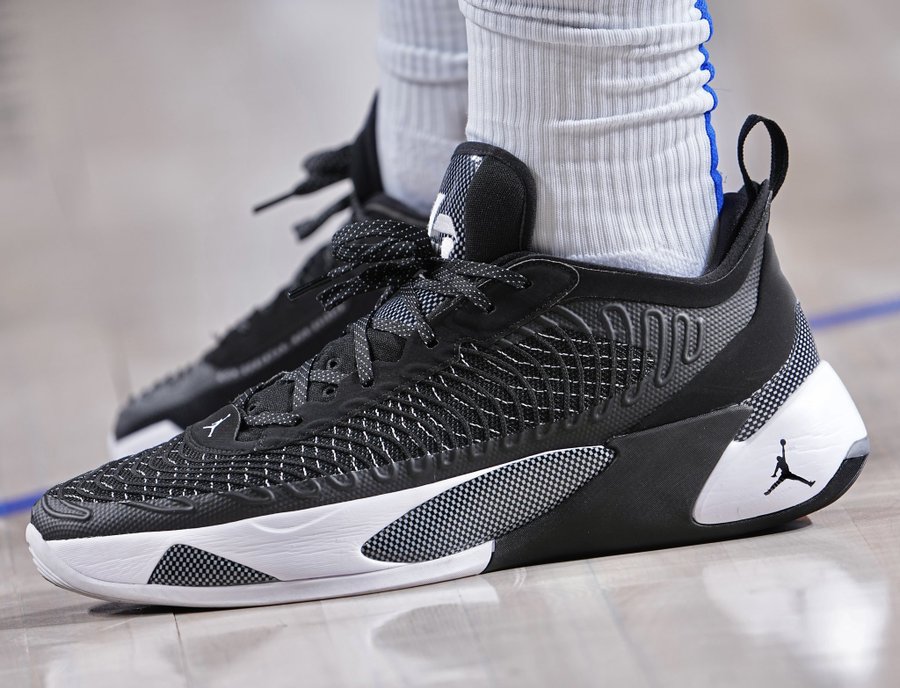 6 / Luka Doncic & Jason Kidd — Jordan Luka 1 "Zoom Flight 95" PE
Early in his Hall of Fame playing days, Jason Kidd headlined one of the greatest sneaker designs in industry history with the carbon fiber clad Zoom Flight 95. Now the Mavericks head coach, JKidd was excitedly surprised earlier this season with his own PE pair from Mavs star Luka Doncic's Jordan signature series, with Luka gifting him a Zoom Flight 95-inspired edition of the Luka 1.
5 / Jayson Tatum — Jordan Tatum 1 "Blueprint" PE
Among the many Tatum 1 colorways that Celtics star Jayson Tatum wore this season, the royal blue pair featuring an architect's vector graphic along the heel immediately stood out as a favorite.
"I wish we were selling that one," Tatum told me earlier this season. "The Blueprint is kind of the phrase around when we started the conversation around me having my own shoe and my business within Jordan Brand. It's a nod to Jay-Z, my favorite rapper, and The Blueprint is my favorite album. But also, it's storytelling around part of the campaign, which is that 'I always knew.'
I always had these goals and was mapping out the plan of my life. It's surreal to say this, because I never take any of this for granted, but I truly did dream of all of this. I did speak on all of this to my mom and my grandma, 'When I get older, I'm going to be the No. 1 draft pick, be an All-Star and have my own shoe.' It's a nod to that and that way of thinking as a kid."
4 / PJ Tucker — Nike Zoom KD 4 "NERF"
Around midnight in Boston, the night before Game 7 of the second round series between the 76ers and Celtics, Tucker was getting shots up in TD Garden.
He had laced up the "NERF" edition of the KD 4, one of the greatest themed sneakers of all time and a defining launch in Kevin Durant's signature series back in 2011. With its unique strap angling and iconic mini hoop-inspired color tones, the demands have been loud from all parts of the sneaker community for a "NERF" KD 4 Retro.
3 / James Harden, Lonnie Walker & others — Adidas Vol. Harden 7
The aforementioned best signature sneaker of the season's best colorway was the clean and simple silver and black. With a distinctive court read and swooping collar framing, the metallic silver toe cap and ribbed midfoot panel made for a new design language that can be helmed by Harden going forward.
2 / PJ Tucker — Nike Zoom Huarache '09 x Kanye West
Every season, PJ breaks out a shoe that blows me away. When he first wore these in 2020, this was that shoe. He broke them out again in January in Los Angeles. Some have speculated they're worth around $25K — and even the most in-the-know collectors weren't aware that a size 14 even existed. Kanye is a size 12, and there was a size 9 sample made as well. But PJ got his hands on 'em, in his size, as he almost always somehow does.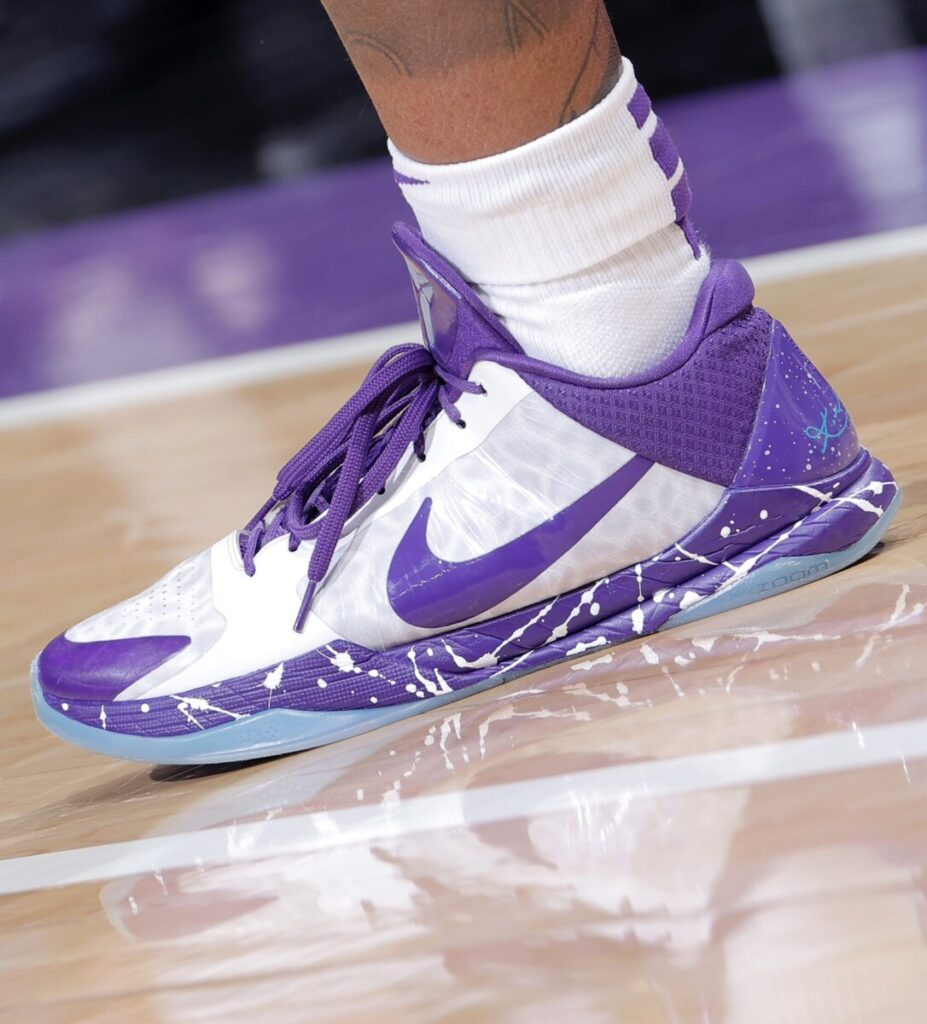 1 / Malik Monk — Nike Zoom Kobe 5 PE custom
What an awesome shoe. When Malik Monk was on the Charlotte Hornets, he created a batch of Kobe 5 and 6 PEs that are some of the cleanest colorways to hit the hardwood. Then he took things up a notch, having a customizer add hits of splatter paint along the midsole of these white, purple and teal Kobe 5s for a somehow even more impressive upgrade. Paired perfectly with the purple Kings unis, Monk's PEs take the crown as the best sneaker of the season.
More Sneakers:
Nike didn't quite hit its expected revenue mark, but its latest earnings report provides plenty of reasons for excitement in Beaverton. While Nike narrowly missed on its expected revenue for the first time in…