With an estimated value well into six figures, Jordan's shoes from the 1983 Pan-American Games — or "The First Dance" of his career — have hit auction.
Before the movie AIR depicted Nike's frenzied chase to sign NBA rookie Michael Jordan in 1984, the UNC Tar Heels shooting guard was lacing up Converse for games throughout his college career and in international play.
Grey Flannel Auctions has recently listed for auction what it has dubbed one of Jordan's "earliest documented sneakers" – a simple white and navy pair of Converse All-Stars worn by the eventual Hall of Famer during the summer of 1983.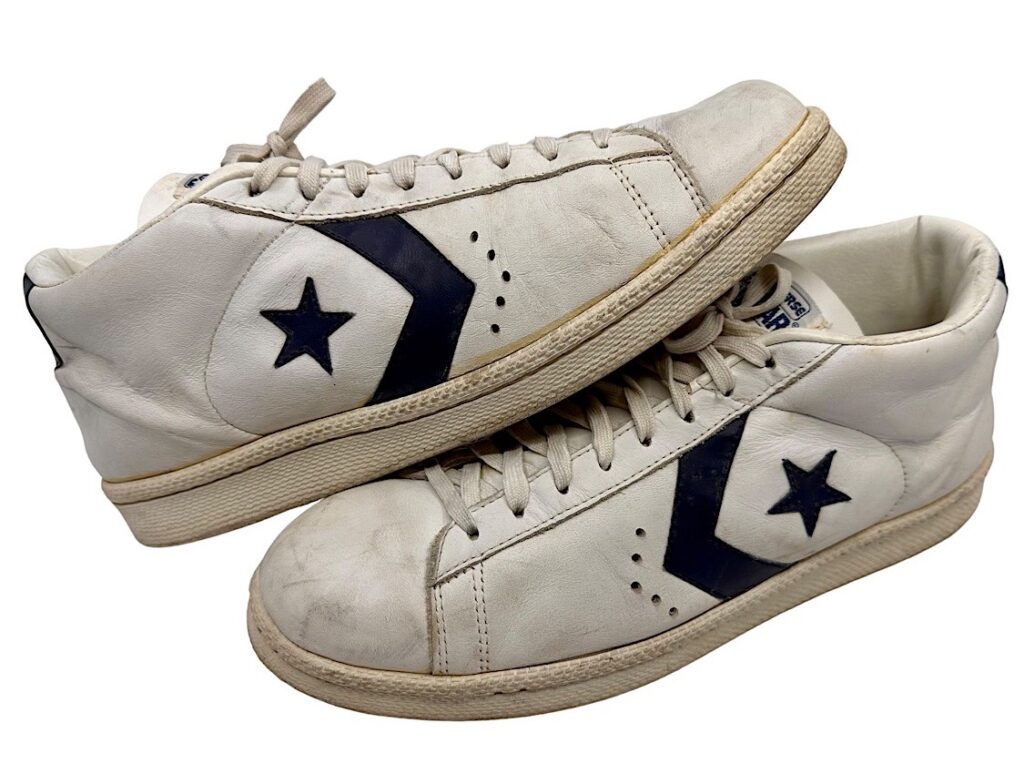 (Photos courtesy of Grey Flannel Auctions)
While the Converse Fastbreak and Pro Leather are often the two silhouettes from the Star Chevron-logoed company most associated with a pre-NBA era Jordan, this exact mid-top pair in size 12.5 was donned by the hoop icon during the 1983 Pan-American Games.
"At the conclusion of the Pan American games, as he was packing his bags, Michael gave me a pair of his Converse sneakers," said Henry Harris, a graduate assistant basketball coach under Team USA Coach Jack Hartman, who aided Team USA during their training camp at Kansas State University.
The shoes had been in Harris's possessions for nearly 40 years since the tournament.
The shoes were initially listed two months ago for bidding on Infinite Auctions, where just four bids generated a $120,000 closing price. A pair of the aforementioned Converse Fastbreaks worn by Jordan in the 1984 Olympics sold for $190,373 in 2017.
The pair from the Pan-Am Games is back up again for sale at Grey Flannel Auctions, with some collectible experts estimating the sneakers to be worth as much as $500,000. The latest auction opened this week with a $10,000 starting bid and currently sits at $16,106 just six bids in, with six days left to bid and a closing date of June 11.
(Photos by David Madison/Getty Images)
Held in Caracas, Venezuela during August of '83, the Pan Am Games served as the then-19-year-old Jordan's initial introduction to a global audience. Team USA dominated the tournament with an 8-0 record in 12 days, with Jordan — who wore jersey No. 5 — believed to have worn this pair of Converse shoes during Game 4 against Canada (and a second time against Mexico). 
The official Pan Am Games website now calls Jordan's breakout performance, in which he put up 17.3 points per game, "The First Dance."
The 1983 Pan Am Games served as the host of Jordan's first of three gold medals won during international competition, with his game-worn Converse sneakers now serving as a rare relic available to be owned by sports collectors some four decades later.
More Sneaker News:
Nike didn't quite hit its expected revenue mark, but its latest earnings report provides plenty of reasons for excitement in Beaverton. While Nike narrowly missed on its expected revenue for the first time in…