The founder of Harp Media & Creatives speaks with Boardroom about putting femcees and the women of hip-hop first in brand deals and partnerships.
Have you ever wondered how Saweetie continues to secure bags on bags' worth of memorable brand deals and partnerships? How about how City Girls' JT suddenly became the fashion femcee face of Kiss Colors & Care? Perhaps you've noticed how GloRilla's red carpet appearances have maintained her Memphis flair while she stays decked out, creating high fashion moments one after another.
Well, the answer comes down to two words: Whitney Harper.
The Bay Area-bred executive is an authoritative bridge between the beauty and fashion industries and the entertainment space, allowing some of today's top talent to be seen in the most notable brand campaigns, endorsements, and collaborations. As the founder of Harp Media & Creatives, Harper's business taps into style and wardrobe, content production, management, creative direction, and all-around next-level glam.
Between VIP Beauty Creative services and visual production opportunities in collaboration with an industry-leading team of visual strategists, photographers, directors, and set designers, HMC's 360 agency gives any and all clients space and opportunity in branding and image consulting, positioning itself as an industry force and market leader.
In conversation with Boardroom, "Whitty Harp" shared that one of her goals as the founder of Harp Media & Creatives is not only to amass a roster of "the newest clients in the game," but to position them as someone to watch on the come-up as a multifaceted artist rather than a rapper of the moment.
"We normally like to get 'em before they hit the scene so that our work shows. We just wanna continue to grow the relationships that we have with the brand 'cause I don't wanna leave them out like they're not important," she said. "They are very important, 'cause if we didn't have the relationships that we had, then a lot of the brand deals that we got our clients wouldn't have been possible."
Sign up for our newsletter
"That image department is like my baby because you get a lot of celebrities that come into the industry [and] they automatically think that these major labels — sometimes they kind of don't know what they're talking about in reference to hair stylists, makeup artists. You get a lot of celebrities that'll post on their Instagram stories and search for glam, photographers, or hair stylists in the cities that they're in," she told Boardroom in assessing how major labels drop the ball on image consulting for new talent. She pointed to JT's KISS Colors & Care collaboration, which debuted in February 2023, as a creative path toward side-stepping those pitfalls.
"We do brands, so we bring brand deals to the table and I really like to focus on African-American women for myself because they don't really get the opportunities that someone else may get. I like to fight for that. With JT, bringing her first major brand deal to the table was really big for me because you don't necessarily really see Black women as the face of a major brand," she said.
Contrary to what her current career endeavors would suggest, however, Harper never intentionally sought a career in the entertainment business at all.
While she was around big names in the sports and music industry — MC Hammer, record producer Zaytoven (a blood relative), her father and former San Francisco 49ers player Willie Harper, her sister, Qiava Martinez, the Senior VP and Chief Sales Officer for the Las Vegas Raiders — Harper herself did not envision herself touching the industry in an executive capacity.
In fact, she wanted to be a singer.
"I never wanted to be on the business end of things until obviously my niece drug me into the industry with her," Harper told Boardroom of niece and Grammy-nominated rapper Saweetie. "It wasn't so bad and I felt like there was really a need for what I had to bring to the table in that industry, and so I'm here now."
She initially started by doing glam for the self-proclaimed "Icy Girl," but soon realized that there was more of a need for image consulting than most folks would have believed — and that's where Harp Media & Creatives was born.
Where the Bag at?
For Harper, advocating for Black women, women of color, and women in general is second nature, and not only due to her personal experience, but through internalizing that society and culture chronically deny women the credit they deserve.
"I feel like we're so underrated, and let's not even just say Black women, but let's just say women as a whole," Harper said with passion. "I feel like the industry has been kind of dominated by men for so long. I don't wanna sound like a sexist, but women to me are the ones that really get the job done behind the scenes, but I feel like a lot of the men get the credit for it. I'm always advocating for women behind the scenes and I'm not falling into this narrative. Let's change it."
When going into Boss Bae mode to land these deals, Harper has a method to her madness ahead of the ink drying on a contract or agreement. In addition to uniting the relationships that both her agency and individual clients bring to the table at the beginning of a given partnership, Harper additionally aims to assess her clients on a more personal level in order to allow their authenticity to shine through.
A prime example of Harper's particular approach in action? GloRilla.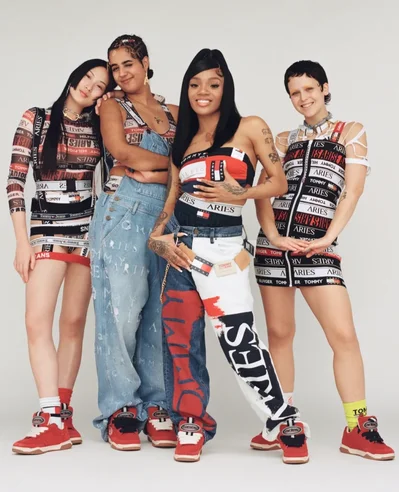 "What makes sense with GloRilla? She's super hood. She's really urban, really street," Harper said of the Memphis rapper. "A really high-end designer brand might not make sense right now because she's so early in her career, so then we go to [Tommy Hilfiger] and we go to the Kappas — like, more urban brands that kind of fit the story that Glo is trying to tell."
The "F.N.F." artist recently landed a starring spot in Hilfiger's collaboration with London-based streetwear brand Aries that launched on March 27. Even the hair and makeup for the campaign were courtesy of Harp Media & Creatives' Kadiatou Tall and Anscherley Noel.
The collection will be available starting March 31 at select Tommy Jeans retail locations and at tommy.com.
In Harper's experience, high-end fashion brands have a habit of steering away from urban and upcoming artists unless they're "extremely big," which is why brand and image consulting for someone like GloRilla may be a bit more challenging in the beginning stages. However, when it comes to rappers like JT of City Girls' caliber, there's a bit of wiggle room to compare and contrast what may work for each client.
"JT, to me, is like a fashion it-girl. She gets it, so we can go more towards the Dolce and Gabbanas and the more high-end designers because that fits her," Harper explained to Boardroom.
"It's really just about customizing everything to each client because it makes them feel different and it's kind of, like, special in a way. Everything is not for everybody — I'm not gonna just give JT or GloRilla all the brands that we had, if that makes sense. They're all different in their own way."
So, now that a client's style and taste have been pinned down, how does an image pro scale and monetize image consulting and brand management? For Harper, it's all about strategy, strategy, strategy.
Referring back to GloRilla's fashion journey, Harper noted that before the Tommy deal was secured, she wanted to establish an authentic relationship with the brand first by ensuring the "On Wat U On" rapper would first be seen in their clothes without being paid to do so. Then comes the imperative to get both client and stylist perfectly in tune in order to get the brand's eyes the former through the latter.
Suddenly, voila! The "Unh Unh" artist becomes the face of a national Tommy Hilfiger campaign.
Tap, Tap, Tap into High Fashion
In working with Saweetie, things panned out a bit differently than with GloRilla. In fact, before Harper stepped in, television producer and Saweetie's uncle, Louis Burrell, was the "Best Friend" rapper's manager before signing a new management deal with Brandon Creed of Full Stop Management in 2021.
In the midst of reintroducing Saweetie and her image to the world, Harper wanted to make sure she gave everything she had to position a press photoshoot as a possible gateway to high fashion placements. With a bigger budget, she knew that she wanted to collaborate with the right stylist for the moment and she had her eye on two in particular: Rob Zangardi and Mariel Haenn. Known collectively as Rob and Mariel, they are known as two of the most successful stylists in the industry who have worked with the likes of Jennifer Lopez, Ciara, Lily Collins, Cara Delevigne, Gwen Stefani, and more.
Soon after, word got out that the two style powerhouses were partnering with the Icy Girl, Harper began to receive calls from Gucci, Tom Ford, and everyone in between, which eventually led to Saweetie's first high-end partnership with Dolce and Gabbana. That same year, she was invited to The 2021 Met Gala celebrating "In America: A Lexicon Of Fashion" art exhibit at the Metropolitan Museum of Art — her first-ever debut at the annual superstar event.
"It's very important to listen to them and what they want, as well as still bringing the creativity of whoever else is on the project. I think it's so important to listen to your clients because with the other concepts that we brought to the table, Saweetie liked them, but it didn't wow her," Harper said of the process of bringing moments like Saweetie's Met Gala debut to life. "With Saweetie, she knows what she likes. We had went through a few different concepts and they weren't necessarily sticking with Saweetie. Literally I'd say probably less than 48 hours before the Met Gala, she wanted to do something that represented her Filipino heritage."
So ordered. Working directly with Cambridge-born, New York-based designer Christian Cowan, Saweetie and the HMC gang created sketches in less than two days that would ultimately transform into her Met Gala dress featuring two shimmering trains of flags representative of her Black American and Filipino roots. During a red carpet interview with TV correspondent Gia Peppers, Saweetie noted how the look was inspired by her identity as "a Blackapino girl," which she said makes her an American.
"The goal was to represent my multicultural background as what America means to me. Paying homage to my heritage was important. [My aunt] has a beauty and fashion team that is able to execute my vision in its authenticity and they flawlessly executed the looks that you guys see," Saweetie previously told Girls United. "We had the Black American heritage flag and the Filipino flag that symbolizes pride, independence, and freedom. Everyone should be proud of who they are and should feel free to represent their culture, family, and heritage."
Reminiscing on her niece's big moment during fashion's biggest night of the year, Harper told Boardroom that her No. 1 priority was making sure that her voice was heard, her needs were met, and the eyes and ears of fashion would be in the palm of her hands.
"We want to make sure that she's happy with it, too, so when she walks out on that carpet, she feels like the most beautiful, most best-dressed thing there — and I feel like it was a mission accomplished. I don't know if you can recall the look that Saweetie had for Met Gala, but she was absolutely breathtaking."
Good point. Let us all turn our attentions to the photo below:
Why Female Rappers Are the Moment Today and Tomorrow 2
From Lola Brooke and Timbaland to Bronx-bred rapper Ice Spice becoming one of the new faces of Beyoncé's Ivy Park, women in hip-hop have long been in the eye of the beauty of fashion storm, but Harper is not a fan of the fact that certain folks are just now catching on after so many years.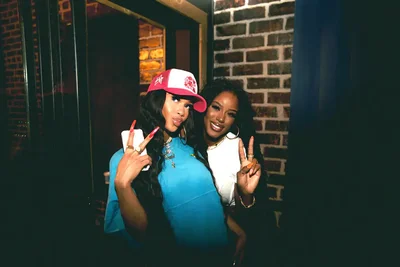 "I definitely think that women right now in the industry, they've really taken over. When we're talking about hip hop, even R&B, all you hear are the women. I'm not just saying this because [she's] my client, but GloRilla is actually probably one of the hottest female rappers out right now," Harper said, additionally praising the likes of rising rappers such as Maiya The Don and Doechii. "They're like the new upcoming generation of women in the industry and I think that it's very important to see their faces with a lot of these brands and you're kind of starting to see it happen. Like with Ice Spice, I know I've seen her with a few major brands, but they're still not given the equal opportunity, if that makes sense."
"I feel like with my agency, I'm trying to create more of a space for women of color with brands, but the job's not completely done yet. We're getting there, we're on our way there, but we're not all the way there yet," she said.
MORE WOMEN'S HISTORY MONTH STORIES
As March comes to a close, we celebrate a wide range of women who have redefined their respective industries and blazed a new trail for the next generation….