The Gen Z singer-songwriter spoke with Boardroom ahead of the 2023 Grammy Awards about breaking into the songwriting biz and earning the chance to work with Queen Bey on Renaissance.
Chris Brown and Drake's "No Guidance." Chloe x Halle's "Forgive Me" from their 2020 Ungodly Hour album. Ariana Grande's "Positions." Cardi B and SZA's "I Do." Meek Mill's "24/7" featuring fellow R&B songstress Ella Mai. Now, it's all about Renaissance with the one and only Beyoncé, who recently became the most decorated artist in Grammys history as of the 65th annual ceremony on Feb. 5.
Whether or not you know Nija Charles by name, we're damn sure that you know the work of one of the most talented songwriters in the game.
Kehlani's It Was Good Until It Wasn't, Teyana Taylor's The Album, and Beyoncé's Black Is King standout "My Power," are just a few of the many tracks, LPs, and projects to which Generation Z singer-songwriter Nija Charles has lent her pen over the years as she's blossomed her brand and made her way into rooms that most in the business — even beyond her tender years — couldn't imagine.
In addition to working as a songwriter, the proud Jersey girl is a rising R&B artist in her own right, with her EP Don't Say I Didn't Warn You dropping last year. Taking the ultimate leap of faith to leave New York University and relocate to Los Angeles before she was even 20 years old to sign a publishing deal with Universal Music Group allowed a young Charles to land on something of a pillow of dreams — one that has continued to expose her to opportunity after opportunity.
"It's been busy already, like going through the list for my Grammy party, just trying to get everything together, figure out what I'm wearing, so it's been that kind of day," Charles told me during our phone interview the weekend before Grammy Awards week officially kicked off in Los Angeles. The young songwriter was celebrating her nomination for the first-ever Grammy for Songwriter of the Year, which came as a result of her work with Summer Walker, City Girls, Lil Durk, Annita, Megan Thee Stallion, Kehlani, Meek Mill, and (of course) Bey. "I'm super excited. I am, to really just have fun this week and really smell the flowers and just bask in everything."
Ahead of the 2023 Grammys, the 25-year-old caught up with Boardroom about her journey to becoming one of the most sought-after songwriters in the music industry, how she balances two worlds in being an artist herself and a songwriter for others, and how the life-changing opportunity to work with Beyoncé and Jay-Z came about.
Sign up for our newsletter
D'SHONDA BROWN: Take me back to when you first fell in love with songwriting. Have you always been interested in it, or is it something that you fell into?
NIJA CHARLES: I actually fell into it because what I initially wanted to do was be a producer. I wanted to be like the female Pharrell and that was really my dream. I guess I didn't even know the concept of a songwriter, really, because when I was watching behind-the-scenes videos, it was like Pharrell was kind of writing on top of his beats and also Ryan Leslie was writing on top of his beats. I thought it just came in a full package, so that was what I thought I was gonna be doing a hundred percent of the time.
I was like, 'You know, people wanna hear songs, so if that's what it takes for my beat to get heard, then I'll sing on my instrumentals.' It just caught wind of a lot of other producers and they were like, 'Can you sing on my songs as well?' Then I got known as a songwriter because I wasn't only just writing on my stuff, I was starting to write on other people's instrumentals. I definitely fell into it. For me, it was like a marketing tactic when it ended up becoming, like, my whole steelo. 
DB: When you first started as a songwriter, what was the first song that you ever wrote that you got paid for?
NC: The first song I ever, ever, ever, ever [put] out, I want to say it was either Lecrae's "Lucked Up" or Chris Brown's "Pull Up" on his Heartbreak on a Full Moon album. The reason why I'm so I'm unsure is because I know that my first placement was Lecrae, but if I'm on the money, I feel like Chris came out sooner than Lecrae, but Lecrae came to me first. It just took him a little while longer to put it out.
DB: I know that you're young, but you've been doing a lot of shit. You're on it for sure, but can you pinpoint your big "I made it" moment as a songwriter, or do you think it hasn't happened yet?
NC: Oh, yeah, my big "I made it" moment in my first year in my career, and it was working with Bey and Jay. It was so early on in my career because I went to Paris and I was working on the joint album, The Carters, and it was just me, The-Dream, and James Fauntleroy, and then Jay and Bey as writers. It was just like, I'm in Paris right now, I'm not even legally able to drink, and I'm with Jay-Z and Beyoncé and two of the biggest writers I pretty much have known about growing up.
That was like the "I made it" moment, and I ended up getting more than one song on the project. If I didn't know if I made it before, this was the validation 'cause it's Beyoncé and Jay-Z.
DB: Speaking of Bey, let's talk Renaissance. Tell me how the opportunity came about and how your creative process for songwriting on this project was different than on The Carters.
NC: Ever since The Carters, I've been blessed to always be in the fold and Bey always thinks of me when it comes down to collaborating. Whenever she's working, I have an opportunity to help out, and we also did The Lion King [soundtrack]. I worked on that product as well, and now that she was working on her solo stuff, I got the call and I'm like, 'Okay, cool. What's the vibe?' What was different with this was, as we know, it was house music, and with every project that I've worked on with her, they've all been different but with this. It was totally different.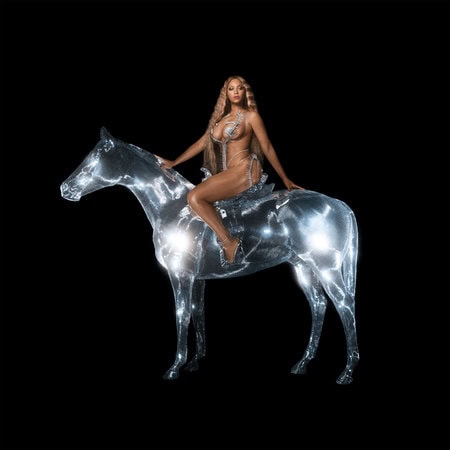 I guess for other people, it might've been a little out of their comfort zone, but for me, I low-key felt like I was able to be more relaxed now that I've gotten the jitters out and been on a few albums. I've gotten that outta my system and I was able to be more relaxed. Also, I grew up on house music, so I felt comfortable.
Writing-wise, this was the first time that I actually wrote out lines, because usually how I work is I freestyle and say whatever comes off the top of my head and I just let it flow. With this, she was saying she wanted a female empowerment anthem, and I really need to take my time with this and really think about lines that are going to hit and sound cool, because what people think of [as] house music is not what she did before. Before she put out Renaissance, that's not the type of house music she did and what people's idea of house music was.
She did the house music that I grew up on — Chicago house, Little Louie Vega and Black Coffee type of house music. This is gonna be different for the culture, so how do I also kind of commercialize this? I just had to take my time with it.
I was relaxed and that was big for me. I wrote out lines for the lyrics to the song "Cozy" and I was just trying to figure out a commonality that all women go through. We all have to face fears. We all go through things and have to overcome a bunch of hurdles, and we all have to have some type of confidence in self-love. I was trying to bridge all that together and make every woman feel good about themselves. So I was, you know, 'I'm cozy, I'm comfortable on my skin, dancin' in the mirror, looking at the scars that I made,' all of that. I was just writing out whatever I felt like could really touch a woman. 
DB: You've had a lot of successful collaborations, but which are among your favorites thus far in your career? 
NC: Pretty much anyone that I write a lot with have been my favorites. Of course Bey, Ariana Grande, Kehlani, Summer Walker. It's just always good vibes and I like making music that I wanna listen to. Those are some people that I've gotten to really know on a personal level and you can hear it in the writing.
DB: What's a song that you wrote for somebody else that you wish you would have kept for yourself?
NC: None. There's no song I've written for anyone that I've wanted to keep for myself because everybody that I've written for or that I've written as a demo, in my head, that's somebody else's story. I had to give that away.
DB: And if you could write a song for anyone that you haven't tapped into yet, who would it be and why?
NC: Oh, yes. Well, three people that I really wanna work with that I haven't gotten the chance to yet [are] Justin Bieber, The Weeknd, and Rihanna. I love to make music with people that I am a fan of, and Justin Bieber, I've been a fan since My World. The Weeknd, I remember the first time I heard House of Balloons and like, it's Rihanna; like I love Rihanna. I've been waiting for new music, so, ever since Anti she's been talking about working, so I'm just waiting. I'm just waiting to get in.
DB: How do you go about balancing Nija the songwriter and Nija the solo recording artist?
NC: The hardest part about keeping the balance is time management — and not when it comes to actually creating the music, but having to take days off to do press runs and photo shoots. Usually, those are days that I would give to working with artists.
One thing that I realized is the amount of time that I put in to build up my songwriting career, I also have to put in that amount of time into building me up as an artist as well. When it comes to actually creating music, it's not hard for me because with every record I make, I go into it with whoever is in mind. I never am like, 'Do I keep this for myself? Should I give this to somebody else?' Like, no, whoever it's meant for is who it's meant for. If I'm running a record for myself, I have no problem bearhugging it and never giving it away because I wrote it with me in mind. It's been a bit of a challenge time management-wise, but creatively, the balance is there for sure.
DB: Do you ever find it hard to establish your identity away from the performers whose songs you wrote? How do you keep Nija Charles the singer/artist distinct?
NC: Because I worked with so many of the artists that I've worked with multiple times, I feel like I'll always get that label, but the one thing that I keep in mind is that I'm not just one person's go-to, you know what I mean? No one can label me as just one artist's person. People attach me to their favorite songs, so they'll be like, 'That's Bey's writer.' I've written a few songs with Bey, but I also have songs with Ariana Grande. They might say I'm Ariana Grande's writer for their favorite song, "Positions." I've written a lot of songs with Summer [Walker], but that's my own identity as well.
I think that's a separation so I'm comfortable with knowing that, at least in this stage, the general public will pinpoint me with whoever their favorite song is with. In due time when my music becomes as big as, like, Beyoncé and Ariana Grande, they'll be able to really separate the name from the songwriter or the songs. As a songwriter, that's what comes with it. In due time, there will definitely be separation, at least in my head. I'm not tied down to one person so it almost doesn't make it real, you know?
DB: I was reading a few of your past interviews and in Teen Vogue and there was a mention of feeling pigeonholed into urban categories. Today, do you still feel like you've been boxed in as a songwriter, or do you feel like you've had more opportunities to branch out into different genres?
NC: I've gotten more opportunities for sure, but there's always gonna be the underlying ask to come and do an R&B song. I still have to work 10 times harder to try and get myself outta that gap. It's almost like an actor — if Tom Cruise is good at Mission Impossible movies, they're gonna keep casting him for action movies even though he might be able to do a comedy movie or something like that.
I know that because I'm good at making R&B music and also because I work with a lot of Black women and I'm a Black woman myself. People in other genres — rap, pop, etc. — they might try to get me to do that, but I have to work harder in those other genres as well to showcase and to make them understand that I don't only just do this. I'm equally as good in country, pop, afrobeat, and rap as I am in R&B. It's gotten easier, but it's still a battle for sure.
DB: Pop, Latin, country — which songwriting room would you wanna be in right now?
NC: Pop, for sure. I am a pop girly, for sure. Probably for the first five years of my life, I was nothing but a pop girly. I had the NSYNC merch and toys. I was really big into Britney Spears, so pop will always be in my heart. I feel like pop has the best earwormy songs and that's what gravitated me towards the music anyway, 'cause I love songs that just stick in your head.
I feel like it's a getaway; it's an escape. I would love to be in a pop room, especially with the chords that they use, they make you feel something. That would be the No. 1 room that I'd wanna be in right now.
DB: In your opinion, why is it important to include songwriters in the conversations about the Grammy Awards as much as we do the artists?
NC: It's extremely important to include the songwriters because when it comes down to music, it's all a collaboration. Artists wouldn't have a song without a songwriter or a producer unless they do it all themselves. When you award these songs and not just the artists — because they have Best New Artist, which goes solely to the artist — when it comes to Best New Record or Album of the Year, or Songwriter of the Year, before, they had awards for the producers, but not the songwriters.
It was just unfair because we all put in the same amount of work on these songs that are winning awards. If you're going to give the win and recognize one person or two people for what they've done, include everybody. Include everybody who's made that happen, because everyone who's collaborated is just as meaningful as the next person. That's why it's super important to recognize the songwriter just as well as the producer, the artist, [and] everyone that's part of the record because without songwriters, you wouldn't have a song.
DB: Are you working on any follow-up projects to your Don't Say I Didn't Warn You EP? Can the fans expect anything else coming from Nija Charles the solo artist soon?
NC: Absolutely. Right now, "Not One Of Them" from Don't Say I Didn't Warn You is going up right now, so I'm pushing that, as well as the record I have on the radio with Babyface Ray and Blxst, "Spend It," so that's going up. I am finishing my second project. I've gotten some features on there, so I'm just trying to make sure it's right. It's been officially a year that Don't Say I Didn't Warn You came ou; I'm trying to have a strong follow-up. I turned a lot of heads at the first project, so I'm trying to make sure that I upstage it.
Read More:
It's October, which officially means we're in the final stretch of the year. Welcome to Q4, folks. A peek into today's edition: Coinbase Takes DC Same Day Gary Gensler Testifies Before Congress Coinbase mobilized the crypto community,…
Read More:
Sign up for our newsletter