What an Andre Agassi oddity returning to retail signals for sportswear — and perhaps streetwear — with an assist from Supreme.
From Flushing to France, fans are tuned into the 2023 US Open as tennis talent toes a changing of the guard.
Coming off the heels of 1.2 million viewers in 2022, this year's hardcourt classic proves the perfect stage for athletes on the rise to become household names and up their earnings and endorsement profiles. Winners will add a Grand Slam trophy to their resume and the chance to front facades for Rolex watches in Times Square or sell Subway sandwiches in Switzerland.
Already on the cusp of worldwide superstardom is Carlos Alcaraz: the 20-year-old Spanish sensation who exchanged Slams with Novak Djokovic, already making millions from the likes of BMW and Calvin Klein.
While Alcaraz is increasing his legacy with powerful play at USTA Billie Jean King National Tennis Center, he's made major noise this week not just on ESPN, but on IG.
On Tuesday, the crown prince of tennis took to his Instagram account of over 4 million followers to debut the Supreme x Nike Air Zoom Courtposite: a leftfield launch that pairs the most notorious brand in streetwear with one of the most intriguingly obscure tennis shoes ever made.
First released in 2002 and unarchived in retro form, the Nike Alpha Project design inspired by Penny Hardaway's space-age hoop shoes and intended for Andre Agassi to don in pro play proved a deep cut even by Supreme standards.
Moreover, the unexpected unveiling of this peculiar pair with Alcaraz sent shockwaves through sneaker, tennis, and streetwear hives due to its incredibly niche nature.
So, why did it happen? It's a sign of totem trends to come.
Digging beneath the surface, Boardroom breaks down the business behind this Foamposite premiere and what it means for market pushes to come.
Tennis, anyone?
For decades, the sport most closely associated with affluence and fashion was tennis.
While the advent of Air Jordan and the influence of hip-hop eventually pushed hoops to the forefront, court models worn in Grand Slam competitions once sold in droves. This proved particularly true in the foundational days of Nike as they expanded from track takes to sports specialties in the late '70s and early '80s.
"Basketball was below tennis in total sales," Ron Hill, former Nike Product Merchandiser, told Boardroom in 2022, referencing the era before Michael Jordan's NBA arrival. "Tennis kind of had a street appeal."
That street appeal was exactly why sneakers of all sorts were long called tennis shoes.
From Wilson at Wimbledon to Diadora at the Australian Open, tennis fashion and footwear were aspirational and influential. Court kicks, velour tracksuits, and striped polos all crossed over to credibility on the concrete that other sports couldn't touch.
At Nike, investing in counter-culture phenoms like John McEnroe and Andre Agassi in the '80s added fire to the fury. It also led the way for sustained dominance, signing stars such as Pete Sampras and Roger Federer in the next decade. From style to supremacy, everything aligned in what quickly became an apex era for commercial appeal.
"I grew up in the '90s playing tennis and it's the whole reason I started collecting sneakers," Nike archivist Andrew Incogs told Boardroom. "US tennis has never been better than it was in the '90s."
The sport and the Swoosh gained global ground in the '00s and '10s thanks to iconic endorsers like Serena Williams and Rafael Nadal. However, footwear and fashion became more fragmented — athletes demanded innovation while casual consumers grew enamored with retro looks.
Nike sought to bridge the gap through hybrid homage.
It caught, but not like wildfire.
Despite Serena's dominance and Federer's charm, tennis lacked the street appeal it possessed in prior decades. On tour, Nike was capable of creating amazing moments, but they proved less likely to resonate at retail or in real life like they did in the last millennium.
While Nike leveraged storytelling surrounding Agassi's return to the brand and relationships with Virgil Abloh's Off-White, fragment design, and Michael Jordan to take tennis into new spaces, statement showings never led to sustained sales in the mass market sense. As the titans of tennis grew older, youth fashion found itself further and further removed from country club couture.
In 2023, it's clear Nike tennis is rising back up by digging deep into the crates.
"It's nice to see Nike revisit that segment," Incogs said. "Because for a long time tennis was kind of dead."
The spark started in 2021 with Nike seeding Travis Scott and LeBron James archival pairs of John McEnroe's Mac Attack.
It was realized at retail this year with a sellout launch and collaborative campaign, placing La Flame and McBrat in a viral video.
The rising tide of tennis at Nike is seen in Naomi Osaka's off-court collection and loud looks for the likes of Frances Tiafoe and Nick Kyrgios. Atop the totem — from a youth and play perspective — is Swoosh signee Carlos Alcaraz.
"There may not be a better player on tour right now than Alcaraz," Boardroom's Kenny Ducey wrote in August, well before the Spaniard won this year's Wimbledon. "And the way things are already looking, he may go down as one of the greatest ever."
Said to be earning a million from Nike alone, the Swoosh is pushing "The Alcaraz Era" on social media while lacing the rising star in high heat like Tiffany Air Force 1s and Travis Scott Air Jordans. It's a positioning play that places the brand's young tennis star closer to fashion influencer status, and it's only amplified by this Supreme debut.
If all goes as planned for the No. 1-ranked Alcaraz at the 2023 US Open, it could prove the jolt of youth and lifestyle that could define an era for the brand and the sport.
"It's a smart move by Nike," Incogs said. "They leverage him because he's the guy right now."
While the preview pairing may not be the next step in taking tennis back to the top of shoe sales it does covertly serve another Nike initiative.
Foamposite Fever
If influencer marketing in footwear were to be distilled into a simple equation, it would be Young Talent x Old Shoes = Profit.
Since retro sneakers emerged as a dominant category in the early aughts, Nike has made billions by aligning athletes and artists on the rise with designs dating to decades past.
In the 2020s, both Billie Eilish and Travis Scott have modernized the meaning of Air Jordans and Nike Dunks ideated in the '80s. In the late '00s, Wale's wear of the Nike Air Foamposite One catapulted an aspirational Penny pair from '97 into a status symbol for blog-era youth.
The retro Foamposite's popularity resonated at retail in a way that moved margins. By 2013, the model once discounted down from $180 suddenly sported an MSRP of $250.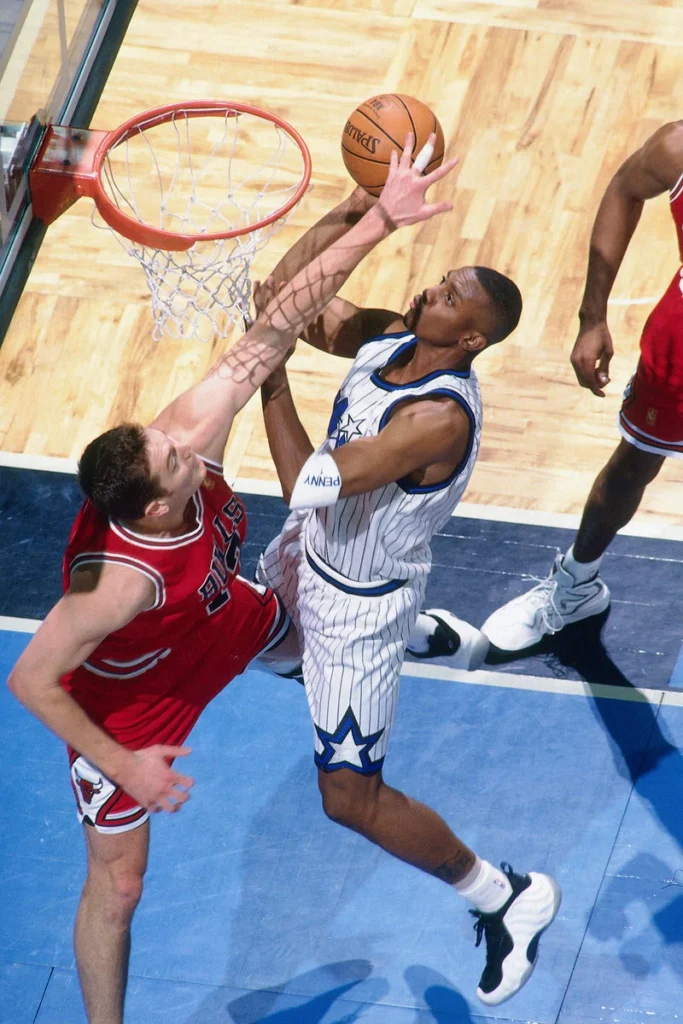 In a matter of years, the energy around the nostalgic sneaker allowed Nike to push prices on all models akin to it. In 2023, that trend is set to pick back up.
The Swoosh is committed to making Foamposite popular once again. From favored pairs of Penny past to LeBron James signature shoes also attached to the tech, many models made of Foamposite material will bleed back into boutiques, often retailing for as much as $240.
That is why the Alcaraz unveiling of the Supreme x Nike Air Zoom Courtposite is right on time for future plans but a bit random for those entrenched in tennis.
"When I initially saw him holding that gold retro," Incogs recalled, "I said, 'They're really retro-ing the Courtposite?' Because it's such an obscure model and there wasn't a lot of fanfare."
First released 21 years ago and not seen since, the original Courtposite never actually graced the feet of Andre Agassi on the court and was drastically discounted at retail.
"It's kind of random," Incogs admitted. "In 2002, the whole basis for Alpha Project was avant-garde design with functionality. It just didn't perform well and that's what people from that era will remember — that performance-wise wise, it didn't hit the mark."
Sign up for our newsletter
While the ascendant star of men's tennis has been seen holding the first retro rendition of the Courtposite, it's unlikely he'll be playing in it.
There lies the opportunity for Supreme and the model as a whole.
Dressed in an iridescent gold upper, the streetwear send-up of the avant-garde Agassi shoe is a subtle reference to 1999's favored Foamposite cousin, the Air Flightposite One.
"I think it'll do great as a lifestyle shoe," Incogs said. "As long as people know to size up because they taper pretty small in the toe box. The Courtposite was always one of my favorite Alpha Project silhouettes. It came in all-black and it had a concealed lacing system. I always appreciated that 'hidden' look."
From hidden gem to talked about collaboration, the retro run of the Courtposite proves a provocative move for tennis fashion and the upcoming Foamposite push.
The shoe also promises to be an interesting case study regarding price and positioning. While the original Courtposite started at $89.99 over 20 years ago, its Supreme starting point could be more than double that number.
Ironically, the original's poor performance at retail and on the court means little for the spark it's intended to provide for all parties.
This proves particularly true in a pivotal season for the streetwear giant.
Supreme Surge
In November 2020, VF Corporation acquired Supreme for $2.1 billion.
Founded in New York City in 1994, the skateboarding brand boomed in the '00s and '10s. Originally a place to purchase performance hardware and decks, the upstart streetwear label became synonymous with brash underground cool.
Over the last two decades, collaborations on various Nike SB Dunks and unofficial endorsements from the likes of Tyler, the Creator and A$AP Rocky expanded Supreme's audience and proved the rising tide for the streetwear category as a whole. The timing all aligned with the age of the digital influencer and resale hype.
By the late '10s, Supreme could be spotted on Keeping Up With the Kardashians and salivated over in YouTube videos from Round Two. From a fashion standpoint, it was the connective tissue from city skateparks to resplendent runways.
In the wake of this mainstream explosion and inordinate hype, the 2020 sale to VF marked a new era of commercial possibility for the brand.
Just the same, it meant a rising level of uncertainty around access and concerns about authenticity.
Nice Kicks content creator and veteran Supreme buyer/seller Gabriel Julio explained the dynamic to Boardroom:
"You get a bunch of people who buy with their heart and didn't agree with the acquisition on a moral belief standard. A lot of these guys move on to other brands, other people started popping, and you kind of saw Stussy replace it."
Since selling to VF, Supreme has seen sales slump in recent seasons compared to projections. After reporting a net income of $82.4 million in the fiscal year ending in March 2022, that figure shrunk to $64.8 million the following year.
"I don't think it's dead," Julio said. "You see it in baseball cards and you see it in sports, things shift out. Stussy has a crazy resale now, but I still think Supreme is putting out good pieces."
Sure enough, many of these good pieces happen to make up the same Fall/Winter '23 Supreme collection from which the Courtposite appeared.
Adapting its infamous photo tee with an appearance from NBA Youngboy and reviving varsity jackets heralded in hip-hop, Supreme has more buzz heading into this autumn than in recent memory simply by revising popular plays.
"The [Supreme] vibe is going back to '08 and '09," Julio said. "Fall/Winter usually crushes it and is known for their highly sought-after outerwear, and that's what makes New York New York."
Just as Supreme appears to be back on the good foot with compelling clothing, however, it's taken another hit: Days after the celebrated season was unveiled, creative director Tremaine Emory stepped away from the label, citing systemic racism.
While Supreme has long leveraged polarizing positioning and crass customer service as its public-facing calling card, those allegations — for the record, the brand denies them — are enough to make consumers question a label already in flux.
For now, enthusiasts and industry observers will be following along closely to see if the momentum around Supreme, Foamposite, and tennis can be sustained.
Serving Looks
Over the years, the symbiotic relationship between Supreme and the Swoosh has meant additive appeal for both brands in a sense that's both broad and boutique.
The skate label has gotten the first crack at retro releases believed to be left for dead or forgotten in the crates; the Swoosh has sailed on the buzz brought by reintroducing old shoes in a streetwear sense.
"You've got Nike doing what Nike does," Julio said. "Supreme shows people to broaden their horizons because most people aren't only into one thing."
In 2023 and beyond, that thing may be tennis.
Looking ahead, the planned randomness of aligning Supreme with both Foamposite and tennis is a surge of excitement all somewhat flat franchises need as the holiday season approaches.
"That's the beauty of Supreme," Incogs said. "They take those weird models and make it work."
Read More:
As Kevin Durant celebrates a milestone birthday, the Boardroom family looks back at everything that he's built off the court….