Boardroom caught up with the Memphis Tigers head coach on the heels of his prized player exclusive's retail debut.
The lead-up to the 1997-98 NBA season was loaded with burning questions.
Would this be Michael Jordan's last dance? Could Shaq and Kobe contend in the West? What in the world was on Penny Hardaway's feet?
On the cover of Pro Basketball Magazine's NBA Preview & Fantasy Guide, the Orlando Magic combo guard got headliner billing over the likes of MJ, O'Neal, and Patrick Ewing, with the magazine asking if the 6-7 standout was even better than the GOAT himself.
Posing such a statement wasn't shocking, however, what appeared above the text was:
An all-white version of the Nike Air Foamposite One, never seen in stores.
Sporting the same style and shape as the $180 oddity Hardaway debuted in April of 1997 and wore into the NBA Playoffs, this icy white motif felt like fan fiction or a Photoshop to any keen eye who spotted it at newsstands.
For decades, the infamous "Home" Foamposite One player exclusive evaded fans, collectors, or even the feet of Penny Hardaway himself.
This Friday, the one-of-one PE is releasing at retail for the first time ever in slightly adjusted form as an homage to the rarity that was so seldom seen it's still hard to believe.
Ahead of its arrival, Boardroom caught up with Penny Hardaway and the power players at Nike about the appeal of this prized pair and how the Foamposite found its first home in Orlando.
Bugging Out
Performance basketball in the mid-90s was an arms race.
After Michael Jordan made Nike a billion-dollar brand by the late '80s, the signature shoe in hoops and its influence on commerce and culture made every sportswear company invest heavily in both ballplayers and proprietary tech.
Over the course of the early '90s, Reebok raced to make Pump innovation relevant by decking out Dee Brown in inflatable shoes for an iconic Dunk Contest performance. Converse cut bait on its stars of yesteryear by making Larry Johnson the new face of the brand, outfitting his nubuck high tops with REACT Juice cushioning straight out of a sci-fi flick.
Still, the sweet serum of selling stars by tying talent to advertising and innovation oozed in Beaverton.
Across the category, Nike Basketball flew high under the guidance of Air Jordan, owning the bulk of the trade by the time '80s gave way to the '90s.
"Collectively, we had 70% of the basketball market," Ron Hill, a former Nike employee that oversaw product merchandising in the '80s and '90s, told Boardroom in 2022.
In that era, the Swoosh buried basketball's biggest brands of the past by not just ascending Air Jordan, but by building out their own camps of Flight and Force within the Nike Basketball umbrella. Each wing would have its own identity and aesthetic, aligning athletes with footwear and gear designed for their position or playing style.
"We would sign athletes with collections in mind," Hill says. "David Robinson and Charles Barkley were gonna be Force guys. Penny Hardaway was going to be a Flight guy."
In Hardaway, Nike had a rising superstar on a rising team. Not only did the Orlando Magic make the NBA Finals in Penny's second season, but Penny himself was voted an All-Star starter by fans that same spring.
With Michael Jordan having just taken a break for baseball and already in his 30s, Penny was next in line for a pair of namesake Nikes with an advertising campaign to match.
To introduce Penny to the public through a larger lens, Nike asked Weiden+Kennedy to script up an advertisement where doll versions of Hardaway and Jordan would play one-on-one in a streetball setting.
While the pilot failed to launch, it provided the pathway for a comical pivot: a Chris Rock-voiced puppet that could talk trash as an alter ego.
"Lil' Penny was a force of nature," former W+K agency writer Stacy Wall told Boardroom in 2022. "That I never thought would be so popular."
If no-look passes and rim-rocking dunks made Penny a fan favorite on Sportscenter screens, it was an absolute wrap once Lil' Penny arrived. From 1995 to 1998, Hardaway was appearing numerous times a day in acclaimed television ads while still starting in every All-Star Game.
His signature series of Air Penny sneakers were popular all over the country, selling in droves on Eastbay and appearing as a status symbol for college basketball's best.
At the height of the hysteria, the brand brass at Nike flew to Orlando to meet with Penny and present him with his next namesake sneaker.
"We had already created a shoe that we thought would be in Penny's likeness," former Jordan Brand VP and Nike executive Gentry Humphrey told Boardroom in 2022. "But we normally bring a bunch of shoes that would represent the bag for the rest of the season."
For the 1996-97 basketball campaign, Nike designer Eric Avar created a radical performance pair inspired by the shell of a beetle. It was intended to be a statement shoe for big men and big spenders.
"I worked with Penny on signature shoes," says Humphrey. "Prior to me coming in, we'd take technologies that we were trying to put together and share them with various athletes that were part of the portfolio. In the bag was the Foamposite."
Flipping the Script
Urban legend suggests the Nike Air Foamposite One was designed with Scottie Pippen in mind while a heavy build and indestructible durability points to a post player like Chris Webber or Kevin Garnett.
"It was our way of looking at innovation and it was originally thought of for bigs and protection in the paint," says Humphrey. "It was very different, an aesthetic that you'd never seen before."
Whomever the Foamposite One was designed for, it was not Penny Hardaway.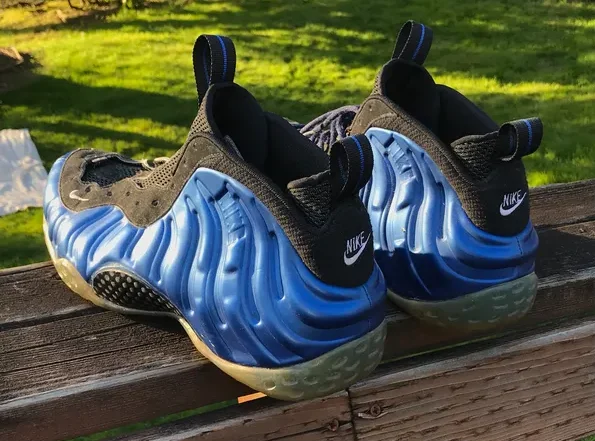 However, when you're basketball's most bankable rising star, you get what you want.
"That shoe was sitting in the bag and Penny saw it before we could even get to it," Humphrey recalls. "He goes, 'What is that?'"
Like the rest of the world when they first saw Foamposite, Hardaway was shocked. Years ahead of the curve, he had to have it.
"We pulled it out and shared it with him," says Humphrey. "'This is what I want to be my shoe, it's so crazy and so different.' Most people think about Penny being low-key, reserved, and kind of introverted, but he was really excited about these."
Minutes into the meeting, the Foamposite was his. Still, he'd have to wait to wear them.
For the start of the 1996-97 NBA season — Penny's first formal foray without Shaq — the active All-Star and gold medal winner wore the Nike Air Penny 2 to begin his fourth year. After another starting spot in the midseason classic and a slew of popular Lil' Penny advertisements, the stage was set to debut Foamposite right ahead of the 1997 NBA Playoffs.
Instead, an amateur athlete jumped the embargo.
Just as brand brass from Beaverton showed Penny a pair of shoes never meant to be his, a team rep in Tucson teased the same set of shoes to a college kid meant to be wowed rather than outfitted.
"Those were a big deal," Mike Bibby told me in 2017. "The Nike guy came to our team and said, 'They're not your team colors, but they're not out yet if you want to wear them.'"
Too young to care about big brand politics, the 18-year-old All-American clashed with a corporate rollout and his own uniform to make a splash.
"Being the sneakerhead that I was?" says Bibby. "I was going to wear them no matter what."
Running the table and rolling the dice, Bibby broke out the Foamposite One for the world to see in the 1997 NCAA Tournament.
The freshman phenom led the No. 4 seed to the title in a win over the Kentucky Wildcats, giving Lute Olsen his first and only national championship.
Days later, Penny put his pair to work under the bright lights of Madison Square Garden.
Though the Magic lost to the Knicks, the big stage saw Hardaway put up 21 points in his ambitious new Nikes.
The bright blue shoes stood out in shade and stature. Perhaps most notably, they stood out in price.
Tipping the scales of retail at $180 in 1997, the Foamposite One was $40 more than that year's Air Jordan model.
If you think $180 is a lot today, it was even more back then. Adjusted for inflation, that Penny pair's MSRP equates to $340 in 2023. Taking a leap, Nike risked all of its coins on Penny himself, releasing the Foamposite One proper only in Orlando blue.
"With Penny, it was easy to do the colorway that connected with the Magic," says Humphrey. "We didn't step out of the box too crazy because back then it was all about the hook-up. The Penny version became the boldest and brightest that we introduced."
Thanks to the 1 Cent tagging on the tongue and outsized Orlando hue, the Penny pair was turning heads despite athletes like Mike Bibby or even actors such as Spike Lee publically pulling out pairs before Anfernee's arrival.
Two days after the MSG game, Hardaway would have his revenge on the leakers by debuting a Foamposite no one else had at the time — and one nobody's had since.
Very Rare
Contrary to collector cache, the point of being a signature athlete is not merited on limited looks. Rather, it's endorsing a sneaker that everyone can get.
While the world loves what they can't have and exclusive colorways add intrigue to those in the know, the point of signing an athlete to a shoe deal worth millions of dollars is to sell thousands of sneakers that look just like the ones they wear on-court.
Because of this, Penny Hardaway was to rock his bright blue, $180 sneakers for the remainder of the 1996-97 NBA season and into the playoffs. Perhaps spurned by the botched embargo, he also audibled in that infamous spring.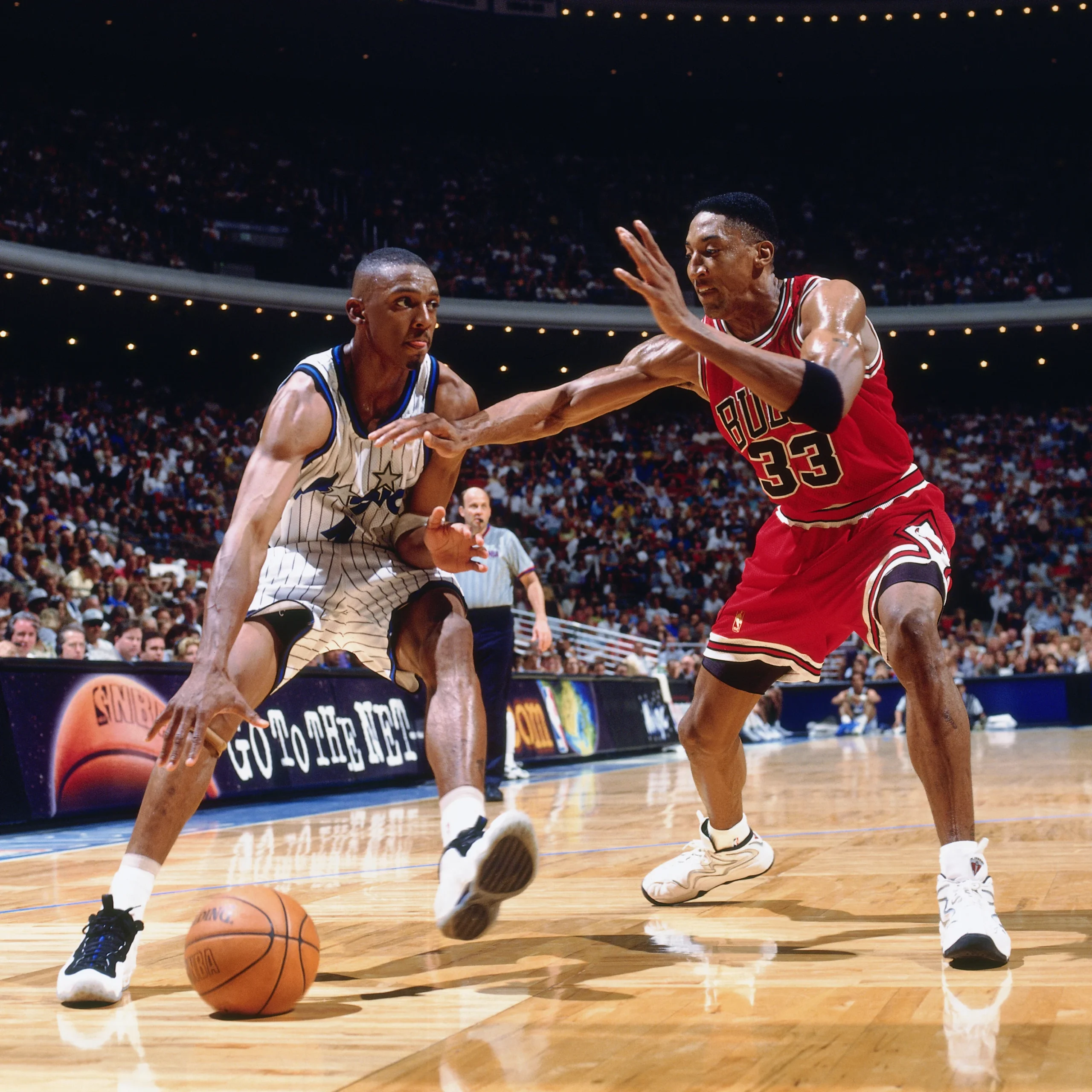 "For all my friends and family that know me? I love pearl white," Hardaway told Boardroom.
Facing off against MJ, the man he was contending with where the NBA and Nike marketability was concerned, and Pippen, perhaps the original muse for Foamposite, Penny pulled out an alternative take on his $180 spaceship of a shoe.
Orlando in orientation but bearing far less blue, the "Home" PE was made to match but still a complete zag. Sporting a black tongue and lining with royal blue accents around the piping and perimeter, it was the inverse approach to the retail rendition.
"When I saw that? I fell in love right away," says Hardaway.
On that April 6, 1997, outing, the Bulls bested the Magic once the final buzzer rang. Penny took a loss to Michael and Scottie, despite putting up 23 points. Perhaps superstition or maybe a Nike nudge, he went back to his blue pair for the remainder of the season.
From there, the one-of-one exclusives disappeared into the vault, never to be seen again. Until now.
Rather than resurfacing on Pawn Stars or eliciting a small fortune through a Sotheby's sale, the Nike Air Foamposite One "Home" PE is releasing at retail decades after its Penny preview.
Price at $240 and launching at select stockists on April 7, 2023, the drop is taking place almost 26 years to the day since its unexpected debut.
Regarding court colorways, the original Foamposite One only launched in the acclaimed "Dark Neon Royal" rendition both Bibby and Penny played in back in '97.
The shoe's bold but narrow introduction set the stage for catching consumers' eyes off intrigue just as much as star power.
"It was making sure the shoe could be as commercial as possible," says Humphrey, "because it was at a more premium price than anything on the market at that time."
As alluded to, the Foamposite's boundary-pushing price and aesthetic were too much for most fans to grasp in '97.
In the decades since, Nike has built off the backs of Penny prestige, Wale wears, and intricate storytelling to revise the Foamposite less as a hardwood triumph and more as a fashion status symbol.
This boutique bringback speaks to both sides of the shoe.
Notably, it carries the same sentiment as Anfernee's exclusive, slightly shifting the shade of blue on the accents and upgrading the tongue to tumbled leather.
It's a classic play out of the Nike marketing manual to tell the story of a forgotten shoe in a surprise fashion.
It also sees the anticipated retro render just slightly off compared to the original, making fans wonder if the differences were a rushed clerical error, a nod to another color story, or simply keeping Penny's prized PE from 1997 a true one-of-one.
For Penny purists, it's a chance at copping a classic most never thought would come.
For Penny himself, it's a reminder that even the B-Sides in his sneaker catalog can have the whole world singing his praises over a quarter century since he asked Avar and Humphrey what was in that infamous bag.
"To me? The all-white PE was a classic," says Hardaway. "I love that all-white look."
More Sneaker Stories:
In the era of the entrepreneurial athlete, Ant-Man is standing on business by doubling down on his game. Will it all culminate in building an empire with Adidas?…