In 2003, basketball's best-selling stars spotlighted a shift in culture and eras. Learn how hip-hop and hoops collided in Hall of Fame fashion.
The NBA is a global brand where fans far and wide flock to align loyalty with high flyers, international MVP candidates, and local superstars.
In 2023, the likes of Steph Curry, LeBron James, and Giannis Antetokounmpo all battle for the No. 1 spot where NBA jersey sales are concerned, each possessing a level of excellence on the court that spans hemispheres and exceeds eras.
Each All-Star MVP, NBA MVP, and NBA Finals MVP envelopes winning in a manner more fans worldwide relate to than rising stars such as Luka Dončić, Ja Morant, and Jayson Tatum — each ascending yet still building their own brand by way of highlights and soon hardware.
Essentially, in 2023, NBA jerseys are fan gear first, copped by consumers in abundance when wanting to show affiliation with greatness.
Twenty years ago, buying a basketball jersey meant something slightly different.
"NBA jerseys were everywhere in '03 — from rap videos to magazine covers," Abe Schwadron, former SLAM senior writer and co-creator of @theyear2003 Instagram page, told Boardroom.
"Kiki VanDeWeghe and Carmelo Anthony showed up in matching Denver throwbacks when Melo was introduced as a rookie. LeBron wore a throwback Jordan jersey on his iconic '03 SLAM cover."
In 2003, buying basketball jerseys was a personality play centered around not just hoops but also hip-hop and affluence.
Toting trophies carried weight, but musician co-signs and alternate iterations mattered decades before Jay Z owned a proper stake in Mitchell & Ness or Nike rolled out City Editions.
The lines of influence between artist and athlete were blurred, with NBA tanks of the new or throwback variety serving as a fixture of red carpets, sidelines, and award show performances.
Reflecting a time when fashion and fandom married memorably, Boardroom breaks down the top 20 best-selling NBA jerseys of 2003, adding cultural context to why the top moving tanks meant more than just the top-scoring players.
1. Kobe Bryant, Los Angeles Lakers
Heading into the 2002-03 NBA season, Kobe Bryant was a three-time NBA champion but still second fiddle in Phil Jackson's triangle offense.
Basketball's best-known child star was playing antagonist in a Hollywood hoop drama even Ethan Coen couldn't write. Making the move from Shaq's showboat sidekick to box office superstar, Kobe Bryant's brazen belief in himself and unwavering work ethic connected with a city of nearly 4 million fans who belabored bright lights and tireless grind with the same weight.
While the hero's journey for Kobe Bryant started years prior in Italy and Philadelphia, the sum of his confidence came to light at the 2002 Lakers championship parade when he appeared in a throwback jersey — of himself.
Over the course of that season, the Lakers sold droves of No. 8 jerseys in both standard purple and yellow. However, Kobe climbed the ladder to No. 1 thanks to a white alternate debuting for the first time in team history that year.
Hitting at the height of the Mitchell & Ness craze, the league also outfitted Bryant and company in the blue-on-blue cursive looks once worn by Jerry West and Elgin Baylor.
While NBA authentic and replica rights belonged to Reebok, the savvy sportswear execs at Nike struck gold twice by monetizing Kobe's cache beneath the nose of all competitors.
Prior to that season's start, Kobe cut ties with Adidas in a move that made him a footwear free agent. Throughout the year, Kobe commonly scored over 40 points a game, often doing so in Air Jordan player exclusives and nostalgic Nikes spanning the Air Force 1 and Flight Huarache.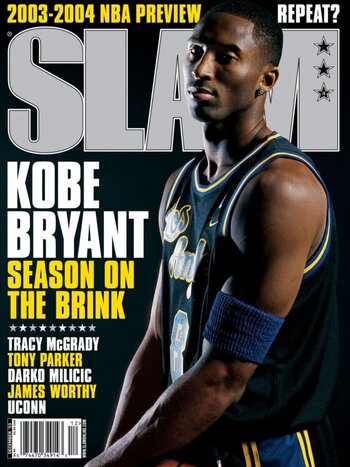 All the while, Nike produced Swingman jerseys that undercut costly throwbacks made by Mitchell & Ness, leaning into lifestyle by bringing out alternate iterations like the black-based Rewind style that Kobe covered SLAM Magazine in not once, but twice, in 2003.
Just as Kobe was shedding his boy band image and ascending as the King of LA, Nike noticed.
In that season of footwear free agency, they bet big on Kobe Swingman styles — a winning wager — soon signing Bryant to his own Swoosh situation valued at $40 million.
Despite teammate Shaquille O'Neal owning three Finals MVPs, the New Jersey native was not the king of new jerseys or throwbacks.
The Diesel did not crack the top five in 2003 fan gear sales, giving way to Los Angeles' new leading man.
2. Allen Iverson, Philadelphia 76ers
For years, the NBA searched for the next Michael Jordan.
What they got was the first Allen Iverson.
A literal and figurative crossover for the league's image where style of play and dress were concerned, AI abandoned all preconceived standards of professionalism for raw realism.
Thankfully for all involved in the business of marketing Allen Iverson, the two title sponsors leaned all the way into the changing of the guard.
Hampton's own by birthplace but Philadelphia's surrogate son, the Pat Croce-led 76ers adopted both Iverson and the bad boy image by ditching their patriotic Pantones in favor of a black and silver rebrand.
Inspired by Croce's love of Harley Davidsons, the counter-culture aesthetic fit Iverson like a glove, refashioned by way of oversized cuts, dazzling Durasheen fabric, and sleeveless shoulders.
Fans in Philly absolutely ate up the look, as did those from far away who identified with Iverson's small stature, outsized energy, and true-to-self style.
Unlike Kobe who competed with Shaq for jersey sales at the register, Eric Snow nor Todd MacCulloch were eating into AI's market share.
In 2003, Allen Iverson represented Philly's present, future, and even recent past.
Local boutique brand Mitchell & Ness was savvy enough to start sewing Allen Iverson throwbacks in his NBA infancy, bridging the gap between Dr. J's generation and that of local youth.
On top of all that, Iverson's brand backers at Reebok were in the second season of their league-wide licensed apparel deal with the NBA.
By being on the hook with the league for a decade and having just inked Iverson to a ten-year extension priced at $50 million, it behooved the Boston-based brand to amplify AI in all campaigns and rollouts promoting NBA jerseys.
"Iverson even went so far as to rock jerseys of his NBA peers, like Kevin Garnett, as off-court fashion," says Schwadron.
He was indeed The Answer as advertised.
3. Tracy McGrady, Orlando Magic
If you average out the appeal of Allen Iverson and Kobe Bryant in regard to play style and swag, subtract market size, and multiply it by the newness narrative, you get Tracy McGrady.
Like Kobe before him, T-Mac made a name for himself by blowing up out of high school only to sit his introductory season on the bench. In the same way kids rooted for Lil Wayne to be the breakout star in the Hot Boys, young fans enamored by flash and charisma christened McGrady as the next big thing before he actually was.
By 2003? He was.
Already a fixture of All-Star Weekend highlights and All-NBA teams, Orlando's new No. 1 would also finish 2003 as the No. 1 scorer in all of the NBA.
Despite playing far out of the media magnitude of LA, NYC, or Chicago, the Floridian found himself all over national news coverage thanks to jaw-dropping stat sheets and an immensely popular signature shoe campaign with Adidas.
Like AI, McGrady had a cool cache that came out not just in imaginative moves but also in accessory plays like oversized armbands and mismatched leg sleeves.
Mitchell & Ness may have had no ties to McGrady at the time of his apex, but the brand still sells his throwbacks in droves from both the Raptors and the Magic two decades later.
4. Michael Jordan, Washington Wizards
Long before the NBA tracked — and published — jersey sales, Michael Jordan topped all lists whether they existed internally or not at all.
Despite playing 12 and a half seasons in Chicago in an era where the team rarely rebooted the uniforms, and Mike only switched numbers for a few weeks, his time-tested No. 23 tank was an international olive branch for fans fixated on futbol, cricket, or surfing, soon enamored by basketball simply because of one soaring silhouette.
When it came time for MJ's final curtain call in 2003, the living legend was no longer the game's greatest active player but still the league's hottest draw. Playing in all 82 games for the Washington Wizards, Jordan jerseys jumped to No. 4 in overall sales despite the team failing to make the postseason.
Much of this had to do with MJ's magnetic appeal and worldwide superstar status. The other narrative was it being his last dance — for real this time.
Another adjacent sales strategy also helped. That season, Jordan donned the now nostalgic home and away Wizards jerseys often on national TV.
Additionally, the team brought back the striped Bullets throwback once made memorable by Wes Unseld for Mike to wear on-court and to push the parameters at retail.
From Fabolous to Mariah Carey, Jordan jerseys tied to both Bullets and Wizards styles penetrated pop culture in music videos and halftime performances.
"Mariah Carey serenading MJ at halftime of the '03 All-Star Game while wearing not one, but two different custom-made No. 23 jersey dresses has to be on the Mount Rushmore of iconic NBA jersey moments," Schwadron says. "It's one of the most legendary basketball-related fashion statements in history, and it made jersey dresses an actual fashion trend for a minute."
To top it all off, Reebok ran retail versions of the 2003 NBA All-Star jersey worn by MJ in his last midseason exhibition, allowing fans the opportunity to celebrate the GOAT's last season in four different takes on the famed No. 23.
Though Mitchell & Ness neglects to celebrate Jordan's era in DC in throwback fashion, Jordan Brand will soon do so through footwear. Regardless of the wait, all entities involved in 2003 made more than their money's worth.
5. Paul Pierce, Boston Celtics
In 2023, the Boston Celtics rank No. 3 in overall team merchandise sales with Jayson Tatum's jersey cracking the league's list of individual volume at No. 7.
Though the Celtics are coming off a trip to the NBA Finals and Tatum is coming into his own as an MVP candidate, the traditional green and white garb worn in Beantown always remains relevant where the cash register is concerned. For the '80s and '90s, Larry Legend's jersey proved popular in sandknit and Champion form.
For the top half of the '00s, it was all about The Truth.
Stamped by Shaq in regard to his revered nickname, Paul Pierce proved the torchbearer for Boston's booming fanfare that's existed since the days of Bill Russell and Bob Cousy. Making the most of a marquee player in a marquee market, Pierce's No. 34 tank top was a fixture of league lists for the entire '00s.
Though it peaked at No. 4 in 2003, it remained resident in the top 15 for years to follow, rising back to the No. 7 spot in 2010. What makes this tenure most impressive is that the Celtics rarely wore throwbacks or alternates, sticking to the tried and true style that's gone mostly unchanged over the span of two millenniums.
The Best of the Rest
8. Latrell Sprewell, New York Knicks
Years before RocNation Sports existed or Hov owned a stake in the Nets, Marcy Project's proudest product was causing cultural shifts in the athletics industry.
In 1994, a relatively unknown Jay Z sent a shockwave through his home state by rocking Reggie Miller's Pacers jersey in the video for "Can't Get Wit That." Years later, the Brooklyn-born MC and admitted New York Knicks fan would say it had more to do with style and less to do with team ties.
This type of thought process set the stage for more major moments to come. First, it was the Hard Knock Life Tour in 1999.
"He'd rock the jersey of every city," Don C told Boardroom. "I went to the Milwaukee show. Jay had on the Ray Allen joint that had the deer on it and I thought that was crazy. Then he even flexed with the white one that didn't have the deer! Later in the show, he went in the audience with a Green Bay Packers jersey. He gave us like three in one night!"
When it came to influencing fashion and moving the needle on jerseys, Jay Z and jerseys were it in the late '90s and early '00s with Fabolous also amplifying the throwback trend.
"That vintage Redskins that Jay Z has on in the 'Girls, Girls, Girls' video? That was in high demand," says Don.
Hitting at the height of The Blueprint in 2001, Jigga brought it back home by wearing Latrell Sprewell jerseys in both the "Izzo" music video and for his epic shutdown of Summer Jam.
"It was the biggest deal ever," Lenny S told Boardroom in 2021. "We felt like we'd won some sort of championship. You'd of thought we won ten Super Bowls."
For years, the fanfare for Sprewell won over the entire city of New York with the No. 8 jersey serving as a best-seller. 2003 proved Latrell's last season in the Big Apple, leaving a void in the market that wouldn't be filled for years to come.
9/10. Dirk Nowitzki + Michael Finley, Dallas Mavericks
In 2023, CEOs and international MVPs occupy the admiration of American adults and children chasing their various dreams.
In 2003, they mostly did not.
Disrupting that notion, dot com entrepreneur Mark Cuban bought the Dallas Mavericks in the year 2000 from the son of former presidential candidate, Ross Perot, for $285 million.
Unaffected by Y2K but rather rich off an acquisition from Yahoo, Cuban came in guns blazing as a figurative Maverick himself, shifting the culture and style of the team both on- and off-court.
By his second season, the team had new uniforms, made to be much more modern than the blue and green garb worn by Jim Jackson and Jamal Mashburn.
Quickly, they were a playoff team in the standings and a standard for what an NBA organization would look and operate like.
Taking place in Dallas, Texas, perhaps the home place of Americana or at least the stopping grounds for America's Team for American football, Cuban saw the future of the franchise as Dirk Nowitzki — a developing forward hailing from Germany.
Though Chicago-bred Michael Finley was among the team's marquee stars, the team crossed borders by building around the European shooter and newly acquired Canadian point guard, Steve Nash.
Over the course of the 2002-03 campaign, the Dallas Mavericks became beloved for their space-and-pace brand of basketball, starting the season with a 14-0 record.
Due to the massive market size of Dallas, aesthetic revamp, and unlikely star power, both Dirk and Finley found their way into the top 10 best-selling jerseys — a tandem feat for a franchise that only Kobe and Shaq could outmatch.
11. Lamar Odom, Los Angeles Clippers
In 2003, the Los Angles Lakers were the talk of the town, but they weren't the heart of the city.
Sharing an arena but almost opposite in appeal, the Los Angeles Clippers clashed all ideas of local loyalty by playing a style of basketball that was so youthful and fun that no one could ignore it.
Led by Lamar Odom, Quentin Richardson, and Elton Brand, the run-and-gun roster epitomized boyish energy and hip-hop culture despite losing high-flying forward Darius Miles to trade.
Covering SLAM Magazine in backward jerseys, du-rags, jewelry, and headbands, the Clippers were the hip-hop answer to Shaq and Kobe's TV drama.
"They were touchable," W+K creative and podcast personality Travonne Edwards told Boardroom in 2021.
"Even though they were celebrities, you could see them! It was believable because they were not that much older than us, but they've got cool cars, cool gestures, and cool shoes. Those things meant the world."
Building a buzz in the early aughts, the team's charismatic catalyst became the beloved Lamar Odom.
In Odom, the Clippers had a positionless frontman with coast-to-coast highlights and bi-coastal appeal.
Raised in Queens, NY, the 6-10 point forward was a fixture of EBC runs at the Rucker by summer and a staple of Sportscenter by winter in the Pacific Time Zone.
The love for Los Angeles' second team and Odom placed the lottery-dwelling franchise in the Top 20 for jersey sales, amplified by a Jim Jones co-sign in the eternal "Oh Boy" video.
14. Jalen Rose, Chicago Bulls
Due to the brand built by Michael Jordan, the Chicago Bulls remained relevant culturally from a fashion and fan gear standpoint for years after Phil Jackson and Co. made their grand exit.
What they did not have was a culturally relevant star.
From 1998 to 2002, the team struggled to find a face that stuck with the franchise and connected with fans.
Baby Bulls like Tyson Chandler, Elton Brand, and Jamal Crawford blossomed best once they left the Windy City while the squad remained without an All-Star or household name for years after MJ's departure.
The team needed a hero.
Enter, Jalen Rose.
Midway into his career, the former Fab 5 frontman had found his footing in the NBA thanks to a postseason run with the Pacers and a Reebok deal courtesy of Jay Z.
Fifty-three games into the 2001-02 campaign, Isiah Thomas and company dealt Rose to the Bulls in a midseason move. Because of this, Jalen played in 83 games and racked up 82 starts despite missing the playoffs.
In total, Rose only played about a season and a half in Chicago. Despite the short stint, his No. 5 jersey hit home with fans in and outside of the Midwest.
The cultural cache attached to Rose resonated in a Bulls jersey fans could get behind, with the team famously returning the script-style throwbacks worn by Mike as a rookie.
17. Yao Ming, Houston Rockets
From a fanfare and historical sense, everyone lauds the 2003 NBA Draft.
That summer, just months after MJ played his last professional game, an insane wave of talent entered the league, led by LeBron James but backed by the likes of Carmelo Anthony, Dwyane Wade, and Chris Bosh.
The future Hall of Famers would go on to win awards, break records, sell shoes, and move units where jerseys were concerned.
A year before all that, there was Yao Ming.
Standing 7-6 and weighing over 300 lbs, the Chinese center was the biggest international attraction the game had ever seen.
For his promise and potential, the Houston Rockets drafted Ming first overall in the summer of 2002, filling the shoes vacated by Hakeem Olajuwon in the fourth biggest city in the United States.
While the population of Clutch City fans in 2003 eclipsed 2 million residents, it paled in comparison to the land left by the former Shanghai Shark.
That year, China claimed over 1.2 billion people, many of whom were enamored by their colossal export.
Because of this, Yao racked up over 1.2 million All-Star votes, elected a starter as only a rookie ahead of Shaquille O'Neal.
Though the Rockets failed to make the playoffs in Yao's debut season, he exceeded all expectations by putting up roughly 14, 8, and 2 a night.
The appetite for Yao was so healthy in Houston and back home that the Rockets rebranded to red and silver the next season, setting the stage for even more No. 11 jerseys to move.
18. Gary Payton, Milwaukee Bucks
In one calendar year, Gary Payton would wear four uniforms.
The Seattle Supersonics, the Western Conference NBA All-Stars, the Milwaukee Bucks, and the Los Angeles Lakers would all occupy the ad space that was GP's torso, all adding to an oddly successful stretch of seasons at retail.
Each iteration of The Glove's journey would play a part in him landing at No. 18 on the best-sellers of 2003, despite being 34 years of age. Due to the timing of the trades, GP's cultural cache was amplified by the fact that each team he played for in '03 all outfitted the Hall of Fame point guard in a litany of styles.
The recently rebranded Sonics sold home and away styles akin to Payton, while a midseason move had him hooping in Bucks uniforms of the purple, white, and throwback variety. After a spring stint in the Midwest, GP moved to the once-rival Lakers where he played in four different jerseys for LA alone.
To add fuel to the fire, Nike produced Rewind renditions of GP Swingman styles for the Bucks as well as three Laker looks that didn't touch the court. Reebok even went wild, making a terry cloth MPLS throwback for fans to buy.
Though the Glove's career was turning a corner on the hardwood, he was still a fan favorite through threads.
20. Vince Carter, Toronto Raptors
In 2003, Vince Carter was so popular that fans voted him an All-Star starter in the Eastern Conference over the one and only Michael Jordan.
North Carolina's air apparent, Dunk Contest champion, and King of Canada was as popular as they got. His likeness covered video games while his Nike Shox sneakers sold in stores across borders, continents, and hemispheres.
Still, despite being bested by only Kobe Bryant and his cousin Tracy McGrady in 2003 All-Star fan voting, his No. 15 Toronto Raptors jersey ends this list rather than tops it.
But why?
While Vince Carter was the superstar of a generation that was essentially a gap generation – the time between MJ and LeBron – his fanfare did not entirely align with fan gear's retail renaissance.
In his second season, the Raptors rebranded from the graphic dinosaur aesthetic to a futuristic two-tone style designed by Nike and made memorable by Air Canada at All-Star Weekend 2000.
For three straight seasons, enthusiasts copped Carter jerseys in purple/black and white/white iterations to inordinate fanfare.
Eventually, they had nothing to look forward to as the style remained the same.
Simply put, if you wanted a half purple, half black Half Man, Half Amazing jersey in 2003, you already had one.
While the throwback craze amplified the appeal of Kobe, GP, Jalen Rose, and even Jordan, the Raptors were too young a franchise to turn back the clock to their T-Rex retros.
Instead, the team put out a red alternate uniform in the Fall of 2003, right in time for holiday shopping.
Still, all is well that ends well when considering Carter's effort on jersey sales.
In 2022, Carter came in No. 3 amongst all NBA players – active and retired – when it came to jersey sales, forever living in pop culture lore thanks to his throwback Toronto Raptors top.
More NBA Jersey Stories:
After sitting behind Stephen Curry following the first half of the season, LeBron reclaims his spot at No. 1 for the second half, while his team remained on top in team merch….
Sign up for our newsletter