Rising to the rafters two decades ago, the Jay-Z x Mitchell & Ness Roc-A-Fella jersey is back in retro form.
20 years ago, Jay-Z was leaving the game behind.
Releasing The Black Album, Shawn Carter's transition from the booth to the boardroom was in full motion. After eight straight summers of releasing rhymes, those same gems applied to Preemo beats would be applied to partnerships.
Making the move from MC to CEO, his title would change. So would his clothes.
After a love affair with sports that started in his youth and became commercialized through his career, the throwback jersey popularized by Hov on the road of The Hard Knock Life Tour and in music videos off The Blueprint rose to the rafters at the end of his Fade to Black performance.
Selling out at Madison Square Garden, premium sportswear company Mitchell & Ness made Jay his own Roc-A-Fella Records jersey, sending it to the ceiling across the likes of Clyde Frazier and Earl Monroe.
Jay Hova sat at the right hand of Black Jesus, honoring the hand that don't write in the most hip-hop of fashion. As a salute to fans, the iconic kit was released to the tune of 2,003 units, becoming a status symbol and fashion statement for the few fans able to purchase.
In the time since, Jay-Z made good on his own ascent. He traded in his throwbacks for button-ups, taking on presidential titles at Def Jam and starting Roc Nation. He played a pivotal role in moving the New Jersey Nets to his home of Brooklyn, staying connected to sports through drive and deals.
Sign up for our newsletter
All the while, he'd renege on his retirement from both rap and throwbacks, dropping albums and guest verses on occasion and popping up in a Michael Jordan jersey at his Made in America Festival. The lifelong love of Mitchell & Ness came full circle in 2022 when Jay-Z became an owner of the Philly threadmaker.
This weekend, the two-decades-old story sees its next chapter realized at retail: the Roc-A-Fella Records jersey from 2003 will launch at ComplexCon in Long Beach, followed by an online drop at Mitchell & Ness at a later date.
Like the OG, the S. Carter re-release will be limited and individually numbered to runs of 2003. The iconic Knicks color scheme returns with a new Nets-inspired rendition also following suit.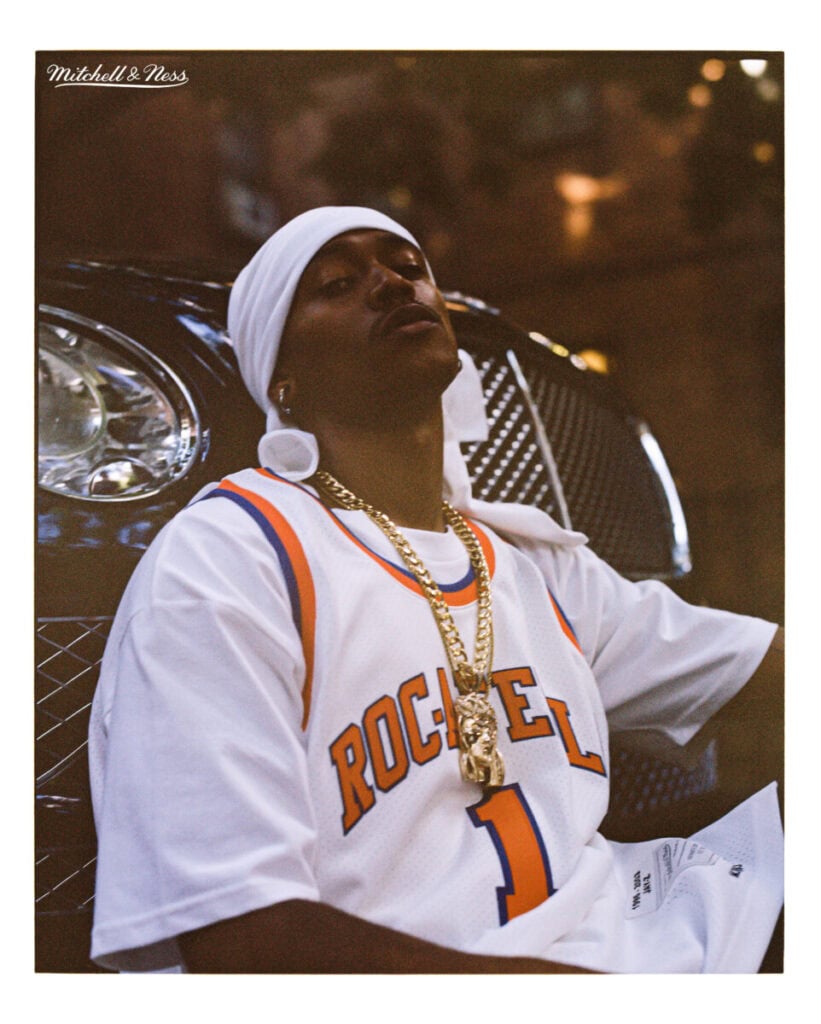 In addition to Hov's historic tank, collaborations with Death Row Records, Ruff Ryders Entertainment, So So Def Recordings, and Top Dawg Entertainment will also be released, celebrating hip-hop's 50th anniversary in sportswear style.
"These jerseys represent an era that revolutionized music, fashion, and popular culture," Mitchell & Ness CEO Eli Kumekpor said in a statement. "We're proud to honor that legacy."
From the rafters to retail, homage to ownership, Jay-Z never left the game, he just reenvisioned how to give it.
Read More:
Here are a few gems and lessons Rubin and Lil Baby dropped during their discussion that went on for over an hour at Boardroom x Visa Talks. …