Boardroom offers an inside look at the Nike Sabrina 1 sneaker — get exclusive insights from the New York Liberty star and Beaverton brass about how these namesake Nikes came to be.
Sabrina Ionescu was only 3 years old when she first picked up a basketball.
She wasn't much older when she received her first pair of basketball shoes.
"Nike was my first basketball shoe that I've ever played in," Sabrina told Boardroom. "The first basketball shoe that I put on my foot. They were actually Nike Dunks."
Long before "Panda" pairs paraded around suburban strip malls — or Sabrina slipped on her early onset retroes — the Nike Dunk was the ultimate team shoe.
Designed by Peter Moore — the graphic genius behind the eternal Air Jordan 1 — the Dunk was intended to dress collegiate athletes from coast to coast, bringing school spirit and bold color to NCAA action.
Years later at the University of Oregon, Sabrina proved as daring as the Dunk herself.
Famously, Sabrina set records that still stand today, amassing more triple-doubles than any player prior or since.
She did so while donning modernized models attached to the Dunk like the Hyperdunk series, while also wearing looks likened to LeBron James.
This season for the New York Liberty, she won't be wearing anyone else's shoe.
She'll be wearing her own signature model: the Nike Sabrina 1.
Following pro play in sought-after Kobe colorways and GT Cut player exclusives, Sabrina becomes the newest namesake superstar at the Swoosh and the latest leading lady for the W.
"Being able to be in the Nike family and a signature athlete is something I can't even put into words," Sabrina says.
So, how did it happen? Boardroom caught up with Sabrina and execs at Nike to hear how her first signature shoe came to fruition.
Lady Liberty
The Nike Sabrina 1 has literally been years in the making.
Over the course of her tenure in New York, the Liberty All-Star starter has worked with designers to make a model fit for her game. Since signing with Nike in the Spring of 2020, the former No. 1 WNBA Draft pick has been brainstorming behind the scenes in Beaverton.
"It's taken a long time," says Sabrina. "There's years of process and a lot of trial and error on what works and what doesn't."
Much like her approach to playing, Sabrina's angle on ideating was equally precise.
"She knew exactly what she wanted," Nike Basketball Designer Ben Nethongkome told Boardroom. "When we went through sample rounds and wear test pairs, she knew the changes that needed to be made."
For Sabrina, the needs were simple and straightforward: make a unisex model built for ballers of all abilities, leading with lightweight construction and responsive cushioning.
"Her attention to detail was super impressive," Nike Basketball Footwear Product Director Deepa Ramprasad told Boardroom. "What makes her so unique is how clear she is with her vision. I think that's reflective in how she plays the game, but we were able to see that in the creative process as well."
As alluded to, the creative process was a marriage between fashion and function.
Multiple rounds of samples and wear-test takes went through the wringer for Sabrina to try on and refine. This process — as it does for all athletes of her caliber — took over a year.
But when that final retail rendition arrived? Well, we'll let her tell it.
"The first time I saw it? It was just like breathtaking," Sabrina says. "You always see images and 3D videos of what it looks like on screen, but being able to hold it in person and see it? That was a moment that I didn't take for granted. There was about 30 people in the room and it was just silent. Everyone was waiting for my reaction, and honestly, I was kind of at a loss of words."
Even months after that initial office unveil, it's tough to find words on a sneaker that's not only her own but one she had to keep secret through the entire production process.
"I didn't know what to say," says Sabrina. "Finally being able to see my logo and shoe? That was something that I still can't put into words. Now even just holding it? I never get tired of looking at it."
For the first time today, fans are looking at what Sabrina's been silently refining for roughly 18 months.
Take a closer look, there's a myriad of details you might miss.
Want More Sneaker Stories?
More Than Meets the 'i'
At first glance, the Nike Sabrina 1 is an aesthetic equivalent to Sabrina's game: swift, straightforward, and fluid enough to play all positions.
The triple-double Duck turned light of the Liberty is coming off a career year where assists and rebounds rank, primed to fill up even more columns on the stat sheet thanks to the retooled roster she'll lead this summer.
Those who know ball know Sabrina's bag is as full and functional as it gets.
"She's a tough cover, period," ESPN's Monica McNutt told Boardroom.
Playing college basketball at Georgetown and moderating the unveiling event for Nike, McNutt has seen the best of the best as both a competitor and a broadcaster.
Sabrina, as her shoes suggest, exists in rarified air.
"If you take away her ability to score the basketball," says McNutt, "she's [still] got incredible court vision, can get a triple-double, and will find her teammates. There's so much that you have to deal with when you're trying to slow her down. She's definitely one of those ones that you just hope to contain, and you won't completely shut down."
Slowing down Sabrina in 2023 will be tougher than ever for two reasons.
Over the offseason, Sabrina's squad signed Breanna Stewart and Courtney Vandersloot in free agency. Many pundits consider it the greatest haul in not just Liberty but league history.
On top of that, Sabrina spent time training without having to undergo surgery or rehab for an injury. She did it all in her new shoe.
"The design of the shoe is clean, sleek, and super lightweight," says Sabrina. "We have so many games back to back playing a lot of minutes. The ability to wear the shoe for a whole game, feeling supportive, and being able to cut and move was what I wanted. That's exactly what the shoe is. From the moment you put it on your foot, it's comfortable, light, and you feel like you can do anything with it on."
Seeing is believing on the Nike Sabrina 1.
Ionescu's namesake Nikes both feel and appear lightweight thanks to a low top cut composed of semi-translucent materials on the upper.
Support cables across the midfoot conjure memories of Dynamic Flywire favorites of the Hyperdunk and LeBron lineage, while React foam responsiveness and a forefoot Zoom bag bring to mind the brand's best running shoes.
"I drew from the sensation of success in the past," Nethongkome says. "I took all the good pieces and made Voltron."
For an All-Star level athlete, it's the functionality under the hood that makes the Sabrina 1 an absolute beast on the hardwood.
However, it's the slight and subtle storytelling details that drive home that the shoe is signature to Sabrina herself.
Nods to Ionescu's heritage appear through intricate embroidery on the forefoot and eye-stays, inspired by Romanian art and architecture.
From tongue to toe down and back to the heel, the shoe showcases a lowercase 'i' as a signal to Sabrina's last name. On the model's medial side, an upward-slanted Swoosh speaks to the idea of breaking barriers, something that means much to Ionescu.
"There's so many Easter eggs," says Sabrina. "But I think the glass ceiling and breaking barriers is something that's super important to what this shoe really stands for."
By Sabrina, For You
In the coming months, the unisex Nike Sabrina 1 will debut at retail for $125.
From a positioning standpoint, that's slightly more than the debut signature shoes for Jayson Tatum and Ja Morant, yet less than marquee models attached to LeBron James and Kevin Durant. It's the first step for Sabrina's journey that she's been viewing from childhood hoops to her rise as a pro.
"Just watching a lot of these athletes and the stories that they're able to tell with their shoe?" Sabrina starts. "Kevin especially. He's had so many down the line, just seeing his progression from his first to now. It's been inspiring and something that I look at and observe as I'm looking to put into my shoe as well."
At the moment, the Sabrina 1 is set to release in "Spark," "Magnetic," and "Ionic" colorways.
On top of that, a ready-to-wear range of Sabrina-branded clothing will also launch at retail. Just like the shoes, Sabrina was hands-on in the creative process when it came to cuts, colors, and fabrics.
"The apparel is really fun," says Sabrina. "Getting blank swatches of material and figuring out what you want on a sweatshirt, what design you want on a t-shirt or basketball shorts? It's been super fun."
Playing to performance and sustainability, the Nike Sabrina line debuts the Unicorn sock — an innovation made with at least 80% recycled materials supplemented with strategic padding.
The collection consists of Dri-Fit shirts with fashion-forward crop cuts and cross-body satchel bags.
This arrival follows an offseason enamored in fashion, highlighted by the signature star shooting with British Vogue in London.
Though sparkling dresses and full glam outfitted Ionescu's overseas excursions, she's ready to rock her own Nike collection once the shipment arrives at her doorstep.
"I probably won't take any of it off when I get it," Sabrina laughs though not joking at all.
The layered looks all align with what's been the summer of Sabrina even if it started in the snowy days of December.
From flying out for Fashion Week to starting her own foundation, Sabrina's entering the prime of her life and career where health and good fortune are concerned.
A loaded lineup in New York makes the Liberty one of the early favorites to win the 2023 WNBA Championship while a January engagement to her longtime boyfriend already has her rocking a ring.
"New York basketball's gonna be really fun this year," says Sabrina. "We're excited to come together and hopefully bring a championship to New York."
The excitement begins with the Nike Sabrina 1.
Starting this summer, fans from all over the world will begin their basketball journey in Sabrina's signature shoe the same way she donned Dunks as a tike in Walnut Creek, Calif.
Even as hoopers of all ages and backgrounds start plotting plans to pick up a pair, the Liberty lead guard still has one person she's most excited to see in it.
"Well, myself for sure," Sabrina laughs. "It's just gonna be a surreal moment when I see anyone else wearing it, whether it's on the court, on the street, or in a different country. The fact that I've put so much work into the shoe means so much to me."
Through the Sabrina 1, Nike's investing in marketing the WNBA talent globally — a move that speaks volumes for Sabrina, the Swoosh, and the sport.
Joining the likes of Michael Jordan, Sheryl Swoopes, and Penny Hardaway, Sabrina's speaking to a new class of kids aiming to follow their hoop dreams in the '20s the same way fans looked up to the aforementioned names when honing their game in the '90s.
For Sabrina, it's a dream come true. For Nike, it was an easy call.
"Sabrina is one of the best players in the game, period, regardless of gender or regardless of era," Ramprasad says. "We at Nike really believe she represents that next generation of greats. She represents the league so well. She's one of many amazing women that we work with and it's just been amazing to work with her."
It's a full-circle story for a young girl who started playing basketball by tying up her Dunks, now leading the brand she's long loved into an era of inclusion on the court and beyond.
"It means everything to be considered as a signature athlete," says Sabrina. "Especially at Nike."
More on Sabrina Ionescu: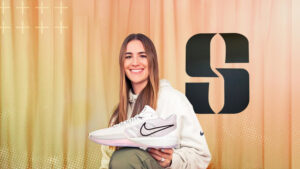 As the New York Liberty star is set to launch her own signature shoe with Nike, Sabrina Ionescu details the design process of her first logo. …