The 23-year-old superstar has highlights, accolades, and youth — and now, he has his own shoe. Boardroom breaks down the business of the Nike Ja 1 as Morant goes from viral to global.
The world's been waiting.
For three straight seasons, Ja Morant has made memories, All-Star appearances, and posters in the shoes of his hardwood forefathers.
Sonning cats in KD 4s, baptizing big men in Protro PEs, and crossing over elders in archival Kyries, the point guard has illustrated the sport's progression in real time while doing so with prodigal athleticism donning Nike Basketball's greatest hits.
Now, he'll be doing it in his own shoe: the Nike Ja 1.
"It was something I was waiting on," Morant said at Nike's official media unveiling of the shoe. "For a long time."
Debuting his signature sneaker on Christmas Day, the Ja 1 is already giving memorable Morant energy.
On New Year's Day, he brought a Memphis kid to tears when he handed him a game-worn pair ahead of their April retail launch. Days after in Indianapolis, he collected on his karma by banging an angle-defying dunk that already reads as both art and violence, amassing more viral views than an Ice Spice single.
The heat surrounding the Nike Ja 1 and the appetite for numerous flavors of the shoe have swelled and sweltered in the month since their on-court unveiling.
And while fans have spent weeks waiting and seasons salivating over their chance to own and wear a Ja signature, the undertaking at the production level has been an extended, deliberate one for those back in Beaverton.
"The process was an 18-month journey," Nike Basketball Designer Ben Nethongkome said at the media event. "It's not easy to launch a new signature shoe and a new signature athlete."
Keyword: new.
While Nike's ascended the likes of Penny Hardaway, LeBron James, Kevin Durant, and more into the esteemed category of signature star, no one player packs the orbit or influence as the Memphis magnate. Appealing to an audience of Gen Z super fans that span all demographics, Ja and Nike are aligned to occupy and explode a lane that's been hiding in plain sight.
Ahead of the launch, Boardroom spoke to execs, designers, trainers, and more to fully understand the gravity of the star who defies it.
Sign up for our newsletter
Industry Elevator
Modern marketing will have you believe that storytelling sells.
This is true. However, tried tropes tied to overcoming obstacles aim to hit fans in the feels, but miss out on the aspirational aim of kids: having fun and imitating the highlights of their heroes.
Sometimes, things aren't complicated. They don't need to be.
"His style of play? It's the holy grail to jump higher," Scott Munson, Global VP of Nike Basketball, said at Nike's Ja 1 media event. "Kids and players everywhere want to emulate that."
Whether training on tires like a teenage Ja or putting a trampoline in front of their lowered rim to evoke, kids across the country dream of playing like the Grizzlies guard.
This ranges from hitting a step-back to hitting the griddy.
While fans have flocked to buy his No. 12 jersey — currently ranking as the sixth-most popular seller in all of the NBA — a shoe tied to Ja was the missing piece evading the market.
This April, all that changes.
"Signature debuts bring instant energy to the business," Foot Locker SVP and Chief Product Officer Chris Santaella told Boardroom. "Similar to how a new player can ignite a team instantly, new product introductions have the same impact on the business."
As AAU amplifies and the NBA postseason tips off, the Nike Ja 1 will be arriving in Foot Locker locations from Fresno to Tokyo.
The intrigue around a new signature athlete often spreads like wildfire where exposure and sales are concerned. It means even more with Morant.
"Ja is a special talent and one of the top athletes that resonates with Gen Z," Santaella said. "The next generation of athletes [is] critical to igniting the game and the business of basketball."
Critically, this next generation of basketball stars is robustly showcased on social channels, but often absent from the retail market.
Ja is now a major player in both venues. For his rising generation, he's fortunately not alone.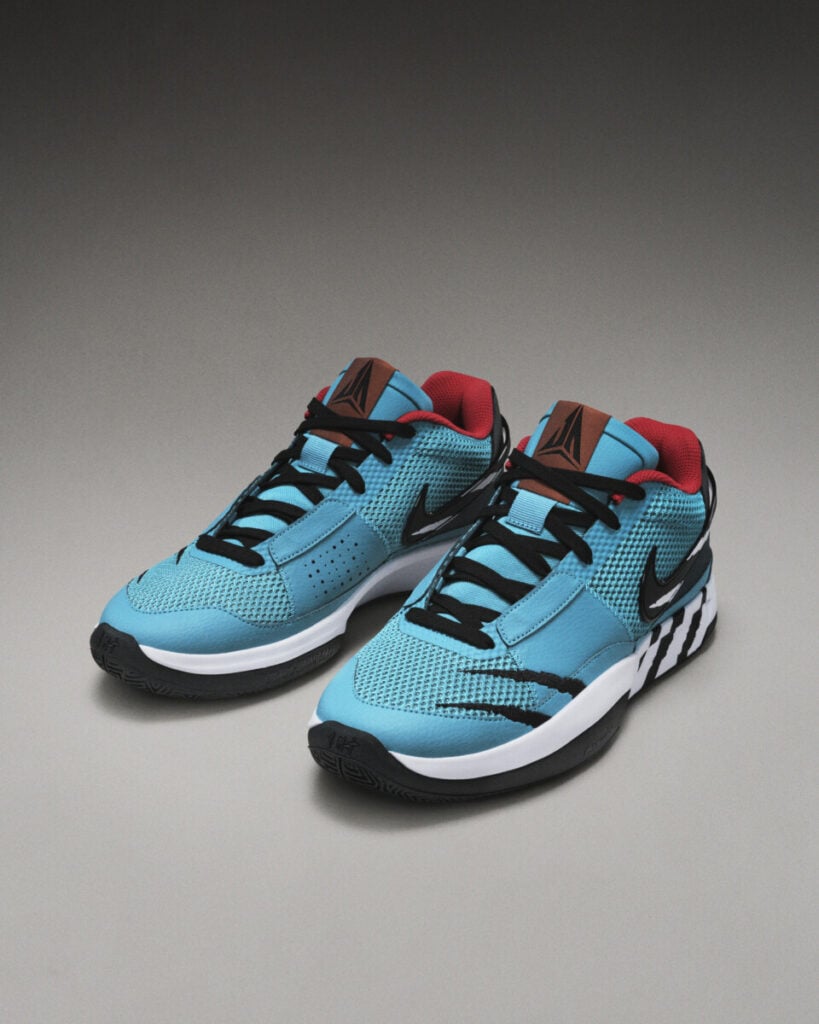 Currently, Gen Z hoopers with a marquee model made in their image are limited to LaMelo Ball, Trae Young, Luka Dončić, and Zion Williamson. Donovan Mitchell exists just on the edge of that window, as does Giannis Antetokounmpo.
When pairing product with marketability, Ball likely bears the closest comp to Morant, already ascending as one of basketball's best sellers where young consumers are concerned. In 2021, Puma debuted Ball's MB.01 signature shoe to rave reviews.
The thematic Rick & Morty makeup owned All-Star Weekend 2022 — a rarity for a brand not named Nike — paving the way for a successful second signature shoe that now sells in stores. Depending on the colorway, LaMelo Ball's new Puma MB.02 runs $130 to $140 in adult sizes, scaled down to $90 to $100 for kids.
Already, Ja and Nike are undercutting the competition while delivering value.
"To be able to offer a performance solution that's accessible – for adults, that's $110, and for kids, that's $90 – we're lucky to partner with him on that," Munson said. "There's an accessibility and relatability that makes him special."
Not only is Ja special; this overall positioning is smart.
For the last decade, the sweet spot for performance basketball breadwinners has been right between the $100 to $120 range. Over the span, the likes of Kyrie Irving, Damian Lillard, and Paul George have occupied the range, selling slews of sneakers.
Not only does Ja's name have more heat attached to it due to social media presence and age, but it all serves as a reset to raise the floor for the full Nike Basketball roster moving forward.
Currently, the brand sells signature models attached to LeBron, PG, Giannis, KD, and Elena Delle Donne. In the coming months, performance pairs tied to Kobe Bryant are expected to be re-released, while rising star Devin Booker is expected to receive his own namesake sneaker in the next year.
For reference, Nike's new LeBron XX, the basketball brand's pinnacle product, tops out at $210 in adult sizing and $160 for kids. Beneath Bron, these aforementioned athletes see their Nike game shoe come in at slightly spaced out price tiering with Morant now establishing the base entry at $110 for adults and $90 for kids.
In the Ja 1, Nike is merging the most viral hooper in history with the most affordable signature shoe on the market.
All Eyez on Ja
At only 23 years of age, Ja Morant boasts an 8.7 million audience on Instagram, 2.6 million Twitter followers, and 230,000 subscribers on YouTube.
On TikTok — a platform he's technically on but hasn't fired off his first post — 1.2 million fans have already added his account, while his name appears in searches to the tune of 5.3 billion overall views to date.
According to Sports Business Journal, Morant is the second-most watched NBA player across social platforms, coming behind only Stephen Curry. For reference, Ja's viral views in 2022 are more than that of MVP winners like Giannis and Russell Westbrook combined.
In a sense, it's akin to the forecasting a decade ago when Drake claimed more Facebook fans than the sum of The Throne.
Of the 10 athletes on said list, seven now have signature sneakers, with Jayson Tatum — No. 7 in the pecking order — set to make it eight.
When it comes to Web 2.0 supremacy, it's Ja against the world. He's been viral.
But he's intent on going global.
"We know that Ja wants to build his brand in China," Munson said. "He represents the next generation of players. When you really think about how he plays and how he lives? It's the core values that he's shown: the infectious joy, and his team-first mentality."
China, a market where Allen Iverson exploded, Tracy McGrady migrated, and Derek Rose still sells, is the natural progression for Ja building a powerhouse brand in footwear.
Perhaps more importantly, it's the one major market where Nike saw a decline in growth last year.
Best of all for both Ja and his shoe sponsor? It's a natural fit.
Ja's seemingly small stature (by NBA standards) and deep emphasis on family values make him extremely marketable out East. Sheer numbers also make him super-scalable, as China boasts a population of over 1.4 billion, over 600 million of whom identify as basketball fans.
For reference, that number is roughly 1,000x the total population of Memphis, Tennessee.
Not that Ja's local market doesn't come with valuable ties, of course.
"Memphis is probably the second-biggest employer of Nike in the US," John Pugliese, Grizzlies VP of Broadcast and Production, told Boardroom in 2022. "We have a giant distribution warehouse here so our connection to Nike has been deep since Day 1."
Inded, Ja Morant may become a hit in the far corners of the earth while nonetheless staying true to his status as Tennessee's biggest export in 2023 and beyond. And while his game is only going up, it's his debut shoe that's big for both his personal brand and the 51-year-old juggernaut that pays him.
Brand New
In 1971, Nike founder Phil Knight commissioned college student Carolyn Davidson to design a logo.
He paid her $35 for the assignment, which adjusted for inflation today rings in at roughly two pairs of adult-sized Ja 1s.
What we now know as the Swoosh is estimated to be worth $15 billion.
Appealing to Gen Z, the Beaverton brand has used its basketball category in recent months to reimagine its most valuable IP. From the stacked Swooshes seen on the LeBron XX to the layered look likened to the Air Deldon, big branding has been the through-line for hot sellers across companies over the course of the last decade.
In recent years, it means even more to kids when boldly positioned in a coy, creative manner.
While technical innovation animates the Ja 1 in terms of price and positioning, a wrap-around Swoosh on the upper provides personality and advertising to his first shoe.
Additionally, the over-extended logo lends itself as a makeshift pull tab, allowing easier entry for consumers of all ages to slip on Ja's first signature with ease.
Though branding and viral popularity all bode well for Ja and Nike, the number and signifier that may matter most is 1; historically, a star's debut signature sneaker provides a surge in the market that its peers and predecessors can't match.
Consider that in 1985, Nike sold over three million pairs of Air Jordan 1s in a matter of months, resulting in $55 million in sales. Though that milestone hasn't been met since, the trend of arrival hype continues.
According to Boardroom's Nick DePaula, LaMelo Ball's debut Puma pair sold 120,000 units in just 90 days. Furthermore, industry insiders support the theory that series starting shoes for Steph Curry, Paul George, and Kyrie Irving all crushed in year one, signaling similar success for Ja.
To many, the Ja 1 bares energy akin to that of Ball's arrival while occupying a super successful lane long occupied by Irving's Nike line. But contrary to some conventional wisdom floating around the footwear discourse, Nike did not drop Kyrie Irving from its roster simply to slide Ja Morant into the fold — rather, Morant met months prior to negotiate his new deal with the Swoosh.
As additionally explained by Nethongkome — the designer behind the Ja 1 and numerous Nike Kyrie classics — a signature shoe takes 18 months to make. Still, that doesn't mean that Morant won't occupy and explode a similar space in the market.
For years, Kyrie's connected with consumers in the performance basketball arena far better and more consistently than any of his peers. His signature series and spin-off models have all hit the sweet spot where pricing is concerned, additionally offering a sense of personality that resonates with kids.
If done right, the Nike Ja line could catapult into the same space of success. This matters much not just for Nike, but also big box retailers that rely on hoops to keep revenue trendlines chugging along.
"Basketball continues to be a critical component of our business at Foot Locker," Chris Santaella said. "Ja follows a long line of hall of fame players who established a strong connection for consumers to signature basketball models. As each has done in the past, Ja will bring his own style and stories to his line."
Though only a handful of pairs have been previewed at this time, sources close to Boardroom alluded a lot more makeups of the Ja 1 are on the way, which makes sense given recent debuts.
This means much for Foot Locker's "already strong basketball business," as it does for the continued global growth of Nike.
Each SKU provides a story to tell and another touchpoint for basketball culture. If history proves an indicator, the Ja 1 will appear in abundance.
Whole Lotta Ja
In 2011, the Nike Kyrie 1 released for $110 and appeared in nearly 20 different color codes, not to mention NikeID options. 10 years later, Swoosh subsidiary Jordan Brand brought out the Zion 1, hitting stores in 19 styles itself.
Through the Nike Ja 1, an array of color codes are expected in stores over the course of 2023 and likely into early 2024. Additionally, an April arrival suggests team takes and PE pairs could even make their way to the NCAA Tournament and prep EYBL circuit.
It's also worth noting that the Ja 1 was seen early in a workout where the superstar was outfitted in NOCTA apparel, perhaps foreshadowing another nod to Drake's deep connection with Memphis.
Though Aubrey is presumably on the seeding list for the first run of Ja 1s, the only people with pairs now are Ja's father, daughter, one young fan, and the prodigal point guard himself.
The debut pair showcases a nod to his three-year-old child, Kaari, which Ja calls his "favorite part" of the shoe. Whether through heart or highlights, Ja Morant is both now and next.
"Ja has the culture," David Carson, Nike Master Trainer, told Boardroom in 2022. "Every kid loves Ja."
In 2023, consumers of all ages will have more and more ways to connect with Morant. Each style of the Nike Ja 1 we've seen appears youthful and modern in hue, with the Grizzlies superstar said to be heavily involved in the design process.
"Ja was super helpful and came to the table with concepts," Nethongkome said. "He's been involved with everything from messaging to branding to colorways and materials."
As tracked from the attitude of Charles Barkley up to the creativity of Kyrie, Nike has proven adept at strategizing around their signature stars. Though meetings, ideation, and strategy will all tell tales tied to Ja's journey through palette and promotion, it will still be the All-Star's play and personality in-game and on social media that will drive the most potent energy.
"Ja is huge," Bristol Studio founder Luke Tadashi told Boardroom in January. "His explosiveness and his character make him a really singular athlete. I'd be very curious to see if Nike can maximize how they utilize him. These players aren't just athletes anymore; the value to these brands is also their cultural influence."
From Hyperice to Beats by Dre, an ever-widening range of industries is getting behind Ja Morant. And backed by Nike's massive marketing machine, the $196 billion brand is adding another battery to the back of the NBA's most electric player.
It's good business for all involved, whether abroad in Asia or at home in Grind City, where Morant signed a massive five-year, $192 million deal to stay and build with the Grizzlies.
That number will swell to $231 million if he makes an All-NBA team in 2023. If and when he does, he'll be doing it in the Nike Ja 1.
"Now, you'll see me playing in 'em pretty much every game," Morant says, "doing some incredible stuff."
Read More:
The tech giant recently unveiled the Surface Laptop Studio 2, Surface Laptop Go 3, Surface Go 4, and Surface Hub 3, all hitting the market on Oct. 3….
Read More:
Sign up for our newsletter