Learn how Nike, Adidas, Reebok, and Jordan Brand all brought their best product and pitches to the Young King before he even turned pro.
On Tuesday night in Houston, LeBron James supported his son Bronny courtside at the 2023 McDonald's All-American Game.
The proud pops watched his eldest child put on a show, scoring 15 points in the Adidas-sponsored event in a pink pair of the Nike LeBron 20: the King's latest signature shoe that both his boys helped debut and add eyeballs to their millions of followers and fans.
Much like his ascending son, an 18-year-old LeBron James was the topic of conversation and a target for multi-million-dollar endorsement deals before he had a signature shoe.
LeBron was the most powerful footwear free agent in history as only a high school senior.
Carrying a 3.5 GPA and weighing the possibilities of different eight-figure contracts, a young LeBron James had to make big business decisions without ever taking an accounting or finance course.
Decades before NIL came into play, the likes of Nike, Adidas, Jordan Brand, and Reebok made informal offers to a high school standout by way of privileges and player exclusives even the NBA's top talent could only dream about.
Get the business behind the footwear free agency of LeBron James as a St. Vincent-St. Mary's superstar as Boardroom combs through the chronological come-up of the endorsement journey that made Bron a billionaire.
Sign up for our newsletter
Freshman Season — 1999-00
Air Jordan 15: In some senses, LeBron James' public ascent started with a sneaker that foreshadowed the future. The avant-garde Air Jordan 15 was a model that spoke to the newly formed Jordan Brand and the notion that Michael Jordan was no longer playing.
Sporting a stick-out tongue as an homage to Mike's game face, the shoe failed to resonate at retail compared to its predecessors with MJ no longer in Chicago. However, it still spoke to a young LeBron James months before he'd start getting seeded by brands or courted by companies.
First, LeBron would have to win.
Jumpman Swift 6: As only a freshman, LeBron led SVSM to its first state championship since 1984.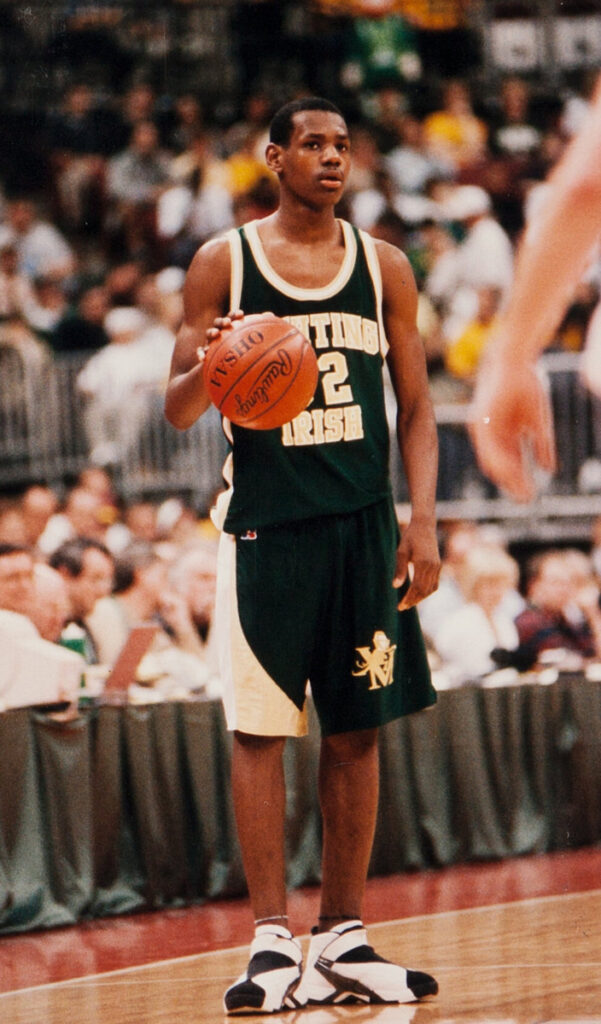 The 15-year-old phenom stood 6-2 at the time, pouring in 21 points a night and leading the team to a 27-0 record.
On his feet were the Jumpman Swift 6.
Endorsed by Eddie Jones, the takedown signature saw an unofficial LeBron co-sign months before MJ knew the Young King's name.
Worn in the 2000 State Championship, the size 14 sneakers were recently listed for auction with an estimated asking price of $200,000.
That six-figure sum would've been a lot of money for LeBron then, and still a lot of money for a pair of shoes now.
However, LeBron's big showing in the state championship game as a freshman would all set the stage for a sophomore season set to attract national attention and begin the brand bidding war.
Sophomore Season — 2000-01
By Year 2 at SVSM, LeBron had sprouted to 6-6 and was averaging over 25 points, seven boards, and five dimes a night.
The returning starter and defending state champion was already an attraction for pro scouts and palatable where ticket sales were concerned as the school had to move many home games to the University of Akron arena just to fit fans.
Not only would LeBron repeat as a state champion, but he'd also be the first sophomore ever to win Ohio Mr. Basketball and be named to the USA Today All-American first team.
The first contestant in the brand battle? Adidas.
Adidas Mad Handle & Adidas T-Mac 1: Despite donning No. 23 on his jersey for the first time as a varsity player, Air Jordans had fallen out of favor by LeBron's sophomore season.
The Three Stripes had started sending LeBron the best basketball shoes the brand had to offer, leaning on another touted talent they acquired by eyeing early.
Tracy McGrady, a slick shooting guard who just signed a seven-season, $92.8 million contract with the Orlando Magic, was set to be Adi's next signature athlete.
Coming out of high school, Sonny Vaccaro signed T-Mac to a six-year, $12 million endorsement deal at the age of 18. The plan was to do the same for LeBron — only more money — and the strategy was to place in him their product early.
Adidas The Kobe: The "Sunshine" Adidas The Kobe was a mainstay for LeBron James in his sophomore season.
Designed in tandem with Audi engineers and worn by Kobe Bryant in the 2001 NBA All-Star Game, the signature shoe was the brand's example of LeBron before LeBron.
In Bryant, Vaccaro had both a case study and success story of how a high school standout could align with Adidas early behind closed doors and use their leverage to land where they wanted.
It all started with a young Kobe promising Vaccaro he'd be the MVP of his Adidas ABCD Camp, a platform LeBron made the most of as well.
Adidas Pro Model: Heading into the summer between his sophomore and junior seasons, LeBron James had two state titles to his name and was nationally known.
Still, Akron isn't a hotbed for basketball compared to Chicago, Los Angeles, or New York. Enter Brooklyn-bred baller Lenny Cooke: a high school superstar one year older than LeBron also attending that summer's ABCD Camp.
In a battle of big city Goliath versus small market megastar, LeBron outplayed Cooke at the Adidas event with all of college basketball's best coaches in attendance.
Instantly, they all knew they had no chance of signing James as he was already NBA-ready at 16 years of age.
Adidas, on the other hand, had the inside track.
Junior Season — 2001-02
As both a baller and businessman, LeBron James is well renowned for getting everyone involved.
Even as he entered his junior year at SVSM as No. 1 in the nation but only 16 years of age, this notion proved true.
While Adidas spent much of James' sophomore season sending him free shoes and promoting him at its famed camp, the whole Fighting Irish squad was getting laced after LeBron beat Cooke.
Team-toned headbands and special edition patent leather Pro Model PEs would arrive in bulk for the whole roster, outfitting not just LeBron but bench players and supporting starters as well.
Still, LeBron was special. And so were his shoes.
Adidas T-Mac 1 PE: Around the country, Tracy McGrady was the basketball player kids wanted to be.
Fluid, flashy, and an absolute bucket, the ability of McGrady on-court matched with his accessory steeze made his signature sneakers amongst the hottest on the market.
Adidas sent LeBron James pairs not just by the box load but in custom colorways made exclusively for the King himself.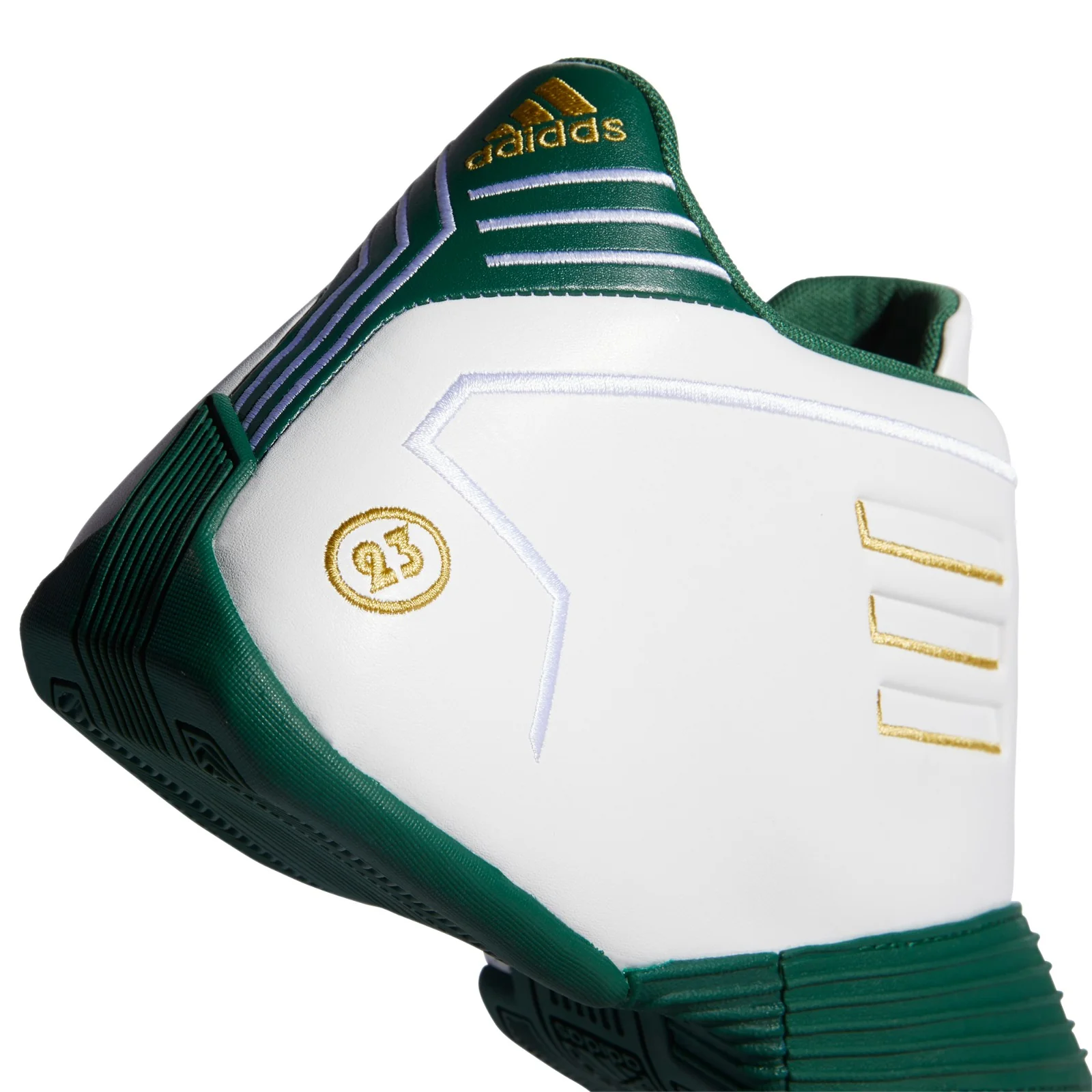 By the spring semester, the great Grant Wahl was profiling James for his first Sports Illustrated cover story. Already, the word was out on both LeBron and his massive potential as not just a player but as a shoe salesman.
"At this age, LeBron is better than anybody I've seen in 37 years in this business," Vaccaro told Wahl. "Including Kevin [Garnett], Kobe, and Tracy."
The last name on that list was mass-market proof that a teenage talent with cultural resonance could move massive amounts of sneakers on a global scale.
While a 17-year-old James wasn't legally on Adidas payroll, his early endorsement of the brand's namesake stars already made him a key cog in its advertising.
Adidas The Kobe 2: In 2002, a junior James once again had to prove himself on a national scale against a top talent one year his senior.
This time it was Carmelo Anthony, and it was in front of more than 11,000 fans.
Taking place in the neutral site of Sovereign Arena in Trenton, NJ, LeBron's out-of-state introduction saw the King conquer once again as SVSM defeated Oak Hill and Anthony.
Once again, Adidas amplified the moment to make its brand seen on Bron by the tri-state market.
Gifted a pair of 1-of-30 Adidas The Kobe 2 "USA Flag" samples, the homage to America following the Sept. 11 tragedies was a gift from Bryant himself who was in the area for the 2002 NBA All-Star Game, of which he won MVP in his hometown of Philly.
For his gifted endorsement, LeBron showed out by dropping 36 points over Oak Hill and besting Anthony. At Adidas, it was the Kobe connection that they thought would help them ultimately land LeBron.
"Kobe is the one LeBron identified with, much more than Michael," Vaccaro told Footwear News in 2020. "Kobe was more logical to be the idol for LeBron. We had Kobe help us recruit LeBron."
Though Adidas had the inside track on King James, brands from miles outside of Akron were soon setting their strategies.
Senior Season — 2002-2003
Air Jordan 9 PE: Just as LeBron started his historic high school career in Air Jordans, Michael's namesake company would conveniently come out of the woodwork for his senior season.
For much of the year, LeBron would play with the NBA logo on his headband, the Adidas mountain on his uniform, and Air Jordans on his feet.
While the top two brand plays would remain mostly constant, his footwear was constantly in flux with all entities going the extra mile to woo basketball's next big thing.
"Basically, only two people are involved," Vaccaro told Wahl. "Me or Michael? Adidas or Nike? Whoever it is, LeBron's going to translate far and wide."
In a savvy marketing move, Michael's company sent LeBron an exclusive pair of White/Green-Gold Air Jordan 9s never meant to release to the public.
What LeBron James had on his feet was a pair of shoes worth more than most cars. Today, said shoes would probably sell for more than the price of a Hummer.
This one-off exclusive from Air Jordan was enough to make Adidas sweat and step its game up.
Adidas T-Mac 2 PEs: In an odd turn of events, Adidas suddenly had an extra $8 million it could spend on LeBron James.
In the summer between Bron's junior and senior seasons, Kobe Bryant asked out of his Adi contract and had to pay a forfeit fee.
Now there were two looming footwear free agents for all of 2002-03 but only one top dog at Adidas.
By default and also inordinate popularity, Tracy McGrady was the man at Adidas. However, the brand with the Three Stripes remained hellbent on signing LeBron.
To do so, Adidas upped the offerings it used to woo James in previous years. This time around, it'd be patent leather player exclusives of the T-Mac 2 made in White/Gold and Green/Gold SMUs.
These pairs were worn by James multiple times during his senior season at SVSM and twice on national television — against Oak Hill Academy and Mater Dei.
In the latter game, LeBron faced off against highly-ranked recruit DJ Strawberry.
On DJ's feet were a pair of Vince Carter's new Nike Shox.
Soon, a similar style would outfit James — but not in a color you could buy in stores.
Nike Shox VC II: In March 2002, Nike signed Vince Carter to a multi-year deal worth a reported $15.5 million.
"We're using Vince more than any other Nike basketball player that has had their own shoe, with the exception of Michael Jordan," Nike Basketball spokesman Eric Oberman told ESPN's Darren Rovell at the time.
Also adorned as "The Next Jordan," the stakes for VC and Nike were high.
"Not only does he demand a signature shoe," said Oberman, "but we're ready to build a franchise around him."
In Year 1 of the deal, Nike leveraged Carter by producing more pairs of his namesake Shox VC 1 than any other model made by the brand's basketball category.
By Year 2, the company was using Carter's second signature shoe as a metaphorical pen, gifting LeBron an exclusive color of Carter's kicks weeks before they'd sign the high school star for nearly six times what they had just paid Air Canada.
This Akron edition of Vince's Shox sneaker was one of many pairs Nike placed on LeBron strategically during the latter days of his SVSM career.
Still, the Swoosh would have some serious competition.
Reebok Question PE: No one wanted LeBron James more than Reebok.
Having just signed Allen Iverson to a ten-year extension priced at $50 million, the Answer was the face of its basketball brand and the guiding light to its identity. In James, Reebok saw someone just as culturally relevant.
Throughout his time at SVSM, Reebok sent James exclusive iterations of Iverson's blockbuster debut, the Question.
No pair proved just how badly Reebok wanted James more than the PE pair it made for the 2003 McDonald's All-American Game.
Serving as the showcase's footwear sponsor, Reebok embroidered the Iverson classic with "L23J" on the sidewall for the festivities.
LeBron won the event's Dunk Contest and MVP honors in Reebok right after his senior season finished.
Sometime that spring, an exec at Reebok offered the 18-year-old talent a $100 million deal with a $10 million signing bonus if he agreed on the spot.
Wise beyond his years, LeBron kept his cool and his options open as other suitors promised to pitch.
Air Jordan 18 PE: The high school career of LeBron James came to an official end on April 17, 2003.
Only one day prior, Michael Jordan played his last NBA game as a member of the Washington Wizards. In true MJ fashion, business never took a break as the 2003 Jordan Capital Classic took place in DC less than 24 hours after the famous farewell.
As expected, the star of all stars was LeBron James. For his amateur curtain call, Jordan Brand brought out an all-leather Air Jordan 18 exclusive with "King James" embroidered on the upper.
Effectively, the Jordan Capital Classic was the last moment of seeded sneakers on the high school stage for LeBron James. A fitting passing of the torch for the two talents that changed the industry forever when it came to shoe deals.
For the next month, brand brass in Beaverton, Boston, and Herzog practiced their best pitches for the one set to fill Michael's shoes.
To no surprise, LeBron James declared for the NBA Draft on April 25, 2003. At this moment, he had forfeited any future amateur eligibility and was officially able to take a myriad of meetings with the various sportswear suppliers.
After years of execs courting him at camps and sending shoes since his sophomore ascent, free sneakers would soon shift to cold hard cash.
Looking back 20 years, it's a landscape that's evolved since the coming of the Chosen One and amplified with the excitement around his chosen son.
Though the new rules of NIL have amateur athletes securing sneaker deals at ages when they still attend home room, there's never been a battle for a superstar by shoe companies quite like the one for LeBron James.
That's because there hasn't been anyone quite like LeBron.
More Sneaker Stories:
This year marked a new record in pre-holiday spending. From jerseys to cannabis, Boardroom breaks down the business of Cyber Week….