Over the course of the 2022-23 NBA season, Protro pairs tied to the Black Mamba have been worn more in NBA action than any other signature.
Head into any Foot Locker, Finish Line, or Dick's Sporting Goods and you'll wear yourself out trying to find a pair of Nike Kobe sneakers.
Tune into any NBA game and you'll see them in abundance.
Since retiring in 2016 and launching the Protro program in 2018, Kobe Bryant's storied signature series with Nike has hit a nerve with detail-driven hoopers looking to honor their idol and have every edge on the court.
Since the tragic passing of Kobe in January 2020, the demand for anything attached to his image has skyrocketed.
From LeBron James to Ja Morant, Jaylen Brown to Devin Booker, countless All-Stars in the NBA have played in Kobe sneakers as a way to honor the lost legend.
In the years since his passing, the NBA's elite has stockpiled as many Kobe Protro pairs as possible — a move that was heartfelt in sentiment and soon a smart move in conservation. Back in 2021, the Bryant estate's brief break with Nike halted production for almost a year.
Even so, the professional fanfare for Kobe proves strong as ever in 2023 as Kix Stats and The Sole Drop report that the Nike Kobe 6 Protro is the most worn model in the NBA this season based on minutes worn on-court.
On top of that, it's not the only Nike Kobe in the top five.
Expanding on those numbers, Boardroom breaks down the most worn signature shoes across the Association this season.
No. 1 — Nike Kobe 6 Protro
Minutes worn on-court via Kix-Stats: 31,097
First featured on the feet of Kobe Bryant on Christmas Day 2010 by way of a "Grinch" green debut, the Nike Kobe 6 instantly captivated sneaker culture and hoop heads thanks to its scaley style and low-top look.
Building on the backs of previous Eric Avar designs, the soccer-inspired shape took on a full Black Mamba spirit by way of a snake aesthetic all over the upper. As an original, Bryant balled out in the Kobe 6 with players of all shapes and sizes adopting the same aesthetic.
A decade later in 2020, the celebrated sneaker received the Protro treatment by way of retail releases and player-exclusive colorways for basketball's best. The likes of PJ Tucker, Devin Booker, Malik Monk, Ja Morant, and more all accepted exclusive color codes never meant to hit stores.
Since the 2021 launch of the "All-Star" style and the 2022 release of the "Mambacita Sweet 16" edition, Kobe 6 Protro pairs have only been available on the aftermarket. In February 2023, a "Black History Month" makeup marked the return of the new Kobe 6 Protro production. Sadly, said style will not release at retail.
Thankfully, the Nike Kobe 6 Protro "Prelude" is expected to hit stores sometime in the coming months.
No. 2 — Nike PG 6
Minutes worn on-court via Kix-Stats: 29,524
Since becoming a signature athlete in 2017, Paul George's namesake Nikes have been booming at NBA, NCAA, and retail levels.
Though his accessible sneakers have seemingly stopped with the Nike PG 6, the low-top look remains wildly popular amongst his pro peers. The shoe features full-length React foam and is renowned for its durability. George himself is known to rock his sixth shoe in action for the Los Angeles Clippers while also rotating previous pairs from his line and favorited forays from the Kobe series.
Despite being below-ankle in nature, big men such as Marcus Morris and Jock Landale have played in the Nike PG 6 this season, as have guards such as Terrence Ross and Pat Beverly.
No. 3 — Nike LeBron 20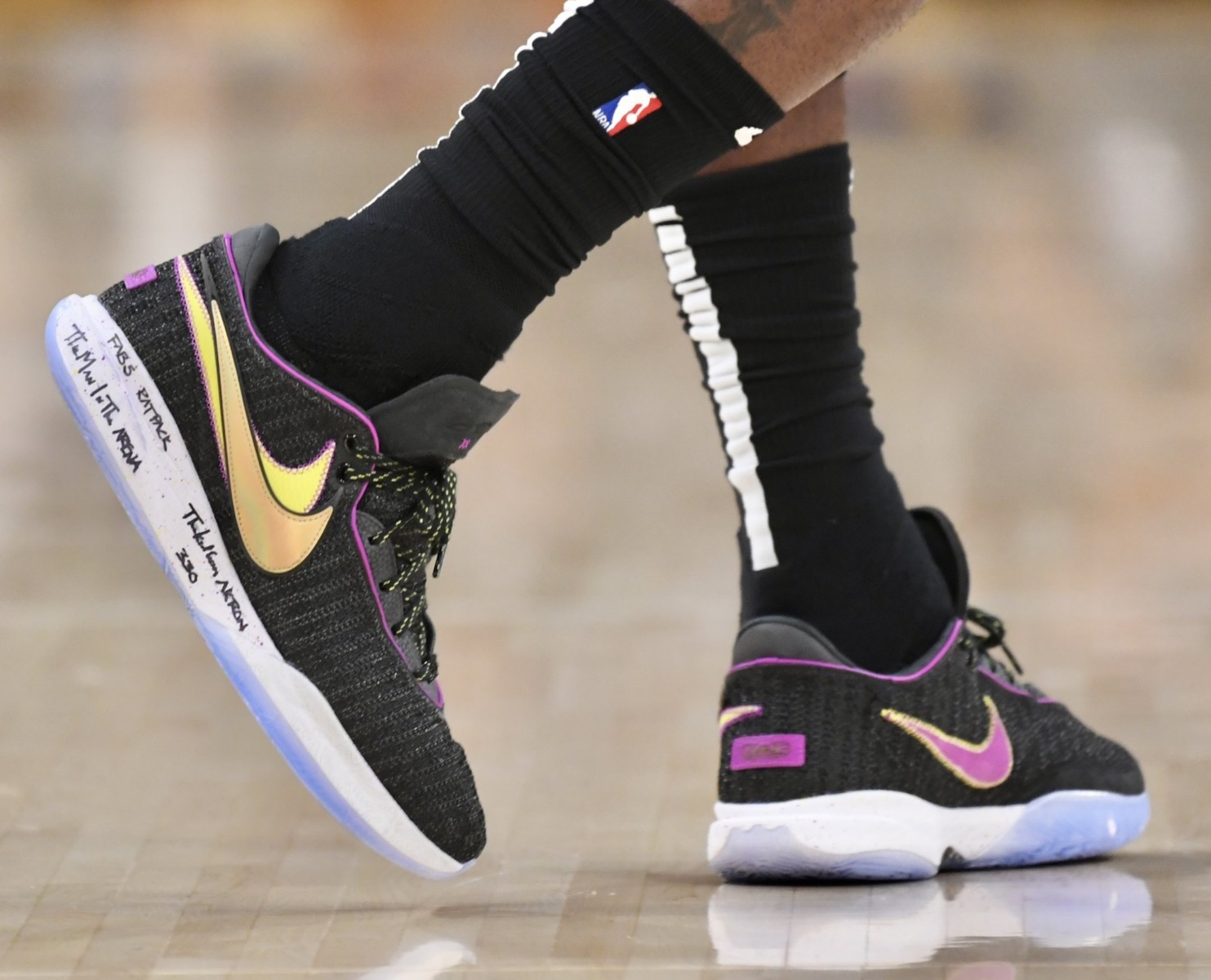 Minutes worn on-court via Kix-Stats: 23,995
After arriving in Hummer-inspired sneakers and transitioning to massive Air Max models, LeBron James has officially crossed over to the light and low-top side.
The Nike LeBron 20 has proven popular in stores and in NBA action. Across the Association, everyone from pesky point guards to lob threat centers call on the LeBron 20 when it's time to take the court, proving more malleable than models attached to King James in seasons prior.
With the recent release of its alternative version, the FaZe Clan-led Nike LeBron NXXT Gen, the lightest LeBron ever will continue to float on feet all throughout the upcoming NBA Playoffs.
No. 4 — Nike Kobe 5 Protro
Minutes worn on-court via Kix-Stats: 20,405
The Nike Kobe 5 Protro has not had a retail release since 2021.
Still, the revived retro from the Kobe collection remains incredibly relevant on the feet of NBA elite. From Devin Booker hooping in Protro PEs to Malik Monk unarchiving "Ink" OGs from 2010, the fifth chapter of the Black Mamba franchise from the Swoosh is beloved thanks to its namesake star and touted performance.
For those awaiting more Kobe kicks at home, they're coming soon. This year, Kobe's famous Flight Huarache PE is set to hit stores as is the Nike Kobe 8 Protro. Expect the latter model to be amongst the league leaders next season.
No. 5 — Nike KD 15
Minutes worn on-court via Kix-Stats: 18,751
In his 16th season, Kevin Durant is not only putting up almost 30 points a night, but he's also putting out one of the league's most popular sneakers.
Since debuting in the 2022 NBA Playoffs, the Nike KD 15 has been a smash-hit amongst players the entire 2022-23 NBA season.
From the "Aunt Pearl" homage to the popular "Producer Pack," fans and All-Stars alike have gravitated toward the spirited color stories attached to Durant's latest model. The low and light style is akin to trends in today's game, making it a favorite for rising rookies like Jalen Duren and lockdown wings like Jaden McDaniels.
Though the KD 15 has been a standout in NBA action — led most memorably by Durant's 1-of-1 "Off White Presto" pair — his recently retroed Nike KD 3 has also appeared in NBA action on San Antonio Spurs standout Devin Vassell.
More Shoe Stories:
How Syracuse standout Carmelo Anthony went from a $40 million deal with the Swoosh to being handpicked to fill the shoes of the GOAT. When Carmelo Anthony cut down the nets at the 2003…
Sign up for our newsletter