How North Carolina's No. 1 draft pick got more money for footwear than any NBA player prior.
In the summer of 1982, James Worthy did not need Regis Philbin to become a millionaire.
All he had to do was phone David Falk.
Entering the NBA Draft as a junior, college basketball's best wing was weighing his options when it came to endorsement deals.
If the Los Angeles Lakers — the NBA's reigning champions — were to take him first overall, the Tar Heel hooper would command thousands for footwear alone if he reached his potential.
But what if the Carolina kid was a lock? A man among boys ready to take on a role in LA while putting a brand on his feet — and his back?
Akin to industry rumblings, Falk, then an agent at ProServ, sought a sponsor where Worthy would be paid and promoted like a headliner.
Not a company crowded as Converse, already host to several All-Stars. Nor an Adidas or Nike, indebted to deals for basketball's best big men.
Rather, James Worthy would wear New Balance: a Boston brand known for $100 running shoes and completely nonnative to hoops. To build its court credibility, the company would pay the rising rookie a whopping $1.2 million.
"It was the largest deal in the league at the time," Falk told Boardroom. "They weren't in basketball in a significant way and he became their flagship."
Making more than his Hall of Fame teammates and carrying a company completely new to the hardwood, Boardroom breaks down how Worthy became "the man" in Boston despite playing in LA.
Learn what the record-setting contract meant for Tar Heels to come and why a pending PUMA offer almost kept it all from happening.
Sign up for our newsletter
The Worth of Worthy
Pat Riley's first full season as head coach of the Los Angeles Lakers was an embarrassment of riches.
Coming off his second championship on staff, his Showtime team showcased the best point guard to ever play the game and the greatest center to ever roam the paint.
Looking left to his bench sat the No. 1 pick in the 1982 NBA Draft, fresh off a title run in college.
"When Worthy came out, he was a very special player," said Falk. "He was the MVP of the Carolina championship in 1982."
Despite wearing Converse all three seasons in Chapel Hill, Worthy's top-pick prestige and acclimation to the massive market of Los Angeles made him an athlete of interest for every footwear brand in the world.
Before even playing a pro game, his aggressive agent set the bar exceedingly high for any company looking to court Showtime's freshest face.
"I called all the companies and said, 'I'm not going to make offers for James Worthy,'" said Falk. "'If you're interested in signing him, I will accept offers starting at $100,000.'"
Falk, only 31 years old himself at the time, was met with more cackles than contracts.
"Most of the companies thought I was crazy," said Falk. "Because rookies didn't make that type of money — not even veterans."
At that time, basketball's biggest attractions were not seeing seven-figure footwear deals, let alone annual allotments of $100,000 on the hardwood.
In the early '80s, Converse was reported to pay six figures a year to Magic Johnson with Nike eventually paying a similar stipend for Moses Malone.
Those high-paid hoopers had something in common then: All-NBA accolades and Finals MVPs. In 1982, Worthy had won in college but he'd yet to prove himself as a pro.
"The conventional wisdom at the time was that Kareem was the highest-paid shoe endorser at $100,000 a year at Adidas," Falk said. "I can't verify that, but that was the general understanding."
The general response confirmed that understanding.
"So most of the companies said, 'David, you surely must have lost your mind. Nobody's going to pay $100,000,'" Falk recalled. "So I said, 'If you don't think he's worth it, don't make an offer.'"
Falk's hardball was brazen to brands, but brilliant where his client was concerned.
Across basketball, Converse had a full stable between Magic Johnson, Julius Irving, and Larry Bird. Adidas was paying top dollar for Kareem Abdul-Jabbar while Nike prioritized trailblazers such as Spencer Haywood or rebellious coaches like John Thompson.
Always a man of reputation and relationships, Falk sought a sponsorship deal for Worthy where others weren't looking. A place where James could not only be paid but prioritized.
"I got introduced to New Balance through a very good friend of mine, M.L. Carr who played for the Celtics," said Falk. "He was very good friends with the owner of New Balance, Jim Davis."
Playing in the brand's backyard, Carr had early intel that the running shoe supplier was eyeing an entry into basketball.
Over the course of the '70s, New Balance boomed thanks to increased interest in jogging and the brand's ability to produce a luxury leisure shoe.
Getting into basketball was a bold move in which Carr could kickstart local love in Boston.
However, for New Balance basketball to appeal to kids, they needed a marquee athlete on the rise. One who would truly move the needle. Already a veteran at that point, Carr had made All-ABA in Adidas and won a ring in Converse. He had court credibility, but not new shoe smell.
With Worthy, New Balance basketball could conquer each coast and appeal to various demographics. Through the dueling duo, they'd have talent on the league's top two teams, hitching their wagon to an established role player and a rising rookie.
It all appeared as a perfect fit, and it was.
However, competition coming from Carolina had a chance to put it all on pause.
Alma Matters
Long before the advent of NIL or even the era when agents attended AAU games, college coaches were the gatekeepers to amateur athletes ascending to true professional status.
Father figures in some senses and financially astute based on their own contract negotiations, basketball's best leaders across the NCAA kept their players as far away from agents as physically possible.
As an agent at ProServ, Falk knew the game and played by the rules.
"Back in the day at the top schools — North Carolina, Duke, Georgetown, Kansas, Indiana — there was no recruiting of the players [for agents]," said Falk. "The coaches would tell you to leave the players alone and make no contact whatsoever. At the end of the year, they'd invite the four or five top agents in to make a pitch and the players would pick."
Prior to Falk forming a relationship with Worthy, he'd already helped a slew of Tar Heels maximize their financial value upon entering the NBA.
Because of this, Dean Smith was willing to set up a meeting between the agent and the athlete once Worthy declared.
"We had a very strong track record of success at North Carolina with players like Al Wood and Phil Ford, and Coach Smith recommended us," said Falk. "It wasn't a popularity contest, it was all based on your track record which is really how players should pick agents."
Impressed by the work Falk did for former Tar Heels, Worthy agreed to sign on with Smith's blessing.
This meant much as all outlets projected Worthy to go high in the 1982 NBA Draft. Despite rumors that Ralph Sampson would leave Virginia early or optimism about other entries such as Terry Cummings and Dominique Wilkins, Worthy was the No. 1 pick.
Even better? The Los Angeles Lakers, then the defending champs, had the rights to Worthy based on a past trade.
At that point, Falk was able to negotiate a multi-year contract with the California team. While he had the power to elicit other endorsement deals for the Carolina kid, a friend of the program already had his eyes on Worthy's feet.
"There was an old-school player from North Carolina named York Larese," Falk said. "He played there in the '50s and was a senior basketball executive at PUMA. He went to Coach Smith right as Worthy was hiring us. He said, 'You don't need an agent for the shoe deal, we're gonna offer him $55,000.' Which was a lot of money back then for shoe deals."
Before ever playing a game as a pro, Worthy could wear PUMA and make half as much as a rookie as basketball's best.
By signing with PUMA, Worthy could keep it in the Tar Heel family and have guaranteed brand backing from a prominent producer in the basketball space.
It was a compelling case for the athlete and one backed by the almighty Dean Smith.
"Coach Smith said to me, 'Look David, we're not sure if we're gonna use you guys for the shoes because we're probably gonna do a deal with PUMA,'" recalls Falk.
Respecting Smith but also well versed on his new client, Falk acknowledged the opportunity at PUMA but suggested a strong counter.
"I said, 'Well, James broke his foot.' PUMA at that time didn't have great basketball shoes or cushioning," Falk recalls. "I said, 'I'd like a chance to see if we can do better. The worst that happens is if we can't do better than $55,000 and you want to sign with PUMA that's James' decision.'"
Understanding Falk's argument and always wanting what was best for the player, Coach Smith allowed the agent to test the market.
What he came back with was an eight-year, $1.2 million dollar contract with New Balance.
Not only was the money much more than PUMA, the pairing established Worthy as the face and feet of New Balance's emerging basketball category.
"We tripled the deal," said Falk. "I'm a competitive guy and it was like throwing down the gauntlet. No one in the world believed we could get that type of money."
Thanks to Falk, Worthy was the first NBA player to sign a million-dollar sneaker contract despite being only a rookie. The record-setting salary was perhaps a sign of things to come for Falk as an agent and for athletes at the University of North Carolina.
"In many ways, the Worthy New Balance deal set the table for the Jordan deal," Falk said.
Big Game, Big Bucks
When David Falk helped James Worthy secure the first million shoe deal in NBA history, the stakes were high.
At that time, New Balance was both new to basketball and also infamously endorsed by no one. With Worthy, all that changed.
"New Balance paid him a very significant amount for a very long time," Falk said. "After a few years, they came out with his own line, the Worthy Express."
At the Boston brand, Worthy wore many hats. In a sense, he was an endorser and a product tester.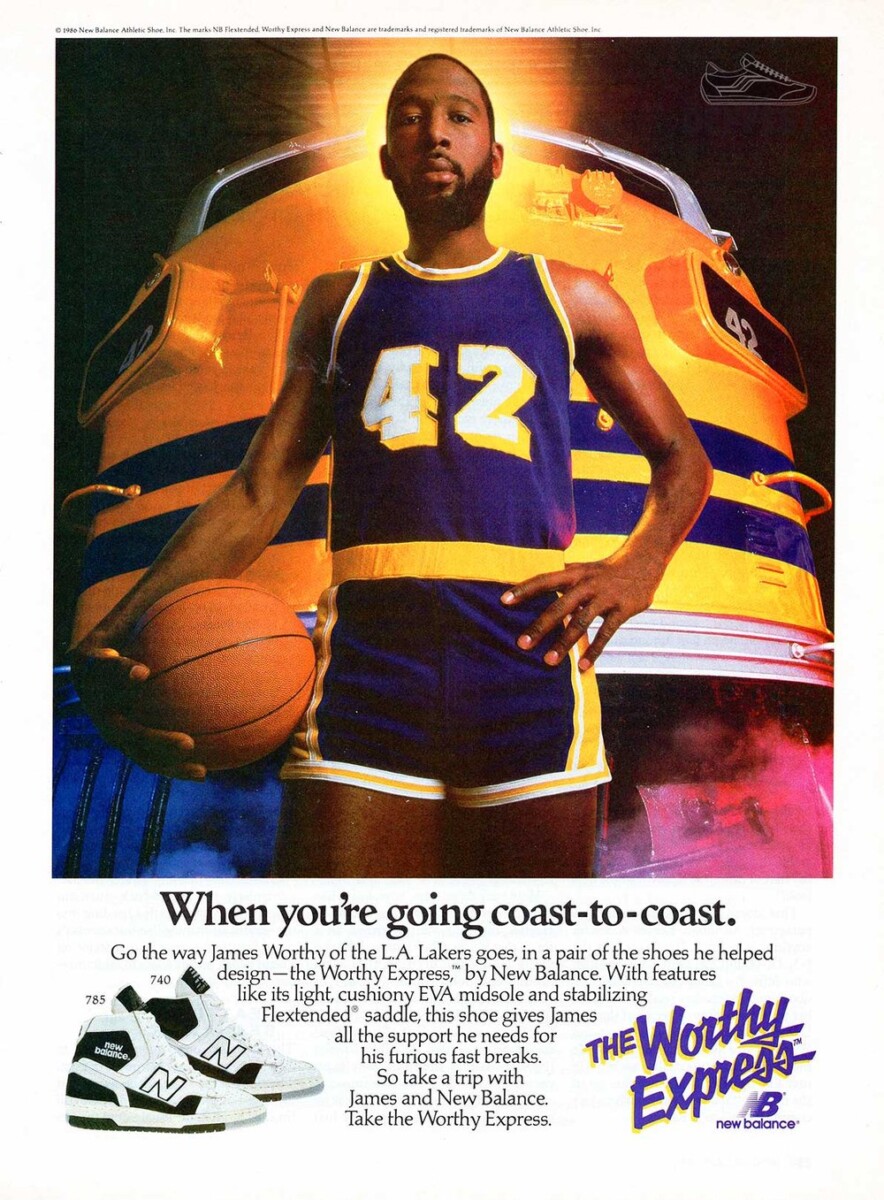 "I was willing to grow with the company," Worthy told Russ Bengtson in 2014. "As I got successful, and as they continued to enhance their brand and their shoe, it was just a natural fit."
Despite being the third-best player on the Showtime squad and an athlete signed by a brand best known for not marketing athletes, the unique pairing of Worthy and New Balance absolutely worked as Big Game James became a focal point for the Boston company's basketball efforts.
In some senses, the brand best known for dad shoes found the perfect pitchman with Worthy not just based on his ability but by being wise beyond his years.
"James is incredibly bright and very mature," said Falk. "He was probably mature when he was 13 years old, he comes from a great family. Today in the NBA, a guy in his position would probably want to leave the Lakers to be the man. But James was smart enough and mature enough to recognize a team with Magic Johnson and Kareem, two of the greatest players of all time? He could win."
By playing a role in LA and taking a chance at New Balance, Worthy was able to win three NBA titles, make seven All-Star teams, and be marketed as a marquee superstar.
Had Worthy taken the first contract offered by PUMA, he'd have made a fraction of the money and seen far less promotion. Had Falk not played hardball with all other offers, Worthy would've likely never seen a signature shoe.
Instead, Falk and ProServ were able to set Worthy up with an eight-year deal in which he'd make $120,000 a season and appear in advertisements.
At New Balance, Worthy was the basketball brand's sole priority, magnified in magazines and getting his own signature series. For Falk, this was all part of the plan.
"My job was to understand what company would maximize the player's marketing impact in the shoes," Falk said. "I really didn't care what they wore in high school, I didn't care what they wore in college. All I cared about is when they were in the NBA who would do the best job marketing."
For the bulk of James Worthy's Hall of Fame career, New Balance graced his famous feet and amplified his image.
Worthy's All-Star ascent and beloved lens in Los Angeles was exactly what the Boston brand needed when becoming reputable in basketball, further expanding the portfolio of a running company heralded in each hemisphere today.
In 2023, New Balance is on an absolute tear, surpassing $5 billion in annual sales with their sights set on becoming a $10 billion brand.
No longer operating on a narrow path, their retro roundball shoes — namely the Steven Smith-designed 550 — are mainstream mainstays.
The mid-'80s mid-top moves in malls like Auntie Anne's Pretzels while selling on StockX for far above retail in boutique blends. In high school hallways and NBA tunnels alike, the Boston brand hangs tough in a vintage scene owned by Air Jordan and a performance space led by KD and LeBron.
To an industry outsider, it happened fast. From spin cycle styles worn by Jamal Murray in the Finals to aspirational releases tied to Rich Paul, New Balance basketball is stepping on the toes of industry icons, going on a run few pundits predicted.
While New Balance's roundball relaunch came to fruition in 2018, its origin story dates back to 1982 and the chance taken by a rising rookie and an ultra-competitive agent.
"I felt this tremendous obligation to raise my own game to make it appropriate for the people I was working for," said Falk.
"That's why I picked Nike for Michael and why I picked New Balance for James."
Read More:
Breaking down the 10 highest paid coaches in U.S. sports, led by championship winners Bill Belichick, Sean Payton, and Gregg Popovich….