We sat down with the Midwest multi-hyphenate to hear about getting seeded Jordans in the '90s, selling throwbacks out of his trunk, and getting to take creative reigns in the house that MJ built.
Years before the lights got low at the United Center and The Alan Parsons Project boomed out of the stadium speakers, a young Don Crawley was already all in on the Chicago Bulls.
"I'm a fan since the pre-Michael Jordan years," the designer better known as Don C told Boardroom. "My best memories with my dad were Bulls games at Chicago Stadium."
Now a father himself, the brains behind luxury sportswear brand Just Don is wearing a new hat: Creative Strategy and Design Advisor for his hometown team.
From outfitting the team in collaborative Off-White offerings to hosting his own YouTube series with the franchise, Chicago's Own, Don C is amplifying his city and its power players to global heights.
Checking in live from the United Center, Boardroom chopped it up with Don from his new office to hear all about his move back home, selling throwbacks to Fabolous in the early aughts, and keeping Virgil Abloh alive through the youth.
IAN STONEBROOK: It's been right around a year since the appointment was announced. How did the role with the team all come together?
DON C: During the pandemic, I had the opportunity to meet with the President of the Bulls, Michael Reinsdorf. He expressed interest. A few people in the office and within the community were saying it'd be good to infuse someone like me with the team.
I've been with the organization since last season as the Creative Strategy and Design Advisor. Part of what I wanted to bring was more flavor when it comes to avenues of the business outside of basketball.
IS: How did having your own show come into the fold of your job with the Bulls?
DON C: One of the arenas that we wanted to touch on was having something that was culturally relevant and also showcased what awesome people in Chicago are doing. That's what we plan on doing as the episodes unfold.
IS: Years ago, we started seeing athletes rock Just Don hats at press conferences and the kids at Kentucky playing ball in your Air Jordan 2 collab. When did you realize you could influence not just the culture of hoops, but the game itself?
DON C: I wouldn't say I thought I could influence it, that's just not how I look at things. But I just wanted to be a part of it. I thought I could add some value to the basketball realm.
I'm a Bulls fan since the pre-Michael Jordan years. Me being a lifelong fan? It's always been a dream of mine to work with the franchise. So when I started being a creative, I would always pitch concepts. Even with my brand having an NBA license, we always tried to do storytelling around the Bulls because that's my home team. So to be able to work directly with the organization is a dream that has come true.
IS: And now you can lean all the way into the Chicago storytelling.
DON C: I just don't wanna mess it up. [laughs] That's intuition. But when I first came here? I was highly encouraged because most of the people that are here are people that have been here for quite a number of years. It shows the commitment and loyalty of an organization, the commitment and loyalty from the people that work here. They love this place. Once you get in here? Man, this is a dream position. Especially like if you're locally here in this market.
What you see with [Bulls Manager of Brand Communications] Denae Wilkins and other people here is that we attract talent from outside of Chicago to come to Chicago. I always ask people, 'What was the attraction with Chicago? It's freezing here!' And they're like, 'This is a big market and this is the legacy organization.'
This opportunity just doesn't exist in a lot of places and it's an awesome place to be. From ownership to management down, everybody's welcoming and inviting. That's what I appreciate.
IS: Midwest hospitality is a real thing. What made you move back to Chicago?
DON C: I lived in LA for nine years before moving back to Chicago in 2021. It's been awesome. During the pandemic, me and my wife realized we were lonesome in LA. We didn't have any family, it was just us and the kids. We wanted to get back to being around more family. Our kids are growing up, we want them to know their cousins, their grandparents, and I feel like they weren't because we were so engulfed in work.
Also at that the time, I manufactured Just Don in Los Angeles. When the pandemic hit, the factories I was working with all shut down. I had to go to Italy and strike a relationship with a new manufacturer. I sort of no longer needed to live in Los Angeles with me manufacturing overseas.
IS: I'm curious, what did moving all your clothes look like?
DON C: I've still got storages in LA. [laughs] I couldn't move everything. I had two offices, a retail store, and a home. So it was an expensive move to say the least. But we love our new home, we love our new neighborhood, and the kids love it. Everybody's thriving. It's cold, but hey? The kids love that! So me and my wife can't complain.
IS: Back in '09, you were in the famous Tommy Ton photo at Paris Fashion Week with Virgil and the Chicago crew. Last month, you're in Paris with the Bulls all wearing Off-White apparel paying homage to the team. How full circle is that?
DON C: Man, it was a really big moment. I was very proud to represent the city of Chicago and the Bulls organization out there in Paris. You know, 70% of our fan base is outside of the US, believe it or not. The Bulls are highly coveted and loved globally, especially in Paris.
I've spent a lot of time being in Paris, pretty much two times a year for Fashion Week. And when I got the Bulls position? All my peers out there were always like, 'Yo, we gotta come to Chicago to go to a Bulls game!' So I joked with everybody, 'Hey, I bought the Bulls to y'all!' [laughs]
But it was overwhelming. You know, the organization looked like the stars over in Paris. We represented the city, we represented the team, we definitely beat the Pistons! We represented. And then off the court from a cultural standpoint? I think the collaboration between Off-White and the Bulls was really something groundbreaking.
I know other franchises are shuffling, trying to figure out how they can copy it. But we just had to show that we are the innovators. That's how the Bulls get down. I'm just happy to be here to. To have the privilege to play a role in it.
IS: From an energy standpoint, what's it like pulling up at Paris for Fashion Week with all your creative peers versus popping up in Paris with the Chicago Bulls team for a game?
DON C: It's a dream come true. The whole team represented. I wanna say this in in the most humble manner, but we had the best party at Fashion Week! [laughs] The Bulls x Off-White dinner was amazing and the after party was the top party of the week. The whole organization was in the building, the whole team represented.
We had really signature moments in the night. It was Ayo Dosunmu's birthday, he turned 23, and Derrick Jones Jr. proposed to his girl that night. Moments people will cherish for the rest of their lives that happened during that Paris game.
IS: A few years back, Kevin Garnett said something to the effect that the All-Star Game should be Supreme vs Off-White when it comes to the jerseys. Do you think we'll see more fashion injected in the game not just at the arrival but on the court? Is that something Chicago's Own will touch on?
DON C: Oh, absolutely. I think that culture right now is a melting pot of different bubbles. Merging those bubbles is what it's all about.
That's one of the things that we really highlight on the show: how to merge the cultural relevance of Chicago and showcasing people that are cultural movers and shakers. Then merging that with basketball and the Bulls.
All of these people are Bulls fans because the whole city wants to rap with the Bulls. We're gonna be showcasing lots of people outside of the realm of basketball. The culture is a melting pot.
That's my job, to even do research beyond what's normal. So when I work with the producers, we try to really figure out what's something we can highlight about this person that the normal outlet won't highlight. I think we touched on that with DeMar. I wanted to showcase his personality. Something that's highly overlooked is what a cool individual he is.
Everybody respects DeMar's game on the court, but a lot of people have really never heard him because he's reserved. But he's got quite a personality and a huge style sense. He has his own style. I wanted to showcase how his style is inspired by where he's from. He puts a modern global twist on that Compton vibe. The braids with the Kobes? We wanted to amplify that because nobody can touch him on the Kobes.
IS: Do you have a wishlist in terms of dream guests?
DON C: Definitely. That's one of the things I can't spill the surprise, but man, we definitely got some heat on the way. I have a dream list of people I wanna highlight because I think it's gonna be awesome to showcase how all of these people love the Bulls. The Bulls are the common denominator between so many Chicago figures. I don't want to toot our own horn, but the Bulls to me is the best brand in basketball — and it's the best brand in the city of Chicago.
That's part of the messaging that we did with the Off-White exercise: looking at it bigger than just a basketball organization. We are a global brand and I wanna uphold the legacy of this brand and continue to help amplify it globally.
IS: In 2023, you're orchestrating collaborations between Off-White and the Chicago Bulls. Take me back to the late '90s and early '00s when you were selling throwback jerseys online and out of your trunk.
DON C: Man, it's full circle. Here in the city, before the term influencer and social media, I was a local hustler. Somebody that always was on top of what's next and what people should be wearing. Being young, I was highly visible in the nightclubs and I was always trying to amplify Chicago.
I always felt like we were looked at as being the second city behind New York and LA. I wanted to amplify that we had dope rappers. We had influencers before influencers. We had people that represented a look or culture that other people would take cues from. That famous people would even take cues from.
So one of my ways of figuring that out was I used to do a lot of nightclub promotions. Then that turned into doing concerts. The whole goal was to develop relationships with artists. If I could book a guy and pay him to come in town? He's gonna remember me versus me asking him to do business.
That was one of the things that was my variable: having a tightness with musicians and producers here in the city. I was able to help them in their careers with some of my relationships. But I was just trying to figure out, what's my niche?
And my niche was style and fashion. I always tried to infuse that into the artists that I work with. I was heavily into throwback jerseys, which nobody was into those at the time. Back then, Mitchell & Ness was such a small company that they didn't distribute everywhere, so locally I had an account.
I was like a web entrepreneur, even in the late '90s I had my own website in which I sold jerseys. I also used to sell them from the trunk of my car. When I used to throw events, I would hide jerseys in my car so when rappers would come in town, they'd be like, 'Yo Don, what you got?'
At the time I had Fabolous flying here to get jerseys from me. I had music executives like Kevin Lyles, who was the President of Def Jam at the time, fly here to get jerseys. They were really sought after, so it's very full circle to be able to work directly with these brands. To be able to work directly with the Bulls, directly with the NBA, directly with these artists? Man, it's a dream come true.
I'm just happy to be able to live and long enough to enjoy it. I wanna help encourage other people to strive to be better versions of me at what I'm doing if I can help. That's a big part of what I want to do. We have a lot of community outreach here. We're always trying to encourage young people to be a part of everything. That's one of the things that Virgil really encouraged me with. He was big on reaching out to people in the community, letting them play a role in doing things. I try to just follow that example.
IS: Roughly 25 years ago, Jordan Brand officially launched as its own subsidiary of Nike. What was the energy around Chicago of Mike having his own namesake company?
DON C: You know what's kind of funny? It probably went over most of our heads because as fans we weren't into the business yet, we were more like sneakerheads. Back then, you could be a huge Jordan fan but not know the structure or the organization. Today, I really appreciate how everybody knows the behind the scenes of everything that's going on.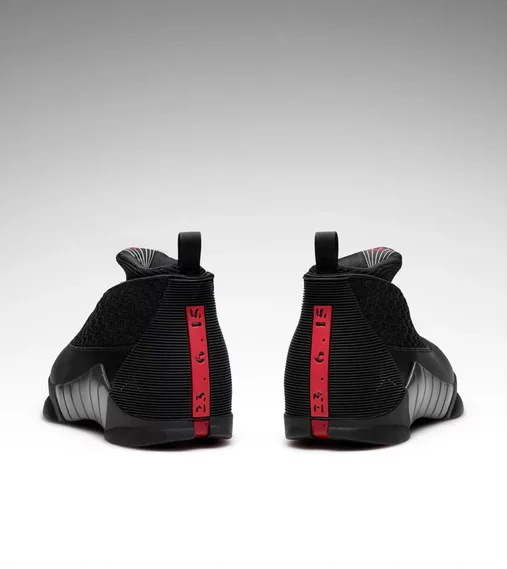 But back then it wasn't like that. I was actually one of the ambassadors for the city of Chicago when Jordan Brand launched.
They gave me and my friends the 15s like a year early. I was walking around stunting in Jordan 15s in like '99 and they came out in 2000. They were the black ones with the red stripe on the back. We had them mad early, like mad early.
That was awesome, but I think people didn't know the difference between Jordan Brand and Nike at the time. Jordan culture here in Chicago is the original Jordan culture.
IS: Traveling the globe during your road manager days, how did Jordan culture in Chicago compare to other cities domestically or abroad?
DON C: I saw this interview that Jim Jones did. I moved to New York in 2002 and he said I'd wear Jordans every day. He said New Yorkers hated Jordan — that was the guy that kept the Knicks out of the playoffs! He used to see me wearing Jordans all the time and he said people in New York didn't wear Jordans.
Me and my crew started wearing them because we wanted to wear something to rep Chicago. We wanted show we were from Chicago. I would go trade with kids in Japan to get Jordans that weren't even being retroed. I would wear them every day to record labels when I tried to take meetings and that's how people would remember me.
It was to help amplify that movement to be a global movement. Now it's a privilege that the brand can recognize me and they let me design. I appreciate that. As a kid from Chicago? It's just a dream come true.
IS: In 2021, Virgil played a major part in reenergizing the Air Jordan 2. As mentioned before, you brought heat to that model in the mid-'10s. Between the AJ2 having a heyday and the Jordan 312 back on shelves, what's it like seeing two models you're tied to thriving at retail in 2023?
DON C: It's amazing. I hope we could retell the stories because that Jordan 2 came out originally in 2015. With it being 2023, that's eight years now. So a lot of sneakerheads today weren't sneakerheads eight years ago. I'd like to retell the story, kind of show where the inspiration came from, and I know there's gonna be new iterations that kids today can enjoy.
Anything I could do to amplify this culture and how fun it is. Just to keep infusing Chicago and the Bulls in everything I do. It's truly the inspiration to everything I do because it was such a huge part of my childhood. Growing up? My best memories with my dad were Bulls games, whether it be at home or at Chicago Stadium or at the United Center. My favorite memories as a child all circled around the Bulls.
IS: Are there any particular moments that stand out?
DON C: The Shot. 1989 against Cleveland. Unfortunately it was at Richfield Coliseum, not in Chicago. The thing that made that so amazing was that the Bulls were a No. 6 seed. Nobody thought we were going to beat Cleveland, so that shot over Ehlo at the buzzer? Me and my dad celebrated forever. That run in '89 was what gave the Bulls the confidence to come back [in '91] and actually beat Detroit.
We were better than Detroit even that year, but we got cheated by the refs with Detroit being the champions. They got all the calls and everything. They were playing dirty to be quite frank. But we had the confidence and we knew we were better than them. That run in '89, to me, gave the Bulls confidence to come back and show we were the best team in the league.
IS: You've had a role in relaunching archival Air Jordans. What's a shoe yet to receive the retro treatment you'd most like to see come back?
DON C: I know this has nothing to do with the Bulls, but I'm a big fan of David Robinson's Nikes. The Mr. Robinson's Neighborhood campaign was something that I really, really loved.
I loved it because at the time, Reebok had kind of taken over and the top spot in the basketball with the Pump. So Nike had its iteration of the Pump and I feel like they haven't properly told that story and retroed it a lot.
The other shoes that get retroed here and there but get no marketing behind them is the Nike Air Flight 89s.
I would love to take the Flight 89 and do anything that I think could help amplify it. I feel like they kinda hit some bricks with the Flight 89 retros. They retro the Flight 89 Low, but the high was a different model.
IS: To close, what can fans expect in the coming months from your show with the Bulls?
DON C: I want everybody to tune in to Chicago's Own featuring me, Little Don C. [laughs] We're gonna showcase the movers and shakers that represent Chicago. We all take ownership in amplifying how they fuse, respect, or compliment the Chicago Bulls organization.
Everybody plays here from, even from a music standpoint. They use our building. If you look at every great show here in Chicago? Look up and you'll see the banners, we have every music artist. The Bulls got something to do with everything. It's pretty full circle in terms of booking artists 25 years ago just to make the relationships and now it's like they're already coming to my house! Well, we'll call it our house. [laughs]
Read More:
Drake's music industry dominance is stamped once again by his ubiquitous presence on listeners' Spotify Wrapped as a top-5 artist….
Sign up for our newsletter