This is the fourth in a four-part series outlining the Philadelphia 76ers' plan to build a $1.3 billion basketball arena in Philly's Center City. Throughout the series of in-depth, deeply reported stories, Boardroom will identify the major players of a proposal that has become a complex web of so many aspects of Philadelphia life that will play a large role in determining the long-term future of Center City and Philly as a whole.
Part I: For David Adelman and the 76ers, Big Arena Dreams Come With Even Bigger Obstacles
Part II: Are the 76ers & Comcast at War Over a Downtown Arena Project? Depends on Who You Ask
Part III: 76ers & Chinatown: Downtown Arena Proposal Forms Deep Divisions
In the finale of Boardroom's four-part series on the Philadelphia 76ers' arena plans, we look at the steps needed to make their bold dreams a reality.
In our series of articles detailing the Philadelphia 76ers' quest to build a privately financed $1.3 billion new arena in Center City by fall 2031, we've discussed the many obstacles standing in their way to getting zoning approval for the site on Market St. between 10th and 11 St.
Comcast Spectacor and the Sixers are waging war both publicly and behind the scenes, trying to leverage all the power and influence they can muster to sway relevant parties and public opinion to their sides. The Chinatown community, whose borders would edge right up against the proposed 76 Place, is vehemently opposed, fighting tooth and nail to keep this massive development out of its backyard following a long history of intrusive development.
But perhaps the person with the most influence in determining the arena's fate is a 60-year-old lifelong Philadelphian with deep local roots.
Mark Squilla is a member of Philadelphia's city council born and raised in the area, who represents parts of South Philly, Center City, and Chinatown. It's up to Squilla, as well as the council's majority whip, to introduce legislation to approve zoning changes that would allow the 76ers to build on the current Fashion District Mall site. In a phone conversation with Boardroom in early June, Squilla said his role here is "to work with the community and the development team to see the impact a project like this would have both for the city in general and the surrounding communities."
For those without expert knowledge in local Philadelphia politics or civics, here's how a bill or piece of legislation is passed in the city and what 76 Dev Corp must do to get the mall site zoning approved to build on:
A bill must be introduced by a council member — in this case, Squilla — at a council meeting. A motion to introduce the bill must be approved by at least nine of the 17 council members, usually a formality, and is referred to its proper council committee.
Legislation must sit on the calendar for at least two weeks unless a special vote is taken to suspend this rule. This is generally a time when public meetings and hearings take place to discuss studies, hear from the community, and discuss the pros and cons of a bill. Generally, Squilla said, at least 15 business days elapse before a public hearing is held, and other hearings may have to be scheduled to iron out potential concerns or amendments to the bill.
The bill is then read at a council meeting for a full vote, needing a nine-member majority to approve.
The bill is then sent to the mayor, who has 10 days to either sign the bill into law or veto it. Ignoring the bill means it would pass after the 10-day window elapses. To override a mayor's veto in the council, it would need a 12-member supermajority for it to become law. The whole process, per Squilla, generally takes several months.
Sign up for our newsletter
A series of ongoing studies on the arena project's impact on numerous fronts will go a long way toward not only how potential legislation gets drafted, but whether Squilla believes legislation will go through at all. Squilla also said some parts of legislation may be written while the studies' results are being assessed.
The city of Philadelphia and the Projects Integration Development and Consulting (PIDC), an independent nonprofit organization co-founded by the city and the Greater Philadelphia Chamber of Commerce, are conducting three studies: a community impact assessment, an economic analysis and projection, and a third study for design services consulting. The city required 76 Dev Corp to create a pool of funds for the PIDC to hire consultants for these studies without taxpayer dollars, reportedly costing the Sixers $650,000 for two of the studies.
The Sixers say they have no further involvement or input, and PIDC retains all control over the consultants' selection and management. This arrangement raised major concerns in the Chinatown community for potential conflicts of interest, but David Gould, Harris Blitzer Sports & Entertainment's chief diversity and impact officer, said the consultant chosen to lead the city's community impact study reportedly previously worked with the Philadelphia Chinatown Development Corporation. Gould said a number of Chinatown community members sat in on local meetings, assessing various requests for proposal on contractors to conduct these aforementioned studies.
"We know the city studies are very important, because there may be a trust gap from some members in the community," Gould told Boardroom. "It's really important there's a third party doing the studies that comes from a more trusted source. We are grateful that the city decided to pursue that."
The Sixers are also conducting several of their own independent studies, consulting with experts on tax revenue for the city, state, and city school district; traffic; its own economic impact analysis; its own community impact study; and an analysis on whether Philadelphia can support two arenas. One completed study showed that over the course of 76 Place's first 30 years, it will raise $1 billion in additional tax revenue.
While the Sixers work closely with the city on completing different drafts of the legislation with the goal of introducing a bill in front of the City Council this fall, per Gould, Squilla said the consultants will have as much time as they need to complete the studies. Additionally and crucially, Squilla said he promised the local community that he'd give a 30-day window to review any completed legislation before it's introduced in council.
Squilla previously worked with the Sixers on a failed 2020 request for proposal to build an arena and development on Penn's Landing that would've reportedly included $700 million in public incentives. He said he met with the 76ers weeks before their July 2022 arena plan announcement, and there's been ongoing dialogue and community opposition ever since.
Local communities lobbied Squilla and the team to not only commit to more arena studies but to ensure they were done by third parties in a fair and above-board manner they could review afterward. Squilla also wants to have more upcoming general meetings to understand how 76 Dev Crop will address the impact of the studies' review process, something the team seems open to.
While Squilla was adamant that he wouldn't take a side on the arena proposal until the studies are complete and consultants and experts weigh in, he offered up some pros and cons of the 76ers' plans.
On the negative side, how would Chinatown businesses and the surrounding areas be impacted on Sixers game days or when there are concerts or other events? What about the negative effects of empty blocks in Center City on the surrounding communities when the arena is dark? How often would the arena really be used? How would parking be impacted? How will Chinatown residents be impacted during games, including traffic, parking, and local businesses? Will people patronize local businesses or just newly developed ones?
The development team assured Squilla that the arena would be surrounded by active uses to make sure the area is vibrant even when there's no event going on, but he said it's hard to know all the negative impacts without reviewing completed studies.
Some pros to the arena plans, Squilla said, include bringing more vibrancy to Center City; being built on top of a transportation hub in Jefferson Station that will allow more fans to drive to the facility, though he added public transit is hit-or-miss until the arena is actually built; and the developers claim 76 Place would bring in additional business to the community on game nights because fans would arrive earlier to eat, drink, and shop.
But most importantly, Squilla said, these studies need to address the community's many concerns, which he called very real.
"We have to remember," he continued, "if you're putting this arena in an area that's not vibrant and you want to make it more vibrant, that's different. But if you put it in an area that's already vibrant, you have to look at the possible impacts of the vibrancy, especially in a community like Chinatown."
If legislation is passed in 2023, it will be signed by Philadelphia's current term-limited mayor, Jim Kenney. If not, it will head to the desk of the new mayor, who will officially be elected in November. But in a deep blue city like Philly, when former state representative and council member Cherelle Parker beat out four other candidates to win the Democratic nomination, it's all but assured that the 100th mayor in Philadelphia history will be a woman for the very first time when sworn in this January.
The Sixers said they've had productive dialogue with the likely future mayor, who's seemed open to the project in the press. That echoes what the team's heard behind the scenes, believing that Parker is a proponent of private investment in Center City. While it would be up to the new mayor to sign or veto any passed bill, the 76ers understand that it's Squilla's decision to introduce the legislation without any outside influence, and he would lead the charge on passing it through city council.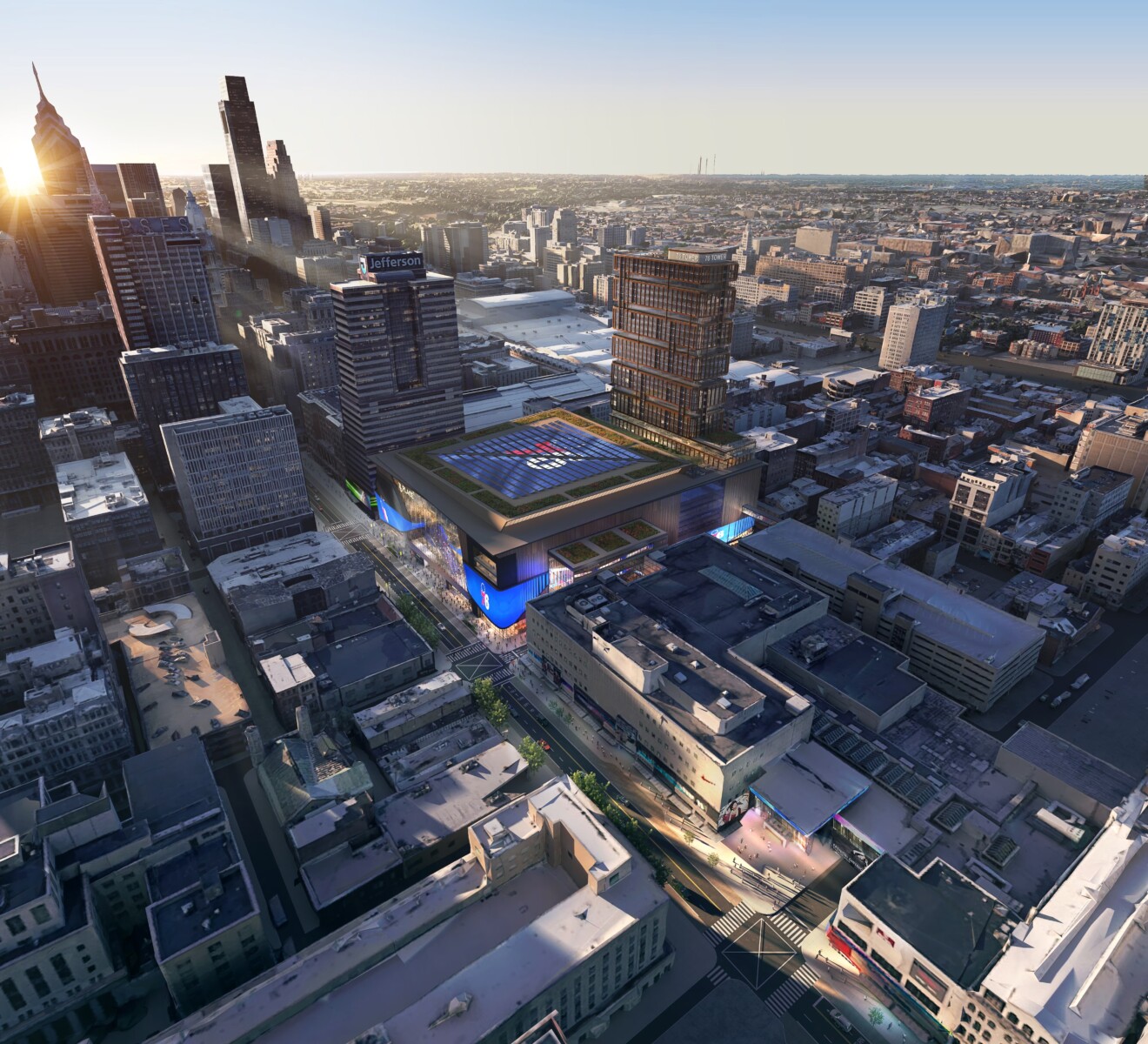 One of Parker's major backers during the campaign was labor leader Ryan Boyer, the president of some of the city's largest labor unions. Building a new arena would require thousands of new construction jobs in the area— the Sixers estimate 9,100— and a new building and surrounding development is something the 76ers promise would revitalize a Center City that are in dire need of it.
That revitalization may not happen unless preliminary zoning approvals are finalized by January. Macerich, the company which owns the Fashion District Mall the 76ers want to build the arena on, has a loan maturity payment due that the team believes will not be paid, subsequently bankrupting the mall. If that happens, the mall gets boarded up and the site gets tied up in bankruptcy court for potentially years, likely derailing the team's timeline and probably spelling the end of 76 Place building at that location. The Sixers said there's no significant headway on alternative solutions because they feel so strongly about the current site.
A vacant and boarded-up Fashion District Mall would deepen the urban decay on Market St. below City Hall, an area that Squilla said needs help.
"The challenge on East Market is there, with empty, vacant storefronts and commercial properties along Market," he said. "So we need to look at what we're going to do to bring that up. The arena folks believe that this is the answer. But if it's not, obviously it has to be some development in this area that would take on the buildup. But I haven't heard of any other project."
An influential Philadelphia real estate executive said Center City is currently at a crossroads. In this current economic climate, other private developers likely wouldn't be interested in the mall site, especially if public funding wasn't involved in some capacity. How long would it take to fill that vacant space, they wonder, a vacancy that would increase the very levels of homelessness and crime the Chinatown community believes could emerge if the Sixers' plan is approved, further damaging what's known as America's poorest major city.
"The mall is dying," Gould said, "and that's a stretch of Market St. that's been struggling for a very long time without any significant investment coming in and without any alternatives proposed for this site. I've heard other existential threats discussed about Chinatown, but we can help avoid that in a way that's additive and not a net negative for that community and the city as a whole."
Local Chinatown leaders disagree with that assessment and the fundamental approach for how communities are developed. In the 20-plus years since the proposed Phillies Chinatown stadium failed, Deborah Wei, the co-founder of Asian Americans United, said a top K-8 charter school, the Chinese Christian Church + Center, the Asian Arts Initiative, the Hoyu Chinese Folk Culture Center, and the Crane Community Center were among the community pillars built instead.
For all the underinvestment in the Asian-American community at large, Mohan Seshadri, the executive director of the Asian Pacific Islander Political Alliance, said Chinatown is thriving with a mix of small businesses, mixed-use development, art and cultural spaces, places of worship, and places where people come together around food and community.
"Chinatown is what community-centered development looks like," Seshadri said, "rather than these mega-developments that make rich people richer but don't actually benefit the community around it, and certainly aren't centered around local community needs."
In addition to the 76ers' $1 billion tax revenue estimate mentioned earlier, the team will also give over ownership of the arena land to the city and pledged $250 million in a mixed-income residential building atop the arena where 20% of the 395 units will be affordable housing. The Sixers are trying to create that special mix of sports and real estate described by billionaire Los Angeles Rams, Denver Nuggets, and Arsenal owner Stan Kroenke last month at Boardroom and CNBC's Game Plan conference, as a ripple effect benefitting the surrounding area in numerous ways.
The development team also announced a series of five public August Zoom meetings discussing the arena project and allowing members of the community to submit questions. Each two-hour meeting will take place Tuesdays and Thursdays, with a Mandarin-language meeting held on Aug. 22 and a Cantonese-language meeting held on Aug. 29.
Working to make this project beneficial for everyone, Chinatown included, is not an effort Gould said he takes lightly.
"You don't just drop an arena into downtown or next to a community and say, 'Everything's going to be great' without real levels of intentionality and investment," he said. "There are definitely folks not willing to even entertain the possibility of that. And they're completely entitled to their opinion. But at the end of the day, my job is to help us put together a plan that's positive and not destructive. And that's what I'm very committed to doing."
It certainly appears that there isn't a path to the Chinatown community changing its mind unless some unforeseen breakthrough is achieved.
"What they don't understand about us is that for us, this isn't about real estate," Wei said. "Communities are made up of relationships and memories, and those are things you can't buy with money. When you destroy our community, you destroy our relationships."
For Seshadri, he sees the arena plan as an existential threat to the local community and its families, homes, and culture.
"Our people are more important than however big a check these developers can claim to write," he said.
Does Squilla think there's actually a way to bridge this gap between the 76ers and the Chinatown community? He's hopeful that the studies conducted by the city and 76 Dev Corp are viewed as independent and transparent, and can pinpoint negative impacts that can be mitigated by a community benefits agreement that the Sixers have pledged $50 million toward.
"Unless they see that," Squilla said, "I don't see them supporting it."
Would Squilla approve an arena bill without the Chinatown community's support?
"No matter what we do in development here as a council member, you never get full support for any project," he said, but Squilla will aim to ensure the community is an integral part of the process before seeing the studies' results and assessing whether to move forward.
"Can it move forward with opposition? Yes, absolutely it could," Squilla said. "But if everybody ends up being opposed, then it's kind of hard to really move forward. But if we start having stakeholders saying, 'Yes, we see a benefit here,' and then working with some of the people who feel like it's impossible, there's a pathway forward."
Earlier this year, Squilla went down to the Wells Fargo Center to tour the newly renovated building Comcast Spectacor put an additional $400 million into. They've made it known, he said, that they'd love to keep the 76ers there beyond when the team's lease runs out in 2031.
"I don't think they believe in the viability of two arenas of this size would benefit them or another arena," Squilla said. "They have a lot of concerns about the development of a new arena that would be separate from them."
The Sixers would still like to work with Comcast on a new Center City arena and have no plans to play at Wells Fargo beyond 2031. The team's goal is to have studies completed by the end of the summer, with the hopes that Squilla can draft and submit legislation and have it approved and passed by the city council by year's end.
"At the end of the day, somebody's going to be upset at whatever decision it is," Squilla said, "but we want to make sure that the process is as fair as possible and that people were a part of that."
Harris Blitzer Sports & Entertainment CEO Tad Brown envisions NBA All-Star Games, music award shows, and the biggest acts in the world performing at 76 Place next decade. When he closes his eyes at night and thinks about what the arena opening would look like in eight years, Brown sees statues of Sixers superstars Joel Embiid and James Harden signifying the titles the team won by the time the building opens. He sees a U2 tour and a world-class experience for NBA games, the retail and the restaurants, and the fans excited to see their hometown team take the court.
"I see the experience of walking into a full arena and knowing that all the hard work and all the preparation was worth it," Brown said, "and that it's going to be something that will provide great benefit for the city for generations."
In a matter of months, with so many different factors and components in play that we've detailed in our four-part series, we'll know whether all the Sixers' hard work paid off with approval for a $1.3 billion arena that could revitalize and transform Philadelphia's Center City, or whether David Adelman and the 76ers' development team will be forced to go back to the drawing board, his dream no longer within his grasp.
Read More:
Boardroom's resident tech reporter, Michelai Graham, shares four predictions for the state of the crypto market next year. …