Boardroom celebrates spooky season with the definitive list of horror films and franchises that made it the biggest at the Hollywood box office.
October is the most exciting month of the year for thriller enthusiasts and horror film fanatics. With recent theatre debuts, including A24's Talk To Me, Neon's It Lives Inside, and Sony Pictures' Insidious: The Red Door hitting the box office, spooky season has a strong start for scary movies. But where would these horror films be if the all-time fan favorites didn't pave the way for them?
From spiritual summonings to old Hollywood cult classics and gothic gore to creepy clowns, Boardroom has compiled a definitive ranking of the highest-grossing horror movies to date just in time for any and all Halloween plans you have coming up.
Talk about the ultimate watch list! Let's get right into it.
Sign up for our newsletter
Top 10 Highest-grossing Horror Movies of All Time
Numbers based on worldwide gross as noted by Box Office Mojo as of Oct. 2, 2023.
1. It (2017): $701,842,551
Adapted from famed horror author Stephen King's 1986 novel of the same name, It follows a group of kids from Derry, Maine, called The Losers' Club as they are slowly demonized by Pennywise the Dancing Clown. Titled onscreen as It Chapter One, the film achieved immediate commercial and box office success, becoming the third-highest-grossing R-rated film at the time of its release, with a total of $701 million worldwide. No wonder it holds the title of the highest-grossing film of all time.
2. The Sixth Sense (1999): $672,806,292
Written and directed by M. Night Shyamalan — who is also responsible for thrillers Split, Glass, Old, and Knock at the Cabin — The Sixth Sense features a young Haley Joel Osment as a young patient seen by Bruce Willis' child psychologist character who claims to be able to see and communicate with the dead. The movie went on to earn six nods from the Academy Awards, including Best Picture, Best Director, and Best Original Screenplay. Did you know that a young Michael Cera originally auditioned for Osment's role?
3. I Am Legend (2007): $585,349,010
Loosely based on the 1954 novel by Richard Matheson, I Am Legend starred Will Smith with a cameo appearance by his youngest child, Willow Smith, as his onscreen daughter. The film immediately gained a spot as the seventh-highest-grossing film of 2007 and was nominated at the Screen Actors Guild Awards for Outstanding Performance by a Stunt Ensemble. As mentioned back in 2022, Smith is teaming up with actor Michael B. Jordan to co-produce the film, with Smith reprising his role as Robert Neville and Jordan as a leading role.
4. World War Z (2013): $540,007,876
Starring Brad Pitt, the action-horror film went into production soon after the actor's production company, Plan B Entertainment, retrieved the rights to the original 2006 World War Z novel written by Max Brooks. Though a sequel was announced shortly after its release, it was retracted in February 2019 due to alleged budgeting issues. World War Z also earned the honor of becoming the highest-grossing zombie film of all time and won an award for Best Thriller Film at the 40th Saturn Awards in 2014.
5. It Chapter Two (2019): $473,093,228
The second installment of the two-part adaptation of Stephen King's It is set 27 years in the future from where we last left the Losers' Club of Derry, Maine. It Chapter Two is nearly three hours long, and even some high-tech AI was used to age down some of the child actors from the original film who had "grown up too quickly," meaning that they looked like they had aged out of their character's age bracket. The novelist was such a fan of the first It film that he decided to be hands-on with the production of the movie's sequel and advised the filmmakers on adding a new scene.
6. The Exorcist (1973): $441,306,145
This film was the first horror film to be nominated for the Academy Award for Best Picture, along with nine other nods in various categories, as well as winning four out of seven Golden Globe nominations. Until It came onto the scene, The Exorcist was the highest-grossing R-rated horror film and has often been referred to as a cultural reset for horror films everywhere.
If the film wasn't already scary enough, did you know that it was based on a real story from 1949 of a 14-year-old boy who had nightmares and writhed around as if he were possessed? Sweet dreams, everyone.
7. Signs (2002): $408,247,917
Also written and directed by M. Night Shyamalan, this sci-fi-horror hybrid starred A-list actors like Mel Gibson and Joaquin Phoenix, as well as a young Abigail Breslin. Instead of using CGI to create Signs' iconic crop circles, Shyamalan was so dedicated to the cause and had them created in real cornfields grown specifically for the film.
8. Prometheus (2012): $403,354,469
As the prequel to the 1979 film Alien, Prometheus stars familiar faces in an ensemble cast including Charlize Theron and Idris Elba and is officially the fifth installment of the Alien franchise. The film received multiple nominations across the board, including Best Visual Effects at the Academy Awards, Best Sci-Fi/Horror Film from the Critic's Choice Awards, and Choice Summer Action Movie at the Teen Choice Awards. Director and co-producer Ridley Scott intentionally left his cast out of the loop regarding certain key plot points before filming in an effort to keep their reactions 100% authentic in the moment.
9. The Nun (2018): $365,550,119
This prequel to The Conjuring 2 ties into the broader The Conjuring Universe as its fifth installment. The Nun, which owns the distinction of being the franchise's highest-grossing film to date, was shot in Bucharest, Romania, and even received a blessing from an Eastern Orthodox priest during filming. In fact, filming churches was completely banned in Romania, so the crew had to build church-like settings from scratch, including an architecturally faithful entranceway up against a real Romanian castle.
10. Hannibal (2001): $351,692,268
The sequel to the 1991 classic The Silence of the Lambs, Hannibal sees FBI agent Clarice Starling going further down the rabbit hole in chasing the eponymous cannibalistic serial killer. Jodie Foster opted not to reprise the role that won her an Academy Award, so Angelina Jolie, Hilary Swank, Cate Blanchett, and Helen Hunt were among the stars to be approached about potentially taking her place. Ultimately, Julianne Moore took over as Starling in part due to a recommendation from none other than Hannibal Lecter actor Anthony Hopkins — the two had previously worked together for 1996's Surviving Picasso.
What's the Highest-grossing Horror Franchise or Film Series?
Based on data from Box Office Mojo as of Oct. 2, 2023.
Billion-dollar horror franchises
| | | |
| --- | --- | --- |
| FRANCHISE | # OF FILMS | TOTAL GROSS |
| 1. Conjuring Universe | 9 | $2.36B |
| 2. Alien | 8 | $1.65B |
| 3. Resident Evil | 10 | $1.24B |
| 4. It | 2 | $1.17B |
| 5. Saw | 9 | $1.04B |
$750,000,000+
| | | |
| --- | --- | --- |
| 6. Hannibal | 5 | $924.42M |
| 7. Dracula | 15 | $913.56M |
| 8. Scream | 6 | $913.38M |
| 9. Scary Movie | 5 | $896.55M |
| 10. Paranormal Activity | 6 | $890.53M |
| 11. Halloween | 13 | $885.59M |
| 12. Predator | 6 | $744.59M |
$500,000,000+
| | | |
| --- | --- | --- |
| 12. Predator | 6 | $744.59M |
| 13. Insidious | 5 | $730.86M |
| 14. Final Destination | 5 | $665.08M |
| 15. The Ring | 11 | $654.61M |
| 16. A Quiet Place | 2 | $638.32M |
| 17. I Am Legend | 2 | $589.35M |
| 18. The Exorcist | 5 | $589.33M |
| 19. Nightmare on Elm Street | 9 | $545.22M |
| 20. The Purge | 5 | $533.05M |
---
Read More: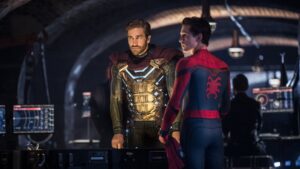 Boardroom ranks the highest-grossing Marvel movies based on global box office success since Iron Man dropped in 2008. …