From Avatar to Endgame, some of the most successful movies of all time were also the most expensive to make. Boardroom looks at the 10 biggest budgets in film history.
Think of the best film you've ever seen. Now try and guess just how much it cost to make.
Between the cinematography, lighting, scenery, and acting, you're likely thinking just how costly it must have been for the production to come to life.
If the project performed well at the box office, then it's money well spent, right? And considering its short-term success and long-term cultural relevance, perhaps the costs were worth it.
But these days, technology has permitted us to think more creatively in the film space.
Whether using artificial intelligence, CGI, or other technology to tell a story, the price tag to produce blockbusters has grown steeper and steeper.
Studios obviously allocate enough to meet expectations, but it's nonetheless fascinating to see how much your favorite movie costs to make.
Let's take a look at the most expensive movies ever made. And let's be honest — a number of these won't be the least bit surprising.
The 10 Most Expensive Movies of All Time
Movie budgets courtesy of The Numbers.
Avatar: The Way of Water (2022): $460 million
Director: James Cameron
Studios: Lightstorm Entertainment, TSG Entertainment II
Avengers: Endgame (2019): $400 million
Directors: Anthony & Joe Russo
Studio: Marvel Studios
Pirates of the Caribbean: On Stranger Tides (2011): $379 million
Director: Rob Marshall
Studios: Walt Disney Pictures, Jerry Bruckheimer Films
Avengers: Age of Ultron (2015) $365 million
Director: Joss Whedon
Studio: Marvel Studios
Fast X (2023) $340 million
Director: Louis Leterrier
Studios: Universal Pictures, Original Film, One Race Films, Roth/Kirschenbaum Films, Perfect Storm Entertainment
Star Wars Ep. VII: The Force Awakens (2015) $306 million
Director: JJ Abrams
Studios: Lucasfilm Ltd., Bad Robot Productions
Avengers: Infinity War (2018) $300 million
Directors: Anthony & Joe Russo
Studio: Marvel Studios
Pirates of the Caribbean: At World's End (2007) $300 million
Director: Gore Verbinski
Studios: Walt Disney Pictures, Jerry Bruckheimer Films
Justice League (2017) $300 million
Director: Zack Snyder
Studios: Warner Bros. Pictures, DC Films, RatPac-Dune Entertainment, Atlas Entertainment, Cruel and Unusual Films
Spectre (2015) $300 million
Director: Sam Mendes
Studios: Eon Productions, Metro-Goldwyn-Mayer Pictures, Columbia Pictures, B24, Danjaq
Sign up for our newsletter
The biggest takeaway of this list is quite obvious: Most of these movies are adaptions of comic books featuring superheroes from Marvel and DC Comics.
Be honest, the thrill of watching your favorite superhero (or villain) get the blockbuster treatment is enough to taunt anyone's curiosity. That being said, studios want to ensure they honor the feature, which means sparing no expense from start to finish.
Another element to consider is the worldwide success of these costly movies.
For example, Avengers: Endgame grossed $2.8 billion, while the most expensive film of all time, Avatar: The Way of Water, brought in $2.3 billion internationally.
That's just the beginning for the franchise directed by James Cameron. According to Vulture, Avatar 3 is scheduled to release on December 19, 2025, Avatar 4 is coming on December 21, 2029, and (maybe?) the final installment, Avatar 5, will arrive on December 19, 2031.
If the 2022 sequel cost $460 million to create, is there a scenario where we'd see a project that cost a least a billion to develop? With each release, studios set a standard of what's expected of the competition.
As the old saying goes — You have to spend money to make money.
At the moment, the Avatar franchise looks invincible. But, a new phase of Marvel is upon us, and that could just mean a continuation of its global domination and some new names to add to the list of most expensive movies of all time.
More Movies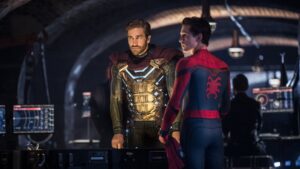 Boardroom ranks the highest-grossing Marvel movies based on global box office success since Iron Man dropped in 2008. …