Learn how the Phoenix Suns star and his power agent leveraged a love for the franchise to become a central part of its 20th-anniversary rollout with Modern Warfare III.
Devin Booker set foot in a Santa Monica studio space long before he owned an estate in Arizona.
After one year in Lexington, Coach Cal's secret weapon went No. 13 overall in the 2015 NBA Draft despite his sixth-man status. He packed his bags for Phoenix, set to embark on a career that would soon see 70-point performances and All-NBA accolades.
However, before he even took a shot for the Suns, the 18-year-old rookie used his NBA cachet to take a tour of Treyarch studio, the place where the next iteration of his favorite video game franchise, Call of Duty, was being developed.
"I don't think we'd even played a game yet. It was right after the draft," Booker told Boardroom about the all-access studio visit. "Getting the chance to see the behind-the-scenes of how it actually goes down after playing for so long."
From his childhood in Michigan to his high school come-up in Mississippi, Call of Duty has been a constant in Booker's life. It's the reason why a teenage Book asked his agent, Jessica Holtz, to take him to the CoD HQ for a meeting of the minds.
Over the course of his career, Book has become synonymous with Warzone streams and has even inspired his own Easter eggs in the game. Now, the three-time NBA All-Star is the face of a billion-dollar franchise in time for its 20th anniversary and the release of Modern Warfare III.
Cast in Call of Duty's new live-action trailer, the Suns shooting guard is locked and loaded in the commercial clip co-starring 21 Savage and Central Cee. If it feels fateful, it's because it is.
Ahead of the shoot, Boardroom spoke to Book about his path to a partnership with the video game franchise he grew up on.

Sign up for our newsletter
Franchise Player
Long before NBA execs recognized Devin Booker as the best shooting guard in basketball, the Moss Point product was getting active on the PC.
"I played from the beginning," he said. "I'm 15 Call of Dutys in."
Picking up Call of Duty 2 spinoff Big Red One in 2005 at the tender age of nine, Book began playing with his older brother as a kid in Grand Rapids. Over the last two decades, both Book and CoD grew to heights no one could have expected.
In 2023-24, Booker is an Olympic gold medalist making over $36 million a year on the court (even before a $222.6 million extension kicks in next year). On top of that, he's a signature athlete for Nike Basketball who frequently appears in rap lyrics and in arenas with Drake.
Just the same, Call of Duty has experienced its own superstar come-up. Considered the most successful video game franchise to ever come out of the US, it's surpassed $31 billion in revenue, bested only by Super Mario, Tetris, and Pokémon where all-time sales are concerned. It's incited interest in Hollywood writing rooms and even elicited its own Marvel Comics run.
All told, the last 20 years for both Book and CoD have been a blur. Still, the origin of their modern partnership harkens back to when his agent took him to CoD HQ.
"That time in 2015 when we visited? She was there from the beginning," Booker said of Holtz and the consequential Treyarch trip. "Seeing the improvements they've made year-to-year and watching them cook up things that are two or three years out, it was dope insight."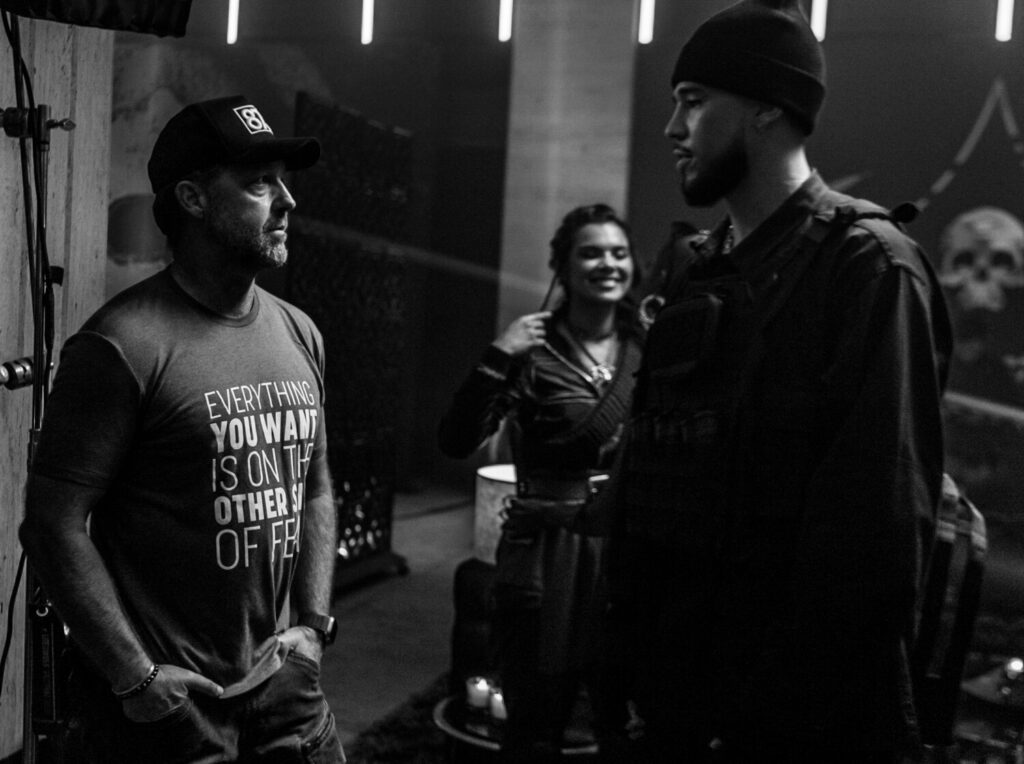 Since his exploratory session in 2015, Booker's blossoming career has aligned with that of Call of Duty and his agent, Holtz. In 2016, Booker joined the NBA's All-Rookie First Team. A year later, he was chosen to help launch Call of Duty: Infinite Warfare Continuum DLC pack.
Pivoting passions from shooting hoops to shooting zombies was something Book could do in his sleep. Weeks before facing off with D'Angelo Russell for Infinite Warfare's release, he became the youngest player in NBA history to score 70 points in a game.
"Scoring 70 points in an NBA game would be equivalent to having 20 plus kills in 'Search and Destroy' on Call of Duty," Booker said at the time.
In the following season, Book became famous for ascending to All-Star status on the court and competing in CoD off of it. In 2020, he found out the NBA campaign was taking a COVID pause while livestreaming. By 2021, he had a "Book Was Here" Easter egg hidden within Warzone.
This fall, nothing about Booker's affiliation with Call of Duty will be hidden. Headlining the game's 20th-anniversary ad campaign, his likeness will appear on commercial clips reserved for the likes of Kobe Bryant and Lando Norris.
Like his gaming chair, it's a seat he's comfortable in.
First-Person Shooter Mode
The spring of 2023 was a wild one for Devin Booker where Call of Duty was concerned.
Following a Game 1 upset at the hands of the Los Angeles Clippers in the opening round of the NBA Playoffs, Booker leaned into gaming to get his mind right for what wound up being four straight wins, set off by Book's scoring explosions in the 40s.
On the court, it appeared his only competition in the box score was his friend and teammate, Kevin Durant. Just as each was finding their rhythm for Phoenix, Booker became privy to some news not mentioned previously in the locker room: KD was getting his own skin in Modern Warfare II and Warzone 2.0. Given no heads-up, he was irate and ecstatic all at once.
"I would've debuted it!" he said. "But I found out with everybody else."
In the time since KD's CoD arrival, Booker's been all over the place, popping up at open runs, debuting his new Nikes, and walking Drake out on tour. During the Suns' 2023-24 season opener against the Golden State Warriors on Oct 24, Booker will be featured on-court at the Footprint Center in Call of Duty ads.
At the same time his TV time hits full stride, so will his PC play where CoD is concerned.
"I play more during the season," Booker said. "Summer I'm all over the place. It's my favorite when the season starts and I get my routine of playing every night."
As Booker begins his ninth NBA season and turns 27 this fall, all eyes are on the U-N-O; right on cue, the Suns are tied for the second-best odds to win the NBA championship. Embarking on a new season awash in expectations while playing both guard spots and establishing himself as a leading man in a footwear rollout means more eyeballs and pressure than ever before.
And just like those days back in Grand Rapids with his brother, Call of Duty will be right there waiting for him. It's a familiar friend that not only keeps him level, but now plays the part of a true collaborator.
11 P.M. in Paradise Valley
In 2022, Devin Booker invited Architectural Digest to his $3.2 million mansion in Arizona for a glimpse at his evolving taste.
Nearly seven years removed from touring the Treyarch studio, Book was the one doing the hosting, inviting a Condé Nast brand to capture his home. In a matter of minutes, a step into his recently renovated office showed just how much he'd grown since that Santa Monica moment.
"This is where the deals get done," Booker told Architectural Digest. "The funny thing about this office is it used to be my gaming room. It took a lot for me to grow up and transform this into a proper office. I'm glad I did it, but I did love my gaming setup in here."
Now the face of Modern Warfare III and a partner to the Call of Duty empire as a whole, Booker has balanced inking brand deals true to his passions with keeping those same passions in play as a fan. So, while the gaming room may now act as an office, he's still getting his shots up online long after the buzzer rings zero.
"It's in the man cave," Booker said of his new streaming space. "It's back in the fun house. It's dark and it's where we play all our games. I have a dual PC, dual monitor setup so I'm all dialed in."
This season, the $31 billion franchise he grew up playing with his older brother now considers the younger Booker a member of its family. Though he no longer packs his handheld carrying cases for road trips, the PC setup in his man cave proves the perfect return to the thrills of childhood where he can hit the nostalgic maps he played from Michigan to Mississippi, Lexington to Phoenix.
It's a time machine to simpler times. It's also a seat at the table of his favorite franchise whose corporate parent, Activision Blizzard, was recently acquired by a $2.4 trillion tech giant as part of a $68.7 billion deal.
Timing is of the essence for Book in both gaming and business. Being the face of Call of Duty as an NBA veteran all dates back to that fateful day his agent, Jessica Holtz, took to him Treyarch before he even played his first NBA exhibition.
"Both of our careers have been on an upward rise since then," he said. "She knows the things that I like and it gets done. Simple as that."
Read More:
Boardroom breaks down NBA Threads and the growing community on the text-based app. Social media apps have evolved far past just content-sharing platforms. From fashion to sports to entertainment and beyond, each platform allows…