From lifelong sneaker collector to refined tastemaker, the evolution of Devin Booker can be simply seen in his first signature sneaker.
It took all of five minutes to pass after Drake walked off stage during an early September concert stop in Phoenix for Suns star Devin Booker's phone to blow up.
The flurry of texts was from Drake himself.
"Bro, I was out there flying! Wait 'til the people feel these."
The music icon was referencing Booker's signature shoe, the Nike Book 1, which Drake wore on stage that night. Like a heavyweight fighter dramatically walking from the stadium tunnel toward the ring, Drake walked through the crowd with Booker beside him to begin the concert.
"I don't know if anything like this has been done before, having one of the biggest artists debut your shoe," Booker told Boardroom from Nike's recent World Basketball Festival. "He made it a point in all caps to highlight the performance of them."
While the on-court debut of the shoe in Phoenix is just a few weeks away — the NBA regular season tips off on Oct. 24 — Booker and the brand utilized the moment to have Drake first officially unveil the sneaker in an unmistakable orange colorway.
After gifting the global chart-topping artist his own pair in a custom-made box beforehand, Drake took the stage in a Swoosh-bearing purple vest, swooping purple pants, and the lead edition of Booker's debut shoe, dubbed "Chapter One."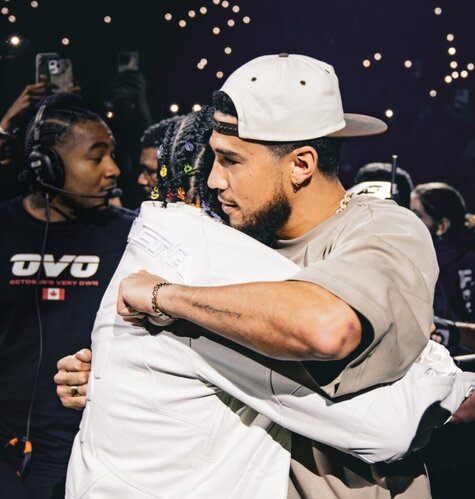 Social media was on fire off the top, as the Phoenix Suns tweeted crisp looks at the sneakers as if it was a pre-game warmup recap, to the tune of 4.6 million views. Drake mentioned the shoes several times on stage, in between declaring he wants to live in Phoenix during the season.
When companies use industry buzzwords like "authentic" and "organic," rarely does a moment truly go as planned — this smoothly, this naturally, and this, well, authentic.
The friendship and connection between Drake & Book over the years has been there, dating back to 2014 when they once even shared a Wildcats film session and layup line in Lexington.
"Drake is one of those guys that's been showing love for a really long time," continued Booker. "Everyone at the OVO camp, way before 'Wet like I'm Book,' those guys were all in Kentucky a decade ago showing love. They've always been a part of the journey."
Entering The Swoosh Signature Family
As one of the league's most lethal scorers on the court, Devin Booker's rise in the league was sudden. But the wait for the association's most esteemed marketing distinction — his own signature shoe — took longer than others, just as he embarks on his ninth NBA season.
After initially inking with Nike as a rookie entering the league in 2015, Booker extended again with the brand in 2018. With a little more than a year remaining on that deal, the brand decided to tear up the existing paperwork and work towards a new long-term extension.
With the extension talks already underway behind the scenes, everything changed on March 25, 2022.
SIGN UP FOR BOARDROOM'S SNEAKER GAME
It was a typical "Business of Devin Booker" meeting, with Nike execs and designers traveling to Phoenix to meet with Booker, his dad, brother and agent. In a conference room at the swanky Sanctuary Hotel in Camelback Mountain, Nike reps began to talk through the history of every Swoosh signature athlete, dating all the way back to Michael Jordan, including icons from both the NBA and WNBA like Penny Hardaway, Sheryl Swoopes, and Kobe Bryant in the chapters since.
The tally totaled 23 athletes from the NBA and seven stars from the WNBA. But then, the meeting lead chimed in.
"Something's missing up there…"
When the next slide turned over, there was a portrait of Booker. As the room fell quiet, the realization of what had just happened hit everyone.
The Devin Booker signature shoe series was on the way.
"They dropped it in on me as a surprise," Booker can now smile and say.
Almost immediately, a hand-painted, $2,000 black bottle of Clase Azul Ultra appeared, featuring platinum and silver design detailing and even a 24-karat gold embellishment along the signature bottle silhouette, as celebratory shots were in store.
Booker's mother and sister had made their way to the resort to join in on the celebration, along with then-Suns teammate Chris Paul.
"It was a really special moment," reflects Booker. "To be the 24th signature NBA athlete at the brand, obviously, it's something that I was fighting for for a long time. It was a very special moment — for me, my family, and everybody that was in attendance."
The massive new extension, negotiated by CAA, locks Booker in with the Swoosh until Fall 2029, with the expectation from both sides that the runway for his signature series can extend even further throughout his career.
In the nearly 40 years since Nike first established MJ's series, the signature shoe has become a pillar of an athlete's portfolio.
"There's nothing like it," said Jessica Holtz, CAA Co-Head of Basketball. "Nike is a top-known brand in the world, and if you have that brand putting major marketing dollars behind you and building a global product, it's next level. It puts you in a completely different category in terms of being a face of the league and marketability."
Nearly two years before the eventual release window was slotted into the Nike product launch calendar for Spring 2024, the process of creating the Book 1 was officially underway that day in Arizona. While many athletes enter the signature design process whirlwind in a blur, all along, Booker had a defined direction and a set goal that he wanted his shoe to represent.
"Something that can live on," he outlined.
"At the beginning of the design process, we landed on the idea of the shoe combining lifestyle and performance worlds," Booker continued. "The goal was to create something that would be timeless."
One of Them Ones
Not long after landing the signature shoe, Booker made his way to Beaverton, Ore., to take in his "favorite space" among the brand's nearly 80 buildings across its sprawling 300-acre campus — the Nike DNA Archives, where a library of past artifacts exist.
"There's things that've never seen the light of day, original contracts that are written up, and it's a real special place. It's how I wish class was growing up," joked Booker.
As he and designers peered down row after row, where endless stashes of original Nikes from decades past are housed in climate-controlled care, one turn led to collections of past Nike posters. Another led to original sketches and blueprint-style hand renders of some of the most iconic sneakers to power the industry.
"Just learning about shoes, the thought process and development of everybody's line and what went behind it," Booker detailed. "We were just drawing inspiration from the ones that really resonate with me. That was our main key to this."
The ones.
With it being his first shoe, Booker landed on an approach and point of reference early.
"I wanted it to pay homage to all of the 1s that came before," he said. "So, Air Force 1, Air Jordan 1, and the Nike Blazer, the first Nike Basketball shoe. I drew inspiration from all of the 1s before it. Seeing how those models developed through time — [the Retros] still look similar, but the OG, original ones from '72 and on are totally different."
To fuel his thirst for history and knowledge, he was gifted a copy of Sole Provider, a 2002 Nike-produced book penned by Scoop Jackson that covers the first 30 years of Nike Basketball. Throughout its 244-page layout, the book features a chronological timeline of every Nike Basketball model made to that point, along with an overview of print ads and campaigns through the years. Booker's meandering walks through Nike's Archives came in 2022, just as the brand was celebrating its 50th anniversary.
"The Archives is divided into eras, and the 70s and 80s resonated most with Book," said Ben Nethongkome, the shoe's designer. "We just felt like, 'Whatever we create, at the end of it, can it co-exist in the same space as those shoes that are timeless?' Hopefully, what we make now can survive the next 50 years and 100 years."
One of the dynamics at play in crafting a timeless look entailed pulling in familiar lines, traditional panels, and creating a canvas for expression that has defined the aforementioned icons that Booker was drawn to. The duo also wanted to infuse a future-leaning look.
"Although this shoe has a silhouette that harkens to the past, we used a really modern basketball last, so the form and shape look really modern and more fitted for the modern basketball player," said Nethongkome. "If you look at the toe shape and the heel, they're not like an OG Air Force 1. They're sharper, pointier, and quicker looking. That's that twist that we have, so it's not just old school."
Along the way, the duo came up with a descriptor that the shoe would represent: "Future Classic."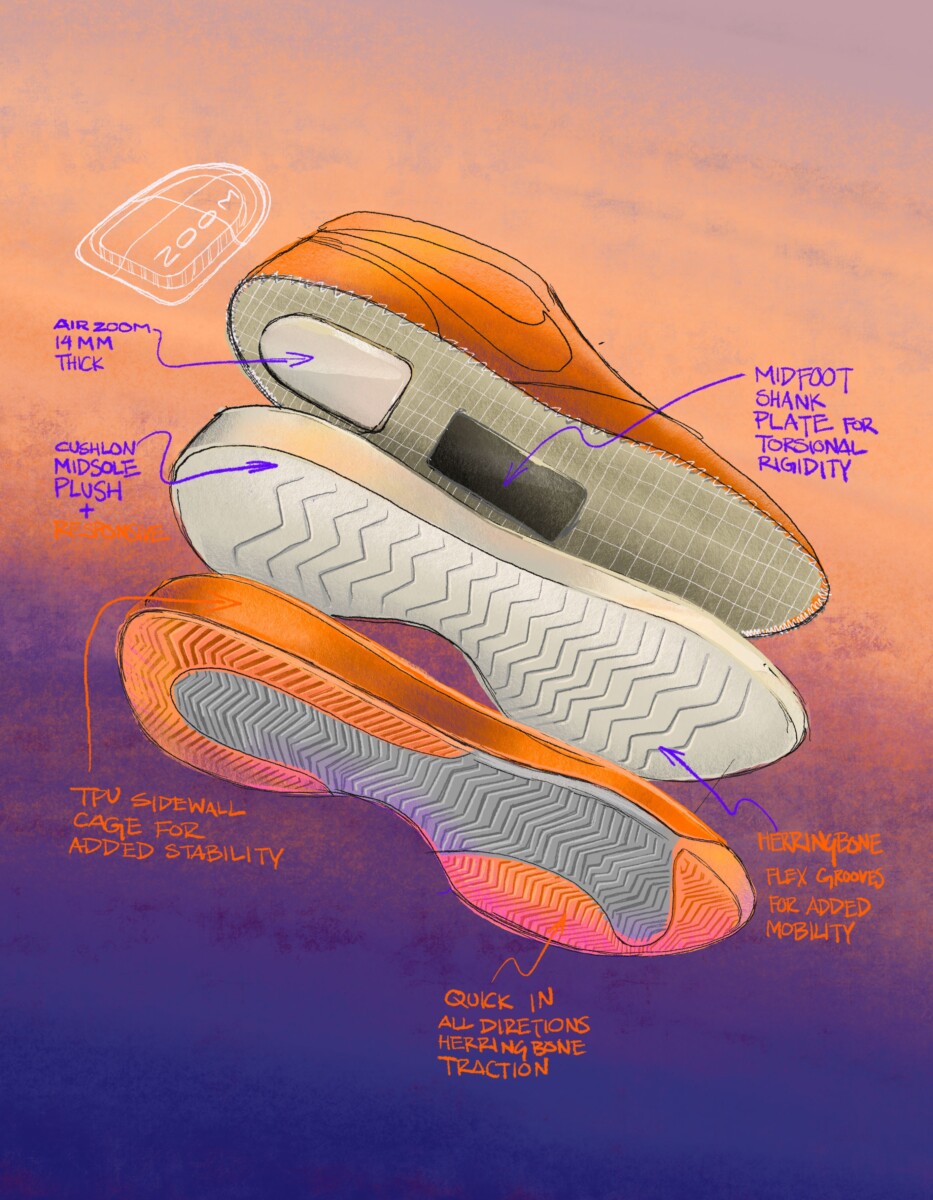 "Uncle Larry" — his overhauled and restored 1972 Chevy Blazer — served as a point of inspiration, along with "Pretty Penny," a vintage 1959 Chevy Impala that he drove to Game 1 of the 2021 NBA Finals.
Partly inspired by Booker's love of classic cars, some fully revamped under the hood with modern engines, Nike took on a similar approach for the Book 1, powering in performance from within.
A 14 mm Zoom Air unit sits along the heel of the Cushlon 2.0 footbed, top-loaded for added responsiveness. An internal TPU sidewall acts as a frame to lock the foot in on an array of jagged jab steps or plants.
"It's kind of deceiving, from the look of it to your first feel when you put your foot in it," Booker said. "That's probably the most exciting part for me, is the surprise factor when people put their foot in it for the first time and get to feel the technology and feel the performance of it."
The Sony Hi8 Camcorder
It was the dead of summer, just after the opening July free agency period and the first weekend of Summer League, when the dreaded happened.
His shoe leaked.
"I mean, I figured it would come," Booker, who can now laugh about it, said. "Being a long follower of sneakers, I understand that those situations happen."
Two black colorways, one in canvas and one in suede, each shot in a sterile flat view atop concrete, soon blasted across the endless web of sneaker pages on Instagram and Twitter.
People from all pockets had their opinions to share:
"Looks like a skateboarding shoe."
"These are for basketball?"
"Blazer x AF1."
"I'm fine with it," Booker says two months later. "I gather information. I'm on socials, and I read the reviews and want to see what people are thinking. At the same time, we have a point of view, and we've been working on this thing for a long time. It's been buttoned up, and we've put it through every checklist that we need to go through. We're all really excited about it."
Over the course of the summer, with the early leak leading the conversation, Booker looked to flip the notion of a teaser and provide some inside access in his own way.
He grabbed his Sony camcorder, one of many cameras and handy cams at his disposal that he likes to haul around, and began to shoot a literal view from his shoes. He'd also hand the camcorder over to nearby friends to capture candid conversations he was having on the fly.
"It was just real life moments, real authentic, and that's a week in my life," said Booker. "It's not always documented, and I think I'm kind of reserved when it comes to people really knowing what I'm getting into off the court and things that I'm participating in. It was a little insight into both."
The footage was purposefully grainy, raw, and unrefined, with a fast-forwarding and shifting pace. Beginning with Booker glancing at social media comments on the leaked sample, he then headed to wear-test his all-black size 14.5 sample pair in workouts and pickup runs. He also leaned into real-time reactions from his network of high-placed friends.
"Everybody that I showed in that video, I have a tremendous amount of respect for," said Booker. "These are guys that are my peers, that I've been inspired by for a really long time. It was kind of like a focus group, and the initial authentic feedback from them was really important for me."
The orbit of hoopers, musicians, artists, and creatives included the likes of Jamal Crawford, Drake, Zack Bia, Bradley Beal, Kevin Durant, Chris Gibbs of Union, tattoo icon Mr. Cartoon, and J. Cole.
"I remember going to J. Cole's 2014 tour, and he was wearing AJ 1s every time on stage," Booker recalled. "That was a moment that I was inspired by, and we talked about that a bit. Chris Gibbs at Union — a street culture legend. Guys that have been in it for a long time, that we call the OGs. Even if they weren't making changes to it, I wanted them to be a part of it and see it before the world did."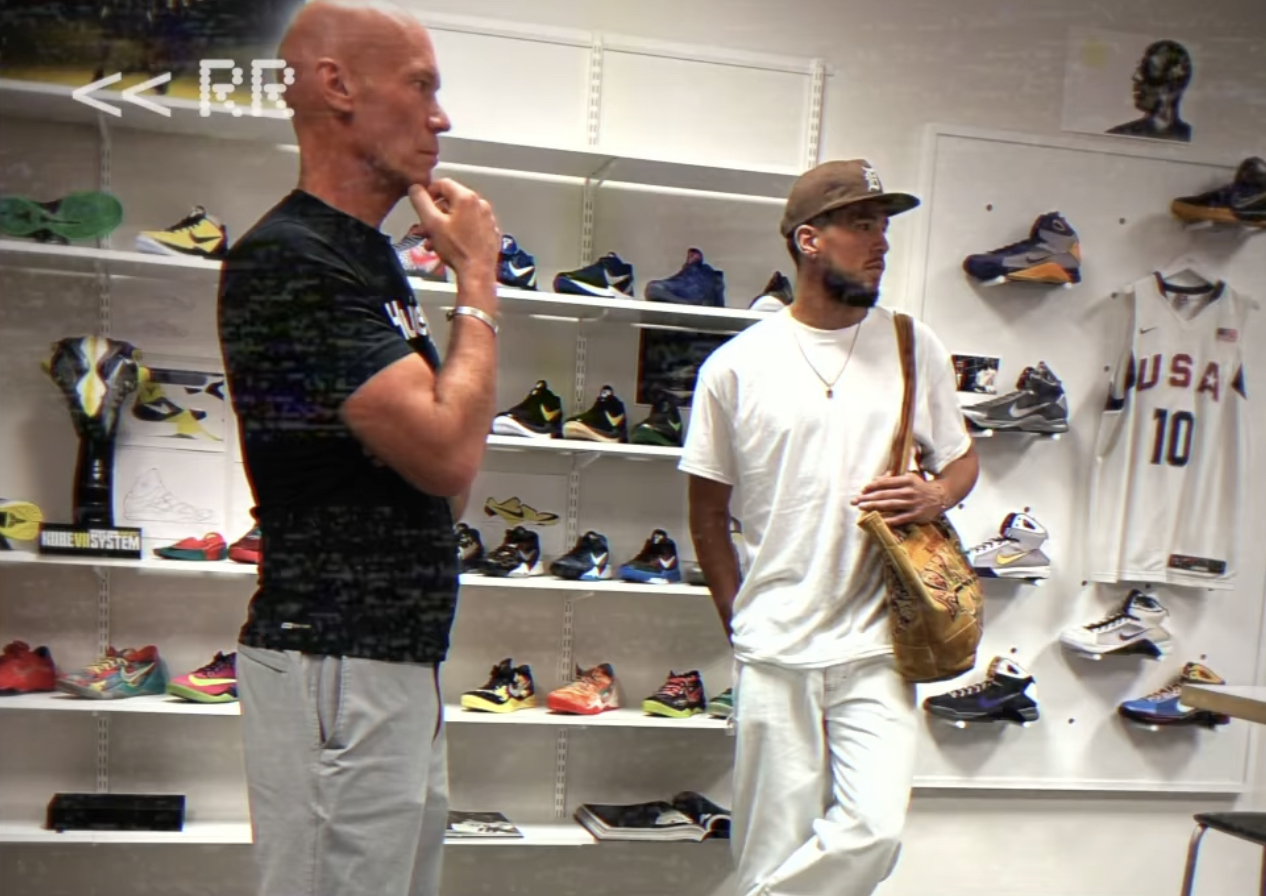 While at the Nike campus, Booker met with iconic designer Eric Avar, the master of blending "art and science," as he's long called his design approach, and the mind behind the Kobe Bryant, Penny Hardaway, and Foamposite series. Uncle Phil was also present, as the Nike founder personally congratulated Booker on entering the company's coveted signature fold.
The Booker-led video shorts were each titled swiftly:
WEAR TEST. COLOR TEST. BOOK IT.
In just 4 minutes and 43 seconds of combined frantic footage across the three episodes, the Suns star allowed his audience of 6.7 million fans across Instagram and Twitter to get a peek at his process and daily life. It was all a bit of a departure for the prolifically private public figure, who sometimes even turns the comments off on his Instagram posts.
"I have been reserved," Booker admitted. "But I feel like shoes are the perfect place to storytell."
In that spirit, the Nike Book 1 features a series of Easter eggs and signature details throughout. The "96" reading both ways on the inside of the heel tab is a nod to his birth year. The heel tab itself features layered white lines of fabric, depicting pages within a book.
One of his few tattoos, the "Booker family crest," can be found on the underside of the tongue, with each first initial in each family member's handwriting, just as he has it tattooed along his wrist. The insole features a bar code of numbers pointing back to his jersey number and important locations in his life.
Speaking to the simplicity of his approach, his signature logo isn't a mark, symbol or expected combination of initials and number, rather simply a "BOOK" typeface lock up with the Swoosh logo.
Booker will wear his signature shoe right from the jump as the NBA season kicks off in October, even though the global retail launch isn't slated until closer to February 2024. He plans to provide a similar peer into his personal life at times along the way.
"Book is the marketing plan himself," Bia says in the last video.
Storytelling Through A Blank Canvas
In looking to craft a classic silhouette, it was understood by all involved that one of the main pillars of longevity that have made the Blazer, Air Force 1, and Air Jordan 1 such icons is their collective versatility to take on a ranging spectrum of color, materials, and graphics in the decades since they first launched.
For the Book 1, Nike wanted to create a color story directly inspired by Booker.
"The way we picked materials and colored the shoe up is very different than other athletes," described Nethongkome. "On the orange colorway, it's super inspired by the desert. Why it looks like this is how a shoe looks when it survives the desert. They get bleached out, and the outsole is more faded. That's all on purpose, and we wouldn't do that with other athletes."
While the Suns-syncing orange pair will lead the way, the intent to "pay homage" will come to life through a series of tribute edition launches.
"You'll see some familiar colorways that you might've seen in the past," Booker said.
After stashing up hundreds of pairs and even crossing the four-figure mark early in his NBA career, Booker's daily pairs to actually wear are much more scaled back these days. He moved the majority of his sneakers to a storage center.
As revealed in his impressive and extensive house tour with Architectural Digest, the wooden shelved sneaker closet just off of his master bedroom primarily consists of Chuck Taylors, Air Jordan 1s and 3s, Blazers, Air Force 1s, and Dunks.
"My rotation is light, and I'm more of a collector. I like to view them as art pieces," he added. "My favorite pairs, I have them in very special places."
At the very top of the center shelf sits two classic collegiate font jackets bearing his beloved university, Kentucky, across the front. Alongside each is a vintage white and royal blue pair of 1985 Air Jordan 1s that he once wore on the cover of SLAM's KICKS Magazine in 2021.
Fans can expect a Kentucky tribute pair of the Book 1 in store ahead.
"That is obviously something we've all talked about," begins Booker. "I want it to go to the team, but I don't want it to just be a normal colorway. I want it to have some more meaning to it. Maybe we debut it with a certain player on the team or have Coach Cal in them first. We're still buttoning it up, but we'll definitely be paying homage to the home team."
After facing off during the spring of 2016 — it was Booker's rookie season and Kobe Bryant's farewell year — the Laker legend famously penned a charging mantra for the then-19-year-old shooting guard.
"Be Legendary"
Since Bryant's January 2020 passing, Booker began a tradition of writing the phrase along the forefoot of his Kobe 4, Kobe 5, and Kobe 6 PEs that he wore over the last three seasons. He later got it tattooed on his forearm.
It was the light purple colorway of the Kobe 4 that he primarily wore throughout the Suns' run to the 2021 Finals. They showed up again on the cover of NBA 2K23.
He revealed he plans to continue the Sharpie tradition on certain editions of the Book 1, alluding to a batch of potential Mamba-inspired colorways on the way.
In addition to the homage-driven "chapters" of the Book series, Booker is also allowing several artists to create their own spins of his debut signature.
"[We'll have] collaborations with certain, special brands and giving people that I respect full creative control on it," he said. "Just making everybody feel a part of it, that inspired me and has been a part of the process to finally start this book."
All month long, a familiar phone number from Toronto kept blowing up Booker's phone as Drake made his way through Austin, Dallas, Houston, and Charlotte since they first coordinated the Arizona concert debut of the Nike Book 1.
"He can't take 'em off. He's been wearing 'em in five straight shows since Phoenix," Booker said. "He keeps hitting me, like, 'Bro, I need every color!'"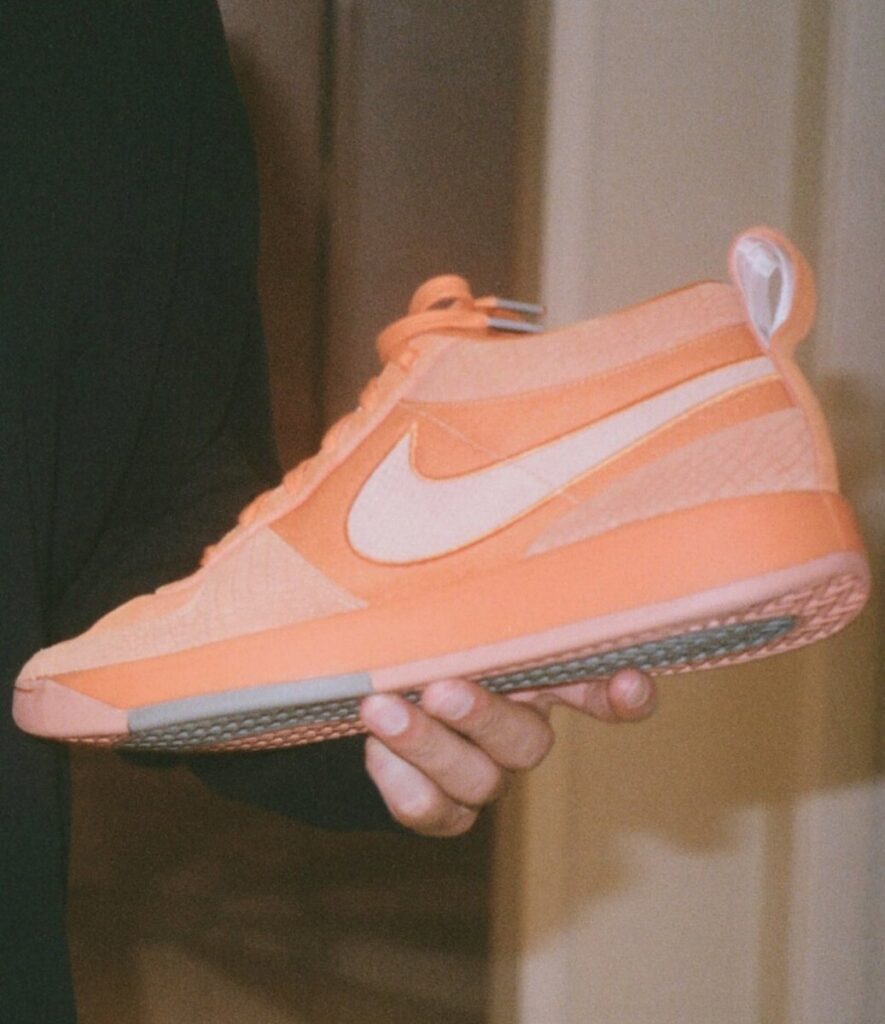 Though the launch is still months away, the Book 1's reveal and energy have been the kind of polarizing conversation starter that the team involved was looking to create. It also speaks to the state of the signature shoe marketplace, that a silhouette and design so purposefully simple could elicit such a strong reaction.
"We're always trying to create distinctions between our athletes and their product. For Book, we wanted to make sure that he has a really unique position in the line," Nethongkome said. "For someone like Bron or KD, their lane is a little different. We debuted the LeBron 21 at the same time, and you can see how vastly different they are from one another. Also, they're in different places in their careers. Book is starting his journey, and it's going to be a really good one."
With a feel now for the process and an eye on being as detailed as possible in the execution of each edition, Devin Booker is excitedly awaiting the lead-up to the launch of his first signature sneaker. It's a moment he's been "fighting for" since he can remember.
"I want to continue to storytell, dive deep, go under the surface level with it, and tap in to the stories and people that have inspired me all to get to this moment," he said. "I want to pay homage to that — because this isn't my shoe, this is everybody's shoe — and I want everybody to feel a part of it."
Want More Sneaker Content?
Interview
Henderson sits down with Boardroom to talk about the Scoot Zeros, how his family helped get him here, what's next with Puma, and much more. …
Sign up for our newsletter