Phoenix Suns star Kevin Durant will become an operator in Call of Duty, outfitted with exclusive weapons, moves, and more.
Kevin Durant is entering the Call of Duty universe as part of the gaming franchise's Season 03 Reloaded midseason update.
The 35V and Boardroom co-founder is now an official operator — that is, a playable character — in Call of Duty: Modern Warfare II and mobile counterpart Call of Duty: Warzone 2.0. Durant is reporting for duty as part of an exclusive limited-time store bundle dropping on Thursday with Season 03 Reloaded.
Durant's operator isn't the only KD imprint coming to COD. His character is also getting two weapon blueprints that reference his nicknames. One weapon has been coined the "Reap This" automatic rifle blueprint, and the other is the "Easy Money" sniper blueprint. Both were uniquely built for Durant's operator.
Here are a few other Durant-specific features included in the bundle:
The "Deadly from Downtown" finishing move
The "B-Ball" weapon charm
The "Ankle-Breaker" loading screen
The "Hoops" sticker
The "KD Baller" animated emblem
Durant's character will also be featured in the fourth season of Call of Duty: Mobile, "Veiled Uprising," beginning Thursday, May 18 at 5 p.m. PT. The gaming franchise is running a Reaper Rumble-themed event that allows players to earn KD Tokens by playing different modes. Players can use these tokens to unlock KD-themed rewards within the mobile game, including new weapons.
Check out Call of Duty's blog post for the complete rundown of what else is included in its Season 03 Reloaded midseason update.
Read More: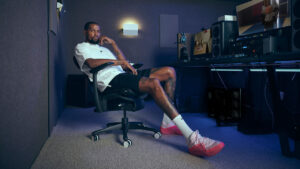 Anthony Edwards and LaMelo Ball join Durant and Curry — as well as musician Enisa — in the campaign, launched in tandem with Foot Locker's The Heart of Sneakers platform. …
Sign up for our newsletter