Women were snubbed in this year's Oscars nominations, but these films still made an impact beyond the box office.
The Oscars missed the mark this year when they did not acknowledge any women directors this year. According to Forbes, women comprised just 7% of cinematographers working on the top 250 grossing films of 2022, which is only a three percent difference.
The issue of gender inequality in the entertainment industry continues to be an issue due to the lack of support and representation behind the scenes. There have only been three women directors who have taken home Oscars; those women being Kathryn Bigelow for The Hurt Locker (2009), Chloé Zhao for Nomadland (2020) and Jane Campion for The Power of the Dog (2021).
The Academy continues to show how much of a boy's club the film industry is and how women creatives need more funding, support and recognition. In total, over 80% of directors were white men, 14% were men from underrepresented groups, 4% were white women, and only 1% were women from underrepresented groups, as reported by Forbes.
Sign up for our newsletter
Although the Academy did not recognize any of the work directed, written, and produced by women, the films released in 2022 held a cultural impact that will live on forever.
The Woman King ($94.4 Million)
Gina Prince-Bythewood carefully crafted a film that put Black women at the forefront of being protectors. The movie embodied what it means for women to fight for more equality which is prevalent on and off camera. With a dream team cast of Viola Davis, Lashana Lynch and Thuso Medebu, they brought authenticity and power to the story.
I Wanna Dance With Somebody ($59.4 Million)
The story of the late Whitney Houston will continue to be necessary. Kasi Lemmons took her time and ensured that the film celebrated the life of the New Jersey native singer rather than focusing on the negative. Naomi Ackie embodied Houston's life and mannerism, making viewers remember why they fell in love with her.
She Said ($13.8 Million)
Maria Schrader put her all into a timely story surrounded by the sexual abuse allegations in Hollywood. The film became a launch pad for the #MeToo movement and opened the conversation of abusive power in the industry. Carey Mulligan and Zoe Kazan were examples of what women endure behind the scenes and how it was vital for them to speak up.
The Eight Mountains ($9 Million)
This film showcased the power of friendship no matter the circumstances and told viewers that bonds and relationships could last forever when two people care about each other. Alessandro Borghi and Luca Marinelli, the film's protagonists, showed what it means to be there for each other in friendships.
Till ($9 Million)
Though such tragedy happened to her son, Mamie Till-Mobley's life and legacy grew into making sure Black voices are not silenced in society. Director Chinonye Chukwu told who Emmett Till truly was outside of his murder. Actress Danielle Deadwyler, who was honored at this year's National Board of Review, told Mamie's story and showed the audience that she was more than a victim but also a mother and daughter who needed to grieve.
Women Talking ($7.1 Million)
This Sarah Polley directed film told stories of women ready to speak up about the abuse and pain they went through during their time in a religious colony. The movie reflects the time of what women endure in the world. With the cast of Claire Foy, Jessie Buckley and Rooney Mara, these ladies were vulnerable in sharing the stories of these characters.
Aftersun ($5.3 Million)
Charlotte Wells created a story surrounding coming of age and parental relationships, which is valuable in today's generation. The film captures the importance of loss and making memories even when things fall apart. Paul Mescal and Frankie Corio displayed a father and daughter relationship on camera, giving the audience something to remember regarding relationships between parents and their children.
Overall, The Academy still has work regarding equality and support for women in the industry. "Once again, Academy voters have shown that they don't value women's voices, shutting us out of the Best Director nominations," The organization Women in Film, Los Angeles, said in a statement.
Women continue to shift the culture through their storytelling, and it's up to those in power to give them the recognition they deserve. Still, more importantly, consumers should continue supporting these projects to see more people who look like them on and off the screen.
TOP ENTERTAINMENT STORIES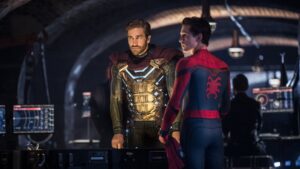 Boardroom ranks the highest-grossing Marvel movies based on global box office success since Iron Man dropped in 2008. …