Following the record-breaking debut of The Best Man: The Final Chapters, Boardroom caught up with EP, writer, and co-showrunner Dayna Lynne North of Loud Sis Productions to discuss the Peacock series.
To say that self-proclaimed "Delightful Disruptor" Dayna Lynne North has a padded resume would be an understatement. From Issa Rae's Insecure to the Kristen Bell-starring Veronica Mars, Dayna has been carving her mark on the Hollywood scene as a writer, producer, and showrunner on a bevy of notable television shows. In addition to the aforementioned shows, her work has stretched to VH1's Single Ladies, ABC's Lincoln Heights and Switched at Birth, and Lifetime television movie An En Vogue Christmas. It's no stretch to say that the Kansas City native has been responsible for the success of those shows due to her contribution in production, executive production, and cultural curation.
Following the announcement that her production company, Loud Sis Productions, inked an overall deal with Sony Pictures, North lended her television lens and expertise to Peacock for the series adaptation of culture staple The Best Man for the debut of The Best Man: The Final Chapters in an eight-episode finale. Featuring the original cast from Morris Chestnut and Taye Diggs to Melissa De Sousa and Regina Hall, the cast reunites to bring the Universal Studios hit film franchise to a close with the help of North and film franchise writer/director Malcolm D. Lee.
Since its premiere in late December, The Final Chapters has broken records as the first Peacock original to land on Nielsen's Top 10 streaming rankings, according to Variety. Furthermore, this marks the series' territory as the NBCU-spinoff platform's biggest-ever series debut, and is the No. 1 streaming series for Black audiences since its debut.
Boardroom caught up with Dayna Lynne North to discuss the new Peacock series, the opportunity to work with Malcolm D. Lee, and the labeling of Black entertainment in mainstream media.
Sign up for our newsletter
Boardroom Q&A: Dayna Lynne North
D'Shonda Brown: In your opinion, what has been the legacy and cultural impact of The Best Man: The Final Chapters, and the overall franchise?
Dayna Lynne North: When I first sat down with Malcolm to discuss the idea of branching the franchise from a feature film franchise into series, I talked to him about what the first two films have meant to the culture thus far and I talked about how I have my own college crew that I'm still super close with [that] has gone through our own growing pains. I'm very selective about taking on work if it does not originate from me. If I didn't create this thing, it has to feel like something I might have wanted to create. I resonated with the films so deeply because my friends and I ran out to see them and I remember how much we felt seen. I remember watching them with my friends and how much we felt loved just in watching them, and how we had fun thinking about who were the Harpers (Diggs) and the Jordans (Nia Long) and the Quentins (Terrence Howard) and the Robyns (Sanaa Lathan) among us.
They're fun, they're powerful, and they have served an amazing purpose. I liken them almost to the same way that good recipes keep getting passed down from generation to generation. We do the same thing with Black content that touches us. You pass it down. From grandparents to the parents, to the nieces and the nephews, there's a reason that you can talk to 14-year-olds who've seen The Best Man up to the 45 and 50-year-olds. There's something really beautiful about that.
DB: What was your experience like collaborating with The Best Man's original filmmaker and director Malcolm D. Lee for the reboot series?
DLN: It was really exciting to think about joining forces with him and moving that franchise from the feature space into the TV space. Because Malcolm has an incredible career as a feature film writer and director, but understanding that film and TV are such different mediums, he wisely wanted someone with television experience; he wanted a television vet. He wanted someone who really understood what it is to arc out characters and stories over the course of the season and I appreciated what he was looking for. We talked a lot about how when he wrote The Best Man, he was sort of doing it because he wanted to see a romantic dramedy from a Black man's perspective — and that's very much what The Best Man films were. Women flocked to them even more than men did.
That was something I was excited to really have an impact on in adapting the franchise — how would we really deepen the stories, the arcs, and the characters of the women who I felt like had been riding side saddle to the men in the first two films? They were counterparts, but we weren't following their stories in the same way. Malcolm has every right to create a romantic dramedy franchise from a Black man's perspective. That's the story he wanted to tell and it was a beautiful, powerful one that has been a cultural touchstone that generations continue to find. It was important to me in joining with him for The Best Man: The Final Chapters that we balance out the stories because we were gonna have time and we have eight episodes to tell the stories.
DB: How does The Best Man: The Final Chapters solidify its own impact in the franchise, and give an official stamp to the legacy of The Best Man films?
DLN: As Black people in America, we're going through a lot right now, and it's been really powerful and really beautiful to have Peacock dropping these episodes on the 22nd of December at a time we're all cuddling up with our families and it's holiday time. It felt like something…that was really powerful to serve up during a time when everyone could gather around and watch it with their families and feel seen, laugh, cry, talk about some issues that might make you uncomfortable, but allow you to have a real conversation. I think the legacy to me of the entire franchise is that it continues to be this source of Black people being seen as whole people as they're coming of age stories told through a Black lens.
I'm really proud to be a part of the era where the Black women and the Black men are all being challenged. We're seeing them all grow. We're seeing them go through growing pains because I believe that we never stop going through phases of coming of age in our life — midlife metamorphosis — which was an important phrase to kind of bring into the conversation. It's another era of coming of age like you do when you're a teenager, like you do when you're getting out of college, and this era of their adulthood is another coming of age era.
DB: How did you and Malcolm ensure and maintain the integrity of The Best Man franchise when shopping it around and landing it at Peacock?
DLN: It's been so well established, who these characters are. Peacock were great, supportive partners of the stories that we wanted to tell, but there were absolutely times where there were conversations to be had, and times where we were standing our ground about telling these Black stories from a Black lens. I remember making the point a couple times that this might be an uncomfortable moment. It might be uncomfortable, and that's the point. Just reminding everybody that telling these stories from this lens is gonna be uncomfortable because sometimes being Black in America is uncomfortable. Sometimes it's the most amazing thing.
It was just really always being clear in our POV. Peacock was excited about what the franchise is and I think they were interested in maintaining the integrity, but I think sometimes you gotta remind whomever your distribution partners are. Sometimes it's reminding from the artist's perspective, reminding people that that includes the hard parts. That includes the parts that make us uncomfortable, and that the audience will appreciate because it's real and it reflects our life.
DB: What is the importance of not only championing the cast, but also creating conversations around creatives of color and Black creatives who are telling these stories?
DLN: If you think about some of the issues that we decided to take on in The Final Chapters, some of these have not been explored through a Black lens as often. It's always important to know that telling Black stories through a Black lens and the idea of creatives of color being behind the camera, being in the writer's room, being on set, behind the camera directing, being in the crew, being in the hair and makeup trailer — all of those things impact the storytelling. From Ava DuVernay to Issa Rae, there's so many powerful creatives of color where we stay in that conversation from the top all the way through every single crew position. The importance and how the story is impacted by having people in those positions who understand and have lived those stories.
I have producers and executive friends where we have a lot of conversation about what's been going on with hair and makeup for actors of color, Black and brown actors, that's been an ongoing thing. It's just the importance of having people in those positions who have lived experience. There's no substitution for lived experience, and so that's true from the perspective of what's on the page. It's true when you're talking about bringing those stories to life on every level. That's the next level of conversation that has been had and is being had and that's really important to keep having. When you think about an example, like the LGBTQ+ storyline that we have with Lance and LJ, bringing that story to light was really important for us. It's something that hasn't been explored that often in theories through a Black lens. That was an important story for us to to tell in a layered way to get right from our perspective. Whatever getting it right means, it was important for us to tell that as authentically as possible, but it starts in the writer's room representing lived experience as much as we can throughout that story.
Sign up for our newsletter
DB: Tell me about Loud Sis Productions. What inspired the creation and why was it so important for you to create a safe space for creatives of color with your women-centered company?
DLN: It starts with me being honest about who I am and how I move through the world. Naturally, I take up space. I'm not a small girl, I'm not a quiet girl, and so it's not always easy to be that. Wanting space for myself as a storyteller when I was blessed enough and had put in the hours to be able to have my own production company, I wanted to reflect my voice and my spirit and my intention. It's the classic, "make a table," right? Create a table and invite others to sit at the table with me and continue to build as somebody who has been outside, who has been an other, in many ways as a storyteller throughout my career, there are ways in which that's benefited me.
Sure, there are the downsides to being an other, but when you are on the margins, you can see a lot from that perspective. It's also about putting out that call to other people whose stories have not necessarily been centered. I want to create a safe space for people who have been considered historically to be others, to be on the outside, to be on the margins — I want to center those stories. I am drawn to underdog stories; I am drawn to to centering black women. I'm really excited to have a space for telling those stories, for centering those stories, for mentoring those filmmakers and those artists and those creatives. For people who want to come and be loud and be welcomed in all of that vibrance and boldness and telling the stories that they're drawn to, that's what Loud Sis is about.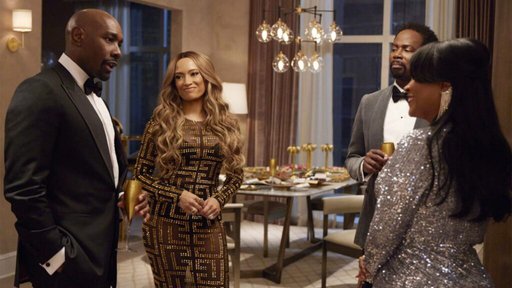 DB: With Black History Month approaching, we see that a lot of streaming platforms will label a section as "Black Voices" or "African-American Films," but every month for us is Black History Month. What are your thoughts on being categorized as black films or black television series, and how do you think that this has impacted the success of The Best Man: The Final Chapters?
DLN: It's an incredible thing to say, but I don't think any label or any particular thing has impacted the success. On the one hand you have people who've been anticipating this project for quite some time, then you have at a certain point, momentum just kicks in. Looking back after a month of it being released, it had its own momentum and you could have categorized it however you wanted. People were going to find it 'cause they were excited to find it, which is a blessing. What's beautiful is that we are in a time of transition and evolution when it comes to content created by creators of color. When it comes to Black and brown content, when it comes to creatives of color, period, we are in a time of transition. It's starting to feel limiting because of that whole idea of the othering, the outsider, the underdog that we used to be, we are far less that than we've ever been. That's really what it is, right?
To label Black Panther as a Black film, to label Get Out as a Black satirical thriller, it almost sounds ridiculous at this point, doesn't it? That's what it is, is that we're moving to a place which is super exciting, but it's also real. It takes time to turn the Titanic, and it's just the time for some of the labeling and the wording to catch up to what's happening. I think The Best Man: The Final Chapters also transcends. The art is starting to transcend the labels and so it's getting to the point where those labels are dated. It's dated to call Wakanda Forever a Black film. Of course, yes, the facts are that these are films that are telling Black stories through a Black lens. That's absolutely the reality and it is part of the draw, but it's reductive to label it as a Black film [or] a Black series. It's reductive because the artist is transcending that.
Read More:
It's October, which officially means we're in the final stretch of the year. Welcome to Q4, folks. A peek into today's edition: Coinbase Takes DC Same Day Gary Gensler Testifies Before Congress Coinbase mobilized the crypto community,…
Read More:
Sign up for our newsletter