Boardroom sat down with Ms. Wanda Durant to hear all about the purple pair that honors KD's beloved grandmother.
Months ago online, images of an upcoming sneaker started to leak as they often do.
Blessed by lush lavender shades with embroidered cursive letters landing on the tongue, an unknown Nike KD15 colorway began making noise and circles around the web.
Baring "B.A.D" for all to see, one had to wonder if the purple pair played off Kevin Durant's deep love of music, perhaps serving as a nod to Cool James or Mike Jack.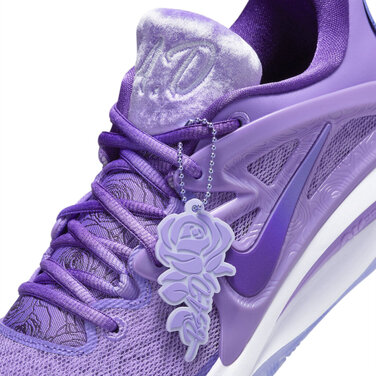 Rather than riffing off kings of rock, rap, or pop, the mysterious makeup was actually a heartfelt ballad to the queen of Kevin's family: his late grandmother, Barbara A. Davis.
"That's a special, special shoe," Ms. Wanda Durant told Boardroom. "I get a little emotional because it's so fresh."
Having passed away on Feb. 20, 2022, the grandmother to the 2014 NBA MVP and mother to the Real MVP was the matriarch of the family, well known for her supreme generosity and keen sense of humor.
Her ability to make Wanda and Kevin laugh, smile, and think still touches each family member today, exemplified through storytelling on this thematic sneaker.
"Kevin wanted to do something for the family and my mom's friends," says Ms. Wanda. "She had lifelong friends since elementary school and they were very, very important to my mom, and to my sister and me. They were like aunts growing up."
Across the colorway, the upcoming Nike KD15 "B.A.D" also sees nods to Davis's children and grandchildren.
Purple appears all across the upper and lining, kept cool by an icy outsole and rich velour detailing. Rose petals appear on the tongue, underlays, and hangtag, offering an homage to the beloved mother's favorite flower.
"My mom taught me so much," says Ms. Wanda. "She taught me about our faith and the love of Jesus Christ. She taught us how to have a high integrity, to work hard, to be kind to people, to be straightforward. She was also very hilarious. She was a very generous woman."
While the shoe is singular to Barbara A. Davis in inspiration, it speaks to families and figures who have touched us all.
"That's the beauty: everyone can relate to that no matter your race, your culture, your status," Ms. Wanda says. "The grandma is the matriarch of the family. The grandma is the one who holds the family together, who encourage you with a hug and a kiss, and then chastises you with the words of truth."
Across various facets of footwear, topical trends like dad shoes evoke irony in styling while storytelling in shoes often alludes to on-court moments or fashion-forward cache.
With the "B.A.D" KD15, the newest member of the Phoenix Suns bucks all industry trends as he continues to shine a light on the women in his life both on foot and, soon enough, in stores.
"I'm honored that he thought of her, but that's just who Kevin is," Ms. Wanda says. "It's so important for that shoe just to remind everyone of their grandmother and how Kevin loved on his grandmother. She was spoiled, he loved on her tremendously. When he asked me to collaborate with the shoe, it was, 'Absolutely.'"
Working with Wanda on this commemorative colorway, KD continues to elevate the leading ladies in his life through style and storytelling.
Notably, Durant has honored his relatives through limited launches, general releases, and prized PEs that are all tied to the strong women who have lifted him up since Day 1.
"This is the third shoe that he used to honor the women in our family," says Ms. Wanda. "It shows the connection and impact that the women in his life had on his life. I don't know if other athletes who have signature shoes have done that."
Though this upcoming "B.A.D" drop will arrive the first time on the KD15, it follows in the very literal footsteps of familiar themes that have since become household names.
Back in May 2012, the Nike KD 4 "Aunt Pearl" introduced the world to Kevin's aunty who left an impact on the future Hall of Fame hooper and left this world in 2000 after passing away from lung cancer.
Since the theme's arrival, "Aunt Pearl" pairs have spread the story of Kevin's close family while also raising funds for the Kay Yow Foundation. Each and every season since, fans have clamored for the pink pair at retail and even in a resale sense.
"I know the pink 'Aunt Pearls' are a popular, popular shoe," Ms. Wanda says. "People look forward to the pink Pearl coming out ever since the creation."
For years, Mama Durant has been an advocate for her family, her son, and her son's sneaker line. Accordingly, the energy has been reciprocated as exclusive iterations of the Nike KD line have homaged Ms. Wanda.
Back in 2017, a playoff pair of the Nike KD 9 Elite was released at retail under the nickname "Wanda."
Perhaps more memorable but less likely to be caught in the wild is the Nike KD 4 "Wanda": an unreleased iteration only gifted to Durant and those closest to him.
Somehow, the NBA's most notorious sneaker star ended up un-vaulting a pristine pair in 2021.
"I saw PJ Tucker warming up and I was like, 'Oh my gosh! I've never even seen these on-court!'" says Ms. Wanda.
It's a nod to her son's influence, and one that's not lost on her.
"The fact that some of the players would choose his shoes to wear in the game? It's a joy to see," Ms. Wanda says. "The sneaker game is a hot topic. When I'm watching the game, I can zero in on his sneaker. I may not always know the player's name, but I know my son's shoes."
In 2023, plenty of players are wearing Kevin's shoes. This season, Kix Stats reports that the Nike KD15 is the most popular pair among NBA forwards on-court and the fifth most popular model among players in the league overall.
Growing up as a child of the '90s in the DMV, Durant adored the marquee models attached to basketball's best while women like Barbara, Wanda, and Pearl all supported his journey to reach the same superstar status.
"When Kevin was pursuing basketball, the early stages of the signature shoe craze was Jordans," says Ms. Wanda. "It was a lot of the Hardaways."
Spending dollars on Pennys proved an investment in her son's future when it came to putting in long hours of practice. These days, it's paying off tenfold even if the idea of Kevin being a signature athlete was a foreign thought for the family growing up.
"To be quite honest, I never thought about that aspect of being a professional athlete," Ms. Wanda says. "But what it said to me when the opportunity came to him? That, yes, my son is that great basketball player who has influence. I said, 'Oh yeah! My baby? He's the real deal.' Because not everyone gets a signature shoe. For there to be 15? That just shows how he has embraced his profession as a basketball player."
This spring, Kevin's accomplishments on-court continue as he embarks on a new quest with a new team.
While loud looks like the Timothy Goodman collaboration, the one-of-one Off-White homage, and even a revered retro release will all be in rotation for Durant in his new home of The Valley, it's perhaps this commemorative colorway that matches best when considering the Suns' sunburst throwbacks.
Simply put, the "B.A.D" makeup is as good as it gets.
"For me, this is one of the all-time favorites," says Ms. Wanda. "I'm so proud of Kevin for his career. I'm so proud of him, of his accomplishments. He's one of the greatest players that ever played this game. I'm proud of how he pays homage to the women who have impacted his life. That just shows how special of an individual Kevin is."
Arriving at retailers this Spring, the Nike KD15 "B.A.D" brings another theme to a footwear franchise beloved by fans of all ages, best known for classic concepts like the "Nerf" KD 4 — a favorite for Wanda — and the recent "Producer Pack."
While Kevin keeps his childhood hobbies and love for music close, it's the love of his grandmother that takes center stage now.
"We just wanted to show how important she was," Ms. Wanda says. "Not only to her family, but to her friends and the connections that she made with all of us."
Those memories may be deepest to those that knew Barbara, but the sentiment remains universal for all who slip on a pair.
"Think about the impact that your grandmother had in your life," says Ms. Wanda. "The lessons she taught you that only a grandmother can teach. The special moments you share with your grandmother, the love you have for her. Cherish the time you have to spend with her and if she's no longer with you to cherish the memories. Take time to really reflect on those intimate moments."
Through the KD15 "B.A.D" — both in colorway and conception — those memories and moments replay on loop like a heartfelt highlight reel.
Naturally, it's Ms. Wanda who captures it best:
"To see that side of Kevin is to understand the impact that the women he loved so dearly have had in his life."
More on KD:
Kevin Durant is opening up his closet for the fans! This one-of-one Warren Lotas "Slim Reaper" jacket was designed personally for KD, and now is your chance to own it! Sign up for our…