Relentless action, a last-minute signing, and a SportsCenter Top 10 moment? The Aces' big weekend at MLP Atlanta featured a bit of everything — here's how it went down.
On Sept. 20 after a long day of practice, the four newest members of the Brooklyn Aces sat at a rectangular conference table in the lobby of the Peachtree Corners, Georgia Marriott to discuss strategy for the next day's Major League Pickleball tournament, the Aces' first-ever match in the league's top-flight Premier Division.
Competitors Catherine Parenteau, Andrea Koop, Hayden Patriquin, and Tyler Loong laid out plans to gain the upper edge for group stage games against Miami Pickleball Club, the Columbus Sliders, and AZ Drive. Aces general manager Samin Odhwani has been similarly involved in these preparations since July's MLP draft, and his meticulousness has not gone unnoticed.
"I can tell that Samin is really trying to foster a family environment and get us ready to play all weekend long at our highest level," Koop told Boardroom.
Fortunately, this wasn't the first time the Aces' quartet practiced together. In the last week of August before a Professional Pickleball Association tour event in Kansas City, Aces practiced and played with one another in preparation for MLP Atlanta's second half season opener, something Odhwani helped organize.
"We all flew out early to a tournament, which I never do," Loong told Boardroom. "It was a really good practice to get some good chemistry. It made practice here a good refresher course."
For Odhwani, the practice represented a chance for the Aces to get used to the players' on-court styles and to get to know each other on a deeper level. It's something he said he'll hope to use as a blueprint for future events the rest of the year. With the unpredictable nature of MLP's rally scoring, Koop said the extra KC practice would give the team a mental advantage and be ready for anything.
The Aces even took a trip to the local Kansas City Topgolf for some team bonding, which Parenteau said would help the team hone better communication with one another on the court. That's not all Hayden Patriquin learned, however.
"Samin showed us who the most unathletic person in the group is," the 17-year-old chirped. "It's Tyler."
"Ouch," Loong said. "Play a real sport, not golf. Golf doesn't count."
Trading clubs for more familiar paddles, the Aces and their fellow athletes gathered at MLP Atlanta for the sport's first major event since an announced merger with the Professional Pickleball Association provided some needed catharsis, ending a contentious few weeks during which the two leagues raced to sign players to exclusive multi-year contracts, putting the fall MLP season's intended format into serious peril. The Aces themselves were split during that period, with Parenteau and Loong signing with the PPA and Koop and Patriquin committing to MLP.
Monetary considerations were obviously different for each athlete, Loong said, and he personally preferred the PPA's traditional touring tournament format with accompanying team events rather than MLP's entirely team-based approach.
"All the players can agree that it's better for pickleball with the merger," Koop said. "Hopefully, the merger's real this time and it really goes through, because ultimately that's the best path for professional pickleball — to have one entity leading the charge with a unified front."
Sign up for our newsletter
The Aces' united front began Friday morning on the championship court against a familiar face: Hurricane Tyra Black and Miami Pickleball Club. Even at 10 a.m., the stands at the venue — Life Time Athletic and Tennis — were packed with pickleball fans. Odhwani described the environment as electric, energizing and motivating each players to give everything. The crowd was ultimately treated to one of the most thrilling matches of the weekend, with three of the first four games going beyond the minimum 21-point required to win.
Parenteau and Koop defeated Black and her Miami partner, Allison Harris, 27-25 in women's doubles, while Parenteau and Loong won their mixed doubles game 26-24 to force a tiebreaking scenario known in MLP as a "dreambreaker." It was another heated, fiercely competitive proceeding, and while Brooklyn dropped the dreambreaker and the match, the action included a Patriquin shot so improbable that it made ESPN's SportsCenter Top 10 the following day.
After the match, Black told Boardroom that it wasn't easy playing against the Aces, the team that signed her in the middle of the first half of the 2023 season despite having little pro pickleball experience apart from a budding tennis career.
"They took a chance on me, absolutely endorsed me," she said, "So, facing the Aces was a little tough to do. Samin is awesome and I absolutely adore him. Everyone who works for the Aces has been awesome. They're so kind, were very helpful, and they cheer amazingly on the sidelines."
Odhwani said Black's game has improved since she competed for the Aces, and MLP used her in promotional materials leading into MLP Atlanta, elevating her as one of the league's fresh faces after becoming one of just six players who played in the up-and-coming Challenger division earlier in the year to be drafted up into Premier for the second half.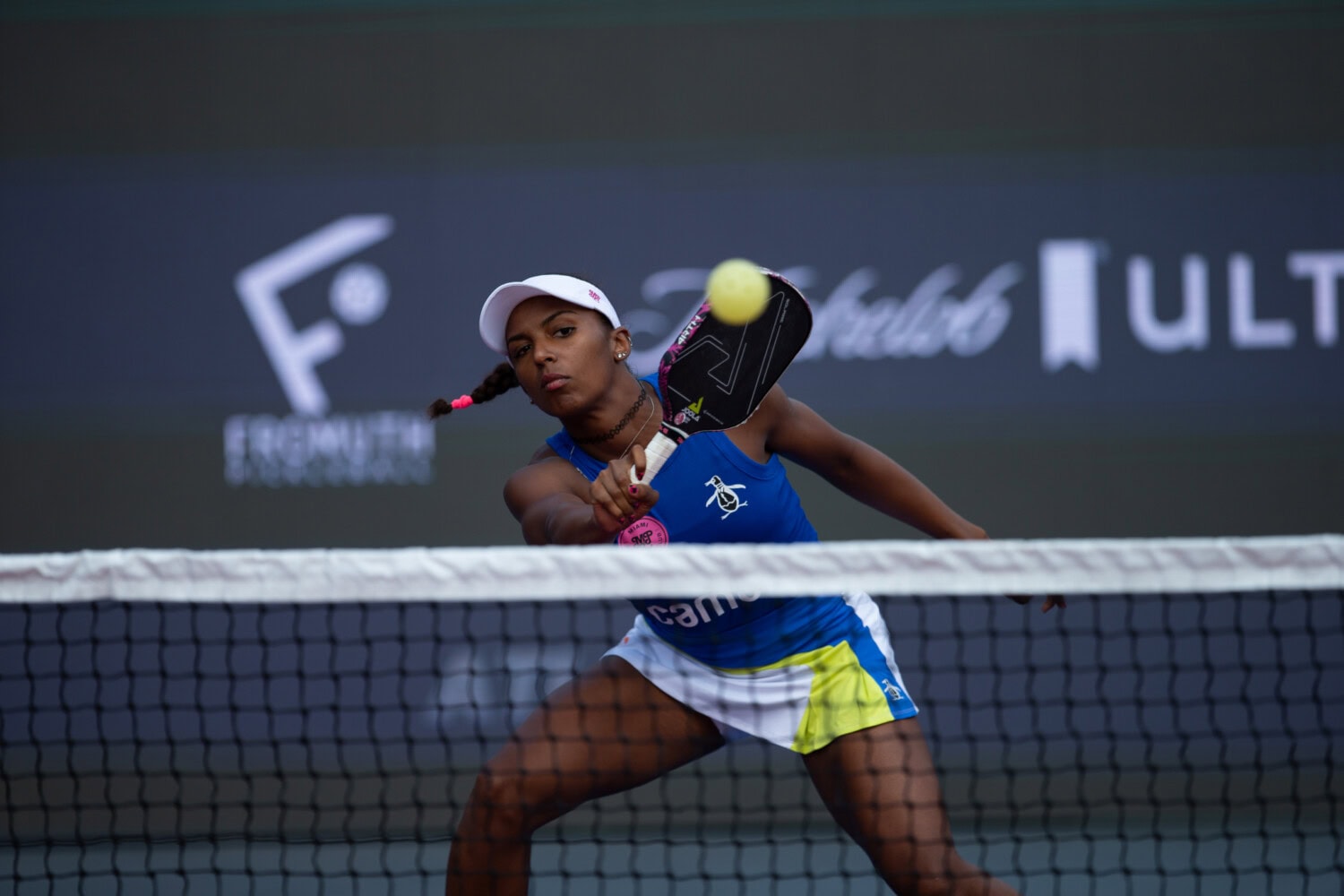 Brooklyn's emotionally draining defeat to Miami on Thursday ended barely two hours before the Aces were set to take on Columbus in the afternoon, and a day of twists, turns, and obstacles continued with one more unexpected hurdle. Patriquin suffered an injury significant enough to keep him out against Columbus, but not so severe to keep him sidelined the next day. MLP rules dictate, however, that once a player can't compete in one match, he or she must withdraw from the entire tournament.
Despite the setback, the show must go on.
"Hayden is a competitor at heart and I know he wanted to play, but the most important thing is the safety of the players," Odhwani said. "Once we realized that he wasn't going to be 100%, we made the call to bring on an alternate."
To select a mid-tournament alternate, Odhwani and the Aces had the ability to choose from six of the 12 Challenger division teams that were eliminated during Thursday's group stage. On practically zero notice, Brooklyn tapped 17-year-old Bolivian upstart Gabriel Tardio, the No. 2 overall pick in Challenger by the Los Angeles Mad Drops.
"Gabe was someone we had our eye on during the draft, so the fact he was available in the waiver pool made the decision a little easier," Odhwani said of the decision. "He has amazing talent and we were incredibly thankful to have him as part of our team."
While Tardio said he was pumped to play with a trio of talented teammates, he had virtually no time to warm up or strategize with them. The lack of familiarity with his teammates combined with coming off an emotionally draining Miami match, the searing heat of the uncovered side court to which Aces were assigned, and a dropoff in crowd energy compared to the championship court environment all contributed to the Aces dropping their first two games against the Columbus Sliders in men's and women's doubles.
In time, Brooklyn eased its way into the match. Parenteau and Loong won again in mixed doubles, 21-14, and Koop and Tardio more than held their own against superstar JW Johnson and Maggie Brascia. Up 18-14 and 20-18, the duo unfortunately could not close the deal and fell 22-20, dropping the Aces to 0-2 and denying them a chance to advance to the tournament's knockout stages.
"I wish we had used our timeouts a little more strategically to give our entire team a chance to breathe and collect our thoughts at the end of the match," Odhwani said. "When we had match point, I think that would've been a great opportunity to use a timeout and lay out a plan to execute, similar to what other pro teams do in those situations."
The next day, the Aces exuded a looser, more carefree energy against an AZ Drive team that won both of its Friday matches. Patriquin returned to the Brooklyn bench to cheer on his teammates as they played in front of a busload of Aces fans. Odhwani has numerous friends and family members in the Atlanta area, so the showdown with the Drive felt like a home game.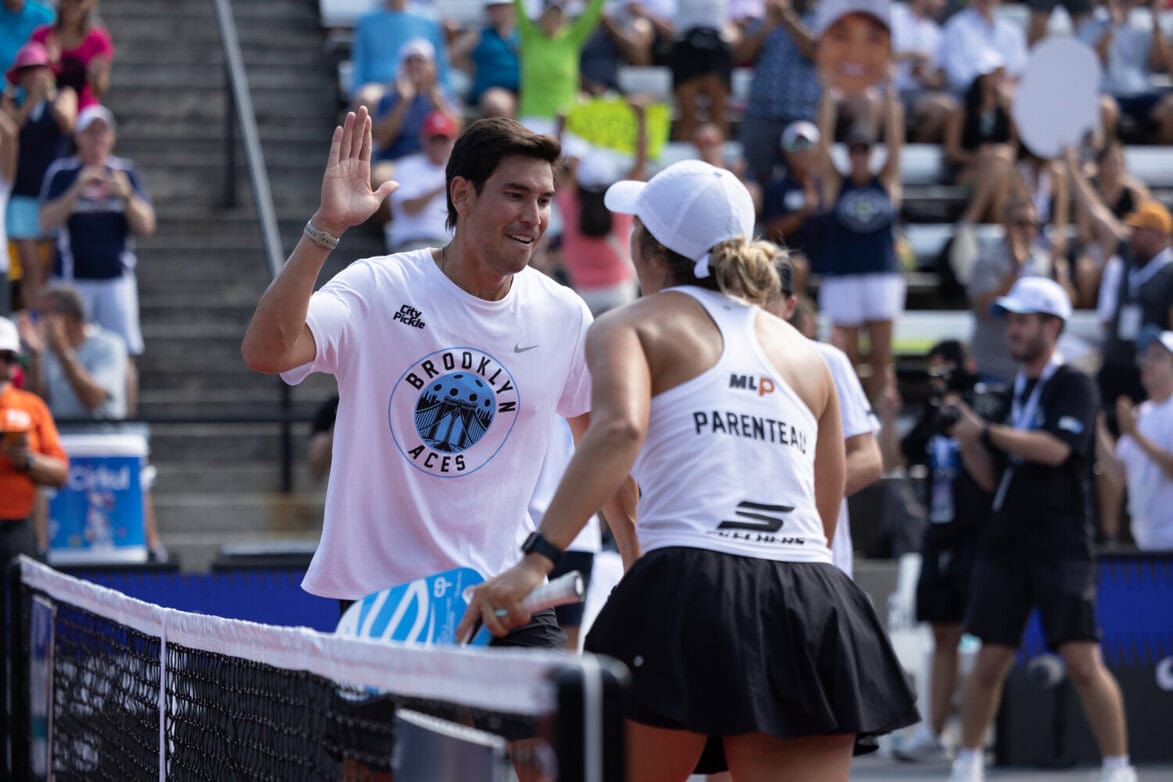 "What I wasn't expecting was the level of energy those people brought," the general manager said. "You could tell it instilled a level of confidence in our players that I'm hoping they can run with in our future events. Our team has the talent to compete with some of the top teams in MLP, but what we needed was support and confidence that fans can bring."
As the action unfolded, Parenteau and Koop dominated women's doubles before Loong and Tardio narrowly lost in men's doubles. Koop's backhand was on point all match, and she and Tardio handily won mixed doubles to go up 2-1 before Arizona rallied to force a dreambreaker.
A dreambreaker uses a one-on-one format, players switching out every four points until a team reaches at least 21 points and wins by two. After Arizona elected to start with top men's player Julian Arnold, Tardio asked to be put against the braggadocious Drive star.
"I played Julian so much that I kind of know his shots. I know what he's going to do," Tardio told Boardroom. "I've played with him like 10 times already, so I just thought it was a good matchup for me."
With the vast majority of the crowd cheering the Aces on, Tardio managed to take five of 12 points in an individual matchup Arizona needed to dominate to win the dreambreaker. Brooklyn won the dreambreaker 21-17, winning the matchup and ending its weekend in Atlanta on a high note that the team can build on going forward.
Against stiff competition, the Aces were very much in the mix in their losses to Arizona and Miami, both of whom went on to make the semifinals in Atlanta. Brooklyn is close to contention, Odhwani said, but not without more work on strategy, practice, and team building, three things that will require commitment from both the players and the organization. If they execute on those fronts, he said the Aces will be extremely dangerous going into November's tournament in Thousand Oaks, California.
"The Aces played with heart, though I was hoping we could strive for better results on the pitch," Odhwani said. "At the end of the day, we faced a ton of adversity, and all of that combined with the pending merger felt like it impacted our ability to focus. That being said, for us to come out strong on Saturday and get a win showed what this team is capable of."
This article is presented in partnership with New Belgium Fat Tire Ale.
Read More:
Boardroom recaps the Brooklyn Aces' semifinal run at MLP Dallas, advancing through a group of the sport's top female players….