From J. Cole & Drake performing together to Usher pulling an April Fools' Day prank, Boardroom was on the ground at the monumental third year of J. Cole's Dreamville Festival in Raleigh.
As J. Cole gazed into the crowd of over 50,000 people who had been anxiously awaiting him to take the stage, only one word came to mind. "Dayum." Fittingly, that's the only word that could properly describe what he and the rest of the Dreamville team pulled off for the third year of the Dreamville Festival.
The event has become a signature event for Dreamville. Each year, the festival has grown in attendance and will likely do the same as it pertains to the economic impact on the city of Raleigh this year. The festival was grander this year, but not just because of the presence of bigger names like Usher. Festival acts such as Ari Lennox, JID, and Earthgang — as well as other Dreamville artists — have each developed their own fanbases that have traveled to see them specifically.
But still, all eyes were on Drake and J. Cole, as Dreamville Festival marked the first time the two have headlined a festival together. And the two rap titans did not disappoint.
Day 2 and the Grand Finale
J. Cole had Dreamville Festival attendees in the palm of his hand the moment he stepped on stage. With a healthy mix of "lemme take y'all back man" throwback tracks and newer ones, fans rapped nearly every single word from his setlist. As someone who has attended all three Dreamville Festivals, J. Cole's 2023 set was the most collaborative of the three. This also meant it was the shortest time Cole spent on stage by himself, which was just under 45 minutes.
In full transparency, this doesn't surprise me. Cole has teased an eventual retirement from rap in multiple verses over the last couple of years. During that same time, he and the Dreamville team helped grow all the other artists signed to him. And so before Cole welcomed Drake onto the stage, he first brought out Bas, Cozz, Omen, J.I.D, Lute, and Earthgang (Ari Lennox was not present). He and the Dreamville cast performed "Under the Sun", "Down Bad", and "Stick".
Ten minutes later, Cole said "It's that time," and everyone in the crowd knew who was coming next — Drake. Hip-hop mania ensued shortly after the Toronto-born rapper walked onto the stage.
In a genre of music that some would say is the most competitive in the world, the brotherhood between Cole and Drake felt very real. When Drizzy stepped onto the stage, he dawned a baseball jersey from J. Cole's Terry Sanford High School. On the front was the school's mascot, a bulldog, and on the back was a Dreamville logo above Drake's Nike Nocta label (if you're reading this, Drake, please make that jersey available for purchase).
The two shared pleasantries and praised one another before Drake took the stage by himself. The Toronto native let a hip-hop time capsule loose into the crowd as he unloaded throwback records like "Over," "Headlines," "HYFR," "Started From the Bottom," "Energy," and "Know Yourself." After nine songs, the 6 God paused to speak with the audience.
"Listen, if you want the shit, I got the shit. All you gotta do is ask me. My brotha (J. Cole) told me to show up with the pack, I brought the pack. Do y'all want the pack or not?" asked Drake to tens of thousands of fans in Raleigh's Dorthea Dix Park on Sunday night.
The mob of dreamers roared in response to the Toronto rapper's question. Surprises came shortly thereafter.
The first was GloRilla, who had performed earlier in the day. The Memphis-born rapper performed her Grammy-nominated record "F.N.F (Let's Go)," which caused the crowd to go bonkers, but this was only the beginning. The madness continued when Philadelphia's Lil Uzi Vert came out and performed "XO Tour Llif3" and "Just Wanna Rock." The moment Uzi and the crowd said "Woah" at the same time was probably the loudest I had heard the crowd say one word the entire night.
Drake then calmed the crowd with three throwback tracks — "Marvin's Room," "Wu-Tang Forever," and "Practice" before performing "The Motto," joined by his mentor Lil Wayne on-stage.
"I'm going to leave you in the hands of the greatest rapper to ever touch a microphone tonight," Drake said before letting Wayne perform "Uproar" and "A Milli" by himself.
The last surprise of the night came from Atlanta and was Complex's best rapper of 2022, 21 Savage. The first of the two records, "Knife Talk," performed sent the crowd into pandemonium (the other song was "Rich Flex").
To close his portion of the set, Drake returned to the stage to have the fans give thanks to J. Cole as they sang along to Whitney Houston's "I Will Always Love You." Cole then closed out Dreamville Fest with "No Role Modelz."
"We were planning on trying to get Drake since last year actually," Dreamville co-founder Ibrahim Hamad said. "They told us they were trying to come rock with us at Dreamville Fest. Drake, Future, Mr. Morgan, that's family. We were more so excited to be able to bring that to North Carolina and you know Drake, he's a good dude. He ended up taking the Carolinas out of his tour routing to make this moment special."
Hamad's brother and Dreamville signee Bas said, "I don't know how we top this next year. That's Ib's headache. I'm just here for the bag."
"I'm playing," Bas continued jokingly, "but we are really a family. Everyone is trying to help each other get further along and I feel like this is an extension of that."
Bas was one of 12 artists that performed on Sunday before Cole and Drake's set. Others included Burna Boy, Summer Walker, JID, GloRilla, Waka Flocka, Mario, Baby Tate, Arya Starr, Cozz, Jordan Ward, and Rueben Vincent.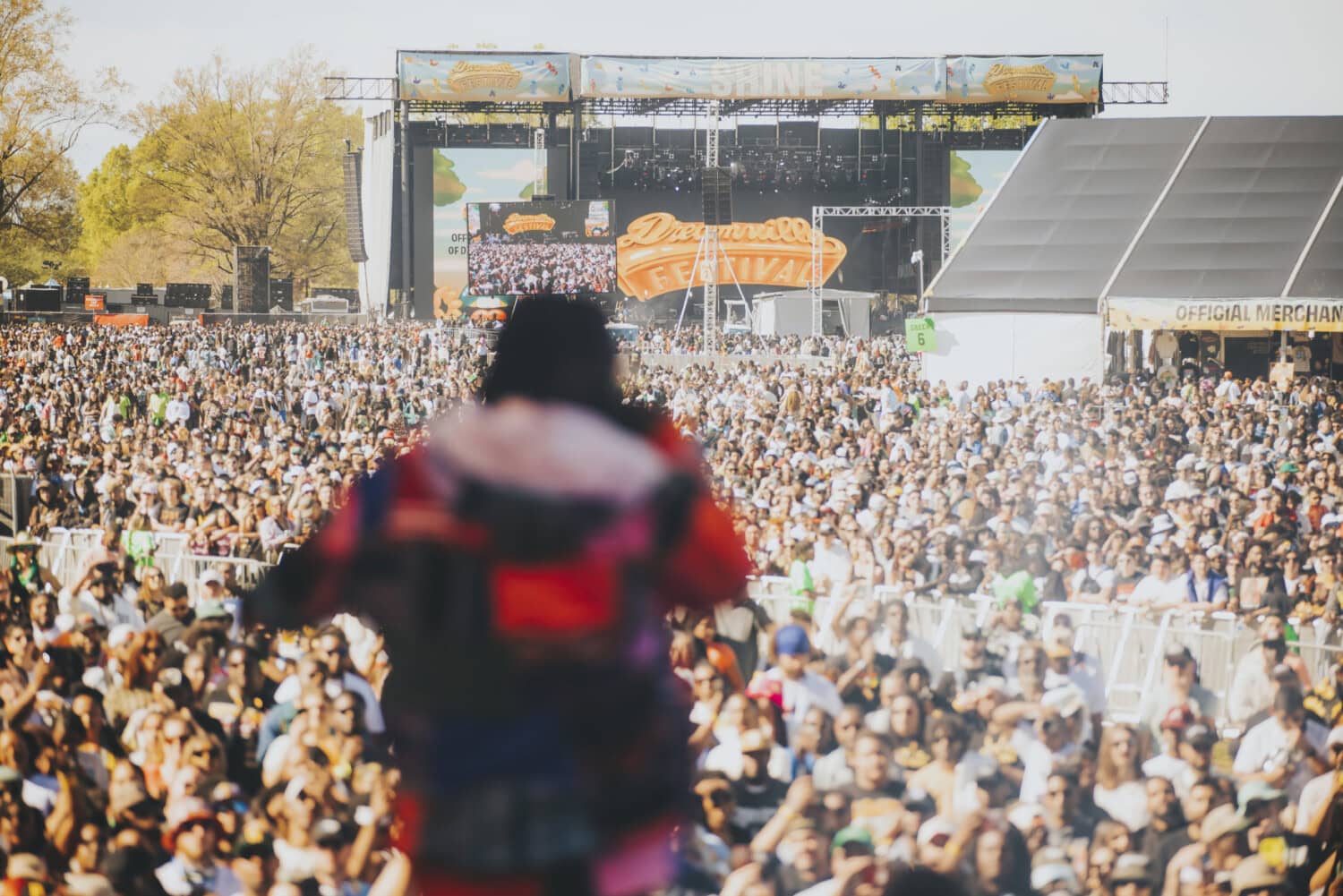 Under the Weather
Everything did not go according to plan though. Day 1 of the festival saw 20 mph winds that caused festival runners to push back the opening from 12 pm ET to 3 pm. The clouds poured down rain as the wind whipped but precipitation was less of a concern because the festival was a "rain or shine" event. One could have easily walked through the winds but caution was taken because of the potential impact on decorations, food/beverage vendors, and other safety hazards.
"We can't control the weather, so we have to do our best to make sure people are safe," Hamad said. "We saw that it would be really windy early, so instead of opening doors and the wind getting too crazy and then having to evacuate people, we might as well just push back a bit. And when things did settle down, the weather was amazing."
Hamad wasn't wrong. Clouds eventually moved along and the sun shined down on Dorothea Dix Park. Dreamville Fest has had its fair share of bad luck when it comes to weather in the past. The inaugural festival was originally scheduled to take place in September 2018, but Hurricane Florence forced it to be postponed until April 2019. So in three years, the weather has affected Dreamville Festival twice.
Surprisingly, the festival grounds were not as muddy as many fans expected. A combination of mulch and woodchips was scattered across the ground where mud could have been a concern.
Kicking Off Day 1
The three-hour weather delay did not stop tens of thousands of Dreamers from flooding into Raleigh. One could argue that the weather caused more anticipation and hype for the event. Lines to get in the gates of Dorothea Dix Park were some of the longest I have seen since the festival's debut back in 2019. Upon entering, some fans went to grab food or beverages, others chose to make their way to various art exhibits for pictures. There were also people who I would call the sprinters, individuals who entered the park and immediately made a mad dash toward the front of the stage.
Dorothea Dix quickly filled up with dreamers as they flocked to each stage as performances alternated between the two. Charlotte, NC, native and Dreamville artist Lute said the crowd during his performance was the largest he has ever had at Dreamville Festival.
"I even got a chant at the end of my set, which I wasn't expecting so I really had to sit and be present with that. This year at Dreamville Festival felt really good," he said.
"My favorite part of Dreamville Festival is seeing the other talent," Lute continued. "My childhood was complete [on Saturday] with Usher and Sean Paul performing. Being able to see the other talent and enjoying what Dreamville Fest means to Raleigh, North Carolina, is special. We don't really get stuff like this."
Sign up for our newsletter
In comparison to Day 2, the energy on Day 1 was more tranquil. This is in large part due to the number of R&B artists who performed, including TDE's Sir, Jessie Reyez, Sean Paul, Ari Lennox, and the grand finale, Usher. This was Sir's first time performing at Dreamville Fest.
"This really felt like my first festival. I don't set expectations because it helps me get through things, but the reaction really overwhelmed me," Sir said. "It's an honor to represent my team and anytime I get the call from Dreamville, I'm going to show up because those are my brothers too. There is so much separation in public, but in private, it is all love and I hope people know that. We don't compete with each other; we are comrades and we are trying to help each other elevate."
Sir was always scheduled to perform at the festival, but Toosii was not. Memphis rapper Key Glock was supposed to take the stage but could not make it to Raleigh because of the weather on Saturday. Toosii took the place of Key Glock after Dreamville made a late call to get him booked.
"I landed [Friday], but this is the home team, so I had to come out. I've been a fan of Cole since I was a young kid so it was a blessing for them to call me and to be able to be here," he said.
Additional artists who took the stage on Saturday were Marcqus Clae, Omen, Earthgang, City Girls, and Lil Durk. But it was the fact that the festival was able to bring Usher to the stage that made this year's event a full-circle moment for the Dreamville team.
"We were trying to get him the year it was canceled (2020) during the pandemic so to be able to have him now, it's amazing," Hamad said.
Usher's performance on Saturday night was one big singalong, with 50,000 voices contributing to his melodies. His 21-song set included hits from all of his eras like "OMG," "Yeah!," "The Matrimony," "My Boo," and "You Make." Usher's set even featured a marriage proposal during one of the songs featured on his setlist.
And it was clear that Usher was enjoying his time on stage because he even pulled an April Fools prank on the Dreamville crowd, "welcoming" Beyoncé to the stage when she was not even there.
Dreaming Bigger
While dates have not yet been announced, Dreamville Festival should return to Raleigh next year. Bas has also been in the planning process of bringing the event to Africa.
"I'm planting the seeds [but] they gotta give me the keys," Bas said. "I've been running it up the food chain trying to bring this Dreamville thing to South Africa, but that's above my pay grade."
But if Dreamville Fest did nothing else, it established itself as one of the signature music festivals in not just rap, but all of music. The festival doesn't feel like it is all about the music, though that is the reason for the gathering. Days before the festival begins, Dreamville had events like a pop-up shop, Amazon's new 50 & Forever Anniversary museum, and other activations for attendees to take part in.
The feeling around Dreamville's signature event is similar to a family reunion or even an HBCU homecoming. Year 3 of Dreamville provided a multitude of vibes for attendees. If you wanted to sing along, Saturday was the day. If you wanted to rap and rage, Sunday was for you.
An under-the-radar detail that goes unnoticed is the level of safety once the doors for the festival do open. Multiple performances were stopped to make sure fans who may have been hurt got the medical attention needed. As I passed by the medical tents throughout the day, though there were people in them, none were ever close to full capacity.
In Year 1, Dreamville Fest was the new event on the Summer festival circuit block. Cole and Dreamville put on a great show but momentum was halted due to COVID-19. The company kept things going behind the scenes as it built the careers of its artists into bigger stars than they were. When the Dreamville Fest returned for its sophomore season last year, the team doubled down as it expanded from one to two days. The bet proved to be a wise decision, as Cole and the team brought 80,000 people out and generated $6.7 million in economic impact for the city of Oaks.
But Dreamville Festival's junior year was its Heisman moment. Not only did Dreamville bring out 20,000 more people, but it booked a balanced lineup that allowed fans to enjoy a wide variety of music from different eras. The vibes of R&B artists Usher, Ari Lennox, Summer Walker, Mario, and more hypnotized the crowd with their vocals. Meanwhile, the presence of Drake, J. Cole, Lil Durk, JID, Waka Flocka, and others turned dreamers into ragers.
It will likely be a full year before Dreamville unveils the lineup for the festival's senior season. But whoever is booked has a tall task trying to meet the level of fandom that has been generated from this year's success. Names that could potentially match the energy include Jay Z, Beyoncé, Rihanna, Kendrick Lamar, and Travis Scott.
For now, Dreamville Festival set its mark as one of the biggest and most well-received festivals of 2023.
More Music Stories:
Taylor Swift, Bad Bunny, The Weeknd, and Drake topped Spotify's 2023 Wrapped campaign globally. Here's more from the digital music service's year-end campaign. …