The Warner Bros. Discovery product will be available to consumers in three price tiers when it launches in May.
Warner Bros. Discovery's first streaming product will be available to consumers on May 23 when HBO Max and Discovery+ become one word: Max.
The new streaming platform will combine Discovery+ shows like 90 Day Fiancé, Ghost Adventures, Unraveled, and much more with HBO Max's signature content, which includes Succession, White Lotus, and House of the Dragon. The announcement came with a slew of new shows that come equipped with massive fanbases. New projects that will eventually hit the platform include a new Harry Potter series, a 'Game of Thrones' prequel, a show based on the The Conjuring films, and another series called The Penguin, which will feature Colin Farrell as one of Batman's most notorious villains.
Sign up for our newsletter
"We have a very significant business with HBO Max. To provide more value to those subs and have a seamless transition will be really helpful for us," Discovery CEO David Zaslav said in an interview Wednesday with CNBC's Julia Boorstin on "Closing Bell".
Zaslav also said he thinks creating more content on one specific streaming service will decrease the amount of people who unsubscribe.
Max price points will technically remain the same as HBO Max's $9.99 a month. But that price comes with ads. For $15.99, consumers can purchase an ad-free version, and for $19.99, subscribers will have no ads and will be able to stream four programs at the same time from four different people. Current HBO Max subscribers' accounts will roll over to the new platform when it launches in May.
Shares of Warner Bros. Discovery dipped 6% after the news but the stock has risen 48% from year to date, according to Deadline.
More Film & TV: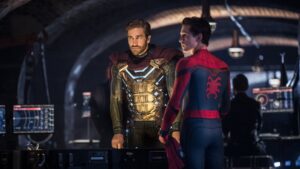 Boardroom ranks the highest-grossing Marvel movies based on global box office success since Iron Man dropped in 2008. …