As the HBO darling returns for its final season, Boardroom convenes with OpenAI's lovable, nefarious chatbot to reckon with the legacy of the show and make a few Succession predictions.
We'll look back on HBO's Succession and declare that, much like Gale Sayers, Ralph Kiner, and Chumbawamba, it was here not for a long time, but a good time.
As the critically beloved, deliciously wicked show returns for its fourth and final season on March 26, there's nonetheless quite a lot to parse for a program whose entire run will ultimately encapsulate just 39 episodes. Will Logan Roy actually allow himself to be succeeded? Is Skarsgård (pick one, any Skarsgård will do) friend or foe? Will Gerri and Roman open a Panera franchise together? Will Kendall's rap stylings veer into Atlanta trap or UK grime?
That's why we opted to convene a TELEVISION TRIUMVIRATE — Ian Stonebrook, Jonathan Wiener, and Sam Dunn — to make the best possible sense of the acid-tongued prestige program's swan song and ideate some potential futures for the franchise, the merrily miserable Roy clan, and its many hangers-on. With the stakes being as high as they are, however, we weren't about to enact this hostile takeover alone, so we decided to enlist the assistance of ChatGPT, Open AI's amusing artificial intelligence construct that might one day destroy us all.
We're here to satisfy three key queries:
State the case for the character whose skills and entrepreneurial spirit make them best suited to sit on the Waystar Royco iron throne.
Where does Succession rank among all-time "workplace shows," and what's its legacy in the bigger picture of prestige TV?
Pitch a spinoff series starring Greg and Tom (It does NOT have to be a one-hour drama).
Let's break some Greggs and whip up this AI-powered Tomlette heralding Succession Season 4, shall we?
Sign up for our newsletter
Which character's skills and entrepreneurship make them the best pick to sit on the Waystar Royco iron throne?
JONATHAN WIENER: Lukas Matsson (Alexander Skarsgård). This is less a pro-Lukas Matsson take and more an anti-all the other characters take. Logan Roy (Brian Cox) is the easy answer, but he's basically a dinosaur at this point. Dude is analog.
Matsson has already built a media behemoth that works in the digital age. He also has the stomach for the ruthless realities of the business world coupled with the technological acumen to succeed in modern society. Matsson gives off self-made entrepreneurial vibes, while Shiv, Roman, Kendall, and Connor (Sarah Snook, Kieran Culkin, Jeremy Strong, Alan Ruck) are nepo babies who never had to build anything themselves.
IAN STONEBROOK: The clear-cut Roy best handled to take over the company is Shiv. As much as my heart wants to say Roman and as much as we all secretly root for Kendall to figure it out, Siobhan has the best balance of killer instinct and measured ego akin to her famed father.
While I still see the whole business either sold or going up in flames by the season's end, there's a character arc where Shiv eventually becomes her father, ruthlessly running a business and moving spouse to spouse.
SAM DUNN: Logan is the only actual choice, as he's the only one capable of embodying that willful Shakespearean urge to cling at all costs to power for power's sake. Everyone else is caught up in pursuing practical, tangible results of one kind or another — those are merely white elephants to the Dad from Dundee.
Alexander the Great's kids couldn't keep the Macedonian Empire together, and the patriarch of the Fuckoffian Empire hasn't raised any children who stand a chance in a world that demands nothing less than a conquering killer. By series' end, it's much more likely that the government intervenes re: Waystar's overlapping webs of malfeasance and coverups and breaks up its various divisions into spinoff companies for VC assholes to strip for parts like a stoned frat boy inhales a plate of atomic wings.
If I had to pick an individual outside of Logan to run the joint, however, I'm totally going with Roman. He's so jadedly, acerbically over-it that his emotions would never cloud his judgment. All the Roy kids are riddled with PTSD and play out distinct versions of "dead inside" in expressing how they carry it, but Romulus' particularly irreverent brand of snarky dispassion likely prevents him from treating much of anything as a sacred cow at the negotiating table. He doesn't even seem to care about money — he's really just in it for the banter.
ChatGPT: One character who stands out as having the potential to lead the company is Kendall Roy, the eldest son of Logan Roy, the patriarch of the family and CEO of the company. Kendall is portrayed as intelligent, ambitious, and skilled in business strategy, with experience working in both the media and tech industries.
Throughout the series, Kendall demonstrates his ability to make tough decisions, negotiate complex deals, and navigate the cutthroat world of corporate politics. Despite facing numerous setbacks and personal struggles, he remains determined to prove himself and take over the company from his father.
Where does Succession rank among "workplace shows," and the bigger picture of prestige TV?
IS: I think Succession cuts through in workplace documentaries because the dialogue is both so good and so inappropriate. As a watcher, it's tough to discern just how cutthroat and problematic the tone is in these war rooms. Is HBO making a mockery of C-suite conservative media to feed the impression of bi-partisan fans or is this truly the way execs in the said industry actually talk to each other?
SD: From one perspective, it's a tier-one workplace show, a tier-one "family at war/rich people choosing to be miserable" show, and a tier-one "bad people constantly doing bad things to each other" show. From a different perspective, it has to be noted as one of the whitest, male-est television programs you could possibly make. The utter lack of diversity on Succession will not age well, to put it as mild as Caroline's cooking. In the annals of workplace TV, this means it has something painfully in common with another monochromatic critical darling of the idiot box golden age, Mad Men.
Overall, I've found the show relentlessly entertaining and generally impressive because satire and black comedy are hard to get right even one time; the beats of it are incredibly hard to sustain. You have to find that pocket and stay there jazz drummer-style, and creator/showrunner Jesse Armstrong and this outrageously talented cast found a way.
JW: I consider Succession more in the vein of Arrested Development than a "workplace show." It's about a dysfunctional family with shared trauma who are filthy rich and terrible people. I'd compare it to It's Always Sunny In Philadelphia as opposed to The Office.
Succession will go down as one of the best shows of all time. Logan Roy as a character belongs up there with legendary television antiheroes like Walter White and Tony Soprano. While Brian Cox's captivating screen presence is a driving force behind the show, the true essence and genius of Succession stems from the ensemble cast and incredible dialogue. The chemistry between the actors allows the show to straddle between genres seamlessly. At its best, the show is simultaneously a laugh-out-loud comedy, a tragic drama, and a poignant social commentary. Truly an original work of art.
ChatGPT: As an AI language model, I can't predict how the public will perceive the show in the future. However, Succession has already received critical acclaim and has been praised for its sharp writing, excellent performances, and astute observations of the business world and family dynamics.
In terms of workplace television series, Succession has been compared to classics such as Mad Men and The Sopranos for its exploration of power dynamics, ethical dilemmas, and complex characters. It has also been lauded for its ability to capture the current cultural moment, where the super-rich and powerful are under intense scrutiny and public pressure to be held accountable for their actions.
As for its place in the bigger picture of prestige TV, Succession has been recognized as one of the best shows of its time, winning multiple awards including a Golden Globe for Best Television Series — Drama in 2020. It has also been praised for its ability to weave together elements of drama, comedy, and satire, creating a unique and compelling viewing experience.
Ultimately, the public's perception of Succession as an all-time workplace series and a defining show of the prestige TV era will depend on its lasting impact on the cultural zeitgeist and its ability to continue to captivate and resonate with audiences in the years to come.
Pitch a spinoff series starring Greg and Tom.
SD: Greg and Tom's Gregcelent Adventure, a half-hour animated series that gives Jesse Armstrong a chance to revisit his ridiculous, sophomoric, but bizarrely existential Peep Show roots completely unmoored from the worldly constraints of live action.
Greg Hirsch (Nicholas Braun) and Tom Wambsgans (Matthew Macfadyen) are cartoon characters already, so let's lean all the way into it Archer-style. Send them to outer space to find all the votes Jeryd Mencken (Justin Kirk) totally stole from Connor in the Republican primary. Have them convene with Andrew Tate and Kip Paul — the third, edgier, somehow more obnoxious Paul brother — to create an app that lets users place futures bets on train derailments. Have the Wambsgans, Hirsch & Partners corporate services consulting firm open a satellite office in the Persian Gulf and end up in a to-the-death FIFA 23 tournament with Jared Kushner, Muhammad bin Salman, and Pras from the Fugees. If it is to be said, so it be. So it is.
Alternate titles: They Still Here For You and Buckle Up, Fucklehead.
JW: Greg & Tom Go to Washington.
Our heroes leave Waystar to start their own lobbying firm in Washington, DC. They find an office on K Street and bumble their way through misadventures by which they interact with corrupt politicians and represent industries like tobacco, guns, and big pharma. The show would be fast-paced with hilarious, witty dialogue. Think Veep meets Abbott & Costello meets Rosencrantz and Guildenstern Are Dead.
IS: Successes to Be You: A comedy-drama in which Tom takes over the company and has to bear the brunt of wearing the heavy crown while Greg is shoehorned into running Waystar-Royco amusement parks and cruise lines with little to no responsibility and all the perks. It's all shot in split screen and proves power means less than fun.
ChatGPT: A possible Succession spinoff series starring Greg and Tom could be a dark comedy about their adventures as they navigate the cutthroat world of corporate America. The show could be called Tom and Greg: The Rise and Fall of the Wambsgans-Roy Duo.
The show could be formatted as a half-hour comedy and could follow the misadventures of the bumbling duo as they attempt to make their mark in the business world. The show could explore their complex relationship as Tom tries to mold Greg into a successful businessman while Greg attempts to learn from Tom's mistakes.
The show could also feature a variety of guest stars and cameos from the Succession universe, including members of the Roy family, other Waystar Royco executives, and perhaps even the occasional appearance by Kendall or Shiv. The show could explore themes of ambition, loyalty, and the lengths people will go to climb the corporate ladder.
Another possible name for the show could be Wambsgans-Roy, Inc., which would play off the idea of Tom and Greg's attempts to create a new power duo in the corporate world. The show could also use a subtitle that changes each season to reflect their latest business venture or scheme, such as Wambsgans-Roy, Inc.: The Renewable Energy Experiment or Wambsgans-Roy, Inc.: The Digital Media Meltdown.
More Film & TV: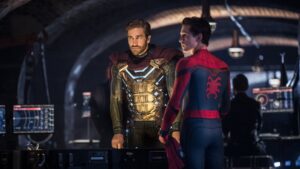 Boardroom ranks the highest-grossing Marvel movies based on global box office success since Iron Man dropped in 2008. …