Boardroom spoke to event organizers, Web3 leaders, sponsors, and partners about how VeeCon has evolved and still kept Web3 at the center.
This is not another run-of-the-mill story about Gary Vaynerchuk. It's a deeper look into the business behind VeeCon, how stakeholders feel about this year's superconference, and what we can potentially expect to see next year. We laid out what you needed to know ahead of the event, but what we saw on the ground was far more than that.
We'll dive into some insights from Vaynerchuk, too, but first, let's hit some high-level takeaways from the second annual VeeCon conference:
The Veecon branding in Indianapolis was strong, spanning the airport escalators, floors and screens, transportation vehicles, hotel room keys, and all throughout the stadium, of course.
Attendance was down to about 5,000 after last year drew roughly 6,500 attendees.
There were more (and bigger) brand activations and opportunities to connect with the leaders behind emerging companies.
The Web3 and NFT communities came in strong, and it's clear the true blockchain builders are creating right now.
Lucas Oil Stadium might have been too big of a space for VeeCon, but it was nice to have space to spread out.
The panel lineup could have been diversified a bit more to include more women and people of color.
Instead of opting for a fun recap of the event, Boardroom spoke to event organizers, Web3 leaders, sponsors, and partners about how Veecon has evolved and still kept Web3 at the center. Let's jump into it.
Sign up for our newsletter
Vaynerchuk's Vision
Vaynerchuk repeatedly admitted that putting on VeeCon this time was a bit harder because attendees, sponsors, partners, speakers, and other key stakeholders now had an expectation for what it should be like based on last year's experience. Still, he and the teams across all of his businesses put their thinking caps on to create an event that was still worthwhile, despite this pivotal moment and change across Web3.
Vaynerchuk said a big part of Veecon's success comes from the team behind it, which includes many folks who have been working under his wing for 10+ years.
"Intertwined family and talent are how it all comes together," Vaynerchuk said. "VeeCon is about nice people trying to do good things."
Vaynerchuk stuck to his guns for the most part with the core makeup of the conference. The event stayed token-gated and will continue to draw attendees with NFT tickets at least through the 2024 conference since that's the promise Vaynerchuk made to the VeeFriends community last year.
"I don't even know what the alternative could have looked like. It would have been over for me, in my mind," Vaynerchuk said if VeeCon became a non-token-gated event this year. "I gotta see this through for these three years, and then I'll take a step back to see where I can go from there."
The conference kicked off with a field day, followed by a few days of panel discussions and nightly entertainment. This is the same skeleton makeup of the event we saw last year. What was most different about this year is the focus of the content. The inaugural VeeCon conference was focused on Web3 education. This year had a broader focus on technology, pop culture, business, marketing, and entrepreneurship.
Vaynerchuk said this switch was intentional not just because there's a bit of a downturn in Web3 but because he's a man who follows the trends. He confirmed that the conference will continue to change based on the market trends and what his community wants to see.
"The focus is value," Vaynerchuk told Boardroom. "Last year, the value was that nobody knew stuff, so let's teach them the 101 and have some fun. I was like, okay, we got that part down. This year is about pop culture and business operations. There is a difference between Scooter Braun, who is a pop culture businessman, and Anish Melwani [Chairman and CEO of LVMH], who is a behind-the-scenes business person. They both bring different values."
As for the Web3 leaders who spoke this year, Vaynerchuk said VeeCon was selective with who should participate to showcase the serious builders in the space. He believes Web3 will experience a slow build back up.
"These are the individuals who aren't leaving. The same ones who didn't leave in Web2. I've seen this movie before. I remember when the internet crash happened, and people stopped believing in it. They called the internet a fad," Vaynerchuk said. "It was very clear to me that there's a group of individuals who are here through the ebb and flow of Web3."
As far as pros and grows, there were a few things that were top of mind for Vaynerchuk that he wanted to change from last year. One big one is the setup of his selfie stations, which allowed attendees to book a photo op with him ahead of time. VeeCon also updated the distance of the side stages and provided clarity on how to find them. The field day kick-off party last year transformed into a full-day event this year with free water, which attendees were adamant about getting this year. Merch sales were also run differently this year to give attendees more options and opportunities to snag exclusive gear.
A hot topic surrounding VeeCon is where it will happen. Vaynerchuk said Veecon's location each year will depend on how good the people are in the chosen city and if the conference is able to be the premier event. I asked him at the IRL press conference if we could ever expect to see Veecon in a busy metropolitan area like New York City, Miami, or even LA, and in short, he said no. There's too much competition and congestion in those cities for what VeeCon is capable to produce at this stage.
Vaynerchuk said this year's VeeCon marked a transition into the conference he's always dreamed of producing, which he describes as something Woodstock-esque (the 1969 music festival, of course) with a deep business spin on it. He envisions his conferences always including panels and entertainment that follows the times.
"The content will always be focused on today. This could absolutely be called TodayCon with the content because that will always be the framework," Vaynerchuk said.
VeeFriends' Expansion
In order for VeeCon to be successful this year, the VeeFriends team and universe had to expand on multiple fronts. VeeFriends President Andy Krainak told Boardroom that VeeFriends the company only had 14 employees when VeeCon happened last year. That team has expanded to 52 members with a dedicated events team that includes 11 staffers. VeeCon partners without outside agencies to put on its superconference and will continue to do so with a dedicated internal team heading all of the event's moving parts now.
"VeeCon was a success last year, but I don't think anyone really understood what was going on in the background," Krainak said. "There were obstacles and hurdles, and the first thing we wanted to do post-VeeCon last year was hire an events team internally."
Krainak's said he learned a lot of operational lessons after Year 1 of VeeCon, like how to mitigate lines, expand staging capacity, and improve on programming overall. For him, this year was more about leaning into business while still upholding the conference's biggest promise of giving VeeFriends Series 1 holders access ahead of the rest of the interested attendees. For NFT tickets available on the secondary marketplace, Krainak said the conference tried to market to more attendees, specifically in Indiana, but some people just don't have an interest in learning the basic ropes of Web3 to gain access.
"I think the biggest thing with any NFT project, and for anyone building in the space, I would avoid roadmaps and stay true to your intent," Krainak said. "Things are gonna change, but our intent has always been to have three VeeCons with a max capacity of 10,255 because that's how many VeeFriends Series 1 holders there are. I'm excited to see what happens for the future of VeeCon. I definitely think there could be an extra 20,000 people in here."
After selling out of the main conference tee, which came in green and black, Krainak said he's excited to continue to expand conference merch next year. As for Veecon's planning timeline, Krainak said the team has already shortlisted about four locations for the 2024 conference. When it comes to the selection process, Krainak said VeeCon has two case studies now to showcase how the conference drives economic value, tourism, and more when it comes to town.
"Hopefully, next year is going to be the best one yet," Krainak said. "Selfishly, I want more. I want VeeCon sold out. I want 10,255 tickets scanned. It's going to take a lot of traditional marketing and Web3 marketing. This is a business conference but we do have to market to Web3 because every ticket is an NFT."
Krainak wasn't able to share revenue projections or outlooks, and we don't know how much VeeCon actually costs to produce. He did tell Boardroom that the team behind the conference is "hopeful that next year and beyond, VeeCon will be a successful business in and of itself to drive revenue," but for now, they are mostly focused on brand building and building the business of VeeCon.
What Key Web3 Stakeholders Are Saying
VeeCon 2023 welcomed a lineup of nearly 200 speakers spanning discussions on over 70 panels across three days. Since Web3 is still at the epicenter of the event, we caught up with a few key stakeholders in the industry who shared how they felt about this year's conference.
Sara Baumann, co-founder of Women and Weapons
Sara "Sparky" Baumann is the co-founder and lead artist behind Women and Weapons, an NFT collection of 10,000 diverse women equipped with various weapons, including nunchucks, daggers, brass knuckles, and more. Some of her favorite parts about Veecon this year are the improved layout around the conference floor and the experiential offerings for attendees and Web3 enthusiasts.
"We don't just want panels; we want to have experiences. Veecon listened to that loud and clear, hence why we had an interactive field day and cool things like the slide, Electric Avenue, and NFT Land," Baumann said. "I think the team did a really good job of making sure that the event is well-rounded and not just about learning, but also about having fun."
Baumann landed a speaking gig this year at Veecon by applying through the conference's online application. Last year, the VeeCon team reached out to her to speak, so adding an application layer was a new part of the process. Women and Weapons also hosted an activation in the NFT Land area, but Bauman and her team opted not to do that this year.
"I think last year's VeeCon, which was also phenomenal, was much more Web3 and NFT focused," Baumann told Boardroom. "There was less of an emphasis on branding as well. There was a more significant emphasis on branding this year, which, to me, says they're reaching outside of the Web3 echo chamber." Web3 is a small space, and over the last year, it's become even smaller. I think it's very wise of Gary and his team to move in the direction of making VeeCon about Web3, business, and entrepreneurship."
Even though Baumann leads a brand that's primarily Web3, she felt it was important to participate in VeeCon this year to reach an audience outside of the Web3 bubble. Women and Weapons is focused on building out its flagship character, Nova, to expand storytelling beyond the Web3 industry.
"I think a lot of us brands are recognizing that it's important for us to reach outside of the Web3 bubble to really scale our brands and to survive," she said. "Similarly, that's exactly what's happening at VeeCon."
Baumann said she will always go hard for Vaynerchuk and his work and that she'll, without a doubt, be back for year three of Veecon.
"There is a lot of magic, positivity, and happiness in the area that I think everybody feels is very palpable," she concluded. "It's not just about Web3. Veecon is about business and entrepreneurship. I'm going to be here for a million years if they keep having them."
Jesse Pollak, Coinbase's head of protocols and creator of Base
Coinbase had a significant presence at VeeCon 2023 and secured another partnership role, just as it did last year. Coined the Coinbase Club, the prominent crypto exchange sponsored the speaker lounge at the conference. Jesse Pollak, Coinbase's head of protocols and creator of Base, attended and spoke at VeeCon for the first time this year. Base is an Ethereum Layer 2 blockchain developed by Coinbase that's currently in its testing phase.
"Our mission is to bring a million creators and a billion users on-chain, and we think that's directly connected. The million creators are going to bring the billion users on-chain," Pollak said. "As we were thinking about how we're going to get those million creators to bring the billion users, where else do you go? VeeCon. That's why we're here. We're trying to meet the people."
Pollak felt it was important to be a part of this year's VeeCon to expand Base's mission and make friends in the Web3 space. He even spent some time on the conference floor creating some social media content and learning the ropes from other content creators at the event. He considers VeeCon to be the epicenter of the creator economy and declared that he'll be back next year.
"I say we were in crypto winter, now builder spring, and we know what comes next…something summer," Pollak said. "Builder spring is when the rest of the world doesn't know what's going on, but everyone in it knows we're here."
Latashá, head of community at Zora and co-founder of Zoratopia
Zoratopia co-founder Latashá also spoke at VeeCon for the first time this year after Deadfellaz Co-founder Betty inspired her to attend. Latashá is an independent music artist, entrepreneur, and head of community at Web3 and NFT company ZORA. Her passion is navigating and building her own system for producing music without a label. Latasha has been an independent artist for nearly a decade, so she was eager to bring her expertise in music and Web3 to VeeCon.
"I love to build a lot of shit. I like to make music, but I also like to make visual art and music visuals. I like nails. I'm big into everything, and I believe that artists should be multi-faceted. That's my whole game," Latashá told Boardroom. "Connectivity and representation are very important to me as a person of color and Black woman in Web3. We are often not in these spaces, and our stories aren't often told. Our stories are very imperative. Deep down in my spirit, I believe Web3 is made for the marginalized communities to excel and become their greatest selves, so I had to be here."
Latashá said it was nice to be amongst her Web3 community and genuinely connect since she typically doesn't have time for that. The VeeCon team reached out to Latashá to secure a speaking slot in this year's conference after she had to miss the inaugural event due to other obligations. From a logistics standpoint, Latashá said she enjoyed that everything was near and walkable around Indianapolis, which helped her travel to multiple events compared to other conferences like NFT.NYC and Outer Edge (formerly NFT LA). She also envisioned VeeCon happening in a smaller space, not a stadium. Still, Latashá thinks VeeCon nailed it on panel selection and focuses.
"In my personal opinion, sometimes these events are so much better when they're smaller," she said. "I do like how they bridge worlds here. I feel like a lot of conferences I've been attending bridge Web2 and Web3 or different platforms. I really like that. There were panels and stories not just focused on Web3 here, and that's fire. These events are usually really tech, but this wasn't that technical. It was just baseline what you need to be a great entrepreneur."
Latashá said she'll definitely return to VeeCon next year if she gets invited to speak. Moving forward, she'd like to see VeeCon head to a big metro city with a more connected audience.
"It would be really interesting to see a VeeCon in New York," Latashá said. "I do like the small-town feel because it keeps us all in one spot, but I genuinely feel the audience wasn't what I expected to see."
Partnership Insider
VeeCon 2023 welcomed more than 20 title sponsors, including Tubi, Starry, Lids, Bose, Bud Light, Gala Music, Cheetos, Coach, Coinbase, Crown Royal, Meta Quest, and Tarte. NFT Land included activations from Boss Beauties and Barbie, World of Women, CyberKongz, Dapper Dinos, Alien Frens, Pudgy Penguins, and many more.
To include some context on the sponsorship and partnership front, Boardroom caught up with a few leaders behind some of the most popular activations at this year's event.
Rick Seeger, co-founder of Dapper Dinos
Dapper Dinos Co-founder Rick Seeger has felt the VeeCon experience from multiple angles. He participated last year as just a speaker, but this year his team just focused on producing an activation set up in NFT Land.
"It's definitely a different vibe this year. What you're seeing is a consolidation in the space…bear market things with more business focus," Seeger said. "This year focused a lot more on the business of NFTs and Web3, and where Web2 and Web3 cross over."
Dapper Dinos' relationship with VeeFriends and VeeCon is an interesting one, though, since the NFT project is VeeFriends' first official Pre-Launch Partner. VeeFriends created a Pre-Launch Program in late 2021 to support up-and-coming NFT projects and brands.
Seeger and his team got to attend VeeCon last year to talk about the project they were building, and this year, they debuted their flagship idea. As part of the program, Seeger told Boardroom that Dapper Dinos didn't have to front a partnership cost to participate in VeeCon, though the construction of the project's activation cost roughly $20,000. Dapper Dinos constructed an arcade experience in NFT Land that included two arcade cabinets featuring its flagship DapperDash video game.
Since the project has a lean team of about five full-timers, they actually did all the work on the backend to bring the activation to life themselves. The activation attracted countless attendees, and the exposure to the game was immeasurable, Seeger shared.
"It was important for us to be a part of VeeCon this year to show that we're still building. It's not a pride thing. It's the fact that you can make it," Seeger told Boardroom. "Last year: giant bull. This year: giant bear. You have to keep building your IP and building your brand. Last year we were new, and this year, we have a published game available for iOS and Android devices."
Seeger believes VeeCon's broadening of content proves that the conference is going mainstream. Needless to say, we can expect to see Dapper Dinos again next year.
Sarah Buxton, CEO of Gala Music and Gala Film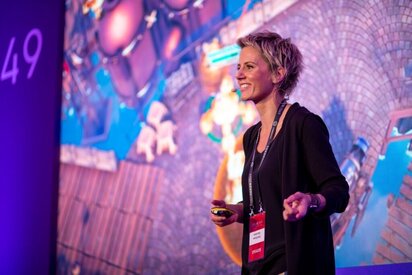 Gala, a Web3 company on a mission to fully decentralize music, gaming, and film ownership, is known for putting on flashy activations, and the company took up space once again on the VeeCon conference floor.
Gala Music and Gala Film CEO Sarah Buxton said she often gets tired of the conference cycle and the repetitiveness of the same panels and discussions. Her viewpoint changed when she first attended Veecon last year to represent Gala Games. She said she was engulfed in conversation with various creators, builders, Web3 experts, and entrepreneurs.
"This is only possible because of blockchain technologies and Web3," Buxton said about VeeCon's early success. "When it's hard, lean in harder. This is too big to stop."
Gala Music built out an activation that was tough to miss. It was the largest activation at VeeCon 2023, positioned right behind the main stage.
Gala Music also built out a mobile recording studio and welcomed 16 musicians to compete for a chance to open up for Jordin Sparks on the main stage during the final bow at VeeCon. Artists had to record a song live, and VeeCon attendees got a chance to vote for their favorite to take the stage. Attendees could tune in to the live recordings via headphones linked to Gala Music's station. Three winners were ultimately selected to perform ahead of Sparks, who also announced she'll be taking her talents to the Gala Music platform following her headliner performance at VeeCon 2023.
Gala Music did much more with the space, like recording podcasts and welcoming attendees to unwind and relax even when recordings weren't happening.
Gala Music's activation clearly took some time and proper planning. Buxton said Gala Music didn't want to do some ordinary branded partnership, so the company worked closely with event organizers to conceptualize the musical competition exclusively for Veecon attendees. As a lead partner this year, Buxton exclusively told Boardroom that the company's activation on VeeCon's main floor cost an estimated $400,000. Dishing out that big check seemed like no sweat to Buxton, who said supporting Vaynerchuk means supporting something bigger in the space because he represented a mentality, attitude, and openness the Web3 industry needs.
"I'm never about cost, I'm about value," Buxton said. "It felt good for us. We're completely self-funded, so we can do what the hell we want. We don't have any investors. It's not cheap, but I'm hoping it's valuable."
Compared to last year, Buxton said VeeCon logistically got it right, making for a more intimate experience with the stadium setup this year. She specifically shouted out the rainbow slide, which was a hot commodity every day of the event. Maybe the slide was a trade-off for the Ferris wheel, which seems out of commission for the majority of last year's conference.
"What's really nice is they've taken the good elements of last year and elevated the stuff that needed to be changed, including where the main stage is set up," she said. "I slid into VeeCon. There aren't many experiences like that. We're all big kids, really. I was blown away."
Buxton said VeeCon would be a success if attendees walked away feeling empowered to create something new and double down on their ownership over that creation.
"I want them to realize they have responsibility and ability in equal measure to be better and be able to do something positive," Buxton said. "There are now ways and means to do that, and sometimes, it doesn't cost a thing."
Buxton said she'll be back next year, and she may even bring Gala Film to complete the trifecta of Gala's presence at VeeCon.
What's Next for VeeCon?
If the conference follows what it did after the inaugural event, we'll likely hear where Veecon 2024 will be sometime in early November. It will still be token-gated, but as for the focus? I guess we'll have to wait and see which emerging industries will take over the internet this next year.
Read More:
It all culminates with the future Hall of Fame guard's No. 10 jersey earning its permanent place up high at Climate Pledge Arena on Sunday, June 11. The Seattle Storm will retire all-time WNBA…