After 22 years and seven rings, the GOAT is riding off into the sunset. Let's talk about what cards and collectibles enthusiasts need to know.
The greatest quarterback to ever play the game of football has decided to hang his UGGs up for good. After 22 seasons that saw Tom Brady lead his team to 10 Super Bowl appearances and seven victories, Brady decided it was time to say goodbye to football.
It's hard to imagine anyone matching not just TB12's longevity, but the sheer consistency of his excellence, which includes spending almost half his NFL seasons playing in Super Bowls.
As we push ahead into a new era of football, however, an underrated question remains: What does this massive news mean for the trading cards and collectibles hobby?
Sign up for our newsletter
The Impact of Brady's Retirement on Trading Card Markets
Tom Brady solidified himself as the quarterback GOAT the last few years (if any doubt truly remained), winning his sixth and seventh Super Bowl titles in two of the final four seasons of his career. His card prices increased as a result; before the 2020 NFL season, you were able to get a 2000 Bowman Chrome Tom Brady Rookie PSA 10 for a couple thousand dollars.
After defeating Patrick Mahomes and the Chiefs in Super Bowl LV one year ago, this card ballooned to almost $30,000. After TB12's retirement announcement, the price stayed around $20,000.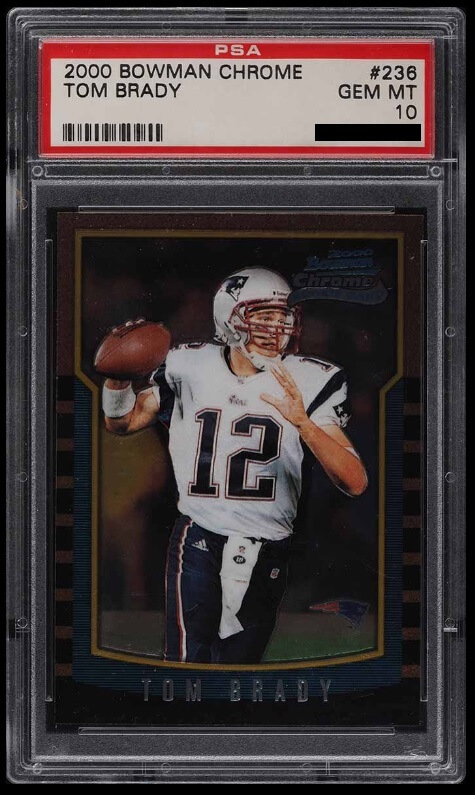 Tom Brady is an interesting case going into retirement compared to previous GOAT-level retirements. Unlike Michael Jordan and Upper Deck, Tom Brady doesn't have an exclusive agreement with any of the major trading card companies as of this time. Because of this, we can expect Panini and Tom Brady to continue to have cards printed with Brady's likeness and autographs.
In the meantime, the apex of Brady cards remains the 2000 Playoff Contenders "Championship Ticket" autograph card, which had already produced multiple seven-figure sales. On Tuesday, Feb. 1, a BGS 8.5 (Autograph 10) edition of the card went for an incredible $2.3 million on eBay.
In regards to Brady's retirement, it's safe to bet that there will be some sort of "retirement set" dedicated to the former Patriots and Buccaneers QB. In the past, we saw retirement sets from Upper Deck and Panini dedicated to Michael Jordan and Kobe Bryant, respectively. The set can contain memorable moments from Tom's career, from his many Super Bowl victories to his performances that torched the record books.
Jesse Craig, Director of Business Development at PWCC, had this to say about Brady's retirement:
"The interest in Tom Brady trading cards will be very high as a result of his retirement but it's the totality of his legacy that is going to drive the final price of sales. There's so much you can point to that shows Brady assets will have desirability among collectors for the long-term. The most Super Bowl wins, the most Super Bowl MVPs, the most career wins by a QB, the most passing completions, yards, and touchdowns. He's unquestionably the greatest football player of all time, and his prices will continue to reflect that."
In addition, Craig added there have been a number of rare Tom Brady cards to pop up in the market that will catch the eye of any collector.
"There's a number of very intriguing Tom Brady offerings on the market in the wake of his retirement. The 2000 Playoff Contenders Championship Ticket Tom Brady Rookie Autograph card, which is numbered to 100, is always at the top of the list for desirability among collectors and investors. The Contenders Championship Ticket is the only NFL-licensed and numbered rookie card of Tom Brady's that has his autograph. In all others, he is in a Michigan uniform, and the desirability of those, while still high, is much less than wearing a Patriots jersey. That said, there are several unique cards on offer right now, including highly graded chrome refractors and 1-of-1 offerings. These will absolutely be of interest to collectors and investors. Brady's 'second act' cards in his Tampa Bay jersey will also be desirable, with cards such as the 2021 Panini Absolute Kaboom! Gold Tom Brady numbered to 10 being of high interest."
Who's the Next Tom Brady of the Hobby?
The bright side of Brady leaving the NFL? More opportunities for other quarterbacks to solidify themselves as all-time greats in their own right. The NFL's young quarterback core is one of the best we've seen in the history of the sport.
Lamar Jackson, Patrick Mahomes, Josh Allen, Kyler Murray, Justin Herbert, and Joe Burrow all have the talent to become the face of the league. Their respective teams have already solidified them as their franchise leader. Also, all but one have playoff experience, while two either have or imminently will have Super Bowl experience in Burrow and Mahomes. If you're one of the many individuals priced out of owning a Tom Brady rookie card, you have plenty of quarterback investment options ahead.
As NFL fans say goodbye to Tom Brady, his cards will live on forever. We'll continue to see his rookie cards climb in value and see newer cards released in future sets. And once Brady is enshrined at the Pro Football Hall of Fame in Canton, there may be yet another uptick in prices — in addition to the standard incline that we can expect over time.
If you're new to the hobby or just want a Tom Brady rookie for your collection, now may be the best time to buy before things get even loftier. But if that's not your speed, you may want to tune in to Super Bowl LVI and check out that Burrow kid.
Sign up for our newsletter