As the Black Mamba heads to the Hall of Fame, here's what collectors need to know about his deep market for trading cards.
This weekend, Kobe Bryant gets the call. He'll be posthumously inducted into the Naismith Memorial Basketball Hall of Fame on May 15, adding one final accolade to his legendary basketball career.
There's no debate that the Black Mamba is one of the finest ever to hit the hardwood, but Kobe's appeal transcends his MVP trophy, 18 All-Star games, and five championship rings. Fearless and ferocious, the man redefined what it meant to be a closer.
That Mamba Mentality made him a beloved cultural force that reached beyond the game. Naturally, it made his trading cards into a coveted commodity.
In the two weeks following his tragic death in 2020, ESPN notes that there was a 600% increase in the value of his cards on eBay. And in March of this year, a 1996-97 Topps Chrome Refractor BGS Pristine "Black Label" 10 Kobe rookie card sold for $1.8 million at Goldin Auctions. The No. 4 most expensive basketball card sale of all time as of this writing.
Not everyone has $2 million to spend, but that massive number certainly forced all those late to the Kobe rookie card party to take notice of other opportunities in the Mamba market. With that in mind, these four Bryant rookies should be on every card investor's radar.
1996 Hoops "Grant Hill's All-Rookie Team"
In 1996, Grant Hill, the preeminent NBA rising star coming hot off of a debut that won him Rookie of the Year honors. Hoops opted to name their next rookie card set after the former Duke Blue Devil, which featured names like Allen Iverson, Ray Allen, Stephon Marbury, and Kobe Bean Bryant. The kid is in rare form: Mid-flight, knee raised, ready for a one-handed slam.
Possibly the sweetest touch is that the names of all of the rookies in the set frame the perimeter of the card, to say nothing of the gold foil around Kobe's name. The card is challenging to find as a PSA 10 — only eight exist — but holds its value in the lower grades. A PSA 9 sold for $3,000 in March, with raw cards commanding between $800-$1,500.
1996 Upper Deck UD3 Hardwood Prospects Rookie
The Upper Deck Hardwood Prospects set can be a bit overlooked, but there's long-term potential as a massive sleeper when it comes to Kobe's card. The card features a young but laser-focused Bean holding a basketball in his Lakers gear up against a brick wall, all framed by the card's trademark hardwood pattern.
The card is an early glimpse at the Mamba Mentality, relaying his fierce competitive energy in a single snap.
The 1996 Upper Deck UD3 Kobe Bryant Card has seen its value climb in recent months, nearly doubling in value. It currently fetches around $2,500 for a PSA 10 (population 877), up from $1,400 in March. Raw versions of the card sell for anywhere between $150-$250.
1996-97 SP Premier Prospects Rookie #134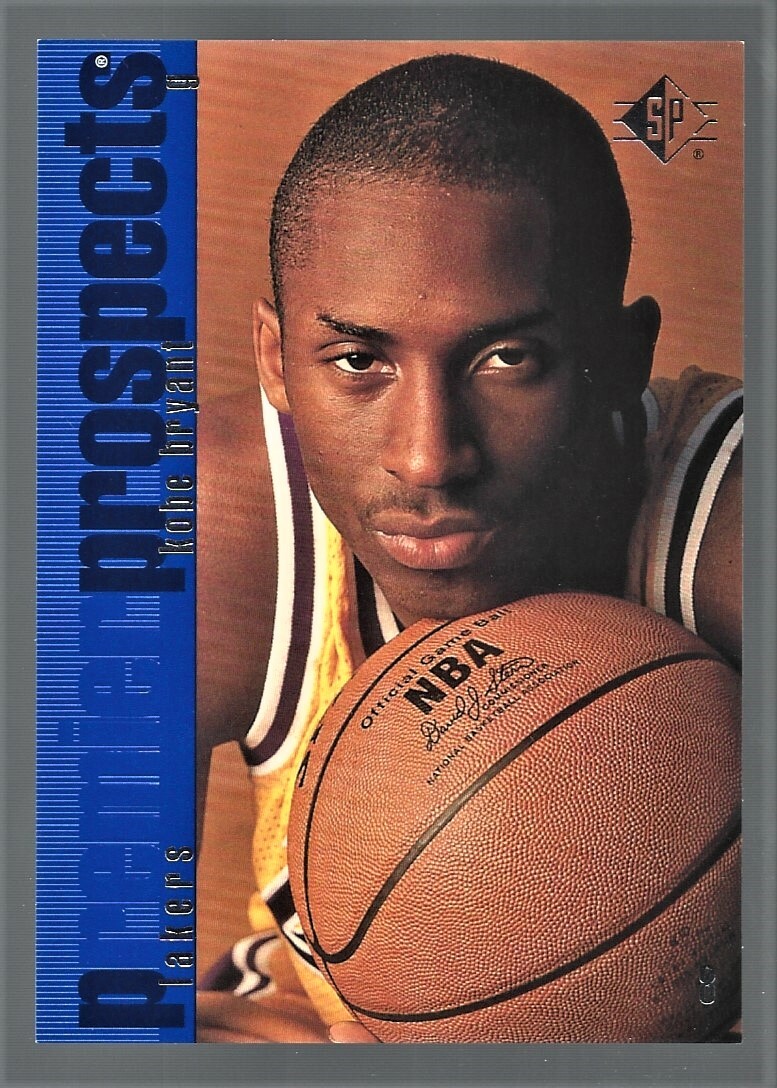 What the SP Kobe Rookie lacks in scarcity, it makes up for in sheer quality. While the card is somewhat common — no serial numbers or limited prints here — it could grow into a popular target for collectors who want to scoop up some Mamba cards without breaking the bank. The card features a lifestyle shot of Kobe with signature intensity, staring right through you with his chin rested on a basketball.
The 1996-97 SP Kobe Bryant Rookie most recently sold for $930 on eBay as a PSA 10 (population 894).
1996-97 Topps Finest Apprentices Rookie #74
Topps Finest offered three different versions of the Bryant rookie: Common, Uncommon, and Rare to commemorate his hotly anticipated first season. The cards came with a coating that can be removed, and while it does not necessarily impact the card's market value by itself, it's a cool aesthetic touch.
Only eight PSA 10 refractors exist with coating and 17 without. The rare refractor version of the card will list at around $16,000 for a PSA 9, with the common version still commanding about $600 in the same condition.
Kobe Bryant burst into the league as a teenager and quickly cemented himself as a generational star. His rookie year was widely celebrated by trading card brands, each offering a unique aesthetic perspective on the man who would become the Black Mamba. And this weekend, his legend grows that much more with a long-awaited enshrinement at Springfield.
Much like his game and the mentality that drove it, Kobe's cards will always be at the center of the conversation in the hobby. It's a simple fact that no man captured imaginations quite the same way he did. The way he still does — and always will.
Sign up for our newsletter