"We're constantly thinking about how can we support users in this space and make a great trading experience," eBay's GM for cards and collectibles tells Boardroom.
This week, memorabilia enthusiasts from around the country have descended on Chicago for the National Sports Collectors Convention. In the convention hall, attendees will have the chance to watch case breaks, listen to live podcast recordings, and make bids for some of the most sought-after cards and collectibles in the world.
They'll also have the chance to catch up with other collectors for the first time since the coronavirus pandemic began.
Last year, the convention was canceled because of COVID-19 — one of surprisingly few pieces of bad news for the otherwise booming trading cards and collectibles industry in 2020. As of now, eight of the 10 most expensive trading card sales in history have taken place in the past year, and even small-time players have been able to amass previously unfathomable fortunes by trading cards. With that in mind, there's no better time for The National to make its big return.
To get a sense of the scale of the industry's growth in the past year — and where it might be headed in the year ahead — Boardroom spoke with Nicole Colombo, general manager for collectibles and trading cards at eBay.
The following is our conversation with Colombo lightly edited for clarity.
DAVID GARDNER: You're in Chicago for the 2021 National Sports Collectors Convention. What's the atmosphere like there this year?
NICOLE COLOMBO: It's the first time the convention has happened since COVID. In the past year and a half, people have just been so anxious to get together to celebrate this booming market. There are already tons of people arriving here. There's a lot of buzz, a lot of excitement. People are really excited about celebrating all that has happened in this space in the past year and a half.
We're thrilled. We have a lot to share. My team's excited as well.
DG: There's no doubt that collectibles experienced a big boom in 2020. What's your theory for why that happened?
NC: Actually, the business has been booming across the past five years. It's been a really steady growth, particularly in trading cards and sports cards. However, you're totally right that during the pandemic, we saw this crazy boom.
My theory is that some of it came from the fact that people were at home, cleaning out their garages, and looking for something nostalgic that made them happy. They were finding their old baseball card collections and getting back into it. That was one part of it.
Also, there were no sports on TV, so people started watching The Last Dance and things like that.
Cards became a way that people could participate in the sport. We saw all the payers who were featured in The Last Dance, their cards were starting to boom during that time. We know that had some correlation.
On top of that, we saw a bunch of new people come into the space who weren't necessarily passionate collectors. They weren't even necessarily savvy about the sports or about, say, Pokémon cards, but they were getting back into the space because they see it as an alternative investment. A lot of new people are realizing that the returns on collectibles like trading cards can actually be much greater than the returns on the stock market. Suddenly, we have people with investor mindsets getting into the space.
I think all those things combined led to the really strong business we're seeing across the market.
DG: You mentioned The Last Dance. Was there one moment or sale from 2020 that exceeded your expectations in that corner of the market?
NC: Michael Jordan, obviously, we saw the trajectory of his cards completely booming during that duration. But also, we saw other players who were featured in that documentary — Steve Kerr, Isaiah Thomas — we could see big spikes in their sales as well. All that was really fun and surprising to see.
We sell a lot of cards on eBay. Some are $2 and some are $500,000. We were seeing a bunch of sales in that super-super-high price group, which was crazy.
And not only in sports cards, but Pokémon as well. We sold a first edition set of Pokémon cards for over $600,000. It was crazy to see so many really massive price points for cards being sold, but it was also really fun.
DG: You all are releasing new tools for collectors. Had those been in the works before 2020, and were they accelerated to meet the demands of this market?
NC: We've been working on this for a while, and it was started before the pandemic, before 2020. The inspiration came from listening to our users. We got a lot of feedback that people were using eBay already to determine market value for their cards, but it's not easy to do. They're looking at sold items, backing into it through historical sales, and trying to determine what the price point of cards should be.
We also heard that people had trouble managing their own collections. They were doing scrappy Excel files or using this site and that site and putting it together.
As we're constantly thinking about how can we support the users in this space and make it a great trading experience on the platform, we knew these were things we wanted to fix.
DG: The Collection tool is interesting. It's almost like a digital wallet but for physical goods. Was that part of the design?
NC: Absolutely. The ability to actually see what you own digitally, and not only see what it is and track it, but also know its market value. That's important. The idea is to see your collection in one place, but also to think of it like a portfolio and how it's increasing or decreasing over time in this very dynamic market.
DG: The Price Guide looks like a much-needed tool in a space where a few players like PSA hold a lot of power. Do you think this will help to level the evaluation playing field?
NC: The goal of price guides is definitely transparency. We want everyone to make informed decisions about purchasing or selling cards; it just creates more transparency across the market and across the board.
We want that power to be shared with all users in the space. We're happy for everyone to use it. It's a free service and a public service on our site.
DG: Are you convinced that this bull market will last? What are the promising signs you see?
NC: Obviously I can't predict the future, but my instinct is that yes, we will continue to see really strong growth in this market. I do think there's some level of market correction happening; there were some crazy, crazy, high, high, high price points earlier this year. I think that some of that is correcting.
However, we're still seeing really strong numbers, especially compared to historical sales. I feel like underlying growth will continue.
My team continues to have a really optimistic view of the market. In Q1, eBay did over a billion dollars in sales for trading cards. We saw double the amount of buyers come to our site during that same time frame. There's such a strong backing from new people getting into the space. We saw 20 million new listings added to the site.
In 2020, we released that we grew 142% year-over-year. I can tell you that we continue to see even more growth in 2021.
DG: Is there any fear on your end that this will become similar to a fine art market, where there will be big winners at the top but not much space for people at the bottom?
NC: There's certainly only types of people and businesses who are buying $300,000 cards, and that's not for everyone.
But we sell so many cards from sellers that are in that $10-200 price range. What we're seeing is that a lot of people in this space are really savvy about flipping and investing for short-term profits. We'll see people coming in and buying something for $100 and then, in a few weeks, the price appreciates, they flip it, and they make a profit. I feel like people at all price points are getting into the space.
It's all about being savvy and following the market and being engaged. That's why we're creating these price tools so that people can do that more effectively.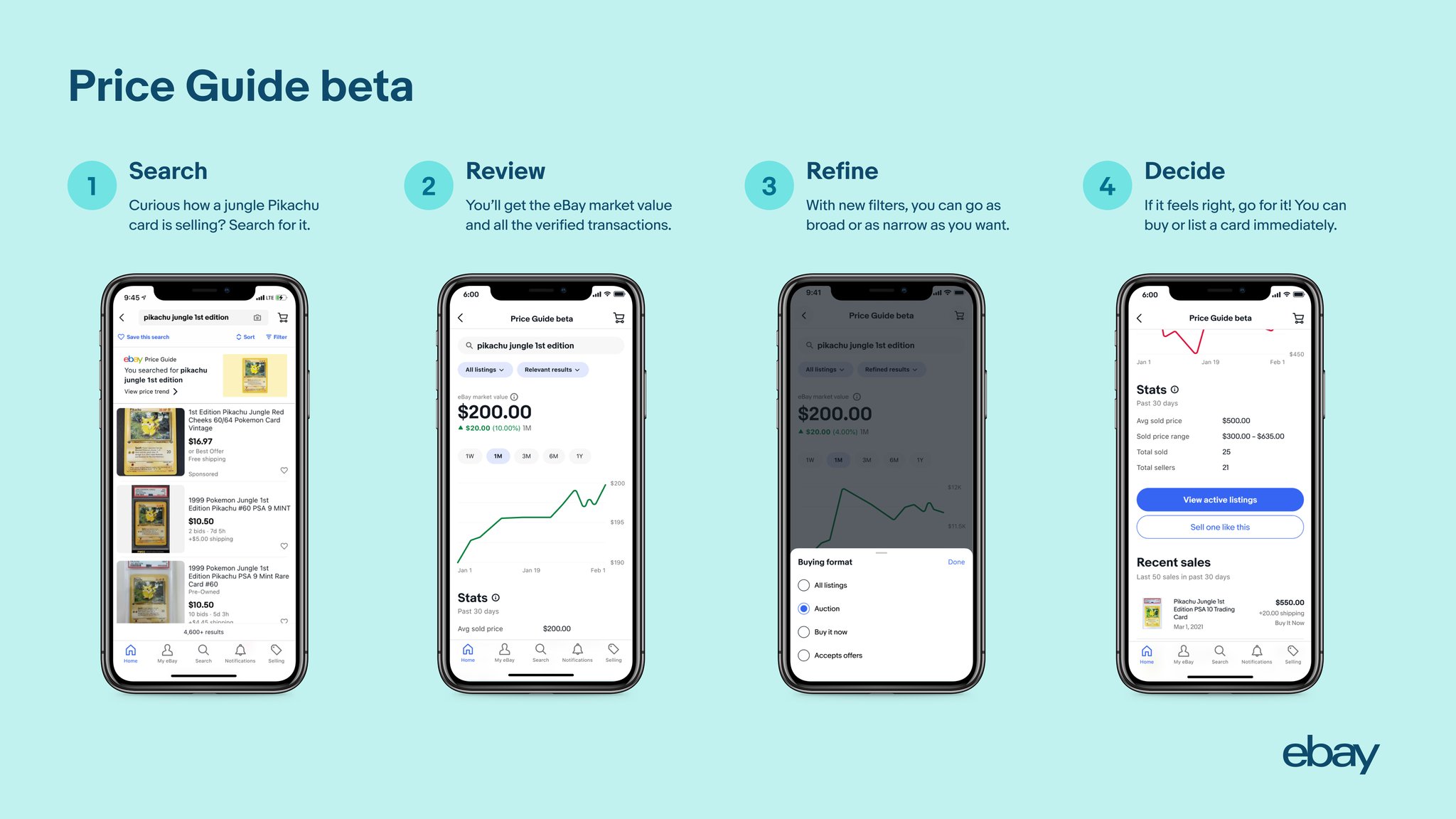 DG: Target recently got out of the trading card market. Is eBay trying to step into that space where people can purchase cards that don't cost a fortune?
NC. We're really providing opportunities across all price points.
We have some really, really high-end auctions. We have auction sellers that are doing $50,000 cards constantly. And we have a buying community for that. And we have a community of people who only buy $2 cards, and that's what they're all about. And then there are some people who only want to fill a specific collection that they have, like Yankees players from certain decades. That's what they're looking to fill, and they don't care about the price point.
Sign up for our newsletter
DG: What's your take on the state of the NFT market? And have you given any thought to what the 2.0 version of an NFT will be?
NC: NFTs — I think they're not going away. They're getting the eyeballs of a lot of younger users in the space. A lot of people who are fascinated and engaged in the Bitcoin community have become interested in NFTs. It's getting them into the collectible space. I don't see it going away.
You're seeing the cards manufacturers get into as well now, too. I think there's a way for NFTs to be combined with traditional cards, but I don't think these can in any way replace the physical, cardboard card. I think there's opportunities for all kinds of collectibles in the space. We're keeping our eyes on them, though, because they're a hot market.