Jason Sudeikis, Hannah Waddingham, Brett Goldstein, and more are expected to convene with President Biden about wellness, optimism, kindness, and determination
The cast from Ted Lasso are taking their talents to the White House. On Monday, the cast from the beloved Apple TV+ program featuring fictional English football club AFC Richmond is visiting President Joe Biden in Washington, DC for a conversation on mental health. First Lady Dr. Jill Biden will also participate.
"Let's do more on mental health, especially for our children," Biden said in his State of the Union address last month. "When millions of young people are struggling with bullying, violence, trauma, we owe them greater access to mental health care at school."
"Ted Lasso has inspired the world through its universal themes around optimism, kindness, and determination and the Lasso philosophy to 'believe,'" reads an official statement from Apple.
According to The Hill, cast members expected to attend include Jason Sudeikis (Ted Lasso), Hannah Waddingham (Rebecca Welton), Jeremy Swift (Leslie Higgins), Phil Dunster (Jamie Tartt), Brett Goldstein (Roy Kent), Brendan Hunt (Coach Beard), and Toheeb Jimoh (Sam Obisanya).
We're only one episode into Season 3 of Ted Lasso as of this writing, but the main storyline of the show's second season touched on the topic directly and seriously. The titular character experienced a series of panic attacks, most notably during a contentious AFC Richmond game in Episode 6. Although the squad walked away with the win, a bigger question loomed: was Sudeikis' always happy, somewhat quirky, biscuit-baking protagonist harboring something more complicated inside? After seemingly denying anything was wrong, Lasso finally confronts his demons at the end of the episode, ready to accept club therapist Dr. Sharon's (Sarah Niles) help after weeks of denial.
The COVID pandemic pushed mental health into the spotlight, Biden even vowing for serious investment in helping individuals overcome their struggles. Since taking office, his administration has allocated federal money for expanding school-based mental health regimens, and training first responders on how to respond to those in the midst of mental health crises.
Season 3 of Ted Lasso is streaming now on Apple TV+. Click here to learn more.
More TV & Entertainment: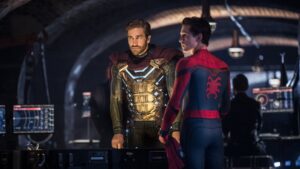 Boardroom ranks the highest-grossing Marvel movies based on global box office success since Iron Man dropped in 2008. …