The hit show, loosely based on Kevin Durant's experiences playing grassroots basketball, is set to return on June 23. Watch the Swagger season 2 trailer here.
The second season of the Apple TV+ hit show Swagger is nearly upon us. Swagger season 2 will premiere at the upcoming Tribeca Festival and hit the streaming service on June 23.
Following the breakout success of the first season, Swagger returns with another gripping series of episodes. This time, fans will follow Jace, Phil, Nick, Musa, Drew and Royale through the trials and tribulations of their senior year of high school. Phil hangs back while the rest of the boys transfer to Cedar Cove Prep, a predominantly white school run by the invisible rules of power and influence.
Sign up for our newsletter
With the Swagger players on the roster, the school's basketball program goes from unknown to elite. As they navigate new-found fame, security camera footage threatens to squash the team's run for a national championship and each player's hoops hopes.
Swagger stars O'Shea Jackson Jr., Isaiah Hill, Shinelle Azoroh, Academy Award nominee Quvenzhané Wallis, Tristan Mack Wilds, Caleel Harris, Tessa Ferrer, James Bingham, Solomon Irama, Ozie Nzeribe, Jason Rivera, Christina Jackson and Sean Baker return for season two. Industry veteran Orlando Jones joins the cast as Cedar Cove's athletic director, Emory Lawson.
The show was created by critically acclaimed director and showrunner Reggie Rock Bythewood, and executive produced by Boardroom's Kevin Durant and Rich Kleiman, Brian Glazer, and Bythewood. It is produced as a collaboration between Imagine Television Studios, Boardroom, CBS Studios, and Undisputed Cinema
Looking forward to the second season, Blythewood reflected, "I'm excited to share more of the beautifully complicated lives of these incredible characters. In Season 2, they will search and discover what it means to be a champion on and off the court."
Want More Television & Film?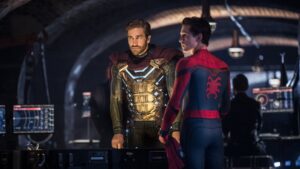 Boardroom ranks the highest-grossing Marvel movies based on global box office success since Iron Man dropped in 2008. …