How lightning-in-a-bottle basketball brilliance and daring design converged at the perfect time for a cult classic.
It's tough to be two things at once.
Tough and flashy. Brash yet sharp. Street while still Hollywood.
In 1996, Los Angeles Lakers point guard Nick Van Exel exemplified all of these qualities, and so did his sneakers: the Reebok Blast.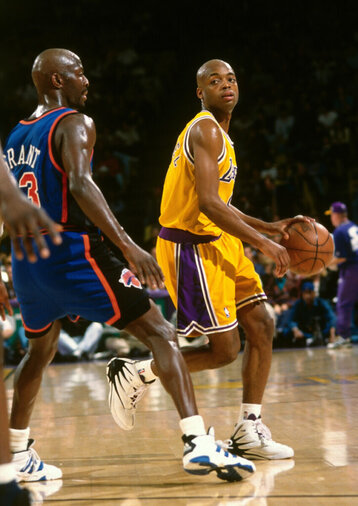 Filling the figurative shoes of Magic Johnson, the post-Showtime showrunner raised the eyebrows of others and shaved slants own.
Having handles honed on the blacktop backed by the NBA's brightest brand, Van Exel shook The Forum as LA entered a new era.
In essence, the Blast brought the same electric energy. Reebok's raw rebrand in basketball from pumped-up flyers to asphalt assassins was eye-catching yet without gimmicks or glitz.
Landing like a left hook, it cut through in a sportswear season rife with transition and competition.
"The '90s really were the golden age of basketball footwear," Nico Bono, senior product manager for Reebok Heritage Basketball, told Boardroom.
A case study in contrast, the Blast puts said statement in bold. Reebok's radical roundball shoe brought a jarring design, put on the primetime marquee thanks to highlights from Nick at Nite.
From Inglewood to Eastbay, the baller and brand lived life on the edge.
"We weren't afraid to take risks through design," Bono said. "And that risk-taking mentality even spread into our marketing campaigns as we took steps toward being more irreverent, continuing to showcase our unique voice as a brand."
Even a quarter century since its arrival, Reebok's shocking split-sneaker turns heads and ignites e-commerce, re-releasing in Spring 2023 and since sold out on its latest retro round.
Boardroom explores the perfect pairing of disruptive design and authentic talent that still registers literally and figuratively after all these years.
Hard to Earn
Before being name-dropped by Jay Z or a stalwart on Sportscenter, Nick the Quick was lighting it up with no limelight.
As an amateur in Kenosha, Van Exel made a name for himself in Wisconsin's high school hoops scene but failed to get grades good enough for big-time college ball.
Enrolling at Trinity Valley Community College in Athens, Texas, the promising point guard had to take his test scores and game to a new level. Arriving the same year schoolmate Shawn Kemp declared for the draft, Van Exel hit the hardwood and soon the books intensely.
It was all enough to attract the attention of big Bob Huggins up in Cincinnati.
Once arriving in Ohio, the world got to see exactly who Nick was and could be.
"I always had that confidence: Whoever I go up against, I'm gonna have to go at him," Van Exel said in 2020 on Knuckleheads. "That's what Hugs was like. 'Everybody can beat you, everybody can destroy you. So you always have to be on pins and needles.'"
Starting upon arrival, Van Exel took to Huggins's fearful yet fearless mindset. Nick led the Bearcats past Penny Hardaway and Memphis State in the Elite 8 before a Final Four faceoff against Jalen Rose and the Fab Five.
Despite standing 6-1, Nick bested both big guards in scoring, setting the stage for a sensational senior season. With the help of Huggins, Van Exel quickly became one of the most decorated point guards in college basketball.
Still, issues surrounding his height and attitude led him to fall to the second round of the 1993 NBA Draft, landing in Los Angeles as the successor to a five-time champion and three-time MVP.
It was a far cry from the grey skies of the Midwest or a desolate CC in Texas. Needless to say, he loved it.
"When I went there?" Van Exel continued. "Man, palm trees? Sun all the time? Beautiful cars everywhere? And at the time you had NWA, Boyz n tha Hood … it was so live. My first few years out there were beautiful."
Despite the toughest casting call Hollywood had ever seen, Van Exel absolutely flourished as the new Lakers leader.
He averaged 13 points and 6 assists per game as a rookie, making more noise than a box score could ever elicit thanks to highlight passes and unflappable celebrations.
"When I walked into the gym, Nick grabbed my eye right away," Larry Drew told Sports Illustrated's Kelli Anderson in 1995. "What I saw in him was the kind of guard I hated playing against: the guy who can literally embarrass you."
Suddenly, it was Van Exel who was striking fear in opponents and spectators. Around that time, a Boston-based brand saw the exact same thing.
Guts Every Time
At every turn, at every corner, Nick Van Exel bet on himself no matter the odds.
By falling to the second round in the 1993 NBA Draft, Nick's one-year rookie contract came in at a league-minimum $150,000. Having family back home in Kenosha and lofty Los Angeles bills, he immediately had to prove his worth to secure his financial future.
After an impressive debut, the passionate point guard re-upped in LA for a five-year, $9.5 million deal, making his annual salary over 10x his arrival rate.
Only years removed from a community college in a Texas town of 10,000, Nick was living lavishly in LA. It was a rags-to-riches story even A-list screenwriters couldn't script.
"Some people never expected me to make it to the NBA at all," Van Exel told SI in 1995. "I was excited. People told me I lost so much money, but I can't lose something I never had."
Over the course of his come-up, Van Exel's small guard stature and second-round status kept him from earning as an endorser. Decades before NIL, he wore team Nikes at Cincinnati before rocking mid-tier Adidas as an ascending rookie.
Just as the price of rent increased by playing in a major market, so did balling out in the fan-filled Forum. Voted the favorite Laker by season ticket holders, Reebok began endorsing Van Exel in the Fall of 1994.
In that era, the Vector was said to pay Shaquille O'Neal upwards of $3 million a season in Orlando. At the same time, the company was making a bid at outfitting the University of Michigan in the Midwest after the Fab 5 flourished.
Save Shawn Kemp, the brand's basketball category lacked a face on the West Coast. Nick the Quick was now Reebok's King of California and top guard on its roster.
Showy handles and a tougher-than-leather mindset made Van Exel the perfect partner for Reebok's blacktop-bred Above the Rim collection. As the early '90s transitioned to the mid-'90s, basketball shoes became bolder and contrast was king.
True to his explosive nature, 1996's Reebok Blast fit Van Exel like a glove. Asphalt-approved, the Blast became a statement product for Reebok and a euphemism for its endorser.
Shaving his head and sporting slants in his eyebrows, Van Exel was ONYX at The Forum and a new era for the Lakers. It mattered much to fans that still missed Magic, but even more to a brand that was competing constantly with Michael Jordan at Nike and Grant Hill at FILA for feet in all venues.
Hoopers had all the clout in the 1990s where lifestyle fashion was concerned, making marquee athletes the style endorsers of the time.
"Basketball shoes were engrained in '90s style much more than they are within today's landscape where consumers won't let their hoop shoes touch anything but the gym floor," Bono says. "Back then, players, musicians, entertainers, etc. were always wearing the latest basketball models with the style and lifestyle landscape."
Worn by Nick at Nite and soundtracked by Chick Hearn, the Blast brought '90s hip-hop to the hardwood through an amplified aesthetic intended to make noise. In look, feel, and advertising, Reebok sought to stick out in a market where all big brands bought big on TV.
Though Reebok's black-and-white Mobius collection would stamp itself through colorless commercials and use similar design language on signature shoes credited to O'Neal and Kemp, few flavors possessed the electricity and speed of Van Exel's shoes.
"There really was not anything like it out in the market at the time," Bono says. "This idea of positive/negative plays into the high-contrast nature of the design that made it stand out against other models from the era."
Like its endorser, the contrast of positive and negative space drove the Blast. Worn by Van Exel in the same season Magic Johnson made an impromptu comeback, the Kenosha kid kept his starting spot while learning how to lead and share the limelight.
Holding his own next to a Hall of Famer the city adored was no small task, but the 6-1 star had never been short on self-belief.
"He's got more confidence than I've seen, maybe ever, for a guy who was picked in the second round," Drew told SI. "Nick has that strut about him. If you can back it up, there's no problem."
The underdog had arrived. No one knew just what sparks were set to go off next.
Change of the Guard
The Summer of 1996 changed everything for Reebok and the Los Angeles Lakers.
That June, the brand brought in Allen Iverson as the new face of its hoop category. Having scouted him since his start at Georgetown, the eventual No. 1 draft pick brought a similar style of flash and toughness showcased by Van Exel and fellow Reebok running mate, Kenny Anderson.
Before AI had his own signature shoe to call his own, he attend Sixers training camp in Van Exel's old favorite.
In Iverson, a new aesthetic far more fluid than the Blast would come into play by way of the Question. Equally important, the future Philly point guard would be paid $60 million over the course of a decade: the highest guaranteed sneaker deal for an NBA rookie up to that point.
Though that signing shifted little for Van Exel other than added momentum — a contract signed in July changed everything.
Inking a $120 million, seven-year contract, Reebok's own Shaquille O'Neal was headed to the Lakers. A change in the paint had been forecasted only days prior when the team traded starting center Vlade Divac to Charlotte Hornets for a high school hopeful named Kobe Bryant.
No longer was Van Exel entertaining fans missing Magic; he was playing quarterback for a contender.
In the seasons that followed, Van Exel was elected an All-Star but the Lakers failed to make the Finals.
Tension with coaches and an abundance of egos made the entire franchise flip, with Nick departing to Denver and Phil Jackson replacing Del Harris.
No longer in a major market, Nick would go back to rocking Adidas and Nike as a Nugget.
Conversely, Reebok would focus efforts on Iverson and eventually Steve Francis — two talents made and marketed in the image of Van Exel when it came to playground moves and blacktop toughness.
Just as each small guard garnered Van Exel comparisons in stature, their signature sneakers saw a similar structure to that of the Blast.
"The way the upper is seamlessly integrated into the tooling really set the tone for Reebok Basketball design language," said Bono. "You see that theme continue throughout the 1990s and into the 2000s."
More importantly for Reebok, you see that theme continues to register at retail in 2023.
While Iverson's Question and Answer models move units annually in retro life and Francis's Wink or X-Beam styles are yet to come back, it's the Blast that's perhaps the most electric in its niche nostalgia.
Re-releasing in March 2023, the Blast has since sold out at an array of retailers at a price point of $150.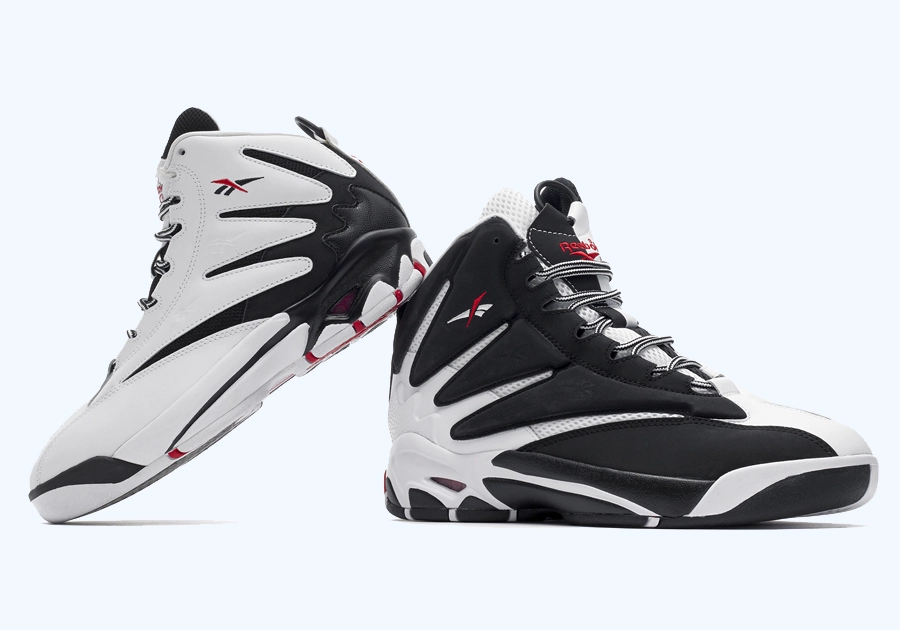 In an oversaturated sportswear market where high hype product goes in a day and all other entries are discounted at the end, it's a testament to the niche nostalgia and the truly iconic design the Blast has.
"I don't think any other brand has been able to launch a fully black-and-white collection that had such visual energy," Bono said. "The Blast specifically was probably the most unique given its asymmetrical approach to color."
Selling stark contrast and raw energy, the Blast was as unorthodox as that of its endorser. Like Van Exel, it balanced opposing ideals with unflappable confidence.
Unlike Earvin in aesthetic equally yet supernatural in surprise passes, Nick the Quick dazzled fans with a killer crossover and a scar-scored smirk. His shoes may not have bared team tones, instead sporting combatant colors allied in aesthetics.
Neither star nor shoe was afraid to be different. Being two things at once is tough, but that's exactly what Van Exel and the Blast were.
More Sneaker Stories:
Exclusive
Adidas has signed 2025 phenom Darryn Peterson to an NIL deal — the Three Stripes' first ever with a high school basketball player….