Kevin Durant's retro run continues with an all-new colorway — here's what you need to know to cash in.
Putting the ball in the basket will get you paid.
For Kevin Durant, this has proven profitable in three different decades across four different time zones.
Over the course of his heralded career, basketball's best bucket-getter has showcased the ability to pull up and cash out at any point on the shot clock. From one-foot fadeaway jumpers to fast-break windmill flushes, KD is a guaranteed two every time he touches the rock and a certified three with his feet set.
Now, from the stat sheet to the bottom line, the max contract marksman is celebrated with the all-new "Easy Money" Nike KD3 sneaker.
The second retro release of Durant's third signature shoe swims in the moolah like Scrooge McDuck, decking out the original 2010 KD3 design in a palette fit for Franklins.
Bearing the same tones as the bill that embodies the lightning rod originator, this rare retro speaks to Nike's early investment in KD with the Thunder, adding electricity to his All-Star ascent.
Now a veteran force in Phoenix on his 16th silhouette, this updated homage on the KD3 is also a triple-entendre.
Nuanced in nickname and dollars well spent, the shoe not-so-subtly salutes a Nike shoe box holding all the cash right on the heels of Durant's lifetime contract with the Swoosh. The prolific All-Star joins Michael Jordan and LeBron James in the acclaimed club's basketball wing, possessing the power to push his flagship performance line while still building storytelling around past favorites.
This all-new KD3 explores the latter with pale blue branding, metallic copper accents, and money green shades saturating the entire sneaker, embellished by insoles that bare bills stamped with the pure shooter set for all-time status.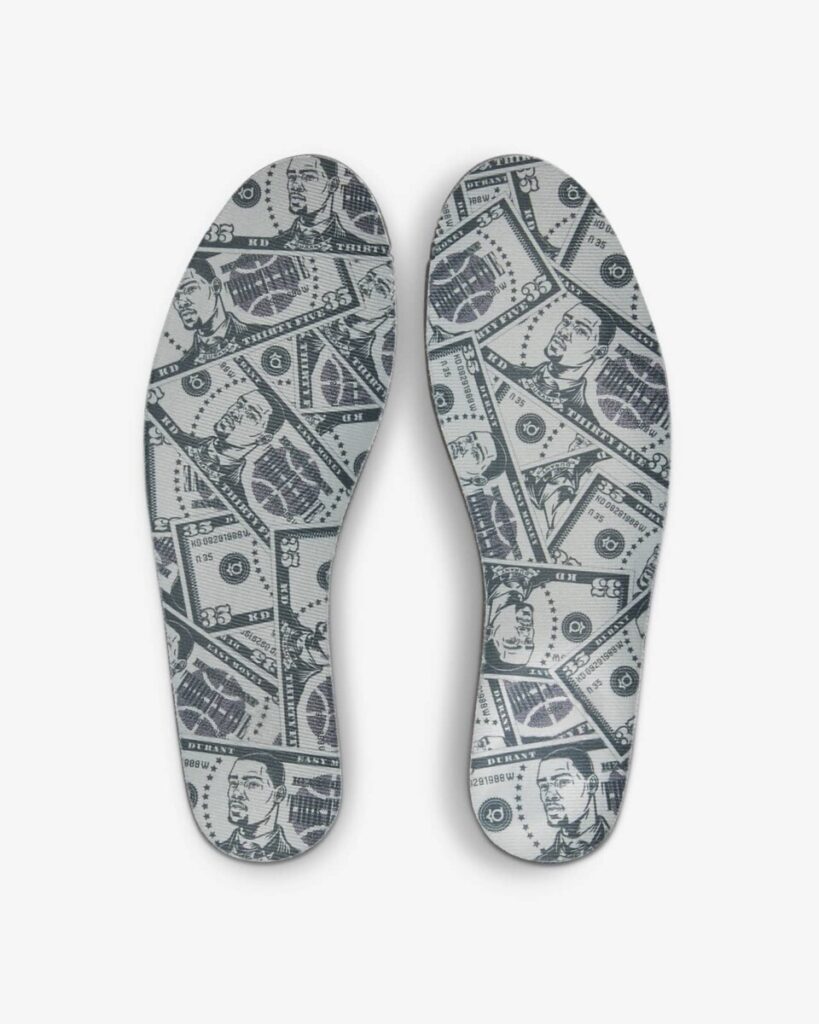 The Nike KD3 "Easy Money" is available now online at Nike.com and at select boutiques.
Read More:
As Kevin Durant celebrates a milestone birthday, the Boardroom family looks back at everything that he's built off the court….