All in a day's work, the latest launch from Kevin Durant celebrates the All-Star scorer's entrepreneurial ascent.
When Kevin Durant enrolled at the University of Texas 17 years ago, he declared himself not as a business major but as the best amateur player in the country.
Scoring over 25 points a night while averaging a double-double as a freshman, it took one year of college for KD to sweep the NCAA's award season.
The same summer his classmates were selecting their fall courses, Durant was inking multi-million dollar deals with Nike and the Seattle Supersonics.
Despite two semesters of college credits, Durant was a professional at 18 — and a successful one, at that.
Enter For Your Chance To Win
Since Durant left Austin, he's won scoring titles in Oklahoma City and gold medals in London. When taking his talents to The Bay, he added two NBA Finals MVPs to his resume while getting his feet wet with investments in technology.
Informally and fluidly, the education major with a minor in social work has continued to learn on the fly and give back at every corner.
At 35 years of age, KD's not just a future Hall of Famer, but a modern mogul with a portfolio that reaches far farther than his 7'5 wingspan. While dreams of being a weatherman may have inspired his previous work with the Swoosh, the realities of being a media mogul define the Nike KD16 "Boardroom" release.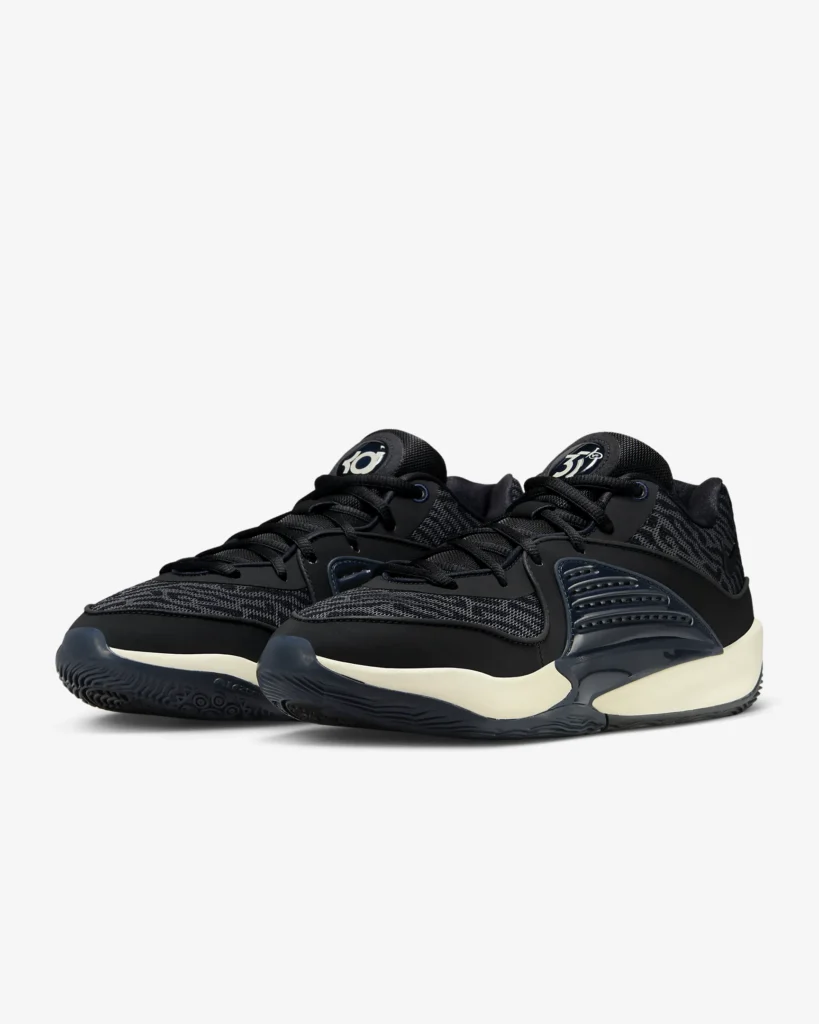 Suited and booted in black jacquard styling with suave creme accents, the "Boardroom" KD16 stands on business both in the corner office and on an island when iso-ing a defender.
This iteration of the KD16 leverages silent strength in the form of Boardroom branding on the insole. 35 Ventures tongue tagging speaks to a man who's getting it done at the highest heights in sports, entertainment, and entrepreneurship.
It's aspirational in a way that speaks to any athlete or creator looking to follow in Durant's footsteps.
"The KD16 Boardroom design is not only Kevin's nod to what he's built off the court but is a way for us to inspire confidence for anyone to rock it in any setting," said Rich Kleiman, CEO and co-founder of Boardroom.
Since building Boardroom with Durant in 2018, Kleiman's co-founded media company has evolved from a streaming stalwart to a multi-platform brand.
As entrepreneurs, both KD and Kleiman reside as faces and voices of their media company, appearing in video and playing integral parts in partnerships with the likes of Nike, Coinbase, and Weedmaps.
From acclaimed documentaries with Showtime to live events with CNBC, Boardroom has aimed to add value and capital to Durant's diverse interests in sports, music, tech, and entertainment.
This limited launch puts power to that mission, co-branding the signature shoes he's wearing while averaging almost 30 points a night. It also reinforces the idea that despite Durant chasing his hoop dreams, he's majored in business at every stop.
"Be it the actual boardroom or on the court, it's a little nod to the idea that business happens everywhere you are," Kleiman said.
Inspired by a boss in both arenas, the Nike KD16 "Boardroom" is available now at Nike.
Read More:
Ahead of Irving's first Anta signature shoe launch in 2024, the Mavs star is becoming an equity shareholder of the brand's priority distribution platform. …