The Phoenix Suns star's newest signature shoe and a retro favorite are embracing a famed philanthropic theme — welcome to the world of Aunt Pearl.
Kevin Durant started the 2023-24 NBA season in a familiar fashion.
Winning on the road in his old Bay Area home, the two-time Finals MVP tipped off his first full year in Phoenix adorned in purple. Showcasing shades of nostalgia on his Suns' modernized Sunburst uniforms, the palette protruded all the way to his two-tone Nike KD16s, saturated in lavender and violet hues.
To the acclimated eye, the purple pair was in line with last season's "B.A.D." Nike KD15: a tribute to his late grandmother, Barbara A. Davis. Debuting in April, the heartfelt project was the latest in a long line of shoes honoring the women who have shaped his life.
While the 13-time All-Star's mother, Ms. Wanda Durant, is forever known in hoops circles as The Real MVP, sneakerheads now hail the lifetime Nike athlete's Aunt Pearl.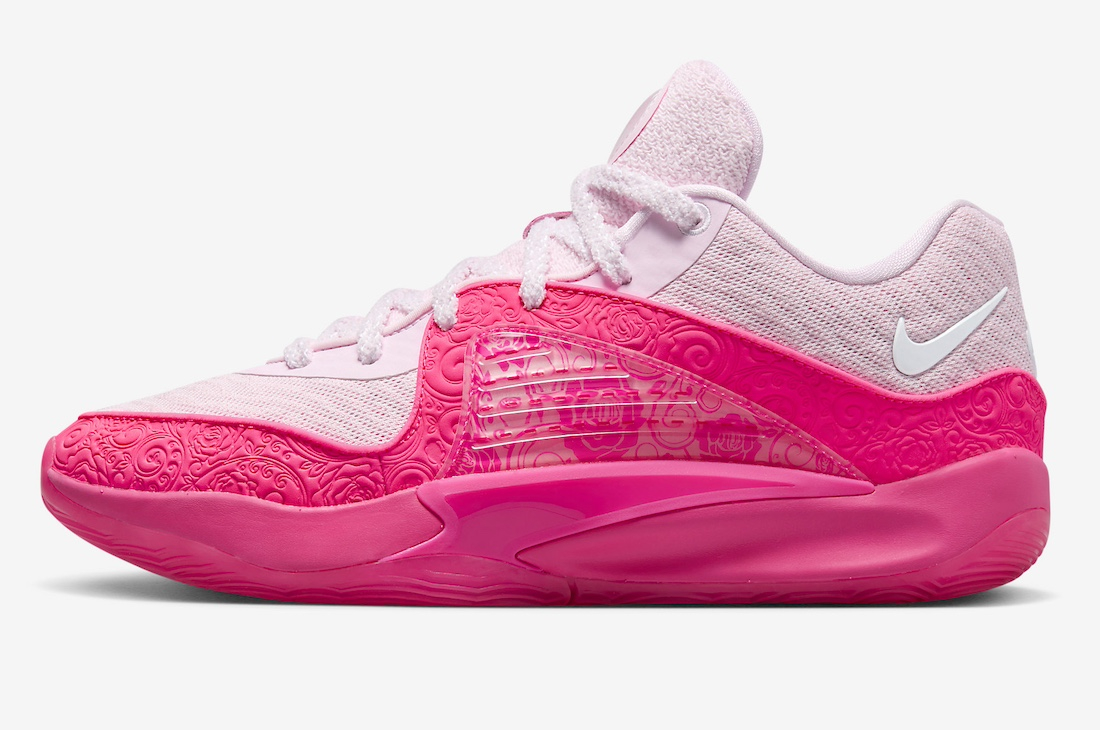 "I know the pink Aunt Pearls are a popular, popular shoe," Ms. Wanda told Boardroom in April of the close-to-home collection. "People look forward to the pink Pearl coming out ever since the creation."
Debuting at retail in 2012 by way of the uber-popular Nike KD4, the Aunt Pearl theme has become a force in Durant's storied signature line — and a culture-shifter aesthetically.
Historically, pink pairs of performance basketball shoes were all but exempt from the hardwood, worn occasionally in October as a means to support Breast Cancer Awareness Month. Over the course of the last decade-plus, the Nike KD Aunt Pearl series has evolved into an annual event for collectors and hoopers alike, proliferating pink pairs across the court and culture all year round.
In 2023, coming on the heels of a lifetime contract with the Swoosh, Nike and Kevin Durant are doubling down on all things pink by releasing two "Aunt Pearl" pairs this October.
Leveraging the love of his late aunt and the philanthropy of the Kay Yow Foundation, the Nike KD16 and Nike KD3 are taking on the theme for the first time.
"It shows the connection and impact that the women in his life had on his life," Ms. Wanda said. "I don't know if other athletes who have signature shoes have done that."
The Nike KD16 "Aunt Pearl," which Durant notably wore during the NBA preseason, carries a two-tone upper embedded with thematic storytelling and Kay Yow co-branding.
Distinct in structure but playing on similar aesthetic themes, the Nike KD3 "Aunt Pearl" retro release reinvents the silo that preceded the first Pearl pair, redressing the retro in the adored theme.
It's a story that's now touched 14 different Durant designs and spanned 11 years of NBA excellence.
A story that dates back to his fondest memories as a child.
"When I was in kindergarten, I'd have a half-day from school and she'd always make me jelly sandwiches when I came home and watch cartoons with me," Durant recalled of his Aunt Pearl in 2018. "She made me feel something."
Playing a pivotal role in Kevin's life back in the days when cartoons and cereal consumed afternoons, Aunt Pearl fed KD's childhood spirit while entertaining his adult dreams.
When she passed from lung cancer in 2000, her loss hit hard. But her love endured.
"She died of cancer when I was 11 years old in front of me," Durant said. "It was a devastating day for our family, someone that meant so much to us and was always supportive of my dreams and playing basketball. I wanted to honor her somehow."
That honor has only grown with the ever-expanding Nike KD Aunt Pearl collection.
As the most enduring of all themes across Durant's line of signature shoes, OG Aunt Pearl pairs fetch over $1,000 on StockX, while modern makeups outfit NBA All-Stars and AAU hopefuls alike.
Accordingly, they've shifted the marketing and appeal of pink sneakers as everyone from LeBron James to Stephen Curry releases their own signature models in the pastel Pantone.
Save a one-off Kay Yow x Kobe Bryant collaboration in 2011, pink pairs were not typically on offer among basketball shoes, let alone the standard. And while the aesthetic zag has proved popular with kids and adults alike, the story points to the adults who paved the way for the kid named Kevin to live his NBA dreams.
Adults like Aunt Pearl who, though gone, are never to be forgotten.
SIGN UP FOR BOARDROOM'S SNEAKER GAME
"To see that side of Kevin is to understand the impact that the women he loved so dearly have had in his life," Ms Wanda said. "I'm proud of how he pays homage to the women who have impacted his life. That just shows how special of an individual Kevin is."
Starting Friday, Oct. 27, the Nike KD16 "Aunt Pearl" is available via Nike and the SNKRS app. You can find the Nike KD3 "Aunt Pearl" on SNKRS.
---
Read More:
Boardroom's resident tech reporter, Michelai Graham, shares four predictions for the state of the crypto market next year. …