Learn the legend behind the Last Dance season sneakers that just sold for a record price at Sotheby's earlier this week.
This week, Michael Jordan made history.
No, he did not unretire from basketball (again) nor did he sell his Chicago mansion or stake in the Charlotte Hornets.
Rather, a pair of sneakers worn from his infamous Last Dance season set a record at Sotheby's by selling for $2.2 million: the most money a set of shoes have ever sold for.
"Today's record-breaking result further proves that the demand for Michael Jordan sports memorabilia continues to outperform and transcend all expectations," said Brahm Wachter, Sotheby's head of streetwear and modern collectibles, said in a statement to CNBC.
The game-worn and autographed Air Jordan 13s from the 1998 NBA Finals fetched almost double the amount of money his rookie season Air Ships sold for in 2021, raising the roof of a collectibles market that still orbits in many ways around the title-toting hooper turned billionaire businessman.
While MJ himself likely did not make considerable coin off this auction — aside from free advertising for the Jordan Brand which makes over $5 billion a year — the headlines about a pair of shoes selling for the price of a Manhattan loft raised eyebrows around the world.
What if we told you Michael only wore those sneakers for less than 20 minutes of NBA action?
Boardroom breaks down the business, narrative, and nostalgia of these very rare Air Jordans surrounded in footwear folklore.
Sign up for our newsletter
Brand Jordan
In June of 1998, Michael Jordan arrived in Salt Lake City equal parts baller and businessman.
Adoring a Jumpman logo on his backward golf hat and matching sweatsuits, the endorser extraordinaire was entering basketball's biggest stage for the first time as CEO of his own company.
Ahead of the 1997-98 NBA season, which would be MJ's last in Chicago, Nike announced the Jordan Brand as a subsidiary of its larger sportswear enterprise. Since removing the Swoosh on 1986's Air Jordan 2, a decade of market research showed that fans connected with the Wings and later Jumpman emblem as its own entity as much or more than that of the Beaverton brand's logo.
Though the Jumpman may not have been bigger than the Swoosh in worldwide recognition or sheer selling power, it was clearly equipped to fly on its own.
Because of that, the phenom-turned-exec entered the Delta Center with an outfit dripping with equity. Aside from the obviously branded apparel, he was also wear-testing his next signature shoe in the tunnel: the Air Jordan 14.
Unsure whether or not these NBA Finals would be his last, Michael made good on his potential grand exit by rotating retail versions of that season's Air Jordan 13 — the first namesake shoe released under Jordan Brand — with player exclusives and even an early look at what was to be next.
For Game 1 in Utah, MJ took the court in the Black/Red Air Jordan 13.
Despite dropping 31 points, the Jazz bested the Bulls by three points, taking a 1-0 lead at home. After the outing, MJ took to the podium in a different Jordan Brand sweatsuit, looking dapper as always yet visibly dejected by the loss.
He'd appear different in aesthetics and sentiment for the next matchup. Perhaps it was all by design.
"In the big games, I didn't attack the same way every night," Jordan said in Driven From Within. "I'm a poker player. I like to see the other guy's cards first."
Master of Suprise
By June 5, 1998, the Utah Jazz had seen Michael Jordan plenty.
Considering the L he handed them a year earlier in the NBA Finals, perhaps they'd seen too much of him.
Despite the pick-and-roll prominence of Karl Malone and John Stockton or the crowned coaching of Jerry Sloan, the Jazz had little success scouting MJ even in the midst of an all-hands-on-deck NBA Finals series.
"They had no idea what I was going to do," Jordan said. "No one ever knew how I was going to come out at the beginning of a game."
Approaching the tipoff of Game 2, Michael Jordan took to center court in a pair of unreleased Air Jordan 13 Lows. Known to wear a fresh pair of sneakers every game, a similar style from that same postseason run recently reached the Christies auction block with an estimated value of $500,000.
As the game got underway, MJ started strong by scoring 14 points in the first half. Unlike the series opener, the Bulls entered halftime ahead thanks to Tex Winter revising the triangle offense to favor Mike's movement off the ball.
Theoretically, Sloan and Co. made their adjustments. So did Mike.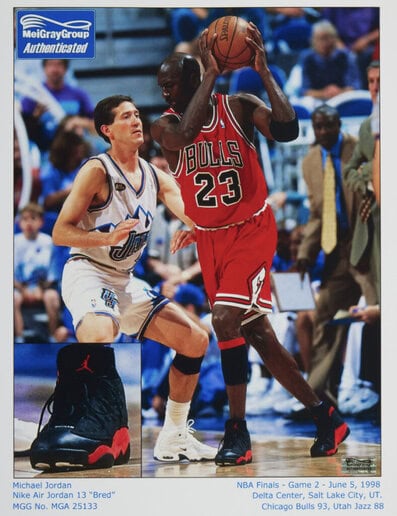 "If you noticed, I'll play in low tops the first half and high tops the second," Jordan told SLAM Kicks back in 1998.
Said to lose faith in the stability of his low tops by the back half of a game, all the cutting and actions Mike was running laid the tracks for returning to the Black/Red Air Jordan 13 in mid-top fashion. Wearing said shoe for the 19:10 he played in the second half, MJ absolutely erupted.
Tying the series 1-1, Mike finished with a game-high 37 points — a dozen more than Stockton and Malone combined.
Celebrating back in the locker room, he'd unlace the shoes he wore for a mere matter of minutes, gifting them to a local ball boy whom he had befriended before.
Little did either party know, that barely worn — and free — pair of Jordans would go on to become the most expensive pair of sneakers ever sold.
Panther Prowess, Cash Cow
When the Chicago Bulls were battling the Utah Jazz in the 1998 NBA Finals, Nike was at war with the forces of the market.
Despite being behemoths of business, the Swoosh was struggling in comparison to its previous seasons where stock prices and worker cuts were concerned. Nevertheless, the brand's best-known designer and Michael Jordan's go-to guy for signature shoes always ideated based on optimism and gut feeling.
"I didn't have preliminary conversations with Michael about what he wanted to do with the Jordan 13," Tinker Hatfield said in Driven From Within. "I just had this flash of consciousness about him being a predatory cat."
Inspired by MJ's panther persona when it came to attacking the opposition, Hatfield harkened paw inspiration on the outsole and cat eye glow on the shoe's hologram.
As alluded to before, the Air Jordan 13 was the first formal footwear release under Jordan Brand but the 10th straight shoe that Nike's Hatfield had designed for MJ.
Since debuting at retail in November 1997 and returning as a retro in various seasons, the Air Jordan 13 has become among the most bankable silos in the brand's acclaimed catalog. Not only did the shoe prove popular at its initial time of launch, but it also provided the building blocks for the new brand and an ample amount of energy headed into retirement.
From the cushioning to the construction, the Air Jordan 13 was pure performance luxury.
It was also something his advisors suggested he shelve during what most believed to be his final foray into NBA action.
Famously, MJ unveiled the unreleased Air Jordan 14 not just for arena arrival but also in NBA Finals action later in the series against the Utah Jazz.
"It was something that Erin Patton [director of product marketing at Jordan Brand] and some of the other guys suggested," Jordan told SLAM in '98. "Just for presentation, just to cover what happens if I maybe don't play next year."
The risk was worth taking as MJ hit "The Last Shot" in the Air Jordan 14, building undeniable equity in a model he'd never wear for an entire NBA season. Still, it's the Air Jordan 13 that he considers one of his personal favorites today and a model that still makes best-seller lists in its retro life.
Even as recently as 2021, the Air Jordan 13 outsold modern models made for LeBron James, Kevin Durant, and Steph Curry. Despite its inflated price point of $190 as a re-release and the fact that it's no longer built with playing basketball in mind, the shoe sells in slews of color codes year after year.
And still, MJ gave his personal pair from Game 2 of the 1998 NBA Finals away for free.
Despite the likes of Leonardo DiCaprio and Grant Hill all flying far and wide to watch Jordan's quest for his sixth championship, it was Utah Jazz ballboy Preston Truman who secured the shoes since sold by Sotheby's for $2.2 million.
Perhaps it's not surprising, as Truman's knack for relationship building with stars on opposing teams also landed him MJ's "Flu Game" Air Jordan 12s and Kobe Bryant's playoff-worn Adidas EQT Elevations in that same span.
This record-setting Air Jordan auction is an interesting marker for the market. Not only does it prove the popularity of Jordan in 2023 in the collectible world, but it also makes one wonder just how high the esteem for sneakers will get in the gallery world.
Back in 2022, a game-worn Jordan jersey from the same series sold for $10.1 million. Just two weeks ago, Sotheby's sold a Pablo Picasso portrait for $12.8 million.
Owning a piece of genius will always merit millions, regardless of who the stroke of genius comes from or just what canvas they choose to create on. Like a Picasso painting, they aren't making any more game-worn Air Jordans where the unpredictable player-turned-CEO is concerned.
"I don't have a problem playing in any of the styles, because I know with the guys that put the shoe together, it's well put together," Jordan told SLAM weeks after the Game 2 win in Utah.
"I'm a spontaneous, instinctively-designing guy."
More Jordan Stories:
A NIL deal allowed the UCLA guard to debut the latest pair of Mikes. Learn how MJ's empire is maneuvering its marketing to meet modern hoopers where they're at….