Meet the All-American athlete who has hip-hop's elite and basketball's best betting on a total shift in sportswear.
Few people grow up as both an insider and an outsider.
Such was the case for Legends founder Scott Hochstadt.
As an athlete and artist coming up in Maryland, Scott struggled in school as a dyslexic designer yet excelled in sports as the nation's No. 1 lacrosse prospect. All the while, he'd join his father on sales trips to the toughest sportswear stores in the DMV.
"My dad was at Champion for 17 years," Hochstadt told Boardroom. "I was in NBA locker rooms because my dad was a sales rep. We were hitting DC's top high school programs and servicing the hottest sneaker shops in the city that were funded by the biggest drug dealers in the DMV at the time."
The early introduction to tastemaking markets oriented an eye for design far different than his prep school peers. As an All-American lacrosse star, it made Scott stand out in ways beyond his ability.
Now a father himself, Hochstadt is just as attuned to trends in athletics and fashion as he was growing up. Since starting Legends in 2018, he's attracted attention from rap royalty and funding from the NBA and NFL's elite.
The business is approaching $100 million in overall revenue, outfitting celebrity clientele and grassroots athletes alike.
Becoming an entrepreneur by loss and lesson, Scott has ascended in the sportswear space with the same sense of insider knowledge and outsider perspective that's always guided him.
From launching Legend's first Mamba Sports Foundation event with Kobe Bryant's blessing to developing products with early investors like Quavo and Steve Nash, learn how the unorthodox lax luminary is attacking the apparel arena he was raised in with partners and perspective all his own.
Sign up for our newsletter
Lax Legend to Laker Lore
An active mind and eye for opportunity served Hochstadt well on the field and with the pen. Still, he always stuck out more than assimilated.
By the time he went off to private school to fulfill his lax legacy, he was the only player at practice without a flow haircut and Abercrombie in their locker.
Sitting atop the pinnacle of the East Coast's prep culture, Scott never wavered with what he was drawn to. Because of his father, he was equally aware of what was in demand when it came to true trendsetters.
Thanks to his proximity to Champion, he'd been submitting sneaker designs to the brand since he was in the fifth grade.
"We were providing a product that was hot," says Hochstadt. "I just saw what people liked."
All the moonlighting on the sales circuit underscores Scott's sports success in school. By the time he graduated from the University of Maryland, Scott was among the most decorated attackmen in Terps history, making All-ACC as a freshman and All-American every year after.
Though a professional career as a player was calling, the niche nature of said sport and the acquisition of his father's company shifted the entire paradigm for Hochstadt's future.
"Champion sells to Sara Lee and [my dad] gets fired," Hochstadt says. "I'm going into college as the No. 1 recruited lacrosse player in the country. You don't get full rides in lacrosse, so I was paying my way through school being an artist by designing and selling t-shirts."
It also illustrated a perspective shift.
"When he lost his job? I knew I was never going to work for anybody," Hochstadt says. "I ended up bringing lacrosse out west. I created the AAU system of lacrosse. I went national and we sold into DICKS, Modells, the big boxes, and I had 11 retail stores going. After 13 years, I sold it."
The shorthand story of Scott's homegrown business — Starz Lacrosse — leaves out how he flew college coaches from the East Coast out to Hollywood parties as a means to put eyeballs on high school studs in California capable of getting scholarships in the secondary sport. It also evades the important lifestyle lens he brought to the grassroots game by having artists like Drake and Wale perform on Scott's pro lacrosse tour, LXM PRO, which helped build the sport in nontraditional markets.
Still, it all put him in the space to consult for big brands in the apparel industry while also rubbing shoulders with athletes of all origins in his new home of Los Angeles.
Seeing how his dad had been done by Champion years prior and the success of his Maryland schoolmates with Under Armour, he started working on his own line of apparel and events called Legends.
"Steve Nash was my first athlete investor," says Hochstadt. "He was my neighbor and we were working out at Equinox testing out socks and shorts. He was big into soccer and we ended up bringing in Luka Modrić, who was the No. 1 soccer player at the time. He was our first partner on the brand side and we named the first short after him."
From a Canadian MVP of the NBA to a Croatian superstar in futbol, Legends was already living up to its name of top-tier athletes while achieving Hochstadt's aim of growing globally.
Soon, another athlete with an eye for innovation and a strong sense of storytelling entered the fold.
"The brand was born out of the Mamba Sports Academy," Hochstadt says. "Kobe was involved through his 50% ownership of Mamba Academy. We were building products for the guys that we were training there. We had the top NBA guys, NFL guys, and some MLB guys that were training. That was our testing ground in validating our fabrics."
Though the timing may have been tough for Hochstadt in the late '90s when he started college without financial backing for his lacrosse skills, another gap in the athlete-endorser market made his sportswear ascent all the sweeter.
"There were a lot of guys leaving their Nike deals or upset that their deals were getting cut down," Hochstadt says. "All of these guys were trying to be entrepreneurs at the same time, whether it was in tech or crypto, so we had the opportunity to bring these guys in as owners as they were helping to develop the product."
Just as disruptive brands like Hyperice had been built off Kobe's curiosity and the idea of athlete investors, Legends had a chance to seize the same sense of inside insight and appetite for a piece of the pie.
The stars would soon align in the summer of 2019, just months after the brand began getting samples into the wild.
However, its mainstream big break wouldn't happen on the backs of pro ballers but rather by influencers of another sort.
Big Scale
When you have guys like Steve Nash investing and Kobe Bryant approving the gear, it's clear to say basketball became an early endorsement space for Legends of the player-approved variety.
While all that's true, it wasn't just the proximity to those pros that made Legends sustainable in high-intensity settings, but more so the relationships that shined a spotlight on how to grow the brand.
The true jumping-off point was a charity basketball game that took place on Kobe's home court.
"Quavo versus 2 Chainz was our first charity basketball game benefitting the Mamba Sports Foundation in July 2019," says Hochstadt.
Meant to be a private pickup game to fund philanthropic efforts, it soon became a who's who showcase of the city's biggest movers and shakers.
"We had Snoop, Floyd Mayweather, the Kardashians, Devin Booker, Odell Beckham Jr, all these guys started pulling up," Hochstadt says. "We thought it was going to be private with maybe a thousand people but all of LA showed up. People were leaving with the hoodies, shorts, and socks. Everybody started following up with us after the event."
Over the course of that time period, Legends grew from a $2 million business to $10 million. Navigating the company through a global pandemic while also having to cope with the tragic passing of Academy partner Kobe Bryant, Legends continued to climb in annual growth by doubling overall revenue each year since its start.
In the near future, Legends expects to become a $100 million business.
Much of their success stems from the ability to connect celebrity to community and performance to philanthropy. A lot of the early energy and explosion from a lifestyle lens comes back to that 2019 charity game between Quavo and 2 Chainz.
"Tzvi Twersky did all the media recap and there were hundreds of millions of views that came out of this game," Hochstadt says. "We thought, 'Shit, we got some good products, but maybe we can go a bit bigger?'"
In October 2019, just months after the event that had Hollywood's elite leaving an unadvertised celebrity All-Star game with Legends gear in their hands, Hochstadt traveled to China for the NBA's international exhibition between the Los Angeles Lakers and Brooklyn Nets.
Close to Lakers alum and also Nets owner Joe Tsai, the 18-hour flight proved well worth it as athletes gravitated toward the apparel Hochstadt had been working on with the eventual common connection of Nash.
"Both teams got our gear and the guys loved it," Hochstadt says. "We spent about two years developing these cuts and fabrics with the athletes. The teams started ordering it outside of the Nike on-court deal for travel and lifestyle. Then probably five more NBA teams started ordering the gear."
The ball kept rolling as Quavo signed on as an investor and the brand soon branded a basketball court in Snoop Dogg's house.
While all the A-list approval was marketing gold for the brand barely in its infancy, it was always the grassroots game where Hochstadt had his eyes set.
Sweat Equity
If you grew up on Nike sneakers, Champion jerseys, and Under Armour base layers, chances are you wore said staples during your transition from elementary school fan to high school competitor.
In an era now where brands mean more than ever but logo loyalty lacks the chokehold it once had, Hochstadt sees the sum of his experiences coming together for the future of Legends.
In high school, he saw Champion penetrate popular culture by way of team apparel. By college, Scott's own t-shirt business was only surpassed by his Maryland peers.
"My teammates started Under Armour," Hochstadt says. "Kip Fulks was a lacrosse player and Kevin Plank was a football player. My dad helped mentor Fulks and never got the equity or the ownership. I ended up launching a brand within lacrosse that was lifestyle, performance, and grassroots events."
As alluded to, his 20s and 30s out west went into making lacrosse culturally relevant on each coast. Marketing a niche sport meant being on the ground level in regard to relationships but also out of the box in regard to aesthetics.
"I was designing uniforms and making them more like extreme sports vibe," Hochstadt says. "Lacrosse is really small and I wanted to make a bigger impact. When I sold my business, it was time to go bigger and more mainstream. We're still heavy in grassroots."
Once again, this approach at Legends means merging different worlds. These days, Hochstadt creates collaborations at retail with Quavo while also designing the apparel for the Migos member's AAU and 7-on-7 programs behind the scenes.
Although a significant amount of buzz surrounding Legends comes from its infamous events and celebrity co-signs, sustainable success means meeting the emerging athlete exactly where they're at.
"Bieber, Drake, Jack Harlow, they all pull up to these events," Hochstadt notes. "The heat can go away. You can't pay Quavo, Steve Nash, or Drake to fall in love with it. But if you're able to build relationships and help them in a way that they can't do it? That's what I did times 30 athletes."
Since securing a Series A round of funding and appearing on athletes of the AAU, NBA, and NFL variety, Legends has carved a lane in an expanding sportswear and athleisure space that's both more competitive than ever and also easier to enter.
"We're competing with pretty much anybody," Hochstadt says. "NBA teams are buying Lululemon to travel because they don't want Nike, they wanted something different. Lulu was kind of like your wife's brand and we've come in as this team sports, athlete-owned brand with our own colors, prints, and cuts, but keeping the quality up."
To the untrained eye (no pun intended), the design language and materials of Legends are not far removed from recent rising apparel companies such as Alo, Vuroi, or Lululemon. When considering the early adopters and investors — curious yet no-nonsense athletes like Nash and Bryant — the detail-driven approach to Legends looks like high-quality competitors but feels different.
It's all with the idea of being ready to wear first and enticing to see second.
"We start off simple to test the products," says Hochstadt. "We always knew we wanted to be like Kith meets Lululemon."
Like always, Hochstadt continues to live in multiple worlds at once while still being the same Scott. He's designing uniforms for amateur athletes at Overtime while throwing Super Bowl parties with DJ Durrell and Barstool's Big Cat.
It's a unique mix of celebrity and philanthropy merged with creative cues just slightly left of center that might not always be visible from afar but is evident once worn.
War Ready
Private school education and appearances on The Hills do not make Scott Hochstadt an underdog when citing appearance.
Nevertheless, his ambition, charm, and competitiveness connect with all walks of life. Especially athletes.
Like Scott, the ambassadors and investors at Legends are often miscast by the public. In a vacuum, comment section stalwarts love to hate on Nash for his MVP accolades or Matt Barnes for his off-court drama.
Scott stays firm on aligning with ambassadors who are unflinching in authenticity.
"There's an attitude to the brand, the product, the cuts, and the way we market it," Hochstadt says. "In order to grow, you have to let some guardrails down to open up new markets. But all our guys? From Matt Barnes to the Morris twins, it's not all blue-chippers. Nash had to earn his way everywhere. Baker Mayfield is an underdog. Their mindset is to outwork everybody. We don't have a lot of divas at our table and it's what our brand has attracted."
Within Legends, the crew consists of public figures not focused on people-pleasing publicity but more on the work — both professional and philanthropic — that often goes unseen.
"It's usually a good thing, but sometimes guys get into trouble here and there," Hochstadt laughs. "But that's who we are. Each guy has their own initiatives in the community. They have good hearts and are looking to make an impact in their communities."
For a founder that took a whole sport to new time zones, growing Legends is less daunting than his past job.
As an artist and an All-American athlete, it's completely the gig he was built for.
"I was able to connect with these athletes based on my understanding of grassroots and activations," says Hochstadt. "They're respected by their teammates and it trickles down. It's all intentional."
Focused and flourishing, he's leaning on the lessons learned from his father's sportswear past to provide for his family and his team.
Like Champion in the '80s and '90s, Legends has a chance to connect with consumers in America and around the world through a term they already know. Scott clearly sees his vision as he aims to expand.
"To build a household name in the right way," says Hochstadt. "To not completely sell out and be authentic to sports, the athlete, and the culture. To make an impact on communities. As long as we're building towards something bigger and growing the brand in a cool way? That's what our guys want to do."
More than that, the buy-in to Legends is quite literal and lucrative.
"These guys are going to be owners and pass down the equity to their families," Hochstadt says. "But we haven't even scratched the surface. We're just warming up."
This is great news for the likes of Barnes, Nash, and other athletes invested in the Legends story just starting.
It's bad news for the power players in sportswear now having to compete with Scott's scrappy team of athletes.
"The big guys? Their founders are all retiring," Hochstadt says. "We've got an army of guys all over the country that's going global. We'll go head to head with anybody."
More Sports Apparel: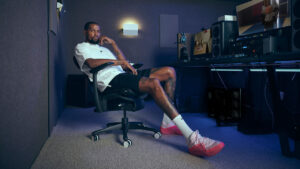 Anthony Edwards and LaMelo Ball join Durant and Curry — as well as musician Enisa — in the campaign, launched in tandem with Foot Locker's The Heart of Sneakers platform. …