While Irving is in China for his first official tour with ANTA, four stateside muralists created 11 art installations in LA, New York, New Jersey, and Dallas to celebrate the Mavs star's new logo.
No stranger to the signature sneaker game, Kyrie Irving officially embarked on the first new chapter of his partnership with ANTA earlier this week. With his family alongside him, Irving took part in a tour of the company's headquarters and production factory in Xiamen, China, branded with the tagline, "The Journey Is The Reward."
Irving and Co. then headed to Shanghai for several activations and events to further cement the connection between the NBA star and China's largest sportswear brand. ANTA calls the partnership a "celebration of the fusion of sport, artistry, and heritage."
While the Dallas Mavericks point guard's first signature collection with ANTA, following his 2022 fallout with Nike, isn't expected to be released at retail until early 2024, a key highlight of the tour included the official reveal of Irving's upcoming signature logo:
While hosting a basketball showcase event in Shanghai, Irving donned a shirt bearing an oversized look at the logo, giving the public its very first look.
Breaking down the new design, it's easy to spot the mirrored "K" layered with a No. 11 down the middle. The two center lines together form an "I." The four pillars at the top speak to Irving's basketball traits — speed, focus, agility, and strength. The foundation of the two lower limbs represents his father and mother, while the roots of the 11 serve as a nod to his family.
"Mirroring the K for Kyrie symbolizes Knowing Oneself, thus forming Harmony," reads the official logo breakdown.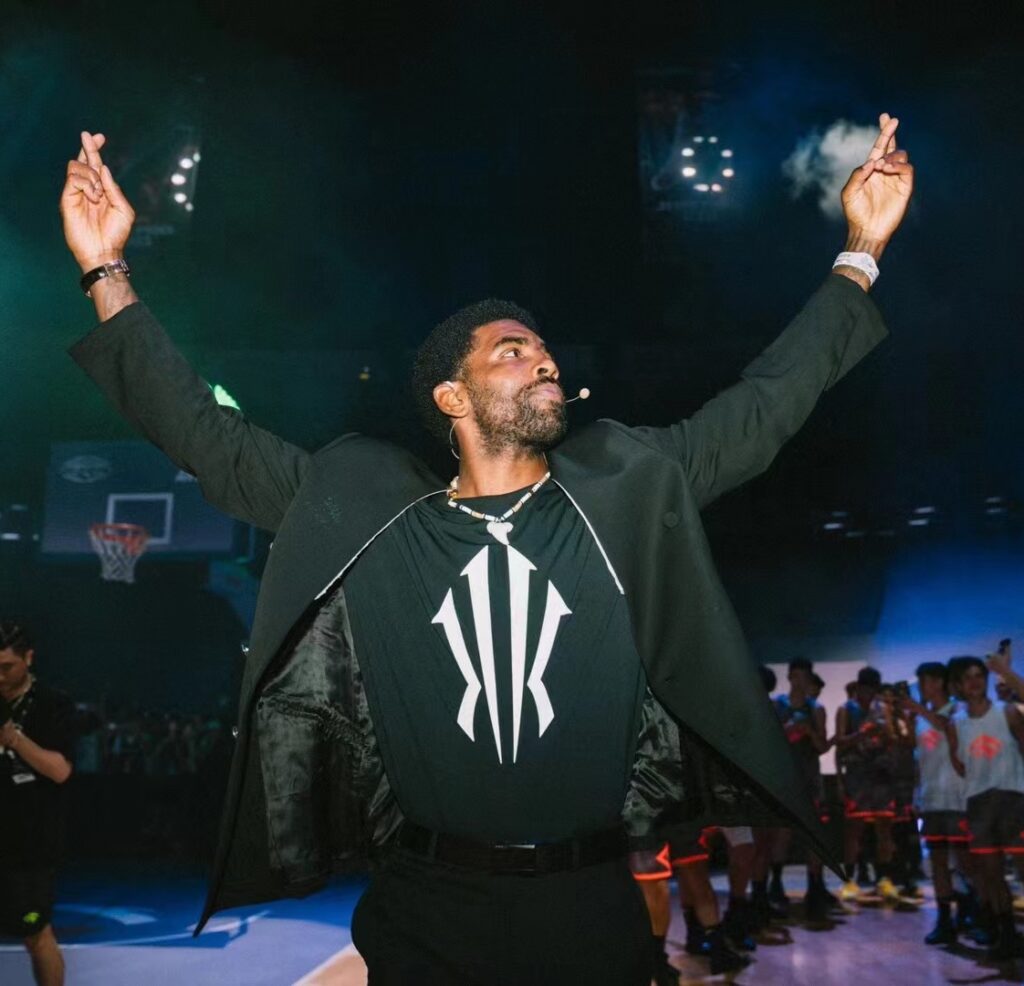 His first signature collection is expected to feature his new logo prominently across the top of his signature shoe, with storytelling and collaboration planned to be key aspects of the rollout.
To help ring in the reveal, Irving and ANTA also commissioned four artists to create a series of 11 murals around the United States in locations connected to Irving's hometown in New Jersey, offseason residence in California, and NBA city in Texas. The artists include celebrated 22-year-old mixed media talent and sculptor Skyler Grey, Afro-Latina multi-media artist Destiny "Desi" Swoope, Colombian-born, large-scale muralist Lina Montoya, and Emmy Award-winning muralist Theo Ponchaveli.
Depicting different chapters of Kyrie's life and career throughout the series, the murals also draw inspiration from hieroglyphics.
"It's up to us that we do our part and create some beautiful art pieces and create some beautiful moments within the art community," Irving said while on tour.
The major rollout of his new logo and upcoming signature shoe line marks the beginning of his new post-Swoosh role — Irving was named the Chief Creative Officer of ANTA Basketball in July. Making his way through the company's Xiamen headquarters and checking out his new corner office, the eight-time All-Star is officially off to a new start in what is very much a new home.
"I wanted to do it with some special people," Irving said of signing with ANTA. "This is a partnership that's a dream come true."
SIGN UP FOR BOARDROOM'S SNEAKER GAME
Los Angeles, by Skyler Grey
Stussy on LaBrea / 112 S La Brea Avenue, Los Angeles, CA 90036
Redline Venice Hotel / 20 17th Ave, Venice, CA 90291
Oriel Chinatown / 1135 N Alameda Street, Los Angeles, CA 90011
New York City, by Desi
1032 Union Street, Crown Heights, NY 11225
Tompkins Avenue & Halsey Street, Brooklyn 11216
209 E 3rd Street, New York, NY 10009
Newark, New Jersey, by Lina Montoya
Good Company / 201 Halsey Street
CMB Kicks / 1149 South Orange Ave
Gateway U / 35 Treat Place
Dallas, Texas, by Ponchaveli
Canvas Hotel / 1325 Botham Jean Blvd, Dallas, Texas 75215
1925 Fort Worth Ave, Dallas, Texas 75208
Read More:
Exclusive
Adidas has signed 2025 phenom Darryn Peterson to an NIL deal — the Three Stripes' first ever with a high school basketball player….