One of the footwear industry's most successful signature athletes has landed a new deal, with his own namesake sneaker expected to launch during the upcoming 2023-24 NBA season.
On Tuesday, Dallas Mavericks point guard Kyrie Irving announced a new long-term footwear partnership with ANTA.
"I'm incredibly excited about this collaboration," Irving said. "The first step in becoming partners is to share the same dreams, goals, and missions. ANTA's rapid development over the years, openness to creativity, willingness to embrace family and teamwork, expertise in areas like product innovation and manufacturing processes have left a remarkable impression on not just me, but also my A11Even team who will work side by side with me in creating something truly generationally special."
The new "business collaboration" between the two sides will name Irving as Chief Creative Officer of ANTA Basketball. Along with extensive signature product releases, the partnership will also launch ANTA x KYRIE Youth Basketball Camps around the world, with starting points in both China and the United States. Irving is expected to begin the upcoming NBA season in the brand's Shock Wave 5 sneaker, with his first signature collection releasing during the first quarter of 2024.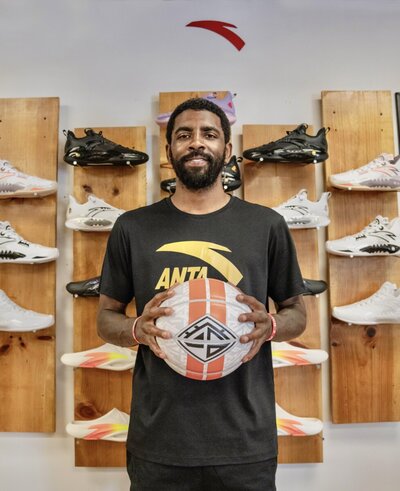 ANTA provided a statement that dubs it "more than a shoe deal."
"In addition to an array of signature collections designed to enhance performance and inspire athletes of all levels, our groundbreaking and revolutionizing partnership will also encompass a range of collaborative initiatives to support everyone devoted to the game of basketball and promote an inclusive basketball culture," said ANTA.
After parting ways with Nike last November, Irving played out the remainder of this past NBA season in signature shoes from throughout his time with Nike. He would often place tape over the Swoosh logo along the collar of the Kyrie 3 and Kyrie 4, adding handwritten messages along the way.
In recent months behind the scenes, Irving had been holding negotiations and conversations with the intent to sign a new signature shoe deal. In May, Irving took to Instagram Live to discuss what was next for his footwear endorsement deal options. He boasts 19.2 Million followers on the platform, making him the 4th most followed NBA player on Instagram.
He declared that he'd be "signing my new shoe deal very, very soon."
"I won't even call it a shoe deal," he said at the time. "I'm about to blow this out the water. I'm so excited about it."
All along, ANTA was the most aggressive company, drawn to the potential of Irving's track record of successful shoe sales and his aspirational playing style connecting with a marketplace that has shown an affinity for guards over the years. The brand holds a strong belief that a signature partnership with Irving could drive massive sales across its expansive orbit of more than 9,000 physical retail stores located throughout Asia.
Going forward, Irving will become one of ANTA's top global endorsers, joining the likes of Klay Thompson and Gordon Hayward as current signature athletes with the brand. Over the past decade, ANTA had also signed several NBA endorsers, including Kevin Garnett, Luis Scola, Rajon Rondo, and Chandler Parsons to deals.
"Being appointed as ANTA Basketball's Chief Creative Officer is more than just a realization of my dreams; in fact, it may be the perfect opportunity for me, an individual who always dreams big and values independent thinking, to leverage my artistic talents to build, create, and unify the culture both on and off court," added Irving.
"As a new member of the ANTA family, Kyrie Irving will not only actively serve as ANTA Basketball's Chief Creative Officer, but he will also seek to recruit basketball players, independent brands, influential figures in pop culture, artists, musicians, pioneers in environmentalism, trailblazers in humanitarianism and designers to also collaborate with him to create additional product lines under Kyrie's signature line," said the brand. "Through these collaborations and in collaboration with ANTA, Kyrie will strive to collectively shape and introduce new vision, innovation and creativity in the signature sportswear category."
At just 31 years-old, Irving joins ANTA on a long-term deal that is 5 years in length, but expected to extend beyond, throughout his playing career. To date, he had led one of the industry's highest selling signature shoe series, after first signing with Nike as the 2011 NBA Draft's #1 pick, and later launching his signature series in 2014. In all, he had 22 total sneakers with Nike.
With an annual numbered Kyrie signature shoe and apparel collections, along with lower priced models like the Kyrie Low and Kyrie Flytrap, Irving's annual signature business had been climbing towards total revenues north of $375 Million, according to an industry source.
Irving recently tweeted a more precise figure of just how much he says his entire tenure at Nike had generated for the company.
"My signature line made the previous brand I was with over 2.6 Billion in Revenue the past 7 years," he said last week.
Sign up for our newsletter
More than 60 players across the league wore Irving's sneakers in games each year in recent seasons, making his line one of the most-worn franchises on court.
One of the hallmarks that made Irving's series so popular among fellow NBA players and consumers that is expected to continue with ANTA is his sharp eye for performance. His sneakers often followed a similar formula of targeted fit, low-to-the-ground court feel, great grip and strategic zonal cushioning.
ANTA's China headquarters boasts top design executives in Robbie Fuller and Duane Lawrence, who have been helming the innovation behind the highly regarded KT and GH signature lines for Thompson and Hayward, respectively. 
The brand also features longtime industry designer Sean O'Shea as its stateside Head of Anta US, leading a team of designers from the brand's Los Angeles office.
"ANTA will leverage its extensive global resources to craft and manufacture Kyrie Irving's signature product line and make it available worldwide," added the brand.
Before joining ANTA as Creative Director, Fuller had worked at Adidas Basketball in various design roles, including as its Advanced Concepts & Innovation Footwear Designer. Lawrence got his start in the industry designing Dwyane Wade's signature series with Converse during the 2000s, and has been behind the impressive performance of Gordon Hayward's signature series.
In addition to its vast web of stores spanning throughout Asia, ANTA also is one of the few footwear companies that owns its own factory. The company's headquarters and design offices are located in the advanced seaport city of Xiamen, with their primary manufacturing factory located just a 90 minute drive away.
A special player sample prototyping room reserved for its NBA endorsers allows for designers to craft PE sneakers and samples rapidly, speeding up the design process considerably.
As Irving framed it last week on Twitter, he has long been one of the industry's leading sneaker endorsers. He is expecting to continue that success ahead, with his new global partnership with ANTA.
"I can safely say, I am one of them ones out here in the competitive shoe market, dominating," he said. "And not to be arrogant, go ask around, the kids that grew up wearing / buying my shoes know — respectfully, I am that guy because of the support WORLDWIDE."
For ANTA, the brand shares similarly lofty goals for the new partnership.
"It is our genuine love for basketball that brought Kyrie and ANTA together, a love that transcends age, gender, race and backgrounds," said Mr. Xu Yang, CEO of ANTA. "We believe this collaboration will create a fusion of Chinese and Western cultures and bring more vitality and creativity for us to continuously push the boundaries and explore the infinite possibilities at the intersection of basketball and culture. ANTA will also play a pivotal role in helping Kyrie Irving articulate his basketball philosophy and convey his unwavering passion for life and art through the products. Together, we will continue to advance our efforts in supporting the development and promotion of basketball and its culture, never ceasing our passion and love for the game of basketball."
Want More Sneakers?
Exclusive
Adidas has signed 2025 phenom Darryn Peterson to an NIL deal — the Three Stripes' first ever with a high school basketball player….