Jordan Brand has come to forgo traditional Super Bowl ad spend in favor of outfitting halftime performers. And the Eminem Air Jordan 3 PE might represent more scale and strategy than ever before.
On Sunday in LA, Super Bowl LVI attracted eyes all from around the world. Early estimates assess a reported 36 million households in the US alone.
And even with one in four American households tuning in, it's not necessarily the game (or even the commercials) that everyone is still talking about a day later. Rather, it's the epic halftime show that's still trending from all corners of the internet. Headlined by Mary J. Blige and local legends like Dr. Dre, Snoop Dogg, and Kendrick Lamar, it was Detroit rap god Eminem who outshined all aesthetically with his Air Jordan 3 PE sneaker.
Honoring Michael Jordan's "Fire Red" Air Jordan 3s from the late '80s, Marshall Mathers' makeup differed through details.
Namely, Jordan Brand went big by bringing in backwards "E" branding on the left tongue. Additionally, mismatched heel tabs nodded to Marshall's "My Name Is" arrival. Lastly, iced-out soles mirrored the limited-edition Air Jordan 3 "Free Throw Line" from NBA All-Star 2018, also in LA.
At time of typing, only one pair of these exclusives is known to exist.
However, much like The Real Slim Shady, many doppelgängers will soon be everywhere.
Sign up for our newsletter
Right on Time
On Feb. 19, 2022, Jordan Brand will release the Air Jordan 3 "Cardinal."
The shoe is an homage another Air Jordan classic yet an easy ringer for Marshall Mathers' Super Bowl exclusive.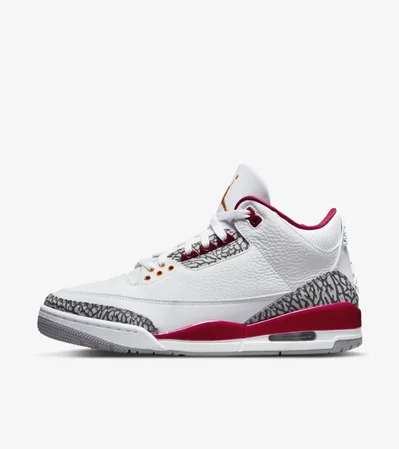 Pairs of the "Cardinal" 3s will retail for $200. As Sneaker News notes, smaller sizes will also be sold for lesser rates. This bodes well for millennials hyped on the halftime show looking to lace their little ones in something nostalgic.
However, it's all part of a larger play.
Leaks suggest the Air Jordan 3 "Fire Red" — the shoe that inspired Eminem's PE — will release this fall. Fittingly, Slim Shady's exclusive got airtime on the biggest advertising day of the year. Similarly, the "Fire Red" AJ3 is rumored to release on the biggest shopping day of the year: Black Friday.
Said to sport Nike Air heel branding — a first for a "Fire Red" 3 retro — this original detail typically pushes the MSRP up. Recent comps suggest the retail price will start somewhere closer to $210 or $225. Keep in mind, the material costs for this fall's "Fire Red" 3s are assumingely the same as February's "Cardinal" colorway.
While shipping delays could influence dates and allocations, thousands of "Cardinal" and "Fire Red" Air Jordan 3s should release this year. That latter pair proves to have legs much longer than most shoes released on a weekend.
Prior to Eminem's co-sign, the Air Jordan 3 "Fire Red" already boasted a rich presence in pop culture folklore. Famously, Fred Savage wore the originals in the 1989 comedy Little Monsters. Decades later when the scorching shoes finally re-released, Jordan Brand sent Fat Joe a pair early.
Don Cartagena debuted them in the video for his 2006 hit "Make it Rain" alongside Lil' Wayne.
By the time retro released in 2007, the song approached platinum with the visual constantly on countdown shows.
As recent as 2013, the Air Jordan 3 "Fire Red" has returned to retail. However, it hasn't hit stores with all of its original detailing since the late '80s. This fall's revival is anticipated by purists with the extra juice from Eminem only adding to the heat.
Rarified Air Time
No, Jordan Brand didn't pay for a commercial during the telecast of Super Bowl LVI; this year, NBC set a record by charging sponsors $6.5 million for a 30-second ad.
Instead, Eminem provided a different sort of air time, gracing the halftime show stage in his boldly branded Air Jordan 3s.
Wearing black pants, Shady's white sneakers popped. Additionally, the model's signature elephant print on the toe-box and Jumpman on the tongue were in plain view. Both attributes debuted on the Air Jordan 3, the first model made for Michael designed by the great Tinker Hatfield.
Because of the AJ3's iconic aesthetic, sneakerheads at home instantly knew just which brand Mr. Mathers was rocking on stage. To make matters even more memorable, he had next to no competition from his peers.
Amongst his friends, Dr. Dre performed in black-on-black Nike Air Force 1 Mids. Though the AF1's design is easily recognizable, Nike logos were removed as to not provide any free pub. It's unclear why. Recently, Dre's camp partnered with Adidas on a philanthropic effort. It could also stem from reasons tied to the show's presenting sponsor, Pepsi.
Keeping it Cali, Snoop Dogg wore white Converse Chuck Taylors that only bear branding on the medial side. As a nod to the Rams, a yellow lace-swap outshined any logos. Additionally, Mary J. Blige performed in knee-high heels covered in crystals while Kendrick Lamar wore all-black hard-bottoms. It appears 50 Cent rapped in Raf Simons x Adidas Ozweego sneakers. Though mirrored and metallic, the 2019 release bears no distinct branding.
Because of this, the Jumpman was the only sportswear branding visible on stage during the 14 minute half-time show.
Considering companies spent $13 million for only one minute of ad time, Jordan walked away with a win.
According to Yahoo Finance and Samba TV, 29 million US households saw Eminem tear it down in LA. This number is 19% more than last year, with many at home tuning in only for the music.
"The halftime hype drew in millions of new viewers," Samba TV's Cole Strain told Yahoo. "The power-house performances rocked the ratings, shattering last year's halftime audience."
Understanding the intersection between music and moments has proved powerful for MJ's namesake brand as far as football's big game is concerned.
Lately, Jordan's Head of Entertainment Marketing, Reggie Saunders, has prolifically evaded traditional advertising costs by instead outfitting artists in heat. Adam Levine, J Balvin, and more have performed at halftime in Air Jordan rarities that have gone viral.
In an era where digital metrics mean more than ever in sportswear, this isn't just massive — it's smart.
Social Smash
Prior to kickoff, social media saw teases of Eminem's Air Jordan 3s before he performed in them. This is a winning recipe for Jordan Brand and its roster of entertainers; previously, sneaker teases by Justin Timberlake and Travis Scott heated up anticipation for halftime views and retail sales.
Once the halftime performance was over, Eminem doubled down. Posting to Twitter — and sporting a Bored Ape avatar, no less — Marshall revealed detailed studio shots of the Slim Shady exclusives. Into the second half, plenty of circles focused on Em's Air Jordans as they did the game or the commercials.
On mere metrics, Eminem's Air Shady post outperformed McDonald's Kanye clip on Twitter. Further photos of Eminem honoring Colin Kaepernick added exposure to the shoes, with outlets far removed from footwear highlighting the kneeling MC.
Much like Mike won the 1988 Dunk Contest in his Air Jordan 3s, Marshall's moment ties into a new narrative. Like any iconic Air Jordan, it's meant to evoke feeling beyond material worth. While fans can't cop Eminem's Air Jordan 3s, they'll have chance to purchase pairs just like them this year.
Collaborating since the early '00s, waters run deep with the Detroit rapper and acclaimed footwear company.
And the momentum generated by Jordan Brand at Super Bowl LVI will sell shoes without buying a single ad.
Sign up for our newsletter