The Golden State Warriors All-Star launched Curry Brand under the Under Armour umbrella in November 2020.
Following up on the November releases of the Big Bird- and Count-themed editions of the Curry 9 Flow, Curry Brand is introducing five additional versions of Stephen Curry's signature kicks in the coming months, as part of its season-long collaboration with Sesame Street.
"Everybody knows Sesame Street, and we brought the characters to life through the shoes," said Curry. "Each colorway is so drastically different and shows their individuality, but they're also unified."
From March through June, new takes celebrating Cookie Monster, Oscar the Grouch, Lily the Tiger, Abby Cadabby, and Elmo will each be unveiled, with Curry's favorite pair being the red-based edition he first debuted in November.
"My favorite Muppet on Sesame Street is definitely Elmo," he said. "He's always laughing and smiling and having a great time and bringing the best out of everybody. It's the same joy that I try to bring to the court."
Sign up for our newsletter
Throughout late 2020 and into 2021, Curry and his team of Curry Brand designers worked in partnership with Sesame Street to execute each design. They played off of costume textures like fur and feathers — incorporating in a balance of "sophistication and light-hearted fun," as designer Spencer Hawkins described it.
For the "Oscar the Grouch" pair in particular, a mix of metallic silver drafting off of the character's famed trashcan dwelling is met by subtle touches of green throughout.
"We show a characterization of his eyes and the trashcan, as opposed to literally printing his face somewhere else on the shoe," explained Hawkins.
Throughout the season, Curry has enjoyed a series of memorable games in specific colorways from the "Street Pack." While he's knocked down several go-ahead buckets late in games, he drained his first buzzer-beating game-winner in the yellow and pink "Big Bird" pair.
At All-Star Weekend last month, he raised $108,000 for the Metro Cleveland Public Schools thanks to his 50-point barrage, an ASG-record 16 made 3-pointers and All-Star Game MVP honors — all while debuting his bright pink "Abby Cadabby"-themed Curry 9 Flow.
"This shoe has a special meaning to me now that I was rocking them when I won the MVP award," he reflected. "Ten years from now, I will know exactly when I wore them, what it meant to me, and what was accomplished in them."
There will be more memories made by Curry in the Sesame sneakers once he returns to action in the coming weeks after suffering a sprained left foot ligament last Wednesday. The Warriors star is excited for the final batch of Curry Brand x Sesame Street pairs to make their way to retail.
"The colorways are bold, they're loud, and they pop," added Curry. "They speak to what each of the Muppets brings to life, so it's pretty dope."
See each colorway below.
Cookie Monster / "Taking Cookies" (March)
Oscar the Grouch / "Talking Trash" (March)
Elmo / "Dribble Me Elmo" (April)
Abby Cadabby / "Now You See Me" (June)
Lily the Tiger / "Beyond the Stripe" (June)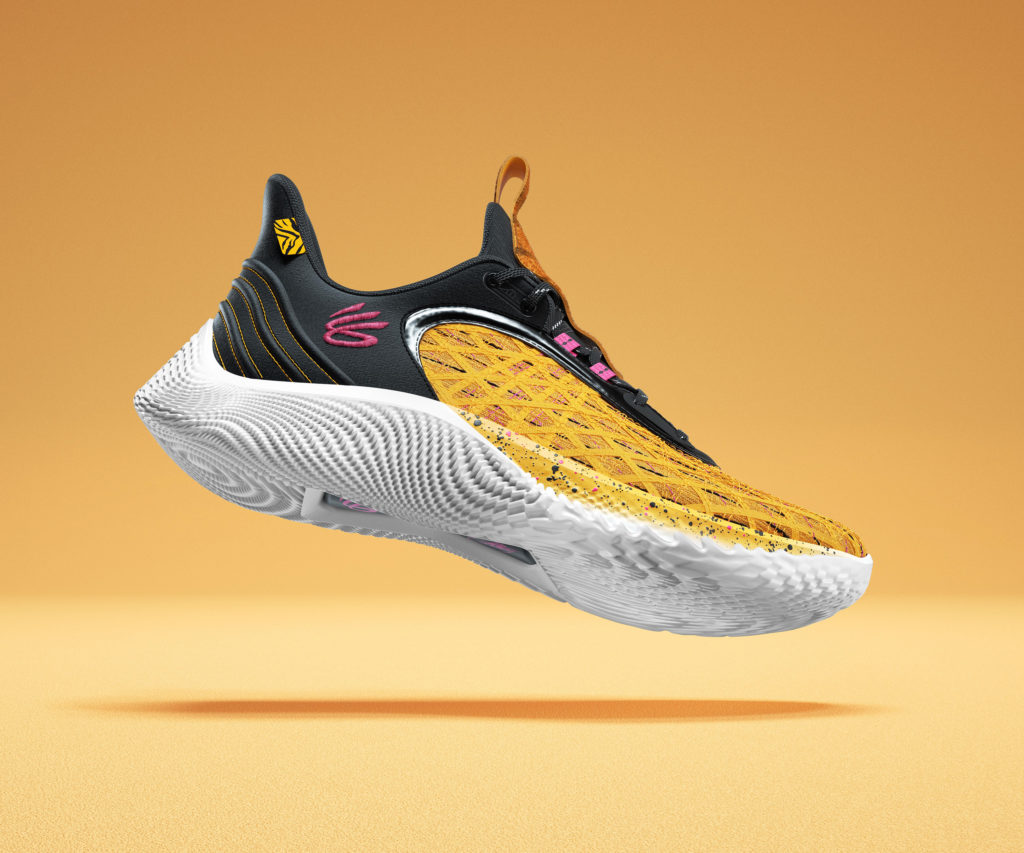 Sign up for our newsletter