Candy Digital and Getty Images are teaming up to run an open-edition mint for an NFT collection featuring imagery from Getty's music and culture archive from the 1970s.
Candy Digital announced a partnership with Getty Images to release rare images from Getty's storied archive as digital collectibles.
Exposure: by Getty Images & Candy is dropping an NFT project called the '70s Music & Culture Collection that features moments from that musical and cultural era. Collectors can expect to see iconic artists, moments, and photographers who helped shape the music culture in the '70s. Getty Images experts and archivists curated the photos captured by Don Paulsen, David Redfern, Fin Costello, Richard Creamer, Steve Morley, and Peter Keegan. Musical icons, including Gladys Knight, James Brown, John Lennon, Elvis, David Bowie, and Stevie Nicks, will be featured in the collection.
This is the first time Getty Images is cracking open its archive to sell photos to individual collectors, marking a new era for the visual media company.
Sign up for our newsletter
"The launch of the '70s Music & Culture Collection draws on Getty Images' timeless and meticulously preserved archives allowing individuals to own unique moments in music history that engage their passion," said Peter Orlowsky, Getty Images' SVP of strategic development, said in a statement.
The collection drops on March 21, with digital collectibles ranging in price from $25 to $200 and will be available for purchase at Candy.com. As part of the new partnership, Candy Digital will allow fans to mint an introductory image for free for a limited time. For non-cryptocurrency native folks, the collection is also available for purchase through credit card payments.
"Candy Digital is focused on working with premium IP partners in sports, entertainment, and culture to leverage technology to enrich the fan and collector experience," Candy Digital CEO Scott Lawin said in a press release. "Our partnership with Getty Images underscores our commitment to store and provide access to important and impactful photographic records using blockchain technology."
The collection will be released as an open-edition mint, meaning there is an unlimited supply of NFTs in the collection for a specific time.
More on Candy Digital: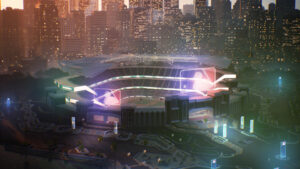 The MLB Virtual Ballpark is the first for a pro sports league and will include a host of benefits and activities for fans. Baseball fans who can't make it to Seattle on Saturday for…
Sign up for our newsletter