The 2022 MLB ICON Leadoff Series NFT collection will feature 720 different players with stats automatically updated every day.
With Opening Day fast approaching, Candy Digital unveiled its first officially licensed Major League Baseball NFTs of 2022 on Thursday.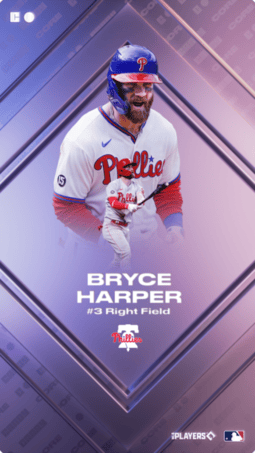 There will be 720 MLB players included in the 2022 MLB ICON Leadoff Series, with the first drop coming on April 12 at Noon Eastern. Each player will have NFTs in five different versions and rarities—Core, Uncommon, Rare, Epic, and Legendary— and each pack of five is guaranteed at least two NFTs in a category other than Core (the most common). Packs will go for $50 and have additional release dates on April 19, May 3, May 10, May 24, May 31, June 14, and June 21.
Additionally, each of these NFTs will feature dynamic stats, meaning the statistics for each NFT will update automatically each day. Each NFT will also come with an officially licensed multimedia showcase on-field highlight video. The Leadoff Series will include eight ultra-rare Candy World Series NFTs with a special utility that will be revealed later in the 2022 season.
"Candy's 2022 MLB ICON Leadoff Series revolutionizes what sports NFTs can be," Candy Digital CEO Scott Lawin said. "We're thrilled to demonstrate our commitment to innovation by delivering digital collectibles that deepen the connection between fans and players for the 2022 MLB season."
Sign up for our newsletter
The start of the 2022 season will also mark the continuation of Candy's MLB Play of the Day NFTs, featuring the top highlight of each day, as chosen by MLB and MLB Network, immortalized in NFT form and dropped the next day as a limited-edition item.
"We're proud of the quick evolution these digital collectibles have taken in collaboration with our partners at Candy and MLB Players, Inc," said Kenny Gersh, MLB's executive vice president of business development. "Introducing dynamic stats into each NFT in this series gives fans an entirely new way to interact with our sport."
Candy Digital, the digital collectibles company backed by Fanatics, Galaxy Digital, and Gary Vaynerchuk, also has digital NFT collections with college basketball and college football stars, as well as a licensing deal with the Race Team Alliance.