The writers' strike officially ended on Wednesday, Sept. 27 at 12:01 a.m. with a tentative WGA deal with Hollywood — here's what it actually says.
After the second-longest strike in its history — all told, a 148-day work stoppage — the Writers Guild of America officially reached a tentative labor agreement with production companies and streamers under the banner of the Alliance of Motion Picture and Television Producers (AMPTP) after countless meetings and tense contract negotiations. Combined with the SAG-AFTRA strike that started on July 14, television and film studios and streamers alike have been met with adversity surrounding rollouts, marketing, live show tapings, and the definitions of what does or doesn't constitute crossing a picket line.
From minimum staffing requirements to the growth of artificial intelligence in Hollywood writing rooms, some scores have been settled after countless contract talks to create a clear deal and comprehensive language for all parties to agree on.
See the deal at https://t.co/c0ULMXhPL7 ✊ #WGAStrong pic.twitter.com/XpRAl2F7LE

— Writers Guild of America West (@WGAWest) September 27, 2023
So, what's the gist of this agreement, and how does it change the business of film and TV? We've got your need-to-know facts on the terms of this three-year WGA deal and the AMPTP, officially known as a minimum basic agreement (MBA), as of Sept. 24, 2023 covering everything from staffing and pay structure to the emerging tech elephant in the room known as artificial intelligence.
Click here to read the agreement in its entirety.
Sign up for our newsletter
Key Details from the the WGA Deal with the AMPTP
Compensation & Staffing
Key wins regarding pay structure include:
Increased minimum compensation rates and defined weekly and annual bumps
Screenwriters earning flat rates will be paid faster
New pay tier for writer-producers with higher minimums
More guarantees and protections for writers on pre-greenlit projects ("development rooms")
More guarantees and protections for writers hired to draft screenplays or write spec scripts purchased by a studio
Raised salary limit for writers working under options and exclusivity agreements
Expanded healthcare and pension contributions
Here's what's new regarding staffing standards:
The minimum number of staff writers and writer-producers on a television series is expanded and based on a season's episode order

Three writers and three writer-producers for six episodes or fewer, five and three for up to 12 episodes, six and three for 13 or more episodes

Employment guarantees for a minimum number of writer-producers in "development rooms"
Artificial Intelligence
New measures regarding the expanding relationship between Hollywood and AI:
Protections against AI creating or writing original content in place of guild writers
AI-generated material cannot supplant or supersede a writer's credit or their related rights, including a rule that work generated by artificial intelligence shall not be regarded as "source material" for future adaptation
Writers can use AI as a tool to aid their creative process, but this requires studio approval and compliance with set rules
Production companies cannot compel writers to use AI platforms like ChatGPT or Bard to perform creative services
Studios must disclose if and when they furnish writers with material generated via artificial intelligence tools
Equity in the Streaming Era
Enhanced residual and bonus structure for streaming projects, including a viewership-based model alongside the existing fixed residual

Specifically regarding foreign residuals, production companies agreed to reform how these audiences are calculated; the WGA anticipates this will lead to a 76% increase in these payments

Various scriptwriter guarantees for streaming and video-on-demand (VOD) programs will align with rates for traditional televised programming
Writer pay structure for ad-supported streaming platforms (Freevee, Tubi, etc.) will align with that of subscription-based streamers (Netflix, Prime Video, etc.)
To ensure equity, studios will provide the WGA with viewership data for programs produced by streaming platforms that exceed specific budget thresholds
And with that, Hollywood is one step closer to getting back to work.
Now, onto SAG-AFTRA. Union strong!
MORE TV & FILM: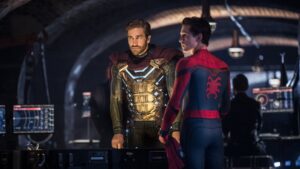 Boardroom ranks the highest-grossing Marvel movies based on global box office success since Iron Man dropped in 2008. …