After 146 days, the WGA, AMPTP, and Hollywood studios have come to an agreement to end the writers strike.
It appears that the writers strike is finally coming to an end.
The Writers Guild of America has reached a tentative deal with Hollywood studios that the WGA says provides "meaningful gains" for its members.
The WGA, which represents approximately 11,500 screenwriters, has raised countless issues impacting the television and film industry. Such concerns included, but were not limited to, new minimum staffing formulas, generative AI for screenwriting, the right for its members to honor strikes and picket lines of other unions, streaming transparency, and viewership-based compensation.
Why Did the WGA Strike?
Though the strike may have seemed abrupt, it was anything but an out-of-the-blue scandal. With negotiations beginning on March 20 between the WGA and the Alliance of Motion Picture and Television Producers (AMPTP), the sparked labor debates surrounding reasonable compensation, residuals, staffing requirements, and protections from artificial intelligence job interference began to catch fire.
The strike officially began on May 2 with 97.9% of the WGA voting to approve. While only 79% of eligible WGA members cast their ballots, 9,020 ruled in favor and 198 opposed.
"These results set a new record for both participation and the percentage of support in a strike authorization vote," WGA said in a statement. "Our membership has spoken. You have expressed your collective strength, solidarity and the demand for meaningful change in overwhelming numbers. Armed with this demonstration of unity and resolve, we will continue to work at the negotiating table to achieve a fair contract for all writers."
Back in 2017, guild members voted 96% in favor of a strike authorization, but did not move forward with the strike. Just ten years prior, 90% voted for a strike authorization, and the guild proceeded with striking.
Sign up for our newsletter
How Did It Escalate?
Almost immediately, the work stoppage kicked in and late-night shows including Saturday Night Live, Jimmy Kimmel Live!, The Tonight Show Starring Jimmy Fallon and The Late Show With Stephen Colbert halted production. Major Hollywood studios such as HBO, Apple, Hulu, Amazon Studios and ABC Signature began to suspend TV overall deals and first-look agreements amid the strike.
Other notable names in Hollywood — as well as public figures in politics, civil engagement, and entertainment — who demonstrated their support on the picket line include Tina Fey, Quinta Brunson, Pete Davidson, Flavor Flav, Susan Sarandon, Colin Farrell, Cynthia Nixon, Lin-Manuel Miranda, Alexandria Ocasio-Cortez, Mark Ruffalo, Jamie Lee Curtis, Kerry Washington, America Ferrera, Mariska Hargitay, Lil Wayne, Chris Pine, and Barack Obama.
"Hopefully, it'll provide more opportunities," Insecure star Issa Rae told Elle.com. "And that Black creators are being kept in mind. I remember the last strike [of 2007-2008], that was my biggest fear. [Because] post that strike, we just had a dearth of Black content."
In support of her fellow creatives on strike, Rae has postponed the second season of her HBO show Rap Sh!t.
"I think what's admirable about this strike and strikes of the past is that they have literally set the precedent for how the industry appreciates us monetarily. There are so many things that, even [in] the '07 [and] '08 strikes, they fought for, that they had the foresight to see, in terms of internet royalties that are obviously compounded now," she said during a Teen Vogue interview in August. "What they're fighting for now, we don't even have the capacity to understand how much it's going to impact our industry and how necessary it is. So I hope that people understand that this fight is necessary and it's only for their benefit to be respected as writers and to make a living as writers in the future."
What's Next?
Excitement began to rise recently after word spread of Hollywood's biggest CEOs, senior leaders, and executives appearing at negotiations. Those names included leaders from Disney (Bob Iger), Netflix (Ted Sarandos), NBCUniversal (Donna Langley), and Warner Bros. Discovery (David Zaslav).
The WGA has not yet disclosed the details of the agreement, which is still subject to a board vote before officially passing. It did, however, confirm in a press release that the deal has been reached and the organization feels it will benefit every writer in its membership.
Read More: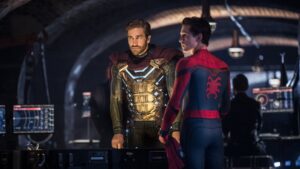 Boardroom ranks the highest-grossing Marvel movies based on global box office success since Iron Man dropped in 2008. …