The rapper spoke with Boardroom ahead of his 2023 music festival about working with friend and music industry colleague Chance the Rapper to create the Ghana-based event.
To start the new year, Vic Mensa will be going global. The Chicago-born rapper is kicking off 2023 in Ghana on January 6 with the free Black Star Line Festival. The show's performers will include Mensa's long-time friend Chance the Rapper, Erykah Badu, T-Pain, Jeremih, Sarkodie, Tobe Nwigwe, Asakaa Boys, and M.anifest.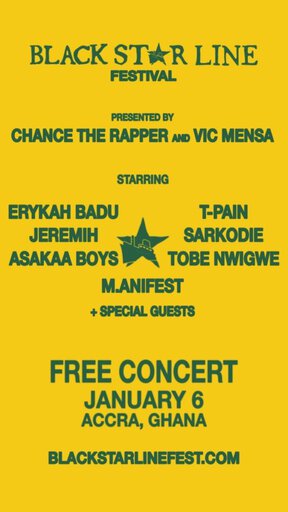 The festival's title is inspired by civil rights leader Marcus Garvey's Black Star Line, which linked Africa to the Caribbean and America for shipping and touring opportunities. In the days leading up to the concert, there will be events and panels at cultural centers throughout Accra.
"In recent years I've just come to really grasp the weight of the privilege that I hold to have that direct conversation and connection to my ancestry," Mensa told Boardroom. "That's something that has been stolen from most of us in this nation and most of the people closest to me. Being that I have this privilege, I just started to realize that privilege comes with responsibility and opportunity."
The rapper continued, "In many ways, the divides between us as Black people from the continent, to America, to the islands and beyond it is all manufactured by the same people who profit off keeping us separated. And being that I have this position in between those worlds of the diaspora and the continent, I felt it was time to turn it into something."
Sign up for our newsletter
One Big Chance
A key contributor throughout the entire process of creating the Black Star Line Festival is Chance the Rapper. Vic and Chance have known each other for half their lives. Their earliest memories include open mic shows, studio sessions, and music videos.
As the two budding emcees grew up in Chicago, their careers began to sprout, too. Vic is featured on Chance's first two mixtapes, 10 Day and Acid Rap, and Chance is featured on Vic's first mixtape, Innanetape. However, looking back on their acquaintance, Mensa admitted that the two were not always on the same page.
"In the process of coming of age and coming into success, fame, and money, there were many times that we got divided," Mensa said.
Vic once said, "competition is healthy" when referring to rumors that the two had friction between them. As time passed, the two began to speak again and eventually privately resolved what had become an at-times public conflict.
The completion of their reconciliation sprung from a shared trip to the continent at the beginning of 2022. Not only were the two able to bury any animosity, but they identified a shared sense of connection during the trip to Ghana.
"In recent years, we really have started to lock in and build things together but I think that the Ghana trip solidified it in a different type of way and brought a different dimension to our relationship because it's just a deeply spiritual and significant experience for any Black person to experience Africa," Mensa continued.
As he experienced his father's native country, he also encouraged his friends to come to the West African country. "No one was really biting. Near the end of my trip to Ghana earlier this year, out of the blue, Chance was like, 'I want to come,' and like three days later, he came through. Ultimately, it really strengthened our relationship and brought our relationship into a new moment."
Chance spoke on the origins of the festival in an interview with The Breakfast Club earlier this year.
"Me and [Vic] have been doing this together since the beginning. We did our first tour together in 2013 and right after that, shit blew up for both of us. We started traveling going around the country, to Europe, to Asia and doing every possible space but Africa," the "Smoke Break" rapper said during the interview. "And then you get out there and you realize how the appetite for it exists and the infrastructure for it exists, they just don't send us there. It's really like we have to bring ourselves there."
Chance added, "We've been like in the trenches working at it every day, but it has just been a beautiful experience to have so many conversations with so many artists who [want to go to Africa]."
For Vic, the partnership between the two wasn't just about the fact that Chance's close friendship and being a household name in music. "He's got experience in producing the Magnificent Coloring World [so] when I talked to him about it he really wanted to do it together and it just made sense," Mensa said while referring to Chance's work on his tour and adjacent film.
The Year Ahead
Mensa mentioned that he does not want the Black Star Line Festival to be a one-off. In a perfect world, he would like to take the event to East African, South African, and other West African countries, as well as islands around the world.
"In reality, we are definitely freestyling this shit. I can't say that I have a crystal ball for exactly what the future looks like but I can say that this is going to be a historic, momentous event," he said. "Above all, I think it is an eye opener for a lot of people and ourselves of the possibilities of collaboration between Black Americans and Africans – or perhaps, more pertinently, Black people around the globe."
When the event concludes, Vic will switch gears into album mode. Mensa is preparing to release a new album in Spring 2023. Alongside the project will come music videos, merchandise, and an eventual tour. "With this album, I'm more excited about it than I've been about music in a long time. I'm glad that I'm the one coming up with video concepts, bringing in the directors, and determining the styling," Vic said.
The excitement he speaks of comes from being appreciative to still be living.
"The internal battles that I've been up against far before I started creating music so to be able to make it to this point, I'm just grateful; and I recognize that those mental and emotional struggles have oftentimes led me astray. The addiction and escapism have gotten in the way of my greatest expression so much."
With his mind and body in a better place, Mensa believes 2023 will be one of his best years yet. In addition to his music, he will also be starring in African/American, a drama film produced by Oscar-winning costume designer Ruth E. Carter. The film will tell the story of the rise of South Africa's hip-hop scene.
The year of 2023 is shaping up to be a busy one, but Mensa is zeroed in on maximizing his time and creating experiences that people can remember.
"I'm glad to be in this spot because that's what makes me feel most confident in it working out."