Upper Deck reveals the 2021 Rookie Watch Football trading card set exclusively available through its Upper Deck e-Pack platform.
For the next three days, the best of the 2021 NFL Draft class is available in a new pack from Upper Deck. The 2021 Rookie Watch, which includes first-year players from the 2021 NFL draft class, features top starting quarterback prospects like Trevor Lawrence and Mac Jones and exciting skill players like Devonta Smith and Jaylen Waddle.
Releasing exclusively through Upper Deck's e-Pack platform, let's go through what trading card collectors need to know about this set.
What Is Upper Deck e-Pack?
Upper Deck e-Pack is a digital platform that enables the storing and trading of physical trading cards. It gives the collector the experience of instantly purchasing and opening packs without having to wait for them to ship. Upper Deck e-Pack also includes challenges, "Pack Wars," and other features that gamify the experience for collectors.
Sign up for our newsletter
What's Featured in the Rookie Watch Packs?
Each pack contains one base set card, plus a chance of landing a second gold parallel card. All cards are rookies, with the full base set checklist containing:
Bears QB Justin Fields
Steelers RB Najee Harris
Patriots QB Mac Jones
49ers QB Trey Lance
Jaguars QB Trevor Lawrence
Eagles WR DeVonta Smith
Dolphins Jaylen Waddle
Jets QB Zach Wilson
"We're excited to offer collectors a throwback Upper Deck trading card set that exclusively features some of the best rookies in football. Every player featured in 2021 Rookie Watch Football is a first-round pick, including the first five quarterbacks taken in the professional draft."

– Paul Zickler, Upper Deck's Sports Brand Manager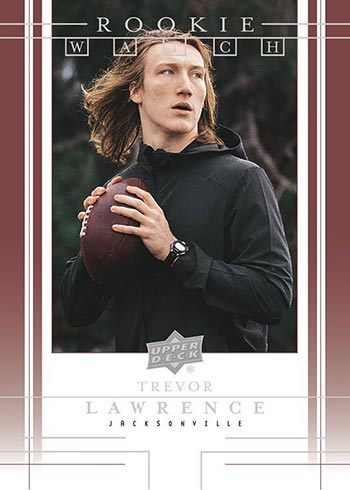 Additionally, rare "Achievement" versions of the Trevor Lawrence base set and Gold Parallel cards round out the set.
When Does 2021 Rookie Watch Football Release?
They're available now through Sept. 16. Each pack is $9.99.
You can purchase them here.